Non-alcoholic steatohepatitis, or NASH, is a form of chronic liver disease caused by a build-up of fat in the liver (progressive fatty liver disease) affecting at least 2 to 5% of Americans, with some estimates going as high as a 17% prevalence rate in the U.S. population. There is currently no FDA-approved therapy for NASH, even though the disease can progress to cirrhosis and ultimately lead to hepatocellular carcinoma (liver cancer), which makes it one of the major unmet medical needs of the 21st century - NASH is now the second most common cause for liver transplantation in the U.S., and it is anticipated to become the leading cause by 2020.
Treating NASH is therefore a pressing matter of public health and the development of targeted therapies has been strongly supported by the FDA and EMA alike in the past years. The market for NASH drugs is currently estimated to reach $35 to $40 billion by 2025, a huge, mostly untapped market that could support several blockbuster drugs in the years to come.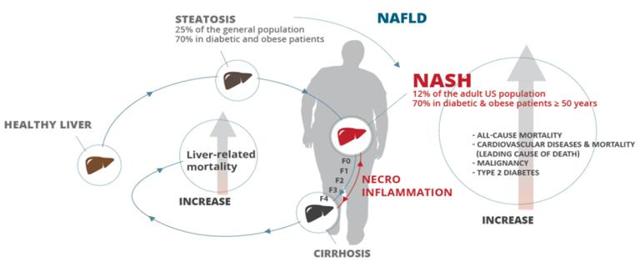 Several companies are currently developing NASH-targeted drugs. Those with the most serious prospects include Genfit (OTCPK:GNFTF), Intercept (NASDAQ:ICPT), Gilead (NASDAQ:GILD), Novo Nordisk (NYSE:NVO), Tobira (NASDAQ:TBRA) and Galmed (NASDAQ:GLMD). Some other companies, such as Conatus (NASDAQ:CNAT), Galectin (NASDAQ:GALT) and MediciNova (NASDAQ:MNOV) have been granted Fast Track designations and are starting to explore the field. However, until now, only Intercept and Genfit have launched Phase 3 trials based on histological evidence (the current gold standard assessment of NASH) that their compounds are able to reverse or reduce NASH symptoms in randomized controlled trials.
This article aims to provide an updated and fairly comprehensive review of the current status and projections of all major contenders in the NASH field.
Genfit - Phase 3 ongoing, first patients enrolled and pipeline expanded
Genfit is developing Elafibranor, a dual PPARα/δ agonist, for the treatment of NASH patients (NAS≥4) with moderate to severe fibrosis (F2-F3) and an exploratory subset of patients with mild fibrosis (F1) - Genfit has been granted a Fast Track designation for this indication.
In recent developments, the biotech announced the enrollment of the first patients in its ongoing RESOLVE-IT Phase 3 trial. Genfit just held an analysts event in New York in which the biotech's management gave interesting information about its strategy to advance and expand its NASH prospects, including specific details on a projected timeline for its Phase 3 trial. Based on current enrollment rates, Genfit is projecting to have enrolled the first 1,000 patients by Q1-2017, which would allow the company to file pivotal data with the FDA and EMA after 72 weeks, on track for a potential H2-2019 "Subpart-H" product launch, as shown on the slide below (see additional details in this article).
Genfit also took the opportunity to reiterate that its flagship drug, Elafibranor, has a strong potential for first-line treatment of high-risk NASH patients (NAS≥4, F2-F3) owing to the drug's consistent efficacy results (see this article for details about Phase 2b published data), its excellent safety profile (with demonstrated cardioprotective effects) and a potential first-to-market status.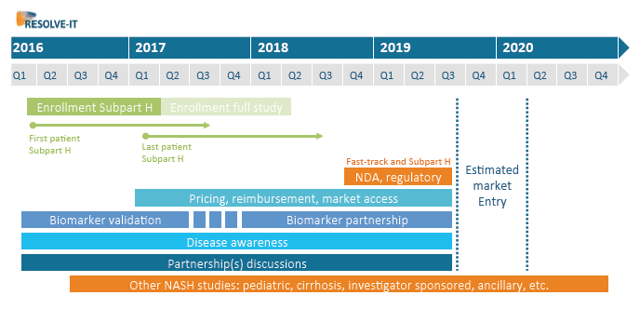 (Source: Genfit's analysts presentation, March 31, 2016)
While stressing the absolute need for the broad adoption of NASH therapies to have access to reliable non-invasive diagnostic tools, Genfit's management also confirmed the continued development of its NASH-specific biomarker program with the intention of reaching commercial stage by the time its drug, Elafibranor, also reaches the market - a smart and probably unavoidable strategy since the lack of alternative to liver biopsies for the diagnostic of NASH patients would curb any rapid growth of this market.
Expanding on the NASH pipeline, Genfit also announced that it would start later this year two new Phase 2 trials with Elafibranor in NASH pediatric and cirrhotic patients, and explore potential combination therapies with other compounds. See Genfit's full pipeline below.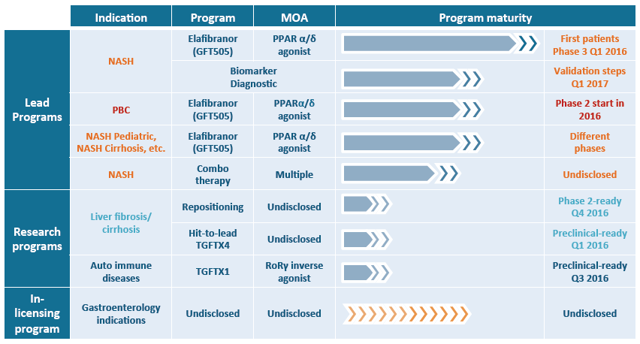 (Source: Genfit's analysts presentation, March 31, 2016)
As a side note, Genfit surprised many analysts with the announcement that it would launch a Phase 2 trial of Elafibranor in primary biliary cholangitis, or PBC, just a few days before the scheduled advisory panel (April 7) discussing Intercept's application to market OCA for this indication. While insisting that the decision to develop Elafibranor in PBC was based on solid clinical data from previous Phase 2 trials (effects observed on ALP and other relevant endpoints) and a strong scientific rationale, Genfit's management could not avoid evoking OCA's pruritus side effect - a tangible problem for PBC patients who already tend to suffer from pruritus caused by their condition.
Even though Intercept insists that pruritus severity scores were globally similar in PBC patients taking OCA or placebo, OCA did increase the absolute number of pruritus-related adverse events (56% OCA vs. 38% placebo). Hence, Genfit appears to be betting on Elafibranor's excellent safety record to show efficacy in PBC and a more favorable safety profile than placebo, hoping to capture some of OCA's potential market, should Intercept's drug be approved later this year.
In terms of finances, Genfit recently raised ~$54 million in a private placement with U.S. investors and currently estimates to be able to fund all operations to YE 2019 with the current cash reserve (~$125 million). While the biotech's management confirmed that plans for a U.S. IPO are still very much alive pending better market conditions, this latest private placement was also the opportunity for Genfit to show that it is still able to raise enough money to complete its Phase 3 trial when it needs to, and that financing issues should not worry investors in the short term.
Intercept - Phase 3 started but enrollment status unclear
Intercept is developing OCA (obeticholic acid), a semi-synthetic FXR agonist, for the treatment of NASH patients with fibrosis (similar to Genfit's target population) - OCA was designated as a Breakthrough Therapy for this indication. The biotech officially announced the launch of its pivotal REGENERATE Phase 3 trial in September 2015. However, when asked directly about the status of Intercept's Phase 3 enrollment in a February 23 conference call (six months after the trial's official start), Mark Pruzanski, Intercept's CEO, declined to give any specific details about the company's enrollment status with the following answer (emphasis added):
We'd like to remind you that the screening process for any trial in NASH with a biopsy endpoint is fairly lengthy (...) it's simply too early in the study to have sufficient visibility on enrollment at this time.
(...) so I'll say that we are very hard at work on getting sites up and running in the U.S. and other countries. I alluded in my prepared comments, prepared remarks on two of the investigator meetings we've been having in the U.S. and in Europe. These have been extremely well attended with universal enthusiasm. And again, not surprising, that this is the first ever Phase 3 NASH registration trial and there's really a lot of interest around the world in participating." - Source: February 23 Conference Call
Hence, while Genfit did confirm that some of its Phase 3 centers were actually enrolling patients, Intercept has not yet confirmed any such thing - from there, it will be interesting to keep an eye on Intercept's reaction to Genfit's tangible progress in this matter.
Besides, according to current Phase 3 trial designs, Intercept has to enroll 40% more patients (1,400 pts) than Genfit (1,000 pts) before it can trigger a planned interim analysis and file for market approval under the "Subpart-H" program.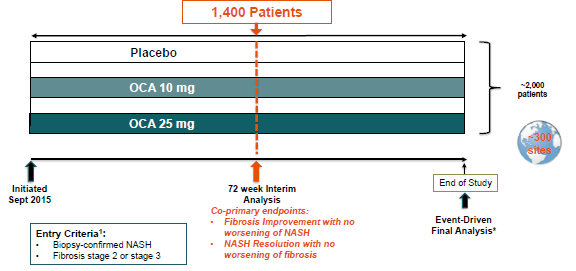 (Source: Intercept's corporate presentation, March 2016)
Despite meeting its primary endpoint in Intercept's Phase 2b trial (FLINT), OCA's prospects in NASH were marred by a Phase 2 failure in Japan and questions about the marketability of a drug in which side effects include worsening of well-known cardiometabolic risk factors, a leading cause of death in NASH patients (see this article for details).
In terms of pipeline expansion, Intercept has started a Phase 2 trial combining OCA and statins in NASH patients, hoping to show that it can find a way to manage OCA's adverse effects on cardiometabolic factors. The company is also projecting further trials in pediatric and cirrhotic patients.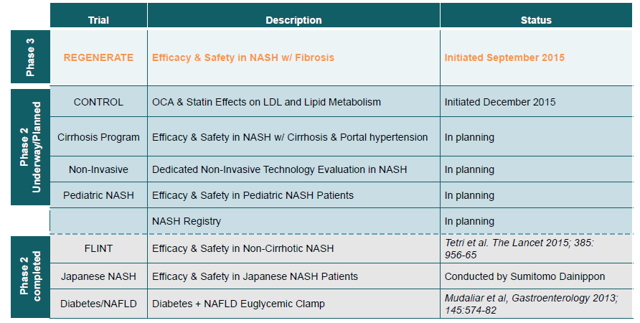 (Source: Intercept's corporate presentation, March 2016)
Intercept had ~$630 million of cash at the end of 2015, which looks like a comfortable amount to conduct a large Phase 3 trial. However, the company projected operating expenses in the range of $360-400 million for 2016 alone which means that, unless OCA gets approved for the PBC indication and starts generating considerable revenues in the next years, Intercept will probably need to raise additional capital to complete its pivotal NASH trial.
Tobira - Phase 2b results coming soon but obsolete primary endpoint
Tobira is testing Cenicriviroc, an inhibitor of CCR2 and CCR5 receptors, in NASH patients with liver fibrosis (F1 to F3), for which it has been granted a Fast Track designation. The biotech is poised to release Phase 2b results in about six months (3Q-2016).
Tobiras' upcoming data will be based on histological measurements, which is a strong point compared to some other competing biotechs. However, the ongoing Phase 2b trial design is based on an obsolete primary endpoint, similar to Intercept's FLINT Phase 2b trial endpoint (2-point improvement in NAS), which is no more aligned with current guidelines for NASH trials that tend to focus on a "NASH resolution" endpoint instead, with an emphasis on ballooning reduction (target of 0 score in ballooning) and no worsening of fibrosis.
A milder version of the "NASH resolution" endpoint (which is Genfit's and Intercept's Phase 3 primary endpoint) is actually included in Tobira's trial as a secondary endpoint, which could already provide interesting information regarding the potential of Cenicriviroc in an up-to-date Phase 3 trial - however, "NASH resolution" top line results will only be released after 2 years of treatment (one year later than primary endpoint results), which means investors will have to wait longer (3Q-2017) to obtain comparable results.

(Source: Tobira's corporate presentation, March 2016)
With a market cap of ~$150 million, compared to Intercept's ~$3.5 billion and Genfit's ~$900 million, Tobira appears as a (still) risky but potentially very rewarding opportunity in the NASH field. The company had ~$60 million in cash at the end of 2015, which should be enough to reach Phase 2b top line results - raising additional capital if results are good should be easy enough, then.
Gilead - Phase 2b results in NASH-related cirrhosis and fibrosis in 2016
Often cited as the biggest biotech actively exploring the NASH field, Gilead is currently testing simtuzumab, a monoclonal antibody that binds to the LOXL2 enzyme, in Phase 2b trials for the treatment of NASH-related cirrhosis and advanced fibrosis (F3-F4) - results are expected by the end of 2016. Phase 1 results showed that simtuzumab was able to reduce levels of two enzymes traditionally associated with improvements in liver diseases (ALT and AST). However, saying that simtuzumab is being developed in these trials for the treatment of NASH itself is not technically correct: Gilead's drug is actually being tested to treat the consequences of untreated NASH (cirrhosis and advanced fibrosis secondary to NASH) rather than the other way around, which would focus on treating NASH before it develops into cirrhosis or advanced fibrosis.
In terms of market potential, this positioning tends to exclude a large chunk of potential patients (F1-F2) who would benefit from preventive treatment, such as high-risk NASH patients targeted by Genfit and Intercept.
Additionally, while other advanced NASH drug-candidates are oral formulations, simtuzumab requires intravenous administration - so, unless Gilead's drug can show impressive data in NASH patients, it could be difficult for simtuzumab to become a reference first-line treatment in this indication.
Recently, Gilead also launched a small Phase 2a trial exploring whether a combination therapy of GS-4997 (an oral ASK1 inhibitor) and simtuzumab could provide benefits for patients with F2-F3 fibrosis.
Gilead is also exploring the FXR agonist pathway, similar to Intercept's OCA, with its own product-candidate GS-9674 (acquired through Phenex's buyout). However, this is a much less advanced product (Phase 1 enrolling) and while GS-9674 has the potential to show some efficacy in NASH, it is likely that it will also induce some adverse side effects in the like of those shown by OCA (pruritus and lipid changes).
Finally, just a few days ago, Gilead announced the buyout of NDI-010976, an Acetyl-CoA Carboxylase (ACC) inhibitor, from privately held Nimbus Therapeutics - a deal for which Gilead agreed to pay $400 million upfront and up to $800 million in milestone payments, valuing this Phase 1 compound at over $1.2 billion in total. The compound, which has been granted a Fast Track designation and just had Phase 1 results, provides the big pharma company with a third oral drug-candidate targeting NASH - combination trials are now most probably in the planning.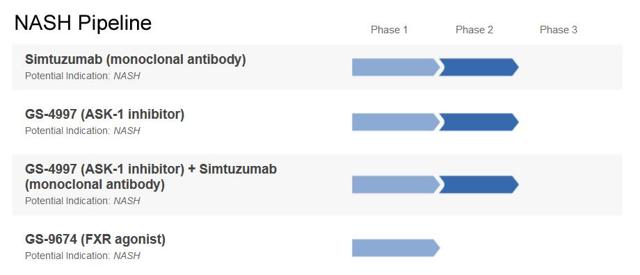 (Source: adapted from Gilead's website, March 2016)
Galmed - Phase 2b ongoing but solid data are scarce
Galmed is developing Aramchol, a synthetic Fatty-Acid/Bile-Acid Conjugate (FABAC), currently in a Phase 2b trial in NASH patients (NAS≥4), for which it has been granted a Fast Track designation.
The biotech published results from a Phase 2a trial (n=60), which met its primary endpoint of reducing the liver fat content measured by magnetic resonance spectroscopy. However, as explained in this article, only 10% of patients (n=6) actually had NASH (the rest being "milder" NAFLD patients) and Galmed's data in NASH patients are scarce which makes it very hard to predict the outcome of the ongoing trial. Additionally, Phase 2a results did not show any statistically significant improvement in some serological markers associated with NASH resolution (ALT, HOMA…).
Galmed's Phase 2b trial is designed around a primary endpoint based on a non-invasive measurement (% change in the liver triglycerides concentration measured by NMRS), even though the biotech added a biopsy-based "NAS improvement" secondary endpoint to its trial design. While this is an interesting approach, coupled with the co-development of a NASH-specific non-invasive diagnostic tool, it is also a gamble since the FDA has not shown any sign that it would be willing to validate NASH trial endpoints not based on liver biopsies. According to current projections, the ongoing trial should have results in H2-2017.
Galmed also announced recently the start of an investigator-led Phase 2 trial in patients with HIV-associated NAFLD. This will be a short (3-month) trial based on non-invasive and serological endpoints.
While Galmed's very modest market cap (~$55 million) would make an attractive play in the NASH field, investors might want to remember the case of Raptor (NASDAQ:RPTP), which announced last year the failure of its Phase 2b trial in pediatric NASH patients after its drug did not show histological improvements despite previous encouraging signs observed on liver enzymes in the blood, prompting the company to abandon all NASH prospects for now - a reminder that is also valid for Gilead's and most other ongoing Phase 2 trials.
Galectin - Phase 2 trials in advanced fibrosis and cirrhosis but few data
Galectin is developing GR-MD-02, a galectin inhibitor thought to have an effect on fibrosis. However, to this date, Galectin has only conducted a small Phase 1 safety trial (n=31) with GR-MD-02 in NASH patients with advanced fibrosis, which showed some potential improvements in fibrosis biomarkers in patients with low ALT levels but no histological or serological evidence, yet. Galectin's compound was also shown to have antifibrotic effects in murine models and it has been granted a Fast Track designation for the treatment of NASH-related advanced fibrosis.
Based on these data, Galectin launched two Phase 2 trials exploring GR-MD-02 in NASH patients with advanced fibrosis (n=30) and cirrhosis (n=156). The smaller, 16-week trial in advanced fibrosis patients should have results at the end of 2016 and the cirrhosis trial should last until 2018 (based on clinicaltrials.gov). However, only the longer cirrhosis trial includes histological measurements (liver biopsies) and this does not seem related to the current trial's endpoint of "reducing hepatic venous pressure gradient (HVPG) as a measure of portal pressure" (which questions the usability of collected data compared to other competing NASH trials). Based on currently available data, Galectin's bet on NASH appears as a very risky one at this point.
Update: Galectin has responded to these projections with a quote from its fourth quarter financial results press release as follows: "We expect to report top-line data from our NASH-FX trial by the end of September of this year. Enrollment in our NASH-CX trial is on schedule and we expect to report top-line data by the end of 2017."
Besides, GR-MD-02 must be administered through intravenous injections and in pursuing the NASH-induced cirrhosis/advanced fibrosis indications, Galectin will be competing on a market segment targeted by heavyweight Gilead, among other companies.

(Source: Galectin's website, April 2016)
Conatus - Phase 2b launched, looking for histological evidence
Conatus is developing Emricasan, an oral caspase protease inhibitor designed to reduce inflammation in the liver, to treat NASH-induced cirrhosis and fibrosis, and it has been granted a Fast Track designation for the cirrhosis indication (but not in NASH fibrosis). The micro-cap company announced last year positive serological results in a small Phase 2 study evaluating Emricasan in NAFLD patients (including some with diagnosed NASH).
The biotech, once reported to be preparing Phase 3 plans based on positive serological results from Phase 2 trials, is in the process of launching a string of new Phase 2b trials with the aim of collecting histological (biopsy-based) evidence before rushing into a risky and costly Phase 3 - after obtaining mixed serological results from its latest Phase 2 trial in cirrhotic patients, this appears to be a smart move. Conatus started 2016 with the launch of the ENCORE-NF Phase 2 trial in NASH patients with fibrosis (target population similar to Genfit's and Intercept's), which is expected to have results in late 2018 or early 2019.
According to Conatus' management, "results from the combined [Phase 2b] ENCORE clinical trials are expected to support the design of Phase 3 efficacy and safety trials, but could warrant earlier discussions with regulatory agencies regarding potential accelerated approval." Conatus is therefore hoping for a shortcut on its path to approval, but this remains highly speculative at this point.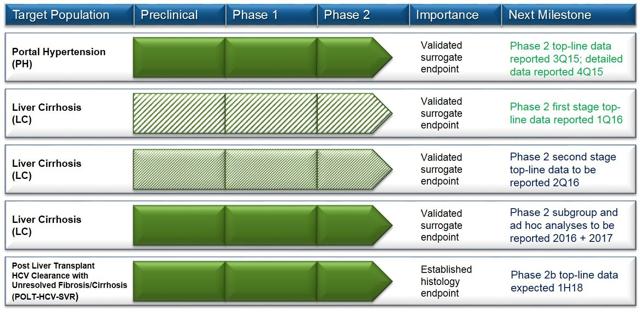 (Source: Conatus' website, April 2016)
MediciNova - small Phase 2 compound with Fast Track
MediciNova is developing MN-001 (tipelukast), an oral small molecule compound with several mechanisms of action and which has been granted a Fast Track designation for the treatment of NASH patients with fibrosis.
Until now, the biotech only announced in November 2015 that it would conduct a very small Phase 2a open-label trial (n=20) exploring the effect of MN-001 on hypertriglyceridemia in NASH patients. However, according to the trial's page, enrollment does not seem to have started, yet.
MediciNova also announced in early 2016 it had secured some key U.S. patents for the treatment of NASH with fibrosis. It remains to be seen if MN-001 could deliver convincing results in this indication.
Novo Nordisk - strong Phase 3 potential but starting again with a Phase 2 trial
Novo Nordisk announced some interesting results last year from its drug Victoza (liraglutide, a marketed injectable type 2 diabetes drug), which had a surprisingly strong effect in a small (n=52) investigator-led Phase 2 study. In the 48-week LEAN trial, liraglutide showed a 39% "NASH resolution" rate compared with 9% with placebo (p<0.019). In addition to that, only 9% of patients taking Victoza experienced worsening of fibrosis compared with 36% in the placebo group (p=0.026).
With this strong histological evidence, Novo Nordisk could potentially be preparing a larger Phase 3 trial - the company already has an extensive set of data on Victoza, since this is an approved diabetes drug. However, as explained in this article, the downside with Victoza is that patent protection will expire in 2017, leaving Novo with little hope of drawing significant revenues from the drug in this indication. As an alternative, the big pharma company announced its intention to start a new Phase 2 trial with semaglutide, a next generation GLP-1 analog, which Novo Nordisk is also developing as an oral drug in collaboration with Emisphere Technologies (EMIS). The company intends to launch this trial later in 2016.
Since semaglutide and liraglutide are expected to have a similar mechanism of action, and since Novo could develop an oral version of its new generation drug, the big pharma's prospects in the field are good. However, starting with a new Phase 2 trial will mean that Novo is effectively giving up on its chances to reach the market before another 10 years probably - despite that, Novo certainly has a very potent compound on its hands, and it has the means to take its to the market.
The others - hopes and hypes
The ongoing "NASH race" to put the first targeted drug on the market is fierce and the stakes are high due to the huge market potential. Obviously, this means a lot of companies have tried to stamp the word "NASH" on some of their compounds with the intention to grab the attention of investors - even though there's sometimes little data to support those claims at this point.
Some biotechs are conducting early preclinical work to find out whether their compounds could have potential in the NASH field. However, compared to the compounds described before, those are far less advanced with little (statistical) chance of making it to the market and investors should be careful with some far-fetched "NASH claims" before considering an investment based on those prospects.
Biotechs conducting preclinical work in the field include Enanta (NASDAQ:ENTA), which is exploring an FXR agonist, and Can-Fite (NYSEMKT:CANF), which reported "compelling" preclinical results with CF102, an A3AR agonist.
Some other biotechs have Phase 1 product candidates, such as AstraZeneca (NYSE:AZN), which acquired Regulus' (NASDAQ:RGLS) NASH/diabetes program, and Durect (NASDAQ:DRRX), which develops DUR-928. Some are a little more advanced, such as Cempra (NASDAQ:CEMP), which is conducting a very small Phase 2 exploratory trial (n=15) with Solithromycin, a fluoroketolide antibiotic.
Finally, there are some biotechs which have ongoing Phase 2 trials with NASH as an official target indication but nothing in the trial design that actually seems to match relevant NASH endpoints, making it quite difficult to assess the usefulness of upcoming results - these include Bristol-Myers Squibb (NYSE:BMS) with a Phase 2 trial evaluating "change in percent hepatic fat fraction by Magnetic Resonance Imaging" after 16 weeks, or Immuron (OTCPK:IMROY), which has a Phase 2 trial running with a long list of primary endpoints including ALT levels and "percentage fat content of the liver" (measured by MRI) but also "body temperature" and "respiratory rate," among other loosely related NASH endpoints.
Conclusion
With all these NASH product-candidates put into perspective, it appears that Genfit's Elafibranor currently has good chances to be first-to-market, with Intercept closely following, provided the biotech can manage OCA's potential side effects, which are currently hard to combine with a patient population already highly vulnerable to cardiometabolic risks.
Big pharma companies Gilead and Novo Nordisk seem well positioned to enter the NASH field (although several years later than some contenders) with the first building an impressive product portfolio (4 potential NASH compounds to this date) and the second bound to pursue clinical developments based on impressive histological results (LEAN trial).
Good surprises could come soon from small-cap biotech Tobira (Phase 2b results expected in Q3-2016), or some time later from Galmed and Conatus (results expected in 2017-18). NASH claims by Galectin and MediciNova are less advanced, although Fast Tracked, and still look more risky at this point of time since there exists less relevant data supporting those drug candidates.
Finally, here is a table summarizing the current status and projections of all major NASH product candidates reviewed in this article:
| | | | |
| --- | --- | --- | --- |
| Company | Targeted NASH market segment | Clinical status (results expected) | Estimated market entry |
| Genfit | High-risk NASH (NAS≥4, F2-F3 +F1) | Phase 3 (H2-18) | 2019 |
| Intercept | High-risk NASH (NAS≥4, F2-F3 +F1) | Phase 3 (2019?) | 2020 |
| Tobira | NASH with fibrosis (NAS≥4, F≤3) | Phase 2b (Q3-16) | 2022 |
| Gilead | NASH-related fibrosis and cirrhosis | Phase 2b (YE 2016) | 2022 |
| Galmed | NASH (NAS≥4 & type 2 diabetes) | Phase 2 (H2-17) | 2022 |
| Galectin | NASH-related fibrosis and cirrhosis | Phase 2 (2018) | 2023 |
| Conatus | NASH with fibrosis (NAS≥4, F≤3) | Phase 2 (YE 2018) | 2024 |
| MediciNova | NASH with hypertriglyceridemia | Phase 2 (not enroll.) | 2025+ |
| Novo Nordisk | unknown (NASH & type 2 diabetes?) | Phase 2 (project) | 2025+ |
Continuous coverage of the NASH field: Interested readers should have a look at this website tracking all news related to NASH biotechs and sharing very informative analyses, including excellent market projections based on the NASH segments covered by each drugs' target population.
Disclosure: I am/we are long GNFTF.
I wrote this article myself, and it expresses my own opinions. I am not receiving compensation for it (other than from Seeking Alpha). I have no business relationship with any company whose stock is mentioned in this article.
Editor's Note: This article covers one or more stocks trading at less than $1 per share and/or with less than a $100 million market cap. Please be aware of the risks associated with these stocks.