A new(er) company evaluation metric has recently earned its spot in my analytical toolbox, and it's awesome.
Introducing: Gross profitability.
Gross Profitability = Gross Profits / Total Assets
Switch gross profits with net income and you get ROA.
However, the difference is big and the results speak for themselves.
Prof Robert Novy-Marx introduced this new stat in his paper The Other Side of Value where he shows that the Gross Profitability ratio is just as good, if not better, than book-to-market.
Novy-Marx feels that profitability measures get more "polluted" as one goes further down the income statement. He argues that a firm that has lower production costs (higher gross margins) and higher sales than its competitors is more profitable. However, it can have lower earnings than its competitors if it is expanding sales with an advertising campaign and establishing a larger sales force. These types of expenditures will not impact gross profits but may hurt operating profits as well as net income in the short term. (Source)
In the paper, he goes on to say that gross profitability is a good predictor of long-term earnings and free cash flow growth.
If you also have a portfolio that is half made up of high gross profitability and half made up of high book-to-market stocks would have generated average monthly excess returns of 0.75%.
Does Gross Profitability Work?
Yes - but there is a caveat, which you'll see in the next section. But first, my testing shows that the optimal range for Gross Profitability is between 1 and 1.8. Combine it with low P/B stocks as suggested in the paper and you get powerful returns. Here's what I mean: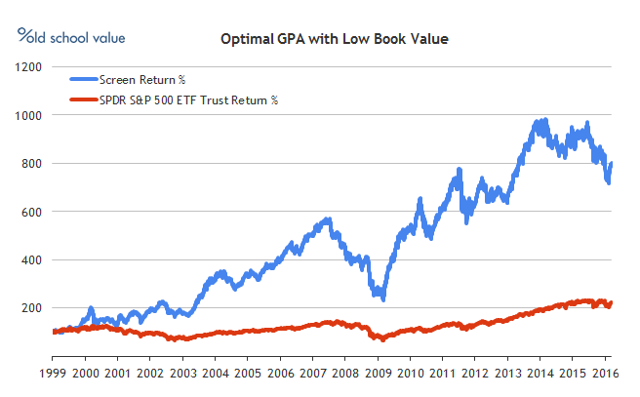 The blue line represents a simple backtest where
Gross Profitability is between 1 and 1.8
Sorted by low P/B stocks
No OTC stocks included
No financials
No energy
No utilities
No mining
Holding period is 1 year
This is similar to what I use in my own research. However, I've extended it to include sales performance in combination with my own set of Quality and Value metrics to search for top performing companies.
10 Stocks with High Gross Profitability
These 10 stocks are making excellent use of their assets to generate profits. But are they worth investing?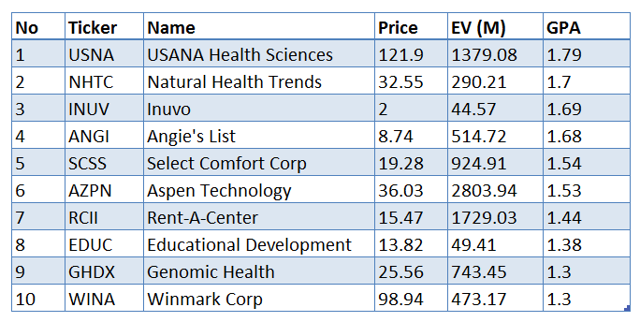 The Gross Profitability index provides a good initial list of ideas but there is room for improvement by combining it with other values to come up with a "cleaner" list.
#1 Usana Health Sciences (NYSE:USNA)
To be clear, Usana is an MLM.
That will put off a large majority of people after the attacks Ackman launched on Herbalife (NYSE:HLF),
Now, any company with a MLM strategy will have a lot of skeptics and claims of illegal pyramid schemes.
So far, USNA has bucked this trend. Valuation ratios are on the higher end over the past 5 years, and if Prof Nov-Marx is right, USNA has the potential to continue generating profits and future returns.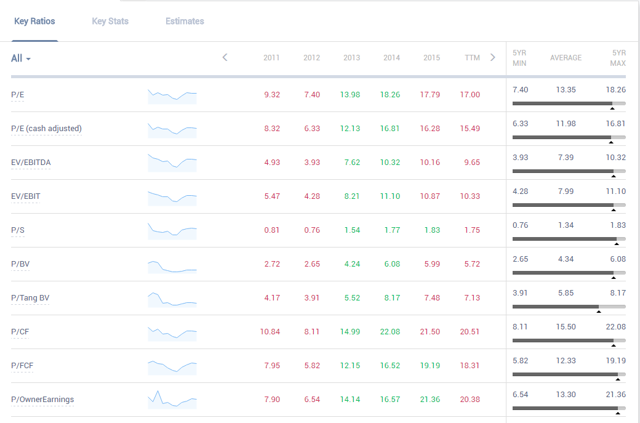 #2 Natural Health Trends (NASDAQ:NHTC)
NHTC is also another direct selling (NYSE:MLM) company and has been on quite a run since 2013. Up over 3000%.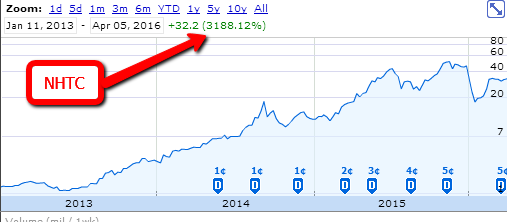 A recent report posted in March by a SA contributor shows an NHTC office in Beijing shut down with the market seemingly shrugging off the information in the weeks since.
Although the Gross Profitability is high, it goes to show that you can't trust one metric alone. You either build a portfolio around it like the Novy-Marx paper or you apply additional criteria to safeguard your money.
Since I factor in quality, value and growth, NHTC fails my quick internal tests because of the unsustainable Cash ROIC of 84% and FCF to Sales of 30%.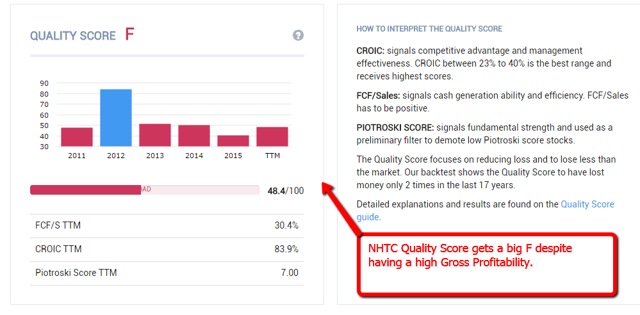 #3 Inuvo (NYSEMKT:INUV)
This is a small cap company that focuses on digital publishing and advertising network. An extremely competitive space where low prices and reach is vital to grow the business.
The immediate risk that comes to mind is that most of the business is done via Google and Yahoo.
Based on the business, you can again see that this is an asset light software company. With little assets needed to run the business, gross profitability far exceeds that of other companies.
INUV is not my ideal cup of tea, but from a purely numbers point of view, it does represent better value than other stocks in the market.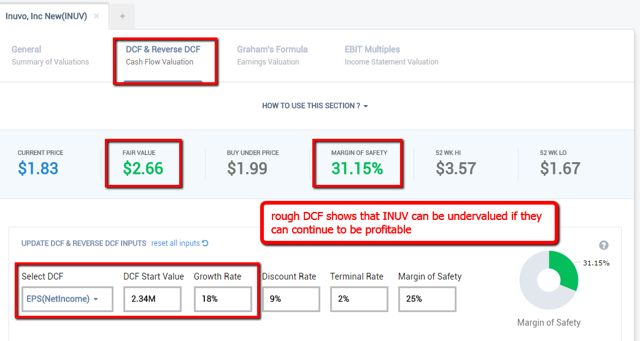 With a simple DCF to check some quick assumptions, there's "initial" value.
What I like to do before diving into further research is to perform a reverse DCF. Where you adjust the growth rate until the fair value matches the current price.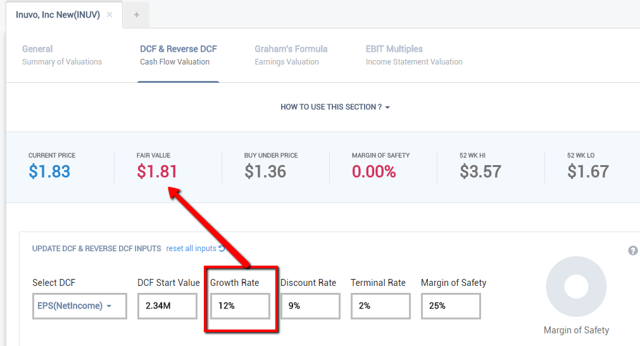 In this case, you can see that the market is expecting a growth rate of 12% for the current market price.
Wrapping Up
These examples show that Gross Profitability favor asset lightcompanies but hard data speaks for itself such as the research done by Novy-Marx and the backtest chart above.
To use it in its purest form, you'll need to diversify with a variety of stocks. However, try it next time in combination with whatever you deem important and see how it stacks up.
The important thing is to put things to the test before dismissing or applying it. In my case, I've found it to work in my favor and have adopted an approach to include it in my analysis.
Let me know what you think.
Disclosure: I/we have no positions in any stocks mentioned, and no plans to initiate any positions within the next 72 hours.
I wrote this article myself, and it expresses my own opinions. I am not receiving compensation for it. I have no business relationship with any company whose stock is mentioned in this article.
Editor's Note: This article covers one or more stocks trading at less than $1 per share and/or with less than a $100 million market cap. Please be aware of the risks associated with these stocks.