Biosante Pharmaceuticals (BPAX) shares once again gapped up strongly on Monday only to close, once again, in the lower one third of its trading range for the day. The catalyst Monday was results from an early stage (phase 1b) clinical trial of its GVAX Cancer Vaccine in advanced pancreatic cancer patients that showed a 60% survival increase in this poorly treated cancer that has among the lowest five-year survival rates compared to other cancer indications.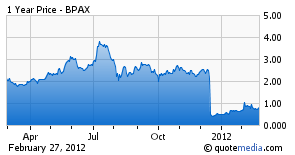 The stock traded as high as 95c, up more than a third, before giving back most of the gains and closing well within the bottom one-third of its 77c-95c trading range for the day, a technically bearish signal. And this is not just the first time that it has done this recently. In fact, rewind back two weeks to Wednesday, February 15th, when the company announced that its Bio-T testosterone gel with Israeli developer of generic and branded drugs and active pharmaceutical ingredients, Teva Pharmaceutical (NYSE:TEVA), had won FDA clearance.
The drug did a similar flip back then; it gapped up strongly by over 60%, opening near what turned out to be the highs of the day, only to close later near the bottom of its $1.05-$1.23 trading range for the day, and eventually dropping as low as 65c over the next four trading days.
We do not usually base our analysis on technicals, but in this case they are compelling, and they, together with the fundamentals, paint a compelling picture. The company's lead product Elestrin, a medicine to relieve moderate-to-severe hot flashes associated with menopausal women, received FDA approval in 2006, but its sales so far have been minimal. Libigel, its lead product in development, often incorrectly called Viagra™ for women, failed based on an initial analysis of data from two pivotal phase 3 efficacy trials, that effectively decimated the stock last December, with shares gapping down over 80% on the news.
Biosante's Bio-T testosterone gel approved earlier this month also faces significant hurdles. While the overall market size is well over $1 billion, it is entering a crowded marketplace with competing, but essentially identical, testosterone gels from market leader Abbott Laboratories (NYSE:ABT) whose Androgel product has the lion's market share. with Auxilium Pharmaceuticals' (NASDAQ:AUXL) Testim in second place. The two together are the only other players in the U.S. market, but overseas it would also be met by competing testosterone gels from Watson Pharmaceuticals (WPI), Eli Lilly (NYSE:LLY), and Endo Pharmaceuticals (NASDAQ:ENDP).
What will make Biosante's gel standout in this crowded marketplace is as yet still unclear. Furthermore, Biosante only gets a small 6% royalty from TEVA on the sales, so even assuming that it somehow breaks into the top tier, which would not be expected given that it is a late entrant, it would still generate only $6-$12 million in annual revenue from the deal. This is miniscule, given that BPAX has actually been losing over $12 million/quarter on average in recent quarters. Also, to add insult to injury, TEVA may not start selling Bio-T gel just yet, given that it signed a confidential patent settlement agreement in December with ABT to delay the launch over allegations that Bio-T Gel infringed upon ABT's patent for Androgel.
The news Monday from the phase 1b trial of its GVAX Cancer Vaccine in advanced pancreatic cancer patients is promising, and may evoke comparisons to peer cancer vaccine maker Dendreon's (NASDAQ:DNDN) meteoric rise in the years before its approval in 2010. While the technology and results are indeed promising, we believe that it is just too early in the game for the phase 1b trial results to have a meaningful impact on the valuation for the company. The company had over $50 million in cash (less debt) at the end of Q3, and is projected to burn through at least another $20-$25 million per year going forward.
While we are not advocating a short here, as the upside risk is just too great from any positive trial developments, we believe that any upward movement in the stock, especially near or above $1, will continue to be met by heavy selling (as it has several times recently), and in that light, it would be prudent to lighten up on this stock until more favorable results are announced.
Credit: Historical fundamentals including operating metrics and stock ownership information were derived using SEC filings data, I-Metrix® by Edgar Online®, Zacks Investment Research, Thomson Reuters and Briefing.com. The information and data is believed to be accurate, but no guarantees or representations are made.
Disclosure: I have no positions in any stocks mentioned, and no plans to initiate any positions within the next 72 hours.
Disclaimer: Material presented here is for informational purposes only. Nothing in this article should be taken as a solicitation to purchase or sell securities. Before buying or selling any stock you should do your own research and reach your own conclusion. Further, these are our 'opinions' and we may be wrong. We may have positions in securities mentioned in this article. You should take this into consideration before acting on any advice given in this article. If this makes you uncomfortable, then do not listen to our thoughts and opinions. The contents of this article do not take into consideration your individual investment objectives so consult with your own financial adviser before making an investment decision. Investing includes certain risks including loss of principal.