Still Bullish On Valeant?
If you're long Valeant (NYSE:VRX), maker of Jublia (an ad for which is pictured below) and other pharmaceuticals and medical devices, a recent article by Seeking Alpha contributor DoctoRx ("More Reasons That Valeant Stock May Be Worthless") may give you pause.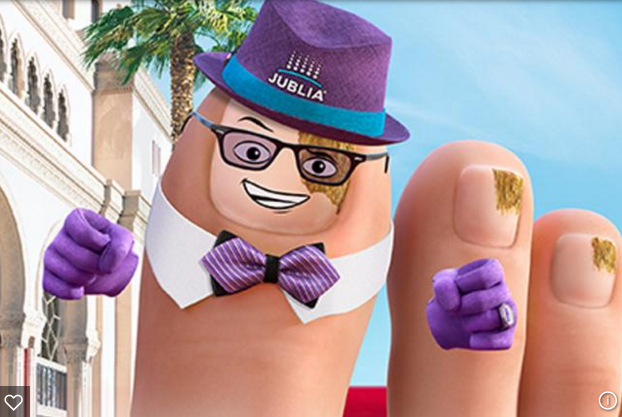 The first thing "DoctoRx" may bring to mind for those unfamiliar with this contributor is the eponymous lyric from the opening number of The Rocky Horror Picture Show ("Science Fiction/Double Feature"; see screen capture below), but it's actually the pseudonym for a physician, pharmaceutical inventor, and entrepreneur turned stock analyst, so his opinion on Valeant ought to be a particularly well-informed one.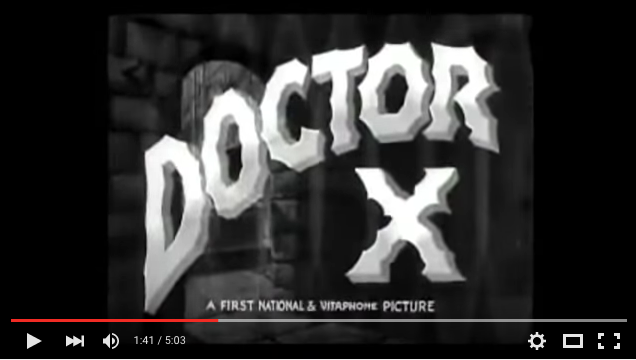 And DoctoRx's opinion is that Valeant's shares will likely turn out to be worthless. He bases that opinion on several factors, including:
Valeant's announced delay of its 10-Q. According to DoctoRx, the accounting for pharmaceutical businesses is fairly simple, so this delay signals trouble.
Uncertainty surrounding the company's restatement of previous financials. DoctoRx speculates:
Might revenues have been overstated, perhaps significantly? Is there a secret warehouse somewhere for product that was booked as sales but was never actually sold? Or something like that?
Signs Valeant may not be a competent marketer of pharmaceutical products, such as its failure to gain traction selling the female libido pill Addyi.
A Way To Limit Risk For Undaunted Valeant Longs
If you're still bullish on Valeant after reading that précis of DoctoRx's article, take a few minutes and read the article itself. If you're still bullish after that (and perhaps heartened by Valeant's 10% jump on Tuesday), you may want to at least limit your risk in case the good doctor's negative prognosis ends up being correct.
We look at two ways of hedging Valeant over the next several months below, but one is extremely expensive, so we'll just present it for illustration. The other isn't expensive and may be worthy of consideration for Valeant longs. If you'd like a refresher on hedging terms first, see the section titled "Refresher on Hedging Terms" in our REIT-hedging article from February ("Preparing for a drop in Realty Income").
Hedging VRX With Optimal Puts
We're going to use Portfolio Armor's iOS app to find optimal puts and an optimal collar to hedge VRX here, but you don't need the app to do this. You can find optimal puts and collars yourself by using the process we outlined in this article if you're willing to take the time and do the work. Whether you run the calculations yourself using the process in that article, or use the app, an additional piece of information you'll need to supply (along with the number of shares you're looking to hedge) when scanning for an optimal put is your "threshold," which is the maximum decline you are willing to risk. This will vary depending on your risk tolerance. For this first example, we've used a threshold of 35%, because that was the lowest threshold at which it was possible to hedge VRX over the next several months this way.
Here are the optimal puts, as of Tuesday's close, to hedge 200 shares of VRX against a greater-than-30% drop by late October.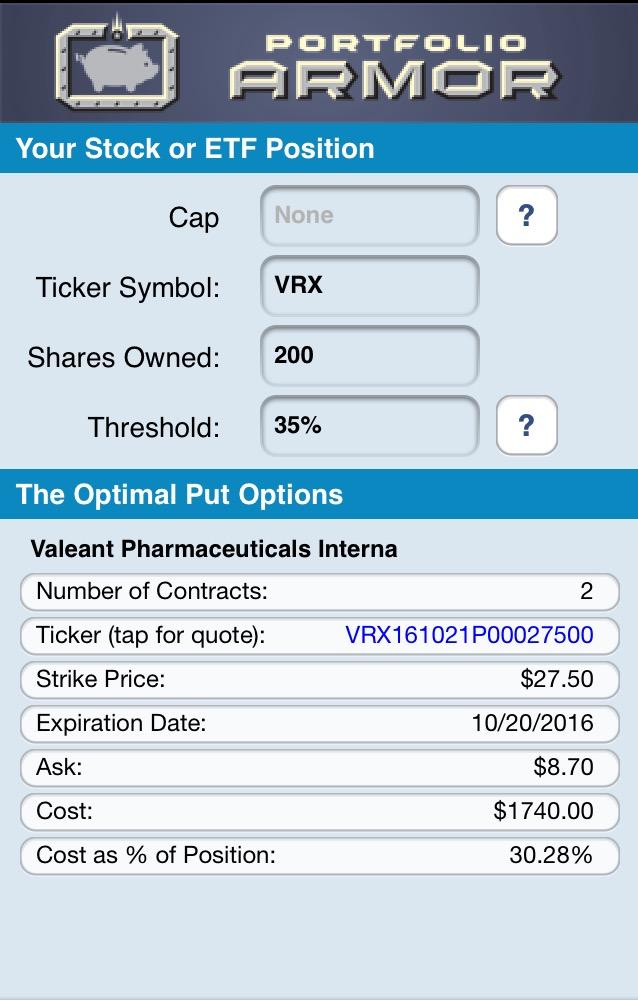 This is the extremely expensive hedge we mentioned we'd show for illustration purposes. The cost of this protection was a whopping $1,740, or 30.28% of position value. Nevertheless, a couple of points about this cost:
To be conservative, the cost was based on the ask price of the put - in practice, you can often buy puts for less (at some price between the bid and ask).
The 35% threshold includes this cost: that is, in the worst case scenario, your VRX position would be down 4.72%, not including the hedging cost.
Hedging VRX With An Optimal Collar
When searching for an optimal collar, you'll need one more number in addition to your threshold, your "cap," which refers to the maximum upside you are willing to limit yourself to if the underlying security appreciates significantly. One logical starting point for the cap is your estimate of how the security will perform over the time period of the hedge. For example, if you're hedging over a several-month period, and you think a security won't appreciate more than 12% over that time frame, then it might make sense to use 12% as a cap - you don't think the security is going to do better than that anyway, so you're willing to sell someone else the right to call it away if it does better than that.
In previous articles on hedging, we've usually used potential return estimates from Portfolio Armor's website or potential returns derived from the median Wall Street price target for the stock. Valeant didn't pass the two screens to avoid bad investments our site runs before calculating potential returns, so our site didn't calculate a potential return for it. And the median Wall Street price target for the stock, $54, screen captured below via Yahoo Finance, seemed a bit too optimistic.

So, instead, we used a cap of 21%, which enabled us to lower the threshold to 22% while eliminating the net cost of the hedge.
As of Tuesday's close, this was the optimal collar to hedge 200 shares of VRX against a greater-than-22% drop by late October while not capping an investor's upside at less than 21%.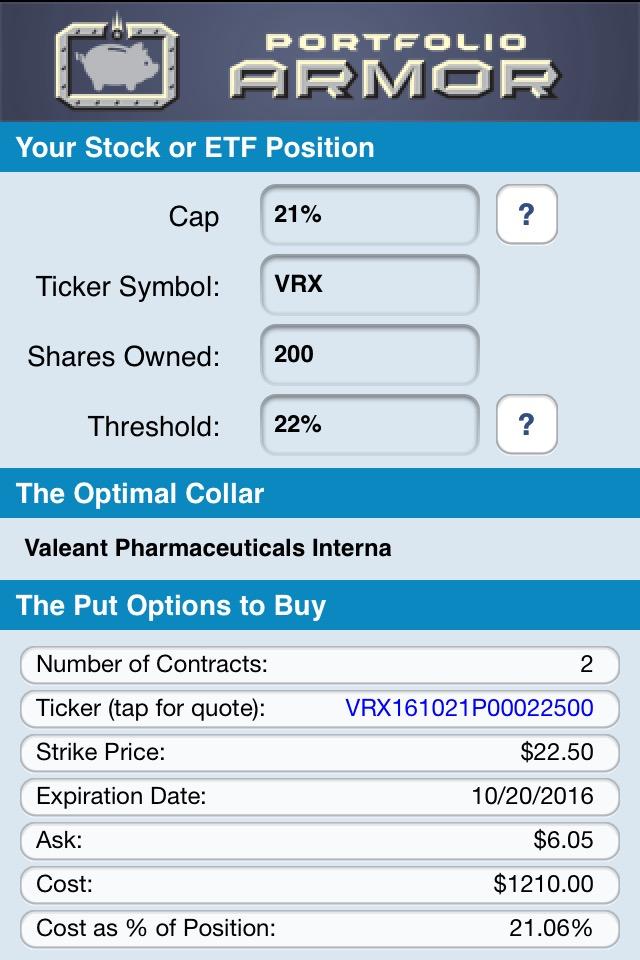 As you can see in the first part of the optimal collar above, the cost of the put leg was $1,210, or 21.06% of position value. But if you look at the second part of the collar below, you'll see the income generated by selling the call leg was slightly higher, $1,240, or 21.58% of position value.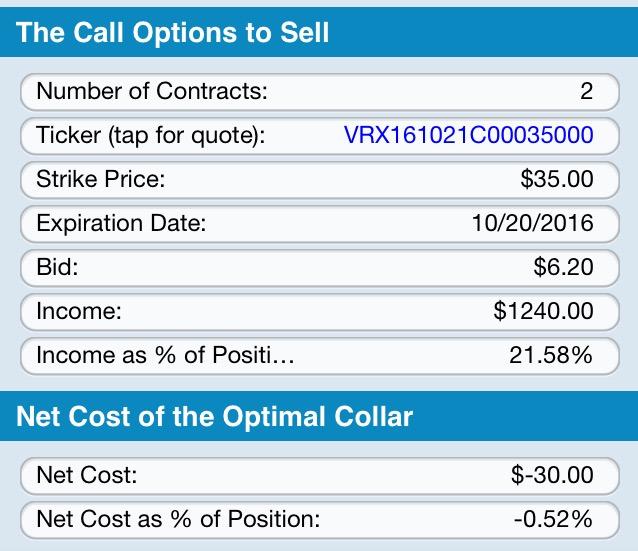 So the net cost of this optimal collar was negative, meaning a Valeant shareholder would have collected an amount equal to $30, or 0.52% of position value. One note on this hedge:
Similar to the situation with the optimal put, to be conservative, the cost of the optimal collar was calculated using the ask price of the puts and the bid price of the calls - in practice, an investor can often buy puts for less and sell calls for more (again, at some price between the bid and the ask), so, in reality, an investor would likely have collected more than $30 when opening this collar.
Disclosure: I/we have no positions in any stocks mentioned, and no plans to initiate any positions within the next 72 hours.
I wrote this article myself, and it expresses my own opinions. I am not receiving compensation for it (other than from Seeking Alpha). I have no business relationship with any company whose stock is mentioned in this article.