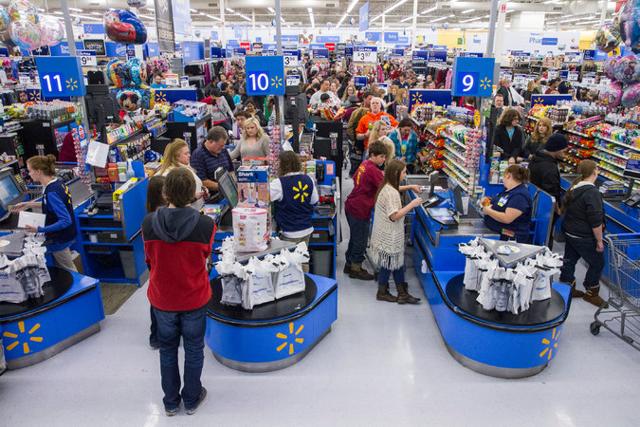 We have taken a look at Wal-Mart (NYSE:WMT) and see the current share price as being great value for investors. It is admittedly not without challenges and must adjust to a changing retail world, but we are very confident in its ability to adapt successfully. So much so we anticipate it outperforming market expectations in the current fiscal year.
While Wal-Mart is facing a number of headwinds at present, which could hinder the behemoth's top and bottom lines, we are hopeful the effects will not be as great as the market expects.
The Supplemental Nutrition Assistance Program (NYSE:SNAP) has new qualification requirements which have just come into effect. Research has indicated that up to as many as one million low-income shoppers could be affected. Despite the fact they are classed as low-income shoppers, one million is a large number with a reasonable collective spending power so retailers could be impacted. The changes will be rolled out gradually across participating states, so it won't be immediately obvious how impacted retailers are.
While Wal-Mart is expected by many to be negatively impacted by this, we actually expect it to break even. There will undoubtedly be a good number of these low-income shoppers buying their eligible groceries from Wal-Mart, but they will also be shopping at retailers such as Kroger (NYSE:KR) and Safeway which accept SNAP food stamps.
Wal-Mart may see a reasonable decline in the average spend per visit of these low-income shoppers, but it could also gain the affected shoppers who currently shop at Kroger and Safeway as they look for lower prices elsewhere. This could offset, or even go beyond offsetting, any negative impacts felt from these new changes.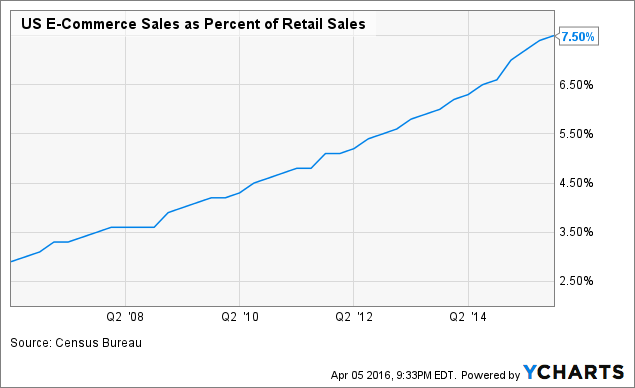 Another threat that we have high hopes will be overcome is the rise of e-commerce. As you can see on the chart shown above, e-commerce as a percentage of retail sales in the United States has grown from 2.9 percent to 7.5 percent in the last 10 years. If it continues growing at this rate, then we would expect it to be north of 14 percent in another 10 years.
The obvious competitor Wal-Mart has to worry about in the space is Amazon (NASDAQ:AMZN). But it is fighting back hard, and we have been pleased with its progress. The company has been focusing on innovation by developing a new platform that can be scaled across the business as a whole. At the same time, it has vastly improved its fulfilment centres and their capabilities to be able to work more efficiently. Ultimately, the end result of this is getting customer orders to them promptly, which we are sure many would agree is a priority for the consumer.
Although there were no numbers given, in its Q4 call, the company advised that it was continuing to see in-store pick up growth for online orders. This is where we feel Wal-Mart can get an edge over Amazon. Many may see bricks and mortar as losing relevance, but it is still vitally important and will continue to be so. By seamlessly combining both e-commerce and bricks and mortar, we believe Wal-Mart will continue to grow despite the changes in retail.
Rises in minimum wages could prove to be a headwind in the future. One hopeful twist on the matter is that the rise in wages will bring about a rise in consumer spending. So what goes out could end up coming back in.
Finally, being a global retail force with $37.4 billion of revenue coming from its international operations in Q4 means a strong U.S. dollar is going to be another headwind the company faces. The U.S. dollar has weakened a touch since Janet Yellen backed off interest rate rises, so things have improved in that regard. But eventually it will strengthen again, and there is little the company can do. As long as on constant-currency terms we are seeing a marked improvement, we will be encouraged by the performance. Despite this, we still forecast earnings per share of $4.40 for the current fiscal year. This is a decline year over year, but less severe than the 6 to 12 percent decline the company guided to late last year.
So, in our opinion, things are not looking as bad as many are making it out to be. If the shares were trading on an Amazon-esque earnings multiple, then yes, we would be extremely worried. But quite frankly, at the current level, the shares look a touch undervalued, which is probably due to the market pricing in lower expectations. A multiple of 16.5x earnings would be reasonably fair in our view.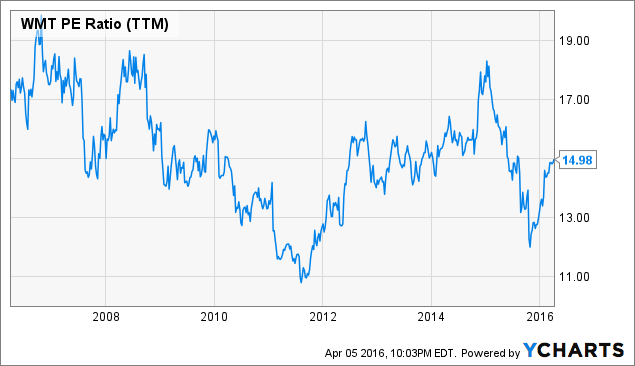 We have a price target of $72.60 for Wal-Mart. This would provide investors with a total return of 8.6 percent when factoring in the dividend also.
Wal-Mart's profitability may have taken a hit recently, but we have little doubt that this short-term pain will be the makings of a lot of long-term gain. We would recommend Wal-Mart for patient investors who are prepared to sit on the shares for a number of years. This method of investment will undoubtedly provide strong returns for those that undertake it.
Best of luck with all your investments!
Disclosure: I am/we are long WMT. I wrote this article myself, and it expresses my own opinions. I am not receiving compensation for it (other than from Seeking Alpha). I have no business relationship with any company whose stock is mentioned in this article.