Gladstone Land (NASDAQ:LAND) has appreciated recently as it has completed some larger acquisitions and reported strong growth in funds from operations (FFO). However, there is still room for the stock to move upward in our view, further approaching its higher net asset value, with investors able to earn a strong dividend yield (5%) while waiting for the stock to appreciate.
In terms of valuation, the best way to value Gladstone Land is in terms of net asset value(see below). Although there are numerous assumptions which go into valuing their land, we feel given the substantial delta between the current stock price and the net asset value that investors can be confident that the stock is undervalued relative to the value of its real estate. Additionally, a majority of the company's property valuations are done by third party appraisals. As can be seen from the footnote, a majority of the internal valuations are also done by third party valuations with a much smaller percent of the total value being added as a result of management's view that the real estate has appreciated. While we acknowledge that there may be pressure on the firm to be optimistic on various assumptions such as capitalization rates and comparable farmland sales, there is also a legal obligation for the valuation firm to provide accurate valuations for Gladstone Land's investors, thus we feel a more conservative $12 per share net asset value is a reasonable price target for the stock over the next 18 months, which is still 20% above current prices.

Source: Gladstone Land 2015 10-K Filing

Source: Gladstone Land 2015 10-K Filing
Another reason we like Gladstone Land is U.S. cropland has a history of appreciation (see below). This trend is expected to continue as arable land per capita is expected to decline with an increasing population. We expect the companies revenue stream to accelerate over the next few years as a result of the increasing value of the real estate Gladstone Land owns. Farmland also has low correlation with other assets such as gold and stocks and thus appears to be an attractive addition to a diversified portfolio.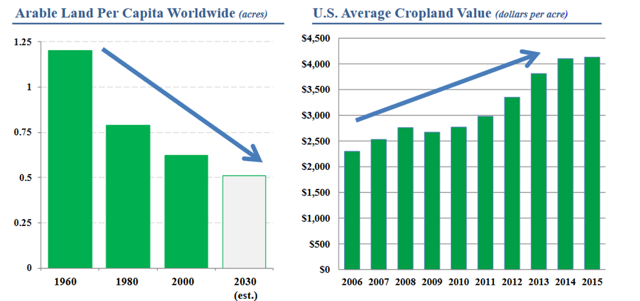 Source: Food and Agriculture Organization Of The United Nations and USDA Land Values
Major risk factors to investing in Gladstone Land include weather related issues such as droughts in key crop growth areas. California recently had a number of drought concerns, but we feel this issue is somewhat mitigated given the company has invested millions in onsite irrigation systems to increase overall water availability. The company also faces risks related to its rental income, such as whether rental rates will decline when renewals come due. For the leases set to expire in 2015 and 2016, the company was able to renew the leases resulting in an increase in standard annualized straight line rent of 15.1% compared to that of previous year.
Overall we feel Gladstone Land offers investors an attractive way to own low risk farmland at a significant discount to net asset value. We feel likely catalysts for the stock to appreciate to its significantly higher net asset value include positive earnings announcements and further larger acquisitions by Gladstone Land to continue diversifying its portfolio. We do not see shares staying below $9 per share in a bear case given the ability of the company to sell its land if needed, and feel $9 per share reflects a realistic liquidation value for the business. Given the appreciation potential of this stock, high dividend yield, and a downside limited by physical real estate we feel this stock is a good addition to investor's real estate holdings.
Disclosure: I am/we are long LAND.
I wrote this article myself, and it expresses my own opinions. I am not receiving compensation for it (other than from Seeking Alpha). I have no business relationship with any company whose stock is mentioned in this article.
Editor's Note: This article covers one or more stocks trading at less than $1 per share and/or with less than a $100 million market cap. Please be aware of the risks associated with these stocks.