PORTFOLIO PERFORMANCE
Note: Mazi Ume Capital LLP does not exist right now, but if I do run a hedge fund in the future, that's what it will be called. Mazi Ume Capital LLP is just my personal portfolio for now.

The portfolio rose by 6.82% and underperformed all indexes except the S&P 500. Below is a chart from Interactive brokers since Inception: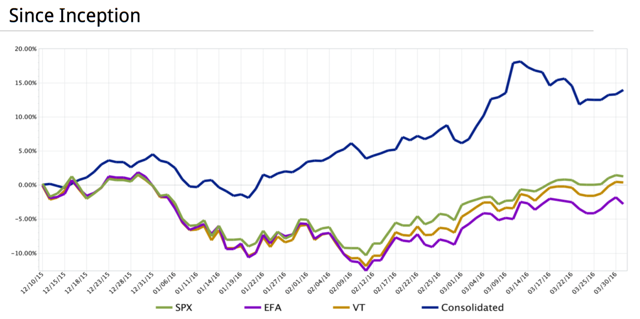 The long portfolio since inception is up 17.89%, and the short portfolio since inception is down 22%. As you guys know, I only short with put options, so that is what is responsible for the large losses on the short side. The short side is also weighted ~10% of the portfolio and is executed with puts. My data so far tells me I should quit the shorting biz, I believe it is important to hedge and I also believe that I will eventually be proven right on at least some of the shorts, and that will swiftly erase the losses.
The month of march was rough, I went from crushing the markets to underperforming. Tilly's that I sold off after the decline and Black Diamond Group (BDI), my then largest holding (now third largest since it declined by 17%), that I purchased in March were responsible for the fall. BDI is oil correlated and volatile. CBK aided positively to the performance as it popped 40% before I sold off 80% of it. I also sold off Reitman's because of the Inventory issues I mentioned.
Individual Performance
LONG

*CBK is weighted average since I sold 80% of the position
*RET.A and TLYS were sold in march at the listed prices above
SHORT

UPDATES ON POSITIONS
LONGS
Christopher & Banks Corporation (NYSE:CBK)
CBK popped after earnings, and I sold off 80%. It makes up just 2% of the portfolio now. I'm going to get rid of it after I fill up the remainder of the long portfolio this month.
Tilly's Inc. (NYSE:TLYS)
Sold of Tilly's after earnings. Inventory levels is an issue. I'm going to watch that and perhaps, get back into the position sometime over the next few quarters.
I sold off Game Digital PLC because of the macro issues I mentioned in this post.
Reitmans Canada Ltd (OTCPK:RTMAF)
I sold off Reitman's in march after battling with the inventory issues. I thankfully missed out on the earnings decline. I decided that it outweighed the price risk in the near term. I'm going to keep an eye on the stock and perhaps get back in when the dust settles.
Gamehost reported earnings in march. There are no actionable metrics for this other than the revival of the Alberta economy. You can read my post here
Pacific Health Care Organization (OTCQB:PFHO)
PFHO reported earnings last week. I posted an update on that here. I believe Q1 will seal the deal on this one since it will reveal what the recurring revenues are and investors will be now able to value it.
Black Diamond Group LTD (OTCPK:BDIMF)
I purchased this one two weeks ago, as of today, I'm 17% in the hole. I'm going to set a limit order for $3.83 and will be increasing the position by 25% when the markets open (4/6/2016).
Pier 1 Imports (NYSE:PIR)
Added this one in March. Inventory levels are to be watched when the 10-Q gets released later this month. Competitor's inventory levels are still elevated and that will place some pricing pressures on the company. I still believe margins will increase nonetheless since they are so depressed.
SHORTS
Adobe Systems (NASDAQ:ADBE)
I sold off Adobe puts after a slight gross margin increase. I will add this back if it falls again over the next few quarters.
TripAdvisor (NASDAQ:TRIP)
Nothing has changed, this is still a disaster waiting to happen. Earnings update from last month is still relevant as we await the next quarter's numbers.
Reports on Thursday 4/7/2016.
Recovery rates, Inventory levels, and delinquency rates are the numbers to watch for CarMax's earnings. Given the volatility we have seen because of crude oil, lenders are going to start cleaning up their loan books, it will start with the auto loan subprime borrowers. CarMax's business is fully dependent on outside capital. If lenders are recovering less $ for each defaulting borrower, and if the number of defaults are rising, lenders are going to start exiting the auto loan market. Also, CarMax's ballooning inventory levels doesn't help its case. A record number of cars were sold last year and 2014 was also the third highest in 15 years. All these cars are going to come into the market and this will deflate the values of CarMax's inventories even further.
Lululemon Athletica (NASDAQ:LULU)
I posted an update to this one yesterday, management guided gross margins over 400bps lower. That is the only way the company is going to be able to shed inventories or compete - by gross margins falling because of the intense competitive pressures the company faces. You can read the rest of the update here.
-------
OUTLOOK
Still trying to go strong on filling up the portfolio, things are just really busy right now, but I have a few more on the way and I should hopefully have another pick by Thursday.
Disclosure: I am/we are long CBK, BDIMF, GHIFF, PIR, PFHO.
I wrote this article myself, and it expresses my own opinions. I am not receiving compensation for it. I have no business relationship with any company whose stock is mentioned in this article.
Editor's Note: This article covers one or more stocks trading at less than $1 per share and/or with less than a $100 million market cap. Please be aware of the risks associated with these stocks.