Elevated Market = Elevated Anxiety?
The return of the bull market has elevated some investors' fears that they've missed out on cheap prices and no longer have any good places to invest their money. This fear of overpaying can cause people to stay on the sidelines and miss out on getting the compounding train rolling in building a portfolio for retirement.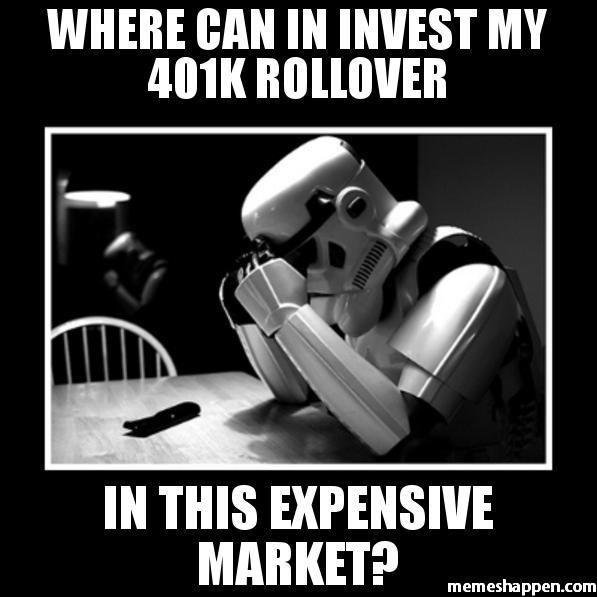 I understand this mentality as the recent volatility can certainly put fear of losses in one's mind. However, the market is composed of thousands of stocks, and despite stretched valuations from some of them, there are still decent opportunities available for investment.
Last July, in response to a challenge posed by a reader, I decided to put together a dividend growth portfolio for a theoretical investor who had come into a large sum of money. After 8 months, the portfolio has performed quite well, with a gain of 6.1% compared to -1.3% from (NYSEARCA:SPY), and also an increase in income of 1.6% to date.
Last week, I received a message from another reader who is 61 and looking to put some cash from a 401k rollover to work in equities. He wasn't happy with options in his current portfolio, and was looking for some new ideas to further diversify his income.
I had already considered putting another sample portfolio together, so this added request seemed like a good reason to get busy and get it done. As an engineer I embrace another opportunity to build a spreadsheet, so once again, I accepted the challenge!
Portfolio Assumptions & Strategy
As mentioned, this portfolio is designed for the soon-to-be retiree that is looking for dividend income as well as the opportunity for capital and income growth. My assumption is that this investor is looking to buy companies that are offering above average yields while also offering a dividend growth rate above the rate of inflation. As stated in the article's title, the overall dividend yield of this portfolio will be greater than 4%.
Additionally, as this portfolio if for someone near retirement, protection of principal is also a consideration, since the investor can't afford to lose the savings they have worked so hard to accumulate. As a result, this portfolio will concentrate on high-quality companies with minimum credit ratings of BBB+. Obviously, this doesn't completely remove risk, but avoiding companies with weak financials can help to mitigate it.
The final requirement is a diversification across several sectors, with the majority of the selections coming from less volatile areas of the market.
The Portfolio
Here is the portfolio of 25 companies that I came up with. With the exception of AbbVie Inc., these companies are all members of David Fish's C.C.C. List.
| | | | |
| --- | --- | --- | --- |
| Ticker | Company | Sector | S&P Credit Rating |
| (NYSE:ABBV) | AbbVie Inc | Health Care | A |
| (NYSE:CAT) | Caterpillar Inc. | Industrials | A |
| (NYSE:CMI) | Cummins Inc. | Industrials | A+ |
| (NASDAQ:CSCO) | Cisco Systems, Inc. | Technology | AA- |
| (NYSE:CVX) | Chevron Corporation | Energy | AA |
| (NYSE:D) | Dominion Resources, Inc. | Utilities | BBB+ |
| (NYSE:DUK) | Duke Energy Corp | Utilities | A- |
| (NYSE:EMR) | Emerson Electric Co. | Industrials | A |
| (NYSE:EPD) | Enterprise Products Partners L.P. | Energy MLP | BBB+ |
| (NYSE:HCP) | HCP, Inc. | REIT | BBB+ |
| (NYSE:IBM) | International Business Machines Corp. | Technology | AA- |
| (NYSE:LMT) | Lockheed Martin Corporation | Industrials | BBB+ |
| (NYSE:MCD) | McDonald's Corporation | Consumer Disc. | BBB+ |
| (NYSE:MO) | Altria Group Inc | Consumer Staples | A- |
| (NYSE:O) | Realty Income Corp | REIT | BBB+ |
| (NYSE:OXY) | Occidental Petroleum Corporation | Energy | A |
| (NYSE:PFE) | Pfizer Inc. | Health Care | AA |
| (NYSE:PG) | Procter & Gamble Co | Consumer Staples | AA- |
| (NYSE:PM) | Philip Morris International Inc. | Consumer Staples | A |
| (NYSE:PPL) | PPL Corp | Utilities | A- |
| (NASDAQ:QCOM) | QUALCOMM, Inc. | Technology | A+ |
| (NYSE:SO) | Southern Co | Utilities | A- |
| (NYSE:T) | AT&T Inc. | Telecom | BBB+ |
| (NYSE:VTR) | Ventas, Inc. | REIT | BBB+ |
| (NYSE:VZ) | Verizon Communications Inc. | Telecom | BBB+ |
These companies come from 9 different sectors of the market, with utility and industrial companies leading the way with 4 members each. Here is the complete breakdown by sector.
Expanding the information for the companies, I've now added in the current dividend and corresponding yield, historical dividend growth information, and my quick take on projected dividend growth for each company. I then used this forward dividend growth rate to project a future 5YR yield on cost to give an idea of future income potential.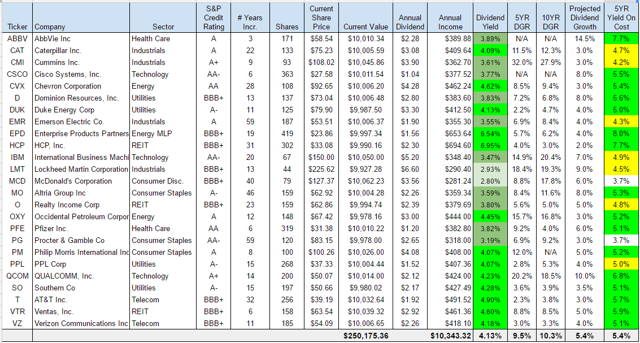 These numbers are all based on closing prices of April 5th which were used to determine the number of shares for approximately $10,000 per position. Overall, the portfolio yields 4.13% while providing an average 5YR dividend growth rate of 9.5% and 10YR dividend growth of 10.3%.
I believe my projections for future dividend growth are on the conservative side, and my estimates for the cyclical industrial and energy companies are all well below historical averages.
The projected yield on cost numbers are based solely on current yield and projected growth rate and do not factor in reinvestment of dividends as my assumption is that the investor will be using them for income. However, should they be reinvested back into the companies that pay them, the average 5YR yield on cost projection increases from 5.4% to 6.5%.
These numbers may not seem impressive on the surface, but a 5.4% yield would be a nearly 31% increase in income over the current 4.13% yield, while the 6.5% from dividend reinvestment would be a 57% increase.
For an investor who may be a few years away from retirement, this can be a reassuring projection. Sometimes when we focus on size rather than income, it can be a bit overwhelming thinking we need to grow a portfolio by 30 or 50% to meet our retirement needs. However, when price volatility is removed from the equation and focus is placed on the dividend income the portfolio generates, the more predictable rate of increases can be comforting.
One thing I will point out, is that these companies were selected for an income portfolio, not necessarily a total return one. Some of these stocks are expensive when compared with historical valuation levels, and those worried about short-term fluctuations may want to take that into consideration.
Conclusion
I won't argue with those who say the market is expensive right now. Certain sectors like utilities and consumer staples have reached valuation levels that do cause some concern. Yet, even with these elevated prices, there are still ways to build a portfolio than can meet your income needs.
I believe the above portfolio provides a nice mix of quality companies that should be able to continue growing their dividend payouts into the future. Certainly some are in stronger positions than others, and should crude oil prices not recover, companies like Chevron and Occidental could eventually see their payouts at risk.
However, proper diversification and weighting of positions can mitigate this risk, and for those who disagree with me that crude will rebound, can simply remove those from consideration to sleep well at night. I hope this sample portfolio can provide some ideas for income investors, and help alleviate some concerns regarding recent market volatility.
For those who may be interested, I provide quarterly reports on the performance of my personal dividend growth portfolio, as well as other similar articles to this one. If you would like to receive updates, please click "follow" next to my name at the top of the article.
Happy Investing!
Disclosure: I am/we are long ABBV, CMI, CVX, D, IBM, LMT, MCD, MO, O, OXY, PM, QCOM, T.
I wrote this article myself, and it expresses my own opinions. I am not receiving compensation for it (other than from Seeking Alpha). I have no business relationship with any company whose stock is mentioned in this article.
Additional disclosure: I am an engineer by trade and am not a professional investment adviser or financial analyst. This article is not an endorsement for the stocks mentioned. Please perform your own due diligence before you decide to trade any securities or other products.