This article will discuss about the main franchises and the major potential blockbuster contained in the pipeline and will demonstrate that Roche will be able to grow despite the threat of biosimilars.
Roche (OTCQX:RHHBY) is a Swiss pharmaceutical company active in pharmaceuticals (78% of 2015 sales) and diagnostics (22% of 2015 sales). Roche is the world's largest biotech company and develops medicines across oncology, immunology, infectious diseases, ophthalmology, and neuroscience. The revenues of the pharmaceuticals division are distributed as follows:

The company is a worldwide leader in oncology with Rituxan/Mabthera, Avastin, and Herceptin which are ranked in the top 10 of the biggest pharmaceutical products in term of global sales. Despite the fact that Roche is a biotech company from a technology and sciences standpoint, in the investor's mind, Roche remains a pharmaceutical company. It means that Roche is not as volatile as other large cap biotech companies (Celgene (NASDAQ:CELG), Gilead (NASDAQ:GILD), Biogen (NASDAQ:BIIB)…) when the biotech sector is "under attack". The group employs more than 90,000 people and is present in over 100 countries. Roche has been rewarded by 12 breakthrough therapy designations since 2013 which is more than any other pharmaceutical company and proves that the group focuses on innovation and new therapies and also that Roche is the best in class in terms of R&D. Roche is also a leader in in vitro and tissue-based cancer diagnostics. For more information about the company, please consult the company website.
The bearish thesis in short:
The major argument used by bearish investors on Roche is the risk of biosimilars on the company's main drugs. Indeed, Rituxan (known as Mabthera in the US) has lost its patent protection in Europe in 2014 and will lose patent protection in the US in 2018. Herceptin is already off-patent in Europe since 2014 but it is still protected in the US until 2019. Avastin is protected by its patents until 2019 in the US and until 2022 in Europe.
These three drugs represent CHF 20B or 54% of the pharmaceuticals division's sales. They represent 42% of company total revenue and they will face biosimilar risk in the next few years. Even though this argument is partially true, Roche should be able to grow in the next few years through a mix of line extensions, NME (New Molecular Entity) launches and combinations. We will discuss about the future growth drivers in a following session.
What happened in 2015?
In 2015, sales of the pharmaceuticals division grew by 2% as reported but by 5% at constant currency rates. More important, despite the loss of the patent protection for Rituxan and Herceptin in Europe, the drugs are still growing nicely (respectively mid and high single digit) as you can see in the chart below. They were able to grow because there is not yet a biosimilar available in Europe at the moment. Given the difficulty in replicating a biotech drug, the first biosimilar will be launched not sooner than the end of 2017. Avastin has reported a 9% growth. Perjeta launch trajectory is still very good with a 61% growth rate.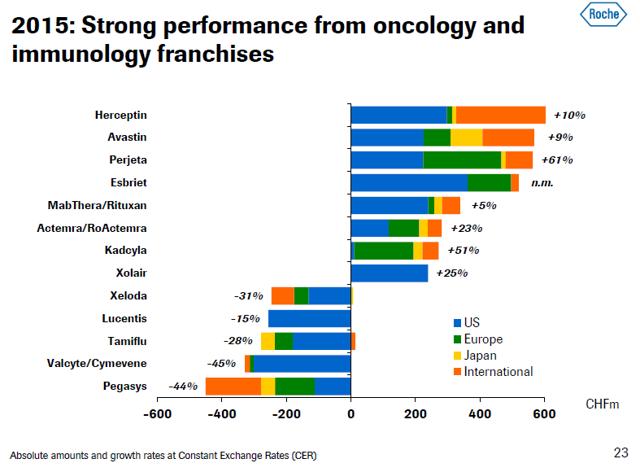 Of course, these franchises will be under more pressure when they lose their US patent protection, which allows higher prices and margins. However, Roche was able to consistently implement an efficient management of the life cycle of these drugs, replacing products going off patent with higher-value proprietary drugs.

Moreover, Roche owns a broad late-stage pipeline which management expect to contain 12 potential blockbusters (peak sales > CHF 1B). Data readouts for some of these potential blockbusters should be available before the end of 2018. More specifically, 4 NME (Ocrelizumab, ACE 910, Atezolizumab and Lampalizumab) readouts will be released in the next 18 months, as well as important line extensions such as APHINITY (Perjeta in the adjuvant breast cancer), GOYA (Gazyva in aggressive Non-Hodgkin's Lymphoma) and GALLIUM (Gazyva in aggressive Non-Hodgkin's Lymphoma). The following table gives an overview of the late stage pipeline.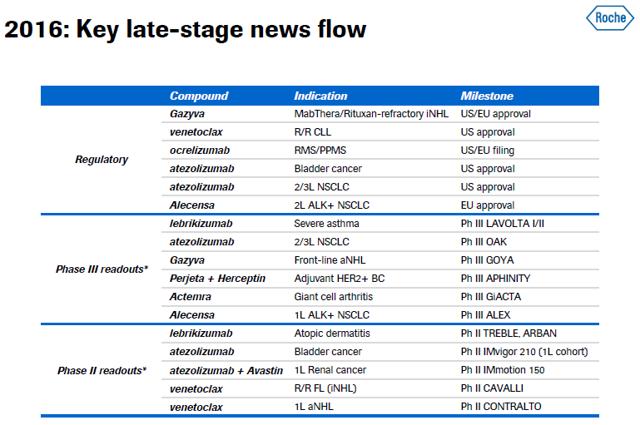 The pipeline should more than offset the drag in revenues from business facing biosimilars competition. The management is really confident and considers that the company will be able to grow even if some of those assets do not reach the market. Moreover, the majority of market opportunities require a very low investment because the company already has the adequate infrastructure and sales force. And of course, there is a chance that some of the current businesses won't be impacted as much as anticipated/feared.
Is biosimilars risk overstated?
Indeed, there are many reasons why biosimilars risk could be overstated.
Firstly, they require huge investments (R&D, infrastructures but also in SG&A) and are difficult to produce, thus companies won't be able to sell biosimilars with a >50% discount to the original price as it happens with generic products. Companies active in biosimilars would probably compete with branded drugs instead of competing as a generic.
Secondly, the adoption could be slow because physicians might lack confidence in the alternatives. Indeed, an eventual difference in efficacy is only apparent in the long term, requiring the doctor to take a risk when prescribing.
In fact, the European regulation allows the use of biosimilars since 2005 but the biosimilars market did not grow since then. It is estimated at barely €900M. Moreover, the price discount is not as big as expected (e.g: Zarxio from Novartis is the biosimilar of Neupogen (Amgen) and it was launched with a 15% discount).
Lastly, there are no rules that enforce the substitutability of biosimilars. In the last 10 years, generic drugs have gained market shares because of such regulation. I'm not so sure that such a regulation will be implemented for biosimilars because those drugs are not 100% similar.
Ocrelizumab in Multiple Sclerosis (MS)
Multiple sclerosis is a progressive disease resulting in a continuous deterioration of the neuronal myelin sheath that surround and insulate the nerve fibers. When the myelin sheath or nerve fibers is damaged or destroyed, the flow of neuronal signals is disrupted within the brain and between the brain and the body. This disruptions lead to a lot of symptoms as dizziness and vertigo, paralysis, breathing problems, pain, bladder and vision problems… Relapsing-Remitting MS (RRMS) and Primary Progressive MS (PPMS) are the two existing forms of MS. The former is the most spread out with 80%-85% of MS patients diagnosed. The latter represents the 15%-20% left of MS patients. RRMS is characterized by periodic attacks so it means that the patient can live without symptoms (for months, sometimes years) and suddenly symptoms appear for a period of time before stopping. The PPMS is more severe because it is characterized by steadily worsening symptoms and there are not relapses or periods of remission. So far, there are no curative therapies. Before Ocrelizumab, there were only symptoms-alleviating drugs for RRMS but not approved treatment for PPMS.
Roughly 2.5 million people are diagnosed worldwide. Biogen estimates this market at $17B in 2014. The market is divided according to the administration mode. There are the injectable drugs (Avonex, Betaseron, Copaxone, Rebif) and the oral drugs (Gilenya, Aubagio and Tecfidera). Oral drugs should gain market share from traditional injectable drugs because they are more patient-friendly even if they have a lower safety profile.
Ocrelizumab has showed a safety profile equivalent to injectable drugs but a superior efficacy to both injectable and oral drugs. Because of these strengths, Ocrelizumab should penetrate both first and second-line treatment. The drug is destined to be a future blockbuster. To compare, Biogen has reported $2,56B sales for Tecfidera in 2015, so we can safely assume that Ocrelizumab will do at least the same because of a better efficacy profile, market share gains for oral drugs and especially because it will be the only treatment for PPMS. Roche plans to pursue marketing authorization for both PPMS and RRMS in the first half of 2016.
Perjeta and Kadcyla in breast cancer
Roche is the leader in treatment of breast cancer with HER2 protein over-expression. This cancer represents roughly 20% of the broader category of breast cancer. The breast cancer treatment can be split in three different kinds of treatment:
Neoadjuvant: Neoadjuvant chemotherapy refers to medicines that are administered before surgery for the treatment of breast cancer. It allows changing the timing of the treatment and gives more surgical options.
Adjuvant: Adjuvant chemotherapy refers to medicines administered after surgery for the treatment of breast cancer. Adjuvant chemotherapy is designed to prevent recurrence of the disease.
Metastatic: medicines used to treat cancer that has spread beyond the breast to other organs (lungs, brain, bones…)
The revenue split between the three different treatments is: 10% for Neoadjuvant setting, 60% for the Adjuvant setting and 30% for the Metastatic. Metastatic treatments are split between the first and second line.
Perjeta has been developed as a complement to Herceptin. It has already been approved in first line metastatic breast cancer and in Neoadjuvant setting as well. Thus, Perjeta (with Herceptin) is the standard of care in more than 30% of HER2+ breast cancer case. Kadcyla is approved in second line metastatic, so it covers the roughly 10% left in the metastatic treatment.
The APHINITY study could allow approval in the adjuvants setting. If the APHINITY study is successful, Perjeta, in combination with Herceptin, will be the standard of care in 90% of HER2+ breast cancer treatment and Kadcyla protects already the 10% left in second line metastatic. Thus, the franchise will be 100% protected.
The results of the APHINITY study seems to have more probability to be good than bad. Firstly, Perjeta is studied as a complement to Herceptin which is the active drug in contrast to the Marianne study (Failed in 2015) in which Perjeta was the active drug. Moreover, the NEOSPHERE trial (Perjeta combined with Herceptin in the neoadjuvant setting) demonstrated already very good results for Perjeta.
In addition to protecting 100% of Herceptin sales (If the APHINITY study is positive), Kadcyla and Perjeta are "true" second generation drugs. Indeed, Herceptin was administrated by a transfusion, required 1 or 2 hours of preparation because it was a dry powder and required patients to go to the hospital or physician office to receive the transfusion. Kadcyla and Perjeta are now subcutaneous drugs so they don't require patients to go in a physician office, save a lot of time to physicians and save money to the system.
Roche is also active in the pricing strategy of the combination. Indeed, they decrease the price of Herceptin but increase of the same amount the price of Kadcyla and Perjerta. Thus, the combination listed price is the same but protect Roche from a pricing war with biosimilars even if Herceptin becomes substitutable as generics (because of a change in regulation), the most important part of the total price will come from Perjeta and Kadcyla and not from Herceptin anymore.
Gazyva and Venetoclax in hematology
To offset the aging Rituxan/Mabthera that will lose US patent protection in 2018, Roche has developed Gazyva and has also co-developed with AbbVie an add-on drug called Venetoclax.
Before explaining how the franchise is protected, let's have a look to a simple chart that explains how the revenues of Rituxan/Mabthera are split between the different indications.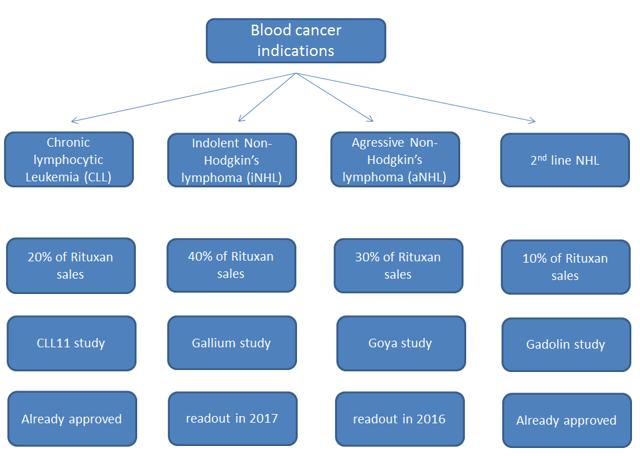 The GADOLIN and CLL11 trials have already protected roughly 30 of the hematology franchise. The GADOLIN study has demonstrated positive results in the second line indolent non-Hodgkin's lymphoma (iNHL) which represents 10% of Rituxan sales. The CLL11 study has shown that Gazyva has superior efficacy to Rituxan in chronic lymphocytic leukemia (CLL) and protect 20% more of Rituxan sales.
The GOYA study investigates Gazyva plus chemotherapy heat-to-head against Rituxan plus chemotheraphy in first line aggressive non-Hodgkin's lymphoma (aNHL). Data should be read out in 2016. This indication accounts for 30% of Rituxan sales. However, positive results in the Goya study will give confidence about a potential success in the more important GALLIUM study (readout in 2017). This study compares Gazyva to MabThera/Rituxan plus chemotherapy in first line indolent non-Hodgkin's lymphoma (iNHL). This indication represents around 35%-40% of Rituxan sales.
In order to be more effective, a biologic modifier such as Venetoclax can be combined with Gazyva, allowing to significantly increase the respond rate and remission duration. The phase 3 MURANO study (readout in 2016) and the phase 3 CLL14 study (readout in 2017) are currently ongoing. Data from phase 2 were very positive especially in the 17p patient subgroup (17p is a gene mutation and is the worst clinical outcomes in patients with CLL).
Again, second generation drugs show a superiority to the previous drug and should prevent biosimilars to win market shares.
ACE 910 (Emicizumab) in hemophilia A
Hemophilia A is a rare genetic disorder caused by missing or defective blood clotting protein called factor VII. Most of patients under therapy take a recombinant factor VII because it is safer than plasma-derived products. These drugs are infused intravenously and require regular and frequent infusions. However, there are complications with patients developing inhibitors. Inhibitors appear when the immune system considers that the factor VII is a foreign substance of the body and start to destroy factor VII proteins using inhibitors. Thus, it is very difficult to control bleeding for patients with inhibitors with the current treatments. Patients with inhibitors represent roughly 20%-25% of people with hemophilia A.
ACE 910 gives chills to many shareholders of Baxalta (NYSE:BXLT) and Shire (NASDAQ:SHPG) and to a lesser extent Novo Nordisk (NYSE:NVO) and Biogen . The phase 1 data readout was really impressive and has demonstrated a significant reduction in annualized bleeding rate in all cohorts. Even more impressive, ACE 910 has demonstrated efficacy in the population without inhibitors but also in the population with inhibitors. The first data clearly show that the treatment has a better effectiveness profile than other drugs and it is more patient friendly as well because ACE 910 is administered as a weekly subcutaneous injection. ACE 910 has received a breakthrough designation after releasing the phase 1 data.
The incidence of hemophilia across the world is not known with precision, but it is estimated to affect around 400,000 people. However, approximately 75% of people with hemophilia have no access to treatment or receive an inadequate treatment. According to Biogen, the hemophilia market is worth roughly $ 7B.
The new anti PDL1 Atezolizumab
Roche should file Atezolizumab this year in the US in both second and third line Non-Small Cell Lung Cancer (NSCLC).
Lung cancer is the most widespread form of cancer worldwide. Every year, this form of cancer kills more than 1.5 million people. Lung cancer can be classified into two different categories, NSCLC and Small Cell Lung Cancer. The latter form represents 15% of lung cancer while the former form accounts for 85%. Moreover, Atezolizumab is under trial to be used in many others indications as bladder cancer or kidney cancer…
Even though Roche will be the third actor coming to the market in immuno-oncology (and in NSCLC as well), after Bristol-Myers (NYSE:BMY) and Merck (NYSE:MRK), the company should be able to do well because of its robust oncology franchise despite the challenging competitive environment. However, the best opportunity for Roche to differentiate Atezolizumab remains in combination with chemotherapy in first line lung cancer (Phase 3 readout in 2017). It is also important to note that Roche initiated a lot of combination trials for its anti PDL1 and should support the growth of Atezolizumab overtime.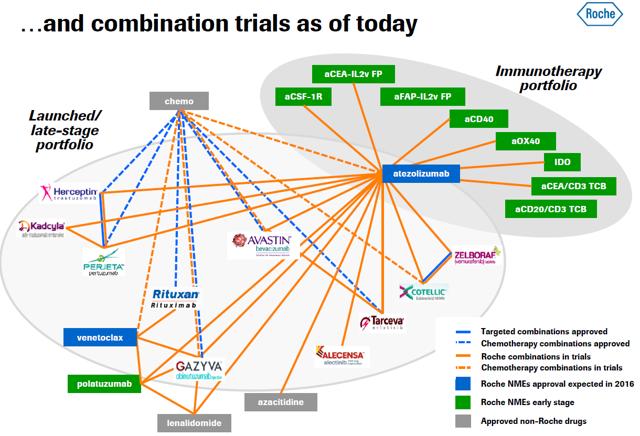 Aristocrat dividend stock
In a low interest rate environment, investors may profit from stocks paying a growing and safe dividend. These investors are normally more risk averse, so they tend to focus on high quality companies, with a strong cash flow generation and a defensive profile. With the new QE of the ECB, aristocrat stocks should outperform.
Roche's fundamentals are strong and have always been strong as demonstrated by its ability to pay a growing dividend since 1990. The payout ratio stands at 60% in 2015 so it means that even if the previous investment thesis is inaccurate, the company has still room to increase its payout ratio and keep the dividend growing or at least stable if its earnings decrease.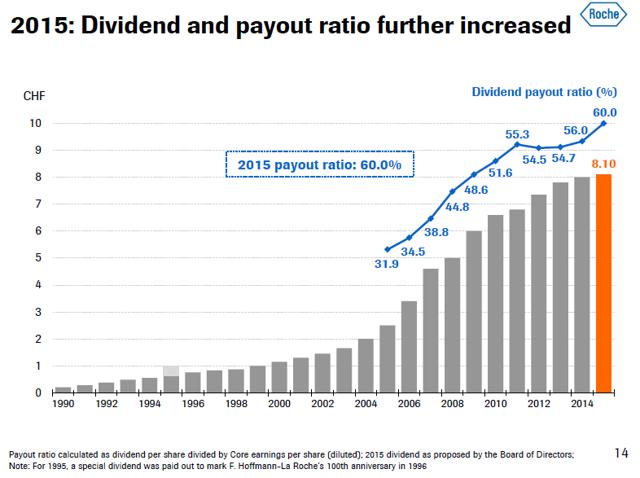 Conclusion
Roche has already made tremendous progress to defend its core franchises (Herceptin, Rituxan/Mabthera and Avastin) from biosimilars with the development of second generation drugs (Perjeta, Gazyva and Kadcyla). The news flow will be consistent in the next few months and will demonstrate that Roche is able to deliver and keep growing. Even though clinical data readouts are binary by nature, results are skewed on the positive side because preliminary data have already been released in another clinical study. Moreover, the incoming approvals and clinical development will be a catalyst for analysts to upgrade their EPS forecasts and improve the momentum of the stock. Roche is a defensive investment with a growth profile enabled by its strong pipeline.
Disclosure: I am/we are long RHHBY.
I wrote this article myself, and it expresses my own opinions. I am not receiving compensation for it (other than from Seeking Alpha). I have no business relationship with any company whose stock is mentioned in this article.
Editor's Note: This article discusses one or more securities that do not trade on a major U.S. exchange. Please be aware of the risks associated with these stocks.