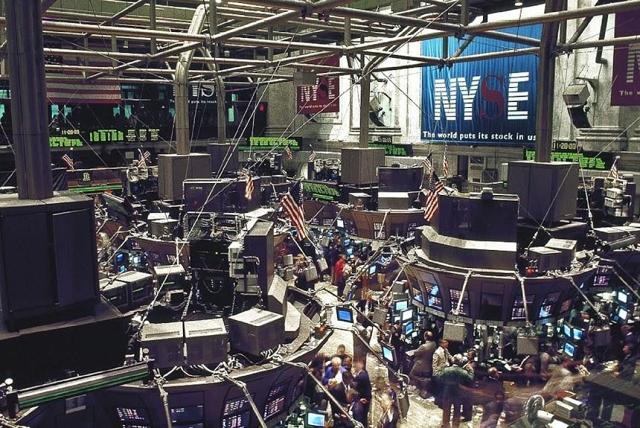 To make a call that everything goes in unison should not be so outlandish this year. We are making a call to short the S&P 500 (NYSEARCA:SPY), Oil (NYSEARCA:USO), and Gold (NYSEARCA:GLD).
Typically the three markets end up being hedges for each other in some way. That has not been the case of late.
Typically:
*Oil dropping helps the economy with lower prices driving the stock market.
*Gold dropping is a sign of less inflation which helps the economy.
*The market dropping drives gold, as a historic store of value in shaky times.
*If Oil and Gold spike its usually because of an inflation fears hitting the market.
This Year Is Different:
*Oil and the market have had a strong correlation
*Gold gets bought and sold as China and Hong Kong feel better and worse which correlates to their market.
The Concern of 'Unison':
When everything is working in unison we want to know what is the main driver of this unity. If the main drivers were recovery and safety, then we don't have a worry and this strong bounce off the bottom should not be a concern.
But when everything is interconnected and correlated and we are living in a world of concerns then we have to evaluate risk.
Global Concerns Have Not Changed:
Realistic worries have not changed: Weakening Europe, China and Asia grinding slower, Increased inflation in the US despite global weakness, rate hike threats that come with inflation.
This is not a call saying the top is today. In fact the S&P has followed Oil and Gold with a lag. It's only to point out that nothing has changed much in a few months. The world is moving together. This time, the global net direction appears to be lower and that rate hikes and inflation remain to be a reality as they were earlier in the year.
Oil and Gold Below Moving Averages
Probably the key impetus for our call out is that oil and gold have both started to roll back over again. We like to look at the 10 day moving average (2 weeks). We think it is psychologically meaningful on a price basis short to medium term. We noticed that both gold and oil have now started to go below their averages. That means everybody who bought in the last two weeks has started to go underwater on those trades.
Recently, because of the fixation by news media surrounding these moves, we believe that newer investors may be sucked in also trying to profit. Add to that fund managers are forced to keep pace so these moves are now all moving together and exacerbated by the reports of recent swings leading to these new swings. This can sway the price action passed the underlying fundamentals. As we all know price and fundamentals do not need to align in the near term but at some point it's fair to say they feed into each other.
Here is the chart on Gold that could be starting to roll over after a nice run higher. You can see the smooth nature of the moving average implying an orderly 'everyone in, everyone out.' The fact that it is rolling is a cause for concern for the S&P 500 to soon follow as we will show.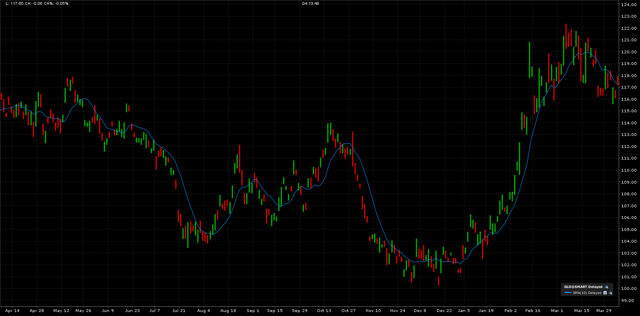 Below is the Oil or USO chart. We can also see an orderly progression 'everyone in, everyone out.' If this roll over is like we had in the past, that leads to worrisome price levels. If the correlation of all markets continues its ominous trend, then we worry that the S&P 500 can follow.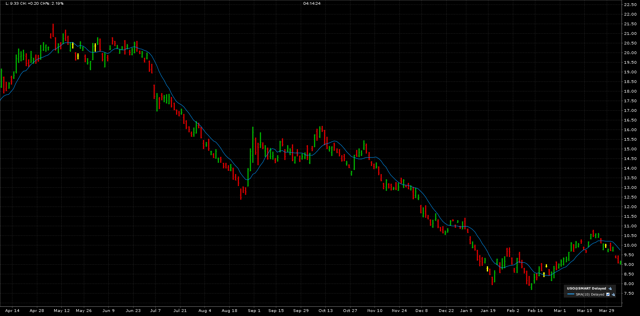 Below is a chart putting it all together. The yellow line is USO or Oil. The purple line is Gold. The bar chart is the S&P 500 ETF SPY. We drew vertical lines in the places where oil and gold seemed to roughly peak together on a simple price basis. We saw that the S&P 500 took its time to follow the same path but in the end it followed. The correlation back up was not as tight, but that's not where we believe we are right now.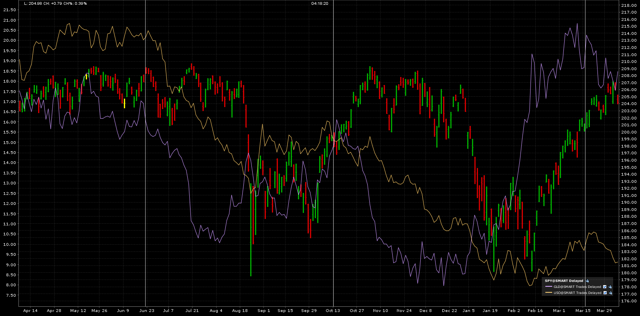 There are of course much longer time-frames to review. We point out the near term due to the strange relationship of general correlation between asset classes that have historical seen divergence. If recent action repeats (which it never perfectly does) and since we are below the two key asset classes' (oil and gold) moving averages, we worry that it can weigh on the S&P 500.
Seasonal Correlations Could Play Out
We like to generally look at monthly seasonal performance to know what we are up against. This year has been different. January is typically a strong month according to the chart below shown by investopedia.com.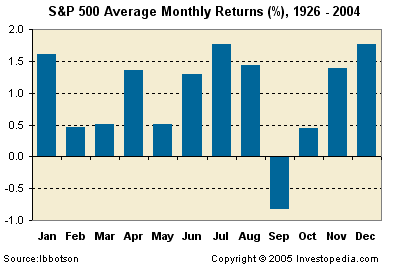 Looking at April simply, it looks like it should be up. January should have also been up, but as we painfully remember, took a downturn. We worry that April could be like January.
In another popular seasonal relationship, the January effect would tell us that this is a year filled with risk based on a weak January performance.
At current price levels, it does not appear that there is much memory of January's price action.
Fear Of Rate Hike Disappeared
After the last Fed meeting the Fed seemed to change its language to appear more dovish. They added that global and financial markets 'pose risks' which sent the message they were backing off imminent rate hikes.
The Fed Funds futures, which the Fed Chairperson has said publicly she tracks, does not call for a rate hike until possibly December. If something were to change in Fed speak that would imply sooner, the market will likely price it in on the downside.
We are in a of web of 'what ifs.' If the global economy does pose risks then the markets take a hit. If they don't then the Fed can raise rates, which implies a market hit.
Core CPI Rising
The main driver that can cause the Fed to raise rates is CPI which is inching higher.
| | | | | | | |
| --- | --- | --- | --- | --- | --- | --- |
| Aug | Sept | Oct | Nov | Dec | Jan | Feb |
| 0.1 | 0.2 | 0.2 | 0.2 | 0.2 | 0.3 | 0.3 |
The next read will be April 14th to see how it progressed.
Oil Inventories Keep Rising
The fair reason as to why oil prices have been precipitously dropping is rising inventory levels. Inventories continue to climb in the US and abroad. The blue line below shows the trajectory of the rise in the US and compares it to the last 5 years (in grey).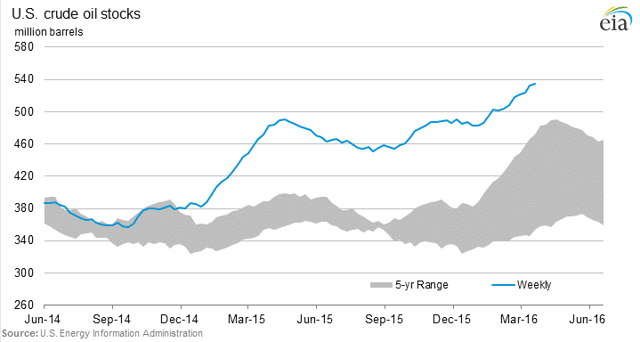 The oil price bounce off the recent lows initiated when OPEC was reported to potentially agree on output limits. For oil to keep rising, we think they'd have to follow through on that which is an unknown.
If inventories continue to drive the oil price lower, given recent relationships, we expect it to weigh on the overall stock market's price level.
Conclusion
Picking tops and bottoms is not usually a successful business model. The best traders and portfolio managers catch on to a trend and ride it out both for stocks and markets. Here, because the moving averages have changed in oil and gold we think that is a change in trend and that it can weigh on the overall markets, specifically the S&P 500. That said, calling tops and bottoms is difficult and everybody should do their own work and come to their own decisions. At the very least we bring some fair concerns that should be paid attention to in a potentially frothy market.
Elazar Advisors, LLC specializes in earnings and predicts, analyzes and reacts to earnings and earnings events as well as developing current company and macro stories with a hedge fund perspective.
If you want Elazar's analysis on Seeking Alpha, scroll to the top of the article and hit "Follow." Elazar also writes real-time pieces as earnings and news are reported on Seeking Alpha. If you want to be among the first updated, be sure to check the box for "Real-time alerts on this author" under "Follow."
Disclosure: All investments have many risks and can lose principal in the short and long term. This article is for information purposes only. By reading this you agree, understand and accept that you take upon yourself all responsibility for all of your investment decisions and hold Chaim Siegel, Elazar Advisors, LLC, bestideas, their related parties, and its authors harmless.
Disclosure: I am/we are short ES, QO AND QM.
I wrote this article myself, and it expresses my own opinions. I am not receiving compensation for it (other than from Seeking Alpha). I have no business relationship with any company whose stock is mentioned in this article.
Additional disclosure: These are volatile instruments and we may make portfolio decisions which can cause us to trade in or out them for a number of reasons at any time.