Three months on and we are still very much enamored by Target Corporation (NYSE:TGT). We bought shares in Target at the turn of the year, and even though the share price has leaped 13% since then, we are in no rush to cash in our gains even after Barclays downgraded TGT from overweight to underweight and cut the price target from $90 to $70.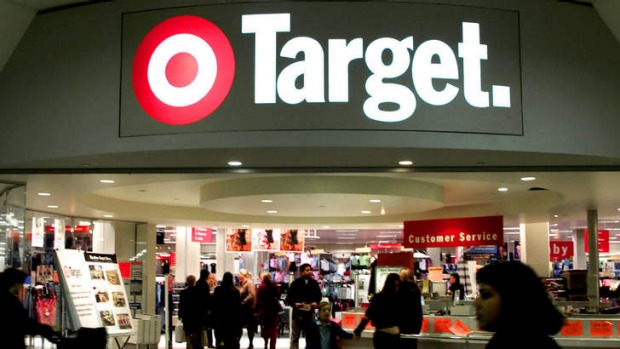 Let's be honest, no investor wants to hear the words "downgraded" for a stock that sits in their portfolio. That one word can trigger panic of all sorts, and gains that the stock has fought hard for over a space of months can be gone in an instant.
Barclays downgraded Target to underweight at the end of March, and thankfully it has more or less held firm despite having a price target of $70 placed on it. By calling it out as underweight, Barclays is saying it expects it to underperform either its industry, sector, or even the market altogether. No prizes for guessing that we don't agree. The reason Barclays's Matthew McClintock gave on the downgrade was concerns over the company's longer-term annual comp store sales target of 3%. McClintock believes it to be overly optimistic due to lower sales expectations from e-commerce pressures and decreased expectations for margin expansion.
It is fair to say that Target has fallen short on its e-commerce targets previously. It had been targeting digital sales growth of 40% last year, but only managed to deliver growth of 31%. E-commerce will be key to growing revenue at a strong rate in the next five years, and we believe it will get there. Target is investing heavily to achieve this, so we expect to see a big improvement in the future. It announced in an analyst call that it plans to spend $1.8 billion this year and $2.5 billion next year on supply chain and technology. These are big investments, but with free cash flow coming in at $4.4 billion in the last financial year, the company can more than afford to make these important investments.
We find this especially pleasing because the future of retail, in our opinion, is the seamless integration of the traditional brick-and-mortar store with the online and mobile stores. We are sure many readers will have experienced frustrations in the past where it felt like dealing with an online store was a completely different company to the brick-and-mortar store. This frustration should now be a thing of the past, at least for Target, as it makes its investments. Not only will this make for a fantastic customer experience, but it is also something we envisage will appeal to younger demographics which Target needs to attract in order to remain relevant in future.
Its Cartwheel mobile savings app is a big hit in our opinion. The app provides shoppers more ways to save and is seen by many as a real competitive advantage for brick-and-mortar retailers. According to reports, the Cartwheel app is used by millions, and management has advised that users have saved almost $500 million since its launch in 2013.
Trading on a PE ratio of just over 15 makes Target still a good investment today despite the rally in its share price this year. Perhaps the bargain days of it trading on a PE ratio of 13 are gone now, but we still see good gains for investors in the next couple of years as we expect it to trade at a PE ratio of 17.0 in the future. Our price target is $90.44 based on diluted full-year earnings per share of $5.32.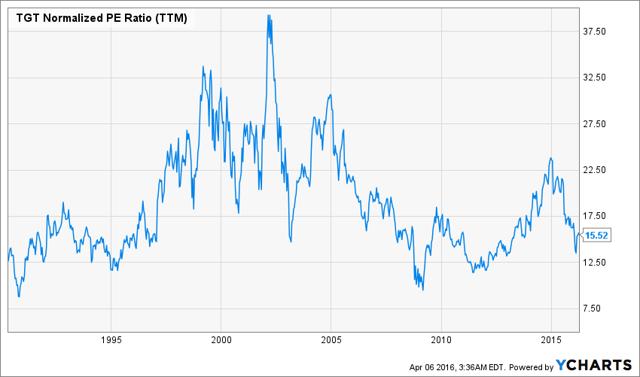 Another thing that attracts us to Target is its dividend. The shares currently yield 2.73%, but those that intend on holding the investment for the long term should expect to see strong income from their shares in the years ahead.
In the last 10 years, TGT has grown its dividend year over year at a very strong rate and far above Wal-Mart (NYSE:WMT). We would imagine this will continue to be the case for the foreseeable future, especially considering the company pays out just 40% of earnings at present. There is a lot of room for growth in there.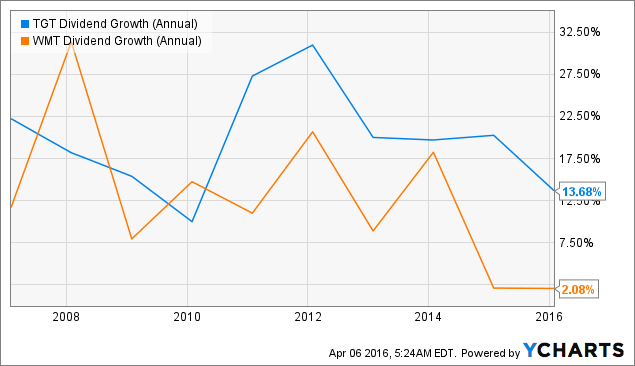 Target is a great investment in our opinion. We do feel it is prudent to keep a close eye on its progress, but ideally we see this as a long-term buy-and-hold investment that will produce quality returns for shareholders.
The current share price may not be as much as a bargain as it was at the start of the year, but it is still good value today. We intend on holding onto our investment for a while yet, and expect its investments in technology to pay off and secure its long-term future as a key retailer for millions around the world.
Disclosure: I am/we are long TGT.
I wrote this article myself, and it expresses my own opinions. I am not receiving compensation for it (other than from Seeking Alpha). I have no business relationship with any company whose stock is mentioned in this article.