As an investor I know plenty of other capable fellow capital allocators who shun the prospect of dedicating capital to businesses in the financial services sector.
For one reason or another, ranging from complexity to the more understandable lack of attractive opportunities available at the present time. As an ardent, long-time investor in financial services related businesses - from holding companies to banks, REITs, and beyond. I deem this unacceptable thought that it may be a worthwhile exercise to attempt to debunk a long-held notion that large bank or financial institution financials are so esoteric that only highly experienced and specialized investors can understand them.
The subject of this exercise - Ally Financial (NYSE: ALLY) is the very definition of a "big bank" as the Detroit, Michigan based auto/corporate lender and insurance provider is the 17th largest bank in the U.S. with $158.58 billion in assets as of December 31st, 2015.
The first thing to keep in mind when analyzing a bank balance sheet is that up is down and vice versa - much like in Superman's Bizarro World, as a bank's deposits - $66.47 billion in Ally's case that are found on the liability side of the ledger, are in actuality its assets and its assets or loans of $110.54 billion, are its liabilities. This takes a bit of getting used to, but it gets easier from here on out.
The sum of Ally's net financial receivables and loans break down as such: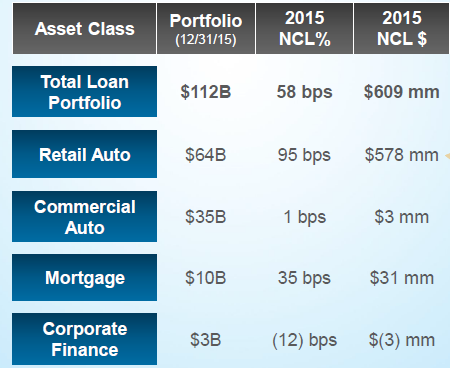 Source: Ally Financial 2016 Investor Day Presenation
In addition to the net credit loss (NYSE:NCL) or non-performing loans (NPL) figure which Ally stresses, as they should given that the 0.58% median for the loan portfolio is very good, especially for a gargantuan $112 billion loan book where 2-5% or larger non-performing loan ratios are prevalent.
The composition of the bank's portfolio by asset class is also imperative. From a risk management perspective no single loan segment should ever eclipse 60% of the overall portfolio. Ally's retail auto lending component comes the closest, touching just below 58% at present.
The overall loan portfolio is also adequately spread across various geographies in order to defeat concentration risk, while the majority of automotive and consumer loans are concentrated in Texas and California respectively, 86.3% and 66.4% of such receivables are outside of those respective states.
Assets
As with any other business cash and equivalents are self-explanatory. Securities for a deposit-taking institution will always be plentiful for regulatory purposes and should average in or around 20% of deposits as it does in Ally's case at 21.3%.
The deposit profile for Ally is somewhat unique, as not only does the bank not rely solely on deposits to fund loans: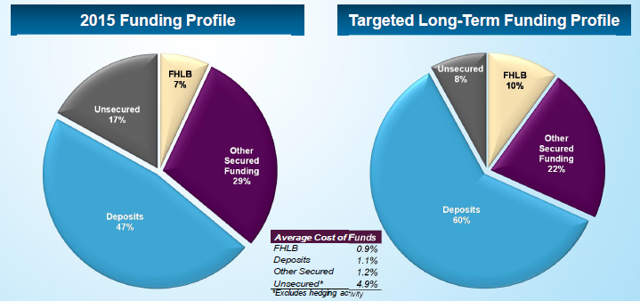 But the deposit base it does have is also un-typically 99.8% interest-bearing and made up almost entirely of savings and money market certificates of deposits carrying an average deposit rate of 1.15%.
This figure is usually much more balanced - to the order of time deposits making up 30% or more, demand deposits averaging 20% or so, and jumbo time deposits not exceeding the former two, but seeing as how the former GMAC is primarily an auto lender and not a mortgage originator as is the norm, the deposit types can also follow suit and not conform in this case.
The only other major component of Ally's balance sheet is its short-term borrowings and long-term debt - much like a non-financial business. For Ally the $66.47 billion in outstanding debt equals nearly 100% of its total deposits. Almost always a clear warning sign as the borrowing/deposit ratio should not exceed 15-20% in an ideal scenario.
But to touch upon a previous point, Ally's deposit base funded just 47% of its loan originations in fiscal year 2015, with secured/un-secured debt and Federal Home Loan Bank borrowings making up the remainder. An additional anecdote to this is that the bank's direct retail deposit base has been steadily growing over the past six years: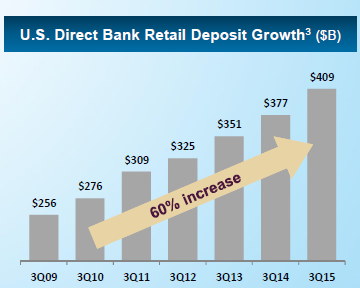 This base is targeted to fund 50-55% of all loan originations in 2016 as debt slowly diminishes as a primary funding source going forward putting Ally on a much more stable footing, much the same as an individual or small business funding its expenses and day-to-day operations with existing cash flow rather than with borrowed money at variable interest rates.
There are a myriad of key performance metrics by which to gouge the absolute and relative health and strength of a bank - too many to cover here, much like with any other industry. But the balance sheet breakdown above covers the fundamental basics, except the "other asset" column which for banks is a cache for property, equipment, repossessed/foreclosed assets, and sometimes operations held-for- sale.
Overall, Ally's core lending business is in the midst of a transformational shift to a more retail consumer oriented model given its expanding online deposit-taking capabilities, which is beginning to underpin and broaden its loan products and originations. Something which should accelerate in the coming years.
Such an adjustment is a decidedly more average strategy for a commercial bank, much like Ally's underlying performance to date.
Supporting Documents
Disclosure: I/we have no positions in any stocks mentioned, and no plans to initiate any positions within the next 72 hours.
I wrote this article myself, and it expresses my own opinions. I am not receiving compensation for it (other than from Seeking Alpha). I have no business relationship with any company whose stock is mentioned in this article.