The Grocery Basket is a monthly mix of news, trends and insight from U.S. grocery retailing. To view last months edition, click here
Aldi in California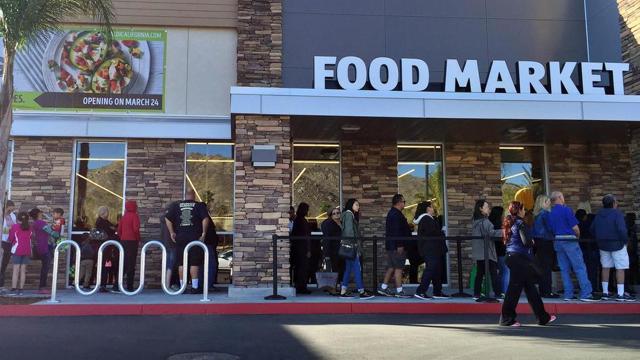 Courtesy of L.A Times
"All retailers need to treat Aldi (and at a later date Lidl) as a meaningful threat - and to be dismissive will likely prove to be a tactical/strategic error, All retailers - irrespective of income demographics - need to keep an eye on Aldi's evolution, particularly given the success they have had in the U.K." - Deutsche Bank
A recent Deutsche report sounded yet another "Aldi Alarm". After the implosion of incumbent grocers in the U.K. and Australia, Aldi has put the fear of God in the eyes of Kroger (NYSE:KR), SUPERVALU (NYSE:SVU), Wal-Mart (NYSE:WMT) and every other conventional grocer.
While they may be the most overhyped retailer in America, they are also one of the best. Aldi continues to aggressively open new stores and will likely be the 3rd largest grocer (after Wal-Mart and Kroger) by the end of the decade. On their Q4 conference call, KR extolled its respect for Aldi:
"We've spent as much time in Lidl stores as we have Aldi stores over the years, and Lidl has done a great job when you look at a lot of the European countries. So we have a lot of respect for those formats. There are certain customers that we believe likes to shop in that environment. Everything that we can tell, it's not all customers."
While it is unlikely a doomsday scenario (and KR is probably best prepared), Aldi is forcing everyone to improve store-level operations and pricing.
In March, Aldi's expansion continued with the opening of its first stores in Southern California - one of the countries biggest and most competitive markets.
While customers and some loyal fans lined-up for cheap groceries, not everyone was impressed. Too crowded for a small store on their opening day they said. The L.A. times described one customers frustrated experience:
Bent over the bagging area near checkout, Laurie Campbell, 63, said she didn't like packing up her own groceries nor did she like the lack of name brands. "I won't be back," the Moreno Valley resident said. "They're so disorganized."
That said Aldi is not a full-service conventional grocer. It has carved out a niche based on a good-quality, low-priced private label offering. Customers agree - Aldi does not replace a conventional store.
Gnett Johnson, a homemaker from Beaumont, said the low prices were impressive. But she said Aldi couldn't replace a big supermarket like Vons or Ralphs. "You still have to go to Vons to get brands like Kraft," she said. "It doesn't have a deli section where you get your meats cut."
However, they need only to win over a small segment of the local market to have an out-sized effecting on pricing. And with a low-priced, convenient offering they've proven they can steal a shopping trip or two from conventional stores such as those at KR, SVU and WMT.
Their reputation for quality and low prices is already giving them a head start:
"People who don't know Aldi, won't know what hit them," she said. "You can buy an item on sale at another store with a coupon, and Aldi is still going to be better."
Everyone loves to save money and Aldi's formula has found success with households across a variety of income demographics in multiple countries. California, however, will be tough. It has destroyed the dreams of several ambitious grocers and is already the home of America's best grocery store (and Aldi's cousin): Trader Joe's
For more on why investors shouldn't underestimate Aldi, click here.
Trader Joe's Lowering Prices
In the organic/ fresh segment of the market, Trader Joe's is having a similar impact on the incumbents. TJ's is, in many markets, setting the benchmark on pricing and store-experience. Despite being private, their actions have important implications for the publicly traded peers.
A recent analysis by Deutsche indicated that TJ's has further widened its price gap with Whole Foods (WFM), including on the all-important private label products. Comparing prices in the New York Market, the analyst found:
TJ had a 26% price advantage on a basket of 77 items;
30% cheaper on perishables;
24% cheaper on non-perishables;
15% cheaper than 365.
"Our concern is that TJ's might be once again catching WFM off guard because prior checks have not shown such disparity."
This echoes recent research by BMO that found Kroger's Simple Truth organic brand 10% cheaper than 365. TJ's is one of many reasons Whole Foods is lowering prices and isn't expected to see earnings growth this year.
For more on why investors shouldn't underestimate Trader Joe's, click here.
RBC on Whole Foods
In late March, RBC did a "check-in" on some of Whole Foods initiatives thus far. Here are a few of their conclusions:
Increased spending is required to fight competitive headwinds;
365 is a great avenue for attracting new customers to the format. Price will be lower but services and costs will be lower too.
Procurement centralization continues to go well. It should alleviate some pressure on regional and store managers who can focus more on store operations.
Takeaways: While Trader Joe's is still a forbidden word for some analysts, it is easy to spot the impact at WFM. 365 will likely be a solid concept but it veers WFM into the already crowded discount segment. 365 will give us a sense of how strong the Whole Foods brand really is.
Average Spend by Store:
A study was published in the quarter outlining spend per store. The inclusion of 7-Eleven (OTCPK:SVNDF) symbolizes how convenience stores are adding more to customers baskets and encroaching on the territory of grocery stores and quick-serve restaurants with a broader grocery and prepared food offering.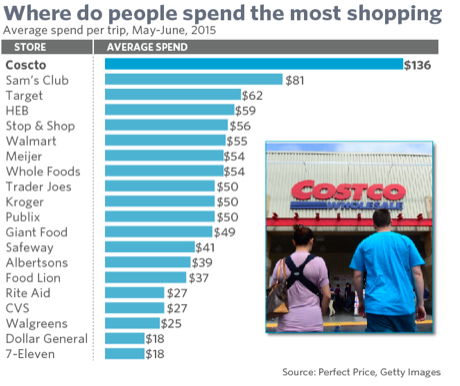 Small Box Advantages
Speaking of encroaching on traditional grocery territory, Dollar General (NYSE:DG) continues to highlight the advantages of its small, convenient box. The company held an Investor Day in late March.
With consumables at 75% of sales, DG estimates they have less than 4% market share and a long runway for growth. Management now plans to double the store count to more than 25,000 locations.
Grocery continues to be a big part of that strategy. An increasingly larger number of new and existing stores will have coolers, an expanded snack offering and more perishable items to capture market share. At the moment, DG estimates ~21% of baskets have perishables, which are growing ~15% per year.
Managements estimate they are price competitive with big box retailers, 20% cheaper than conventional grocer and 40% cheaper than drug stores.
The company also provided a fascinating description of their core customers (BFFs):

DG continues to expand aggressively and sees a long runway for growth. As at many retailers, grocery continues to underpin this strategy.
They said it…
Aldi customer's describing one of the great deals in Southern California…
"The ham is $6.20," she said with glee. As she tossed the 8-pound bundle in the basket, her husband Jose, responded: "You can't beat that."

Lance Gonzalez of Riverside was at the San Bernardino store with his wife and family. They bought a little of everything, spending $109, about $50 less than a typical grocery store visit.

Bread and dressing, he said, was half the price of what they normally buy. Produce was 25 percent less, milk and cheese was $1 less. "We'll definitely be back," he said.
Ahold on becoming the next, great American grocery retailer:
James McCann, COO, told store managers and support staff. The goal, he said, is to become "the retailer, like Wegmans, [customers] really, really love."
The centre of the store continues to diminish in importance. Wal-Mart on fresh food:
"A huge priority for us, because it's a big traffic driver, and it's very important to our customers. We know when we get fresh right, the entire box benefits from that business."
Dollar General CEO during the investor day speaking in detail about core customers:
Now in 2012, we had two BFFs. They represented 21% of sales of shoppers and 43% of sales. They are older budget stretchers who relied on government assistance to get by. Now in 2016, our new re-segmentation, we have three BFFs, Tiffany, Sylvia and Virginia, now representing 34% of shoppers and 66% of sales but still only earn $40,000 a year, very budget conscious but many still having to rely on government assistance to get by. Now they spend about $774 a year with us, shop us three times a year and when they shop they spend about $20.
Disclosure: I/we have no positions in any stocks mentioned, and no plans to initiate any positions within the next 72 hours.
I wrote this article myself, and it expresses my own opinions. I am not receiving compensation for it (other than from Seeking Alpha). I have no business relationship with any company whose stock is mentioned in this article.
Editor's Note: This article discusses one or more securities that do not trade on a major U.S. exchange. Please be aware of the risks associated with these stocks.