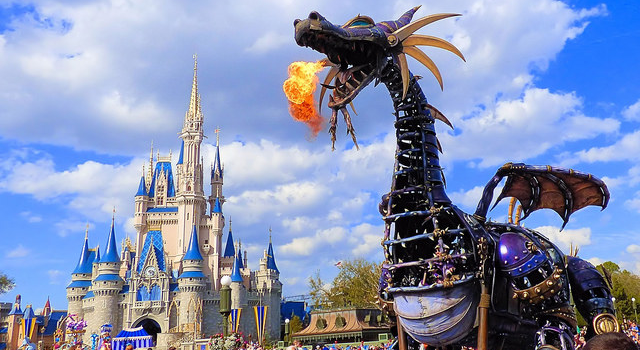 Disney (NYSE:DIS) has recently experienced what can only be described as a bit of a share price rout. ESPN concerns fed by broader "cord-cutting" worries played the major part. Yet concerns about the upcoming post-Iger period (which may have been delayed again) have hardly helped. Disney has therefore seen its share price down in recent months: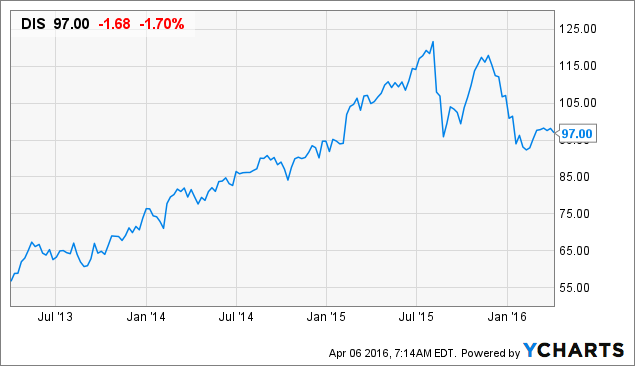 Not that anyone told the revenue figures. Indeed, 2015 saw them post further hefty growth on top of over a decade of impressive revenue growth: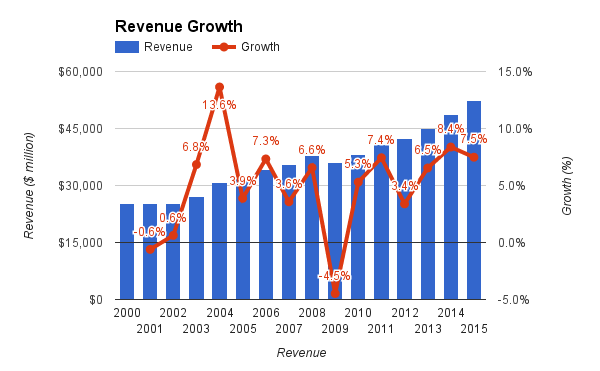 In recent years, however, the main drivers of this staggering revenue growth has changed. Over the last 15 years the main driver has been the all-important Media Networks segment with a solid assist from Parks & Resorts. Media Networks includes-amongst others-ESPN, Disney Channel, ABC and other such assets. ESPN, however, remains the largest part of this.
The Delights of Diversification
Over the last five years, however, Media Networks has become a bit of a laggard (if 6%+ growth can be considered lagging) at Disney. After years of leading company growth higher by setting the pace, recently it has fallen a little behind growth at the company at large: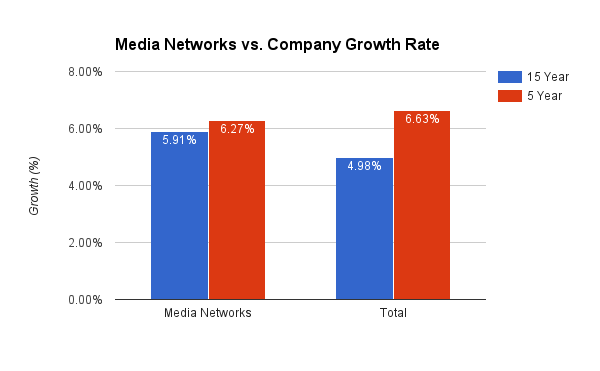 The reason? Simply that the other segments have seen their growth accelerate far faster than the Media Networks segment has: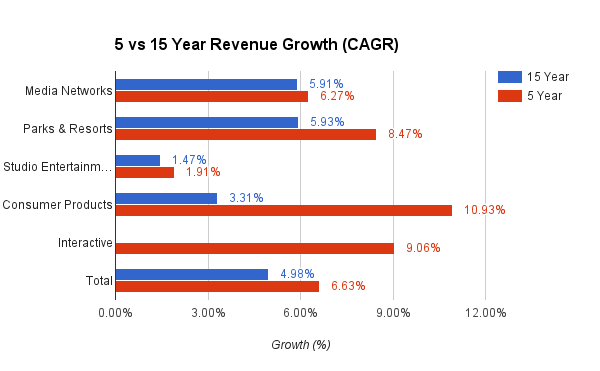 For those worried by the "curse of the cutting cord" this is great to see. After all, with Media Networks growth slowing compared to the company at large, the Media Networks contribution to the full company revenue will decline. And that it has. Though this has been, it must be said, only marginal on the revenue front: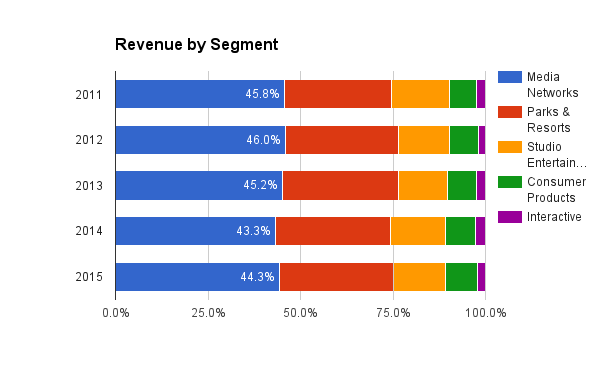 Dropping from the top to the bottom line, however, and the effect is more pronounced. Looking at EBIT (earnings before interest and tax) figures by segment, operating income growth here has been steeper in non-media segments leaving Media Networks share of EBIT plummeting nearly 15% since 2011: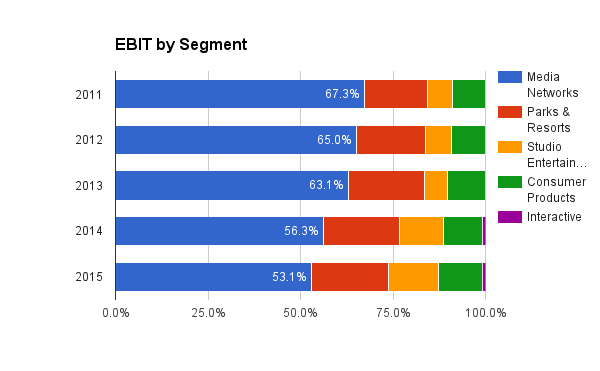 For those who hold even the smallest of worries about the ESPN segment and its long-term future, this is certainly a welcomed sight. Concerned investors can delight in the fact that ESPN and the Media Networks segment that it dominates is declining in importance to Disney as a whole. Long term, therefore, what revenue and earnings ESPN potentially drops the other businesses should be more than able to pick up.
Elsewhere I have mentioned that I consider the ESPN debate overdone. This seemed supported by my later analysis. ESPN remains a compelling brand which has remarkable pricing power. Nonetheless, reduction of the reliance on the Media Networks top and bottom line contribution appears a trend which it is hard to be upset about. Yet, even with this said, there are things we should consider.
The Drawbacks of Diversification?
Yet here I'd like to point out a potential "drawback" of this diversification away from the reliance on the Media Networks segment. Drawback is, perhaps, a too strong word. What I really want to bring to the fore is a potential side-effect of this shifting revenue and earnings share profile at Disney. This is not to scare but to sensitize investors to the change.
What is it? Well, put simply, the greater the shift away from the Media Networks segment the greater the susceptibility to cyclical trends.
Let me explain.
To do so we have to go back to the years around the Great Recession. When you cast your eye over the 15-year revenue growth chart above you no doubt picked out two years: 2001 and, in particular, 2009. Why? Well, simply because they were the only two which saw revenue declines. In the case of 2009, a 4.5% decline. Earnings were hit even harder, however: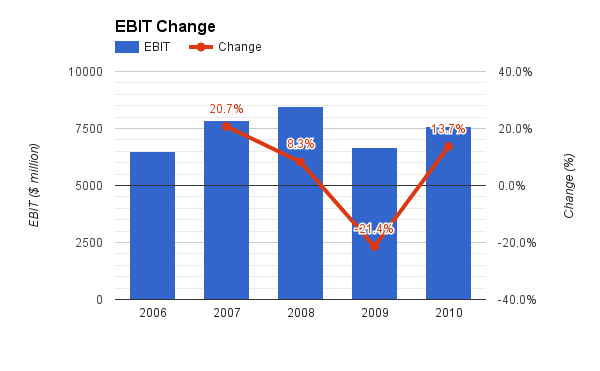 Taking a look at segmental performance it is not hard to discern the outperformer here:

Media networks actually powered through the great recession with revenue growth. Sure, earnings did decline in 2009 but bounced back strongly in 2010. What is more, the declines were much shallower than at company level. In contrast, the other segments struggled over this period both at revenue and earnings level.
Media Networks is therefore not just a cash cow, but a consistent one too. Of course, we all really know that. When the recession hit did I cut back on my subscriptions? No. Yet trips to the cinema or on holiday? How about expensive toys for nephews and nieces? Yes, I did cut back.
Naturally, the more that Disney leans on it's more cyclical businesses with less sticky revenue and earnings the more likely it is that they will see a greater shock to their top and bottom lines in any future economic unpleasantness.
Be Aware not Afraid
This is not, incidentally, me trying to feed Disney bears. Far from it. I just wanted to clarify in my own mind how this may change how the company reacts in the future. To be more aware rather than more afraid. There are many reasons why this does not affect my bullishness on Disney. Let me explain why.
First, the Media Networks fairly dramatic looking EBIT contribution decline should be put into perspective. Media Networks has in the last five years been coming down from a historically high peak contribution which was driven by the effects of 2009: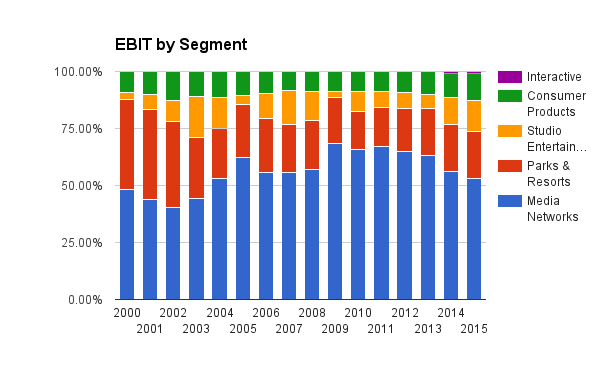 Dramatic as its recent declining contribution has been, it remains about in-line with the contribution it was providing back in 2007. In many ways, it is a reversion to the norm rather than an absolute decline.
That being said, I expect to see this trend continue for the foreseeable future. Catalysts for growth remain in place for the Parks & Resorts, Studio Entertainment and Consumer Products segments which should see them continue to outpace media networks growth. Consequently, Media Networks will continue to likely decline in importance as a contributor to revenue and earnings at Disney.
Softening the Studio Cycle?
Disney has also changed significantly. Take the studio entertainment segment, for instance. High volatility has been the norm for this segment: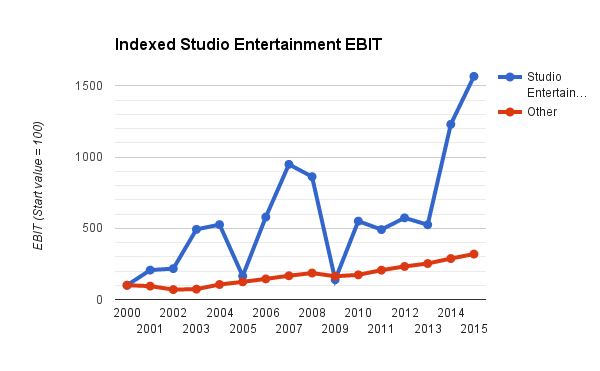 Its contribution to the 2009 declines is hard to overestimate. So, have the additions of Marvel Entertainment and LucasFilms made earnings more stable? Bob Iger thinks so. Speaking to the Financial Times recently, he argued that acquisitions should mean the future will look less volatile than the past:
We used to have huge volatility in our movie studio. It could make $200m one year and $800m the next. Now, there will be some fluctuation, like a big Star Wars movie in a given year, but [the returns] are going to be much more steady. And they will deliver to our bottom line.
He is likely right. Disney has bolstered its IP even more in the years since the great recession. Franchises like Star Wars, Indiana Jones, and more besides have all joined the Disney stable. As a result, the Disney studio stable may well be more…well…stable.
Other segments maybe look less stable still against cyclical headwinds. Parks & Resorts remains the most important segment outside of the main Media Networks one. Things have changed post-financial crisis. Hong Kong Disneyland now having matured (it just celebrated its 10th anniversary) and with the Shanghai Disney Resort preparing to open, Parks & Resorts looks solid. Not to mention the fact that since the financial crisis Disney Cruise Line has added a further two ships (Disney Dream and Disney Fantasy). Nonetheless, these do remain inherently cyclical businesses.
Consumer products is an interesting one. It had already proven to be pretty reliable segment. Although understandably hit by the great recession, earnings bounced back much quicker than Park & Resorts and has grown more rapidly since: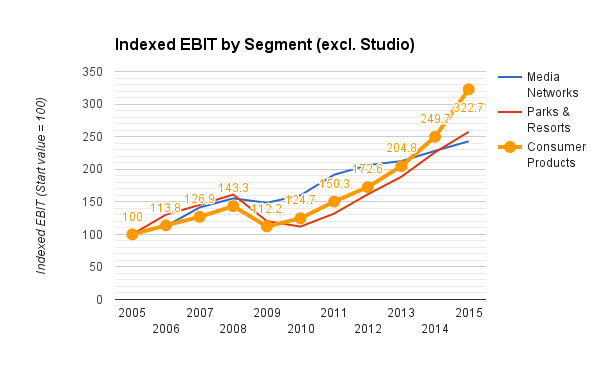 Recent acquisitions appear set to bolster its performance further in the future. It now contributes about 12% to Disney's bottom line compared to less than 9% in 2011: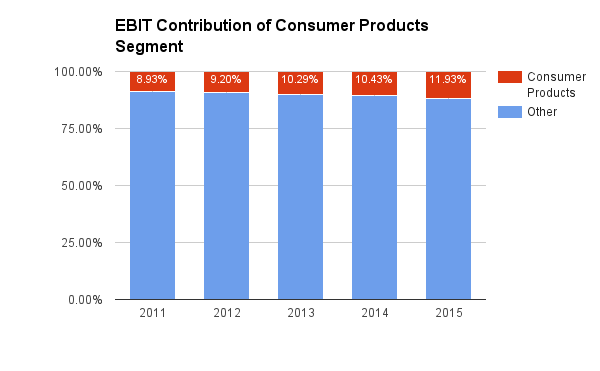 Nor does the Media Networks segment look bald of opportunities. Media Networks also has potential new levers to pull. Sure, ESPN is a hefty part of the segment. Yet it is much more. Recently in the UK (and later in the rest of Europe) they launched their subscription on-demand streaming service DisneyLife. The service has also been extended to China. Disney is therefore leveraging their incredible brand power to position themselves well should the "cord cutting" fears be fully realised.
Conclusion
Disney has changed a lot in the last five years. The recent ESPN "cord-cutting" debate has made people ask fresh questions of Disney and the diversity of its operations. What is clear is that Media Networks remains very important to the business not only due to its size but also its stability.
The importance of segments with less sticky revenue and EBIT is growing, however, courtesy of accelerating growth relative to the Media Networks. This does clearly expose a greater proportion of Disney's earnings to potential cyclical headwinds. Yet as I highlight above the downsides of this are perhaps less pronounced than they may original appear.
Disney remains supremely diversified across both stable and more volatile businesses. Similarly, even the more volatile businesses appear to have shifted since the great recession to provide a more stable outlook. I doubt they will ever become as stable as the Media Networks segment. Yet this hardly makes them a liability.
My point is, put simply, that long-term investors should be aware of this possible growth in cyclicality if the Media Networks contribution to company results continues to decline. This is not a worry (far from it) but an awareness.
Disney is well-placed in each of its segments to leverage its incredible brands. Even if its results do become increasingly exposed to more cyclical businesses in time it remains an incredibly attractive investment. The ESPN debate should make you aware of this shift to more volatile revenue and earnings streams. Yet it should not scare you off this quality investment, simply make you more sensitive to the effect of such changes over the long-term.
Notes
Unless otherwise stated, all graphs, tables and the calculations contained within them were created by the author. All data (unless otherwise noted) was collected from publicly accessible company filings and reports. Creative commons image reproduced from Flickr user Jennifer Lynn.
Disclosure: I am/we are long DIS.
I wrote this article myself, and it expresses my own opinions. I am not receiving compensation for it (other than from Seeking Alpha). I have no business relationship with any company whose stock is mentioned in this article.