While reviewing our investment accounts and spreadsheets at the end of the first quarter, something about AT&T (NYSE:T) caught our attention. For the last five years or so, this position has been up only marginally but we weren't deterred by it as, like many, we hold this stock for income. Although we are reinvesting the dividends, just knowing that AT&T will deposit a fixed amount each quarter makes it worthwhile.
With AT&T recently breaking out from its trading range in the low to mid thirties, this position is suddenly up substantially. Obviously, this is due to capital appreciation for most part but not entirely as 12% of our AT&T shares have been accumulated through dividend reinvestment over these years. With the price stuck in a narrow trading range for almost four years, the dividend reinvestment helped us accumulate more shares cheaper. That brings us to the topic of this article. The benefits of a stock being range-bound.
Now that AT&T has broken out to nearly $40, should AT&T investors hope the stock keeps going up each year or form a base again before breaking out? Let's find out.
Assume that an investor buys 100 shares of AT&T every year (first column of the tables) for the next five years and also reinvests the dividends (as shown in the 2nd column of the tables). The third column shows AT&T's expected dividend payments over the next five years. Even though we expect DirecTV to add more to the free cash flow, let's assume AT&T sticks with the current pattern of increasing dividend by 4 cents each year. That would mean by 2021, the annual dividend per share will be $2.12.
The fourth column is the most critical component of this experiment, the average share price during the year. The first table assumes a narrow trading range before breaking out while the second table shows a gradually increasing share price that most investors seem to prefer. As a result of what takes place in the 4th column (narrow range) and the invested capital (remember this investor wants to buy AT&T steadily each year), the narrow trading range scenario handily beats the gradually increasing scenario.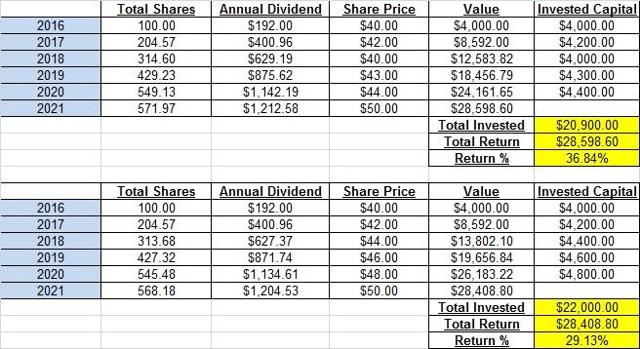 Either way though, the average investor is better off reinvesting dividends, whether the stock is range-bound or not. By choosing to reinvest for the next five years, we get an extra 13% in income. This increase is now a fixed part of the total returns, as more shares have been accumulated through reinvestment. Of course, the dividend payments could be used to purchase other stocks but that involves more investment decisions, taxes and transaction fees.
So, what is it that investors can take away from this experiment?
A narrow trading range isn't a bad thing. Undervaluation is good for the long-term investor, provided the company isn't deviating from its long-term plans. AT&T, for example, hasn't been trying to build castles in the air. It has been focusing on doing what it knows best and trying to expand its horizon by acquiring leaders like DirecTV.
This effect gets more pronounced when the stock pays and increases dividend each year.
This experiment is easy to imitate. When the market labels a stock as "no growth," only a little growth is actually needed to boost your returns in the long term. Pick out of favor stocks of good companies, reinvest and wait for time to outdo timing.
Disclosure: I am/we are long T.
I wrote this article myself, and it expresses my own opinions. I am not receiving compensation for it (other than from Seeking Alpha). I have no business relationship with any company whose stock is mentioned in this article.