Beginning at the end of April 2015, NorthStar Realty Finance's (NRF) common share value has steadily declined from a high of almost $38.00 to its current price of $12.36, although, over the past few months we have witnessed a recent price rise from a low of $8.57 recorded on February 9, 2016. This is detailed on the chart below. Hauntingly similar to my first article of this series concerning Ashford Hospitality Trust (NYSE:AHT), it appears that its share price fall is primarily a result of the board's decision to spin off divisions: First NorthStar Asset Management (NSAM) in 2014, then NorthStar Europe (NYSE:NRE) the following year, which are currently trading as separate entities under the symbols provided above.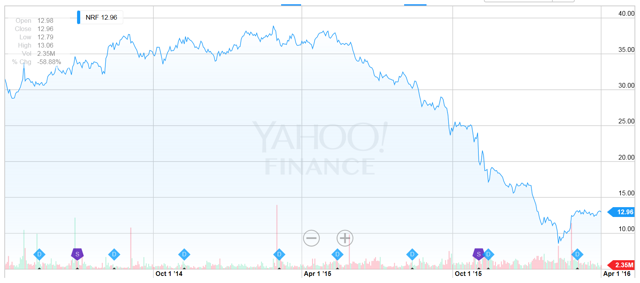 The NSAM spin-off was successfully completed and announced July 1, 2014, at which time, NSAM began trading as a separate entity on the NYSE. Each NRF common holder received shares of NSAM common stock on a one-for-one basis after giving effect to a one-for-two reverse NRF stock split. This was followed by the spin-off of NRF's European real estate business in October 2015 under similar terms of the first spin-off. NRF common stock shareholders received one-for-one shares of the new entity NRE and suffered a one-for-two reverse stock split of their NRF common stock.
NorthStar Realty Finance Corp. is a real estate investment trust launched and managed by NorthStar Asset Management Group. The fund invests in the real estate markets of the United States. It engages in acquiring commercial real estate properties, such as manufactured housing, healthcare, office and retail net lease and multifamily; originating, structuring and acquiring commercial real estate debt; and making opportunistic investments such as real estate limited partnership interests. NorthStar Realty Finance Corp. was formed in 2004 and is domiciled in the United States
However, on a brighter note, especially for preferred equity investors, now might be a wonderful time to pick up one or more of their preferred series of equities: A, B, C, D, or E. However, except for their call dates and initial coupon yield, all are pari passu:
Pari-passu is a Latin phrase meaning "equal footing" that describes situations where two or more assets, securities, creditors or obligations are equally managed without any display of preference. An example of pari-passu occurs during bankruptcy proceedings when a verdict is reached, all creditors can be regarded equally, and will be repaid at the same time and at the same fractional amount as all other creditors. Treating all parties the same means they are pari-passu.
Specific to NRF in particular, its preferred shares in regard to dividends and upon liquidation, rank junior to the company's senior debt, equally with all the other preferreds, as listed below, and senior to the common shares of the company.
For those interested, here is a link to the list of all NRF preferred equities available, and a brief synopsis of their offering prospectus: Quantum Online.
Because all five are equal in seniority to each other, there is little to distinguish between the five, except at any given moment of any given day, the price and effective yield of each might change thereby causing one to be a better buy than the others at that given time. This is determined by the yearly distribution divided by the cost/share, which determines the best yield % at the moment.
Let's compare the Five:
NRF-A pays 2.1875/per share/year, callable since 2011
NRF-B pays 2.06/per share/year, callable since 2012
NRF-C pays 2.21875/per share/year, callable 10/11/2017*
NRF-D pays 2.125/per share/year, callable 4/10/18*
NRF-E pays 2.1875/per share/year, callable since 11/18/15*
*C, D, & E have provisions, which under certain circumstances the preferred shares can be converted to commons at the option of the holder. You might want to see the actual prospectus when considering a purchase. Personally, I rarely, if ever, avail myself to this opportunity, preferring to take the money and running.
On any given day depending upon the price of each, one series is better priced according to yield % ROI, Return on Investment, which should be figured with the dollar upside of the investment should the shares be called at $25.00.
Digging into the numbers: As I write, A is $23.19, B is $22.31, C is $23.20, D is 22.51 and E is priced at $22.51- an absolute no brainer as the best buy of the day. At these prices, the effective yield of each is:
A 2.1875/23.19 = 9.43%
B 2.06/22.31 = 9.23%
C 2.1875/23.20 = 9.43%
D 2.125/22.51 = 9.44%
E 2.1875/22.51 = 9.72% - The Best
The .20 upside if B or the .31 upside if C were called along with E is negligible, and in no way makes either a better yield to maturity buy at these prices. Furthermore, if you notice any radical price swings, which might make a nice arbitrage moment to exchange one for another thereby increasing yield and possibly putting some cash in your pocket, it might be advisable.
For example, using the above numbers, Series C was trading at 23.20, offering a yield of 9.43%. Imagine you held 1000 shares and could sell them at that price. You would pocket $23,200 less commission fees. Now, at the same time, you could buy the 1000 shares of E for the ask of $22.51, which would cost you $22,510 plus commissions. With my broker, those commissions would have cost me $5.00 per thousand shares traded both ways, or $10.00.
23,200 - 22,510 - 10.00 = $679.00 which I would have pocketed.
9.72% - 9.43% = .29% gain in yield.
Bottom line: NorthStar's turmoil; ongoing share price drop, which recently has jogged back upward; and its squabbles with activist investors have created an opportunity for preferred long-term investors to earn healthy yields with relatively low risk investments. As a knowledgeable preferred investor that has a long history of investing in NRF, initially as a common shareholder, frankly, I am little concerned with the viability of this company because I see little risk of it going bankrupt in the near future and over the long term.
Understand that my expertise is that of a preferred investor not a number cruncher as many of my esteemed SA contributors have proven themselves to be. Consequently, I don't feel qualified to offer advice based on a company's financials, which would be way above my pay grade. For that information, I suggest you turn elsewhere, as I do regularly before plunking down my hard earned cash.
But once you do, and as I, determine that the longevity of this company is a safe bet, then you can be assured I have provided sufficient information to allow you to select the best preferred price and yield-wise on any given moment of any given day.
Disclosure: I am/we are long NRF-B, NRF-C, NRF-D, NRF-E.
I wrote this article myself, and it expresses my own opinions. I am not receiving compensation for it (other than from Seeking Alpha). I have no business relationship with any company whose stock is mentioned in this article.