Rajan's Clean-Up Effort: Straight Talk From a Central Banker
In December 2015, Reserve Bank of India (RBI) Governor Raghuram Rajan warned about ponzi scheme like conditions at leading Indian banks and highlighted that failure at the two largest Indian banks could result in capital losses equivalent to 9% of financial sector loans. Additionally, Rajan highlighted that the top 3 borrowers (corporate conglomerates) accounted for 13% of financial sector loans. These statistics embody the definition of "too big too fail" and imply problems on both the supply (banks) and demand (borrowers) side in India's financial sector.
Subsequent reports from the RBI shed doubt on the Indian Government's Central Statistical Office (CSO) GDP calculations. Revisions from the CSO, such as upwardly revising 2013-2014 growth number from 4.7% to 6.9%, were cause for skepticism from RBI Governor Rajan and resulted in the RBI conducting its own GDP statistical analysis. The RBI was essentially forced into doing its own math because of unreliable, and possibly politically motivated, CSO derived GDP growth data.
We applaud RBI Governor Rajan for refusing to play politics with the Indian financial system. We also support his well-guided efforts to rectify statistical anomalies related to India's GDP growth calculation and to advocate for cleaning up non-performing loans (NPL) via write-downs, which if left unfixed could saddle the economy for years. Counter to Rajan's "clean-up" strategy, the Indian Government appears to be advocating a strategy that would try to solve the debt problem through growth.
Rajan appeared to be aware of the political headwinds to his "clean-up" strategy when he said the following in a commentary posted on the website of Project Syndicate:
"It is uncertain whether write-downs are politically feasible or the resulting demand sustainable. Moreover, structural factors like population ageing and low productivity growth which were previously masked by debt-fueled demand may be hampering the recovery."
On a broader level, we see the argument of growth vs. clean-up (debt write down) playing out amongst central bankers and governments around the world, namely in China. We assess this policy argument will continue to be a central theme as the global recovery inches forward after the 2009 economic nadir.
The Extent of India's Problems
India's debt to equity ratio of approximately 1.14:1 stands out as a leading indicator of the economic problem in India. Essentially, Indian companies have borrowed $1.14 in order to generate $1 in equity. Not only is this an inefficient use of capital and a negative return on investment, but such practices indicate that companies will struggle to remain solvent if debt financing slows. In the current paradigm, ever increasing debt is required to keep Indian companies solvent.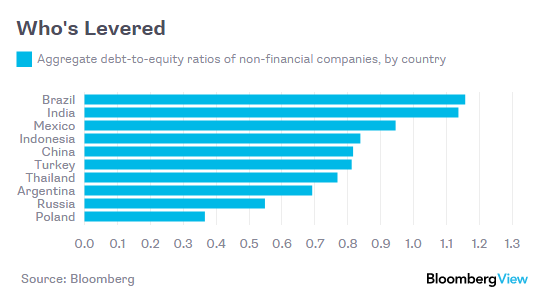 The Indian economy, based on Government GDP calculations, is growing at a rate of approximately 6%. However, the authenticity of this data is questioned by the RBI, which should raise investor skepticism of Indian GDP numbers. Further, "risk off" sentiment in emerging markets, particularly in Asia, could weigh on Indian growth. A slowdown in growth would only serve to deepen the corporate default cycle that is emerging in India. Vulture funds have already picked up on this trend and are circling distressed Indian assets with ample capital under their wing. These funds are expecting the total number of distressed or non-performing loans (NPL) could reach US $120 billion (approx. 10% of total outstanding loans).
Indian public-sector banks comprise 70% of the financial system, and public-sector banks are saddled with debt. NPL as a percentage of all lending stood at 5.1% and is increasing. Additionally, a survey of 39 publicly traded public banks indicated NPL stood at US $65 billion. (Source: Nikkei Asian Review). The longer NPL remain unaddressed the worse it will get.
Further, weak oil prices are precipitating the liquidation of assets by sovereign wealth from oil producing nations. Due to India's impressive GDP growth numbers (as released by the Indian CSO), many sovereign wealth funds were attracted to investments in India. As of 2015, sovereign wealth funds had a combined total of US $28 billion of assets in India, more than three times the amount invested in India as of 2012 --a dramatic increase. However, the sudden decline in oil prices has put a squeeze on government budgets in oil producing nations such as Saudi Arabia, Oman, and the United Arab Emirates. A significant divestiture of assets in countries such as India is possible as oil funded sovereign wealth funds require additional liquidity. This trend should further weigh on the financial sector and growth prospects in India.
Same-Same, But Different
RBI Governor Rajan's straight talk and desire for transparent bank accounting/ GDP growth calculations stands in stark contrast to economic policies coming out of China. However, the underlying economic problems for China and India appear to have many similarities starting with questionable GDP growth estimates. Although Chinese officials announced 1Q 2016 GDP growth of 6.8%, many analysts argue that the figures are inflated. American banks, such as Morgan Stanley, have projected real GDP growth rates closer to 5%.
It is also important to recognize that GDP growth in China to date was fueled by a significant increase in private and public sector debt. China's total debt is now estimated to be at USD $28 trillion dollars (282% of GDP) vs. $7 trillion in 2007. The below chart illustrates the increase in financial sector debt and supports the suggestion that the Chinese Government has been using debt to fuel growth.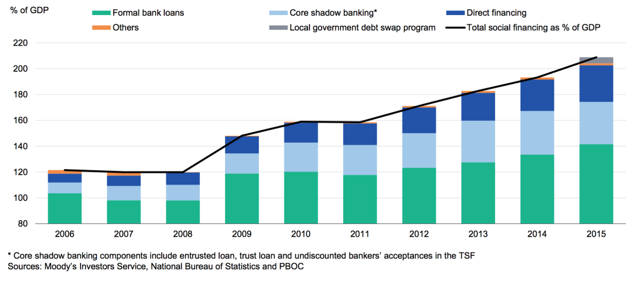 Surprisingly, in December 2015, the Communist Party admitted to industrial overcapacity and the need for structural reform. However, this realization does not appear to have spurred China to action for dealing with "zombie companies" (indebted companies that only generate enough revenue to cover fixed costs and service interest only on their outstanding loans). The aforementioned Bloomberg chart indicates that Chinese companies have an aggregate debt to equity ratio slightly higher than 0.80. While this is not as bad as Indian corporations, these numbers do support widespread arguments that Chinese corporate stability is tenuous. Chinese banks are exposed to a significant number of bad or soon-to-sour loans and Chinese companies will likely struggle to service debts, especially amidst an economic slowdown like the one currently occurring in China.
Additionally, in February 2016, the Chinese Government Anti-Corruption Agency publicly announced that they detected "major problems" in China's financial sector, but did not elaborate further. Let's look more closely at Chinese non-performing loans --keeping in mind the Indian NPL rate of 5.1%. Private sector analysis estimated that between 8-22% (approx. USD $3-$6 trillion) of outstanding corporate loans at Chinese banks may be NPL.
Despite the above private sector estimates, Chinese regulators estimated only 1.67% of outstanding loans were NPL. Looking at this number it is evident that there is a large discrepancy between the Chinese NPL rate and its Indian peer. There is an even larger gap between Chinese Government and private sector NPL estimates. Even if we assume a NPL rate on par with India, it still appears Chinese banks are underreporting their NPL rate.
As with India, it likely China will pursue a strategy growth over "clean-up" when it comes to dealing with NPL. We assess it likely Chinese financial institutions/ government will try to securitize the bad loans or convert the bad loans to equity. Such financial ingenuity may only prolong the inevitable.
Our Take: Alluring Growth Rates Are Not Enough
Despite an uptick in Indian manufacturing data (Nikkei Markit Mfg. PMI of 52.4), recent interest rate cuts at the RBI, and the allure of major India ETFs such as (INDA, INDY, PIN, and EPI) trading near 52 week lows, we assess unresolved debt issues in the Indian banking sector are reason enough to stay away from this emerging market. Additionally, high debt-to-equity ratios at Indian companies and a political environment that supports growth over balance sheet clean-up bolsters our assessment that the aforementioned banking problems will be a persistent drag on sustainable future Indian GDP growth.
We encourage readers to read a counterpoint to our article from a fellow SA contributor: Time to Strike Gold With The Indian Public-Sector Banks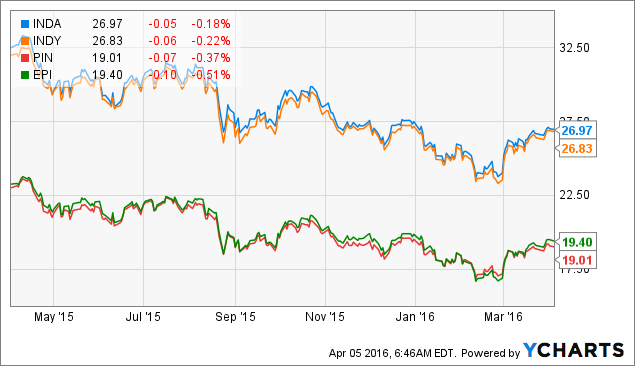 Disclosure: I/we have no positions in any stocks mentioned, and no plans to initiate any positions within the next 72 hours.
I wrote this article myself, and it expresses my own opinions. I am not receiving compensation for it (other than from Seeking Alpha). I have no business relationship with any company whose stock is mentioned in this article.
Additional disclosure: This article is for informational purposes only.