Wells Fargo & Co. (NYSE:WFC), the world's biggest bank by market capitalisation, was founded in 1852 and is currently headquartered in San Francisco. The bank services more than 70 million customers, has 8,700 "stores" and employs more than 256,000 people. The company's huge size and scale allow it to offer a wide range of financial products and services with low costs. Wells Fargo has built a massive distribution network, which helps it to attract and retain customers.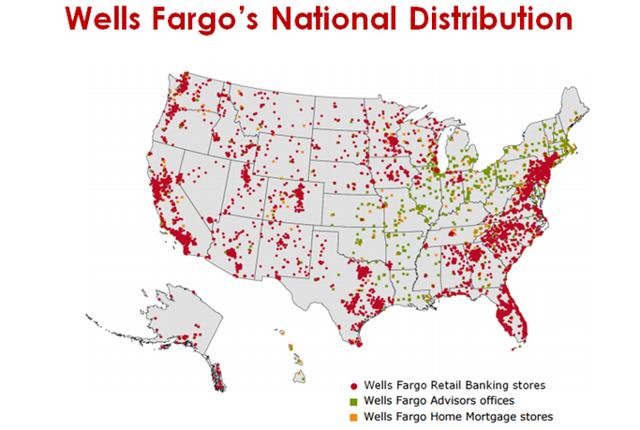 Source: wellsfargo.com
Warren Buffett owns more than 10% of Wells Fargo's stocks and opened himself to more scrutiny conducted by the Federal Reserve. Even though the Fed views a controlling interest stake as higher than 25%, a 10% stake draws particular attention. Buffett has always been cautious and never overstepped 10%. However, he did, which means he really likes Wells Fargo.
Development of traditional banking
WFC focuses on traditional retail banking. For that reason, a very important number for investors to watch is average deposits/average loans ratio. These two generates the base for net interest income. Total average loans were $912.3 billion, up to $62.9 billion or 7 percent in 4Q 2015. Total average deposits were $1.2 trillion, up to $67.0 billion, or 6 percent in 4Q 2015. As a matter of course, investors want to see these two figures continuously rising. A potential red flag may arise if divergence occurs. All in all, the business model of WFC looks very well balanced.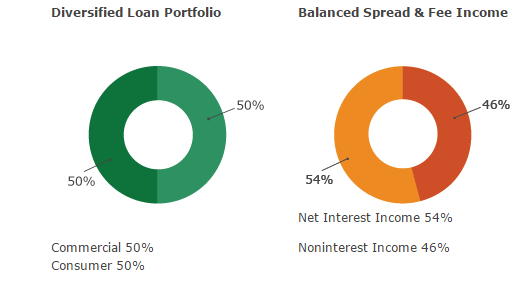 Source: wellsfargo.com
Another figure, which proves Wells Fargo's focus on traditional banking is the ratio of trading to total assets. JPMorgan Chase and Citigroup have trading desks much larger. I see this as another reason why Buffett likes WFC. It focuses solely on its business, which it is very good at, without exposing itself to high risk.
| | | | | |
| --- | --- | --- | --- | --- |
| (in billions) | WFC | JPM | C | BAC |
| Trading Assets | 77,202 | 343,839 | 249,956 | 226,517 |
| Total Assets | 1,787,632 | 2,351,698 | 1,731,210 | 2,144,316 |
| Trading/Total | 4.32% | 14.62% | 14.44% | 10.56% |
Source: Companies' Fillings
Energy Sector Loans
Currently, the biggest concern of investors regarding the banking industry is the situation in the energy sector. As far as Wells Fargo is concerned, it may be told that the bank is well prepared. Loans to oil and gas companies represented less than 2% ($17.4 billion) of total loans outstanding at December 31, 2015. Approximately $1.2 billion of the allowance was allocated to the oil and gas portfolio of loans. However, potential downgrades and increase in non-performing loans in the oil and gas industry are offset by credit improvement in real estate loans and mortgages.
Breakout of commercial and industrial loans and leases financing by industry for WFC is provided in the table.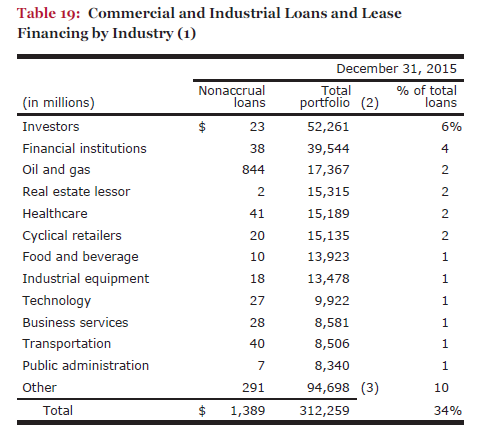 Source: Company's Fillings
Slightly more than a half of oil and gas loans were to businesses in the exploration and production sector (the riskiest). Although, most of these loans are secured by oil and/or gas reserves and have underlying borrowing base arrangements, a drop in energy prices caused an increase in non-accrual loans in the industry from $76 million to $844 million. However, 90% of nonaccruals are currently on interest.
| | | | | |
| --- | --- | --- | --- | --- |
| (in billions) | WFC | JPM | C | BAC |
| Utilized Energy Exposure | 17.4 | 15.2 | 20.5 | 21.3 |
| Total Energy Exposure | 42.0 | 42.0 | 58.0 | 43.8 |
Making predictions about future oil and gas prices will always be difficult. All four banks have committed themselves to provide oil and gas companies with credit lines and even though banks try to secure their positions, they are not going to be successful in every case. Especially when "zombie" oil and gas companies will exploit every opportunity to last a little longer in order to survive this period of low oil prices.
If we think about WFC as a long-term investment, its exposure to oil and gas industry is definitely manageable. In addition, WFC's seemingly large exposure to the oil and gas industry may offer a buying opportunity after 1Q 2016 results (14th April).
Efficiency Ratio
The efficiency ratio is extremely important in the banking industry. It measures the percentage of a bank's net revenue that is consumed by operating expenses. The lower the number, the more efficiently the bank operates. The common threshold in the banking industry is 60%. WFC has been one of the most efficient banks in the industry for a long time with an efficiency ratio of just above 58%. For example, Bank of America has an efficiency ratio 68.56%. This gives WFC a considerable competitive advantage against its peers.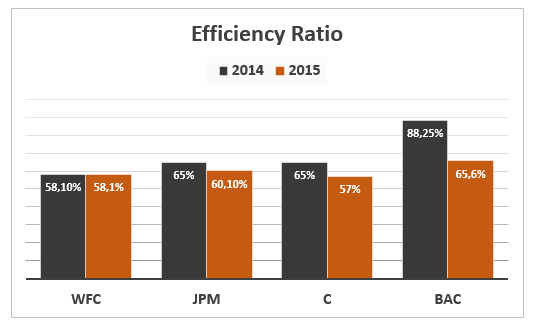 Source: Author's Illustration
To Buy Or Not To Buy
We can divide investors into two camps. Those who invest in Wells Fargo and JPMorgan Chase (NYSE:JPM) and those who invest in Citigroup (NYSE:C) and Bank of America (NYSE:BAC). Since WFC and JPM are behemoths in the banking industry, led by exceptional management and leaders in their market segments, investors with a long-term horizon are better off owning these two. On the other hand, C and BofA may offer an opportunity for investors who actively manage their portfolios. However, owning the latter ones is not recommended throughout the whole banking cycle.
It is important to say that WFC and JPM are not 50-cents-for-a-dollar deals at current valuations. They are traded at a P/B of 1.43 and 0.98, respectively. However, their value derives from their long-term perspective, profitability and continuous performance of management, which rewards the shareholders.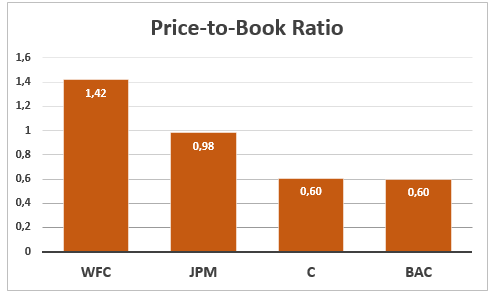 Source: Author's Illustration
Another aspect, which may be beneficial for WFC and JPM, is rising interest rates. Most investors acknowledge that interest rates must rise in a long-term horizon. The financial system is not built for negative interest rates, which would harm the relationships between lenders and borrowers. This could eventually lead into the black market, where interest rates would not be distorted. While rising interest rates hurt most businesses, the banking sector is the exception and benefits through larger net interest margins. This fact may be another reason, why WFC and/or JPM may diversify every long-term investor's portfolio without loss of yield.
Conclusion
All in all, Wells Fargo's dividend yield is 3.1%. It is the biggest bank, which not only survived the financial crisis, but also benefited from it thanks to the acquisition of Wachovia. The bank is led by an exceptional management, operates more efficiently than its peers, secured its exposure to the oil and gas industry and experiences stable growth. Although the current valuation does not offer a bargain, it's a great deal for investors who buy great companies at reasonable prices. There is no doubt at all why Warren Buffett bought more.
Note For Those Who Are In Doubt With Timing
If you had bought the stock on 26th September 2008 almost at its peak before the financial crisis for $37.31 and held it for 7 years, you would have made 7.15% p. a. (including dividends reinvested). I would say that a result like this is not bad at all if we take into account the worst timing of entry possible, right before the global financial crisis. Yesterday's denial of Wells Fargo's appeal and the 2% of total loans exposure to oil and gas industry suddenly do not look like a big deal, right?
Disclosure: I/we have no positions in any stocks mentioned, and no plans to initiate any positions within the next 72 hours.
I wrote this article myself, and it expresses my own opinions. I am not receiving compensation for it (other than from Seeking Alpha). I have no business relationship with any company whose stock is mentioned in this article.