In October 2015, Nike (NYSE:NKE) announced its financial objectives through the end of fiscal 2020. The company set an ambitious goal of achieving $50 billion in revenue by the end of fiscal year 2020. It translates into approximately 10% annual revenue growth. Moreover, the company aims at even stronger numbers for earnings and free cash flow growth.
One of the keys to achieving these goals will be successful performance in China. The company posted the highest growth in this region in fiscal year 2015. Revenue in China increased by 18%. In the first nine months of fiscal year 2016, Nike continued its strong performance in the region. According to Q32016 report, revenue for the first nine months of the fiscal year in China was $1918 million. It is 31% higher than the comparable period of previous fiscal year.
These numbers are even more impressive, given that NKE was struggling in the region over the course of previous years. Revenue in China was essentially flat from 2012 to 2014. So such great performance is a good news that indicates that Nike's reset in China is successful.
Seeking Alpha has nice coverage of Nike's basketball segment. But Nike's football/soccer segment is generally overlooked.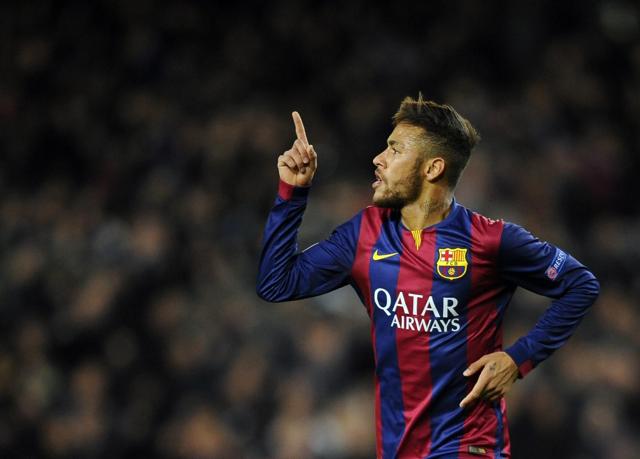 Nonetheless, according to the last annual report, Nike Brand Wholesale Equivalent Revenue in football/soccer segment was $2246 million. That translates into 8.7% of total Nike Brand Wholesale Equivalent Revenue.
The chart below illustrates Basketball and Football segments revenue dynamics.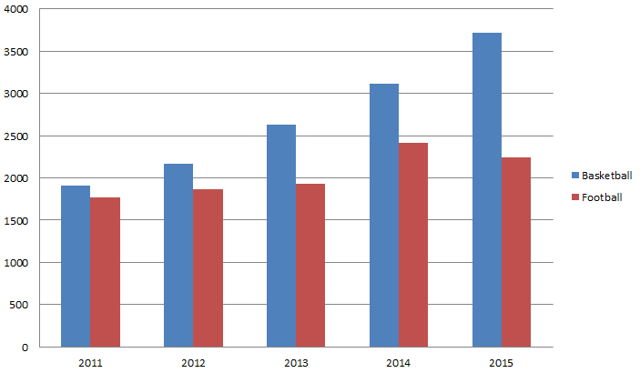 Source: Annual Reports
Nike's Basketball segment performance was much better than football segment. So the company's management definitely has a work to do in this field. And with such a strong management team as Nike has, I'm sure that the company will improve results in this segment.
China may be a key to company's football revenue growth.
adidas AG (OTCQX:ADDYY, OTCQX:ADDDF), one of the main competitors of NKE, has a strong position in football market.
adidas has a handful of very important football sponsorships. It includes Bayern Munich, Chelsea, Juventus, Manchester United and Real Madrid. These are key football club brands. Moreover, adidas has a sponsorship contract with Lionel Messi - best football player of recent years.
Nike's current list of football sponsorships seems weaker. FC Barcelona is the most important football club sponsorship and Cristiano Ronaldo and Neymar are two most important player sponsorships.
But Nike holds sponsorships that might be decisive for its future football segment results. These are Chinese national team and Chinese Super League clubs.
Why is it so important?
China has achieved great success in individual sports and became one of the major powers on summer Olympic competitions. But the results in team sports are rather dismal. Football is not an exception.
But General Secretary Xi Jinping, known as a football fan, aims to change it and transform China into a dominant power in football. In 2015, Chinese government issued extensive football development strategy that includes following important points:
Reform of Chinese Football Association as an independent and authoritative football management organization;
Improving the football competition system, professional league system and national football team;
Development of social football and campus football. This includes expansion of schools specialized in football from 5000 to 20000 in 2020 and 50000 in 2025;
Strengthen the construction and management of football pitches.
These major changes should substantially boost a demand for football footwear and apparel in China. And given that Nike has Chinese national team and Chinese Super League clubs sponsorships, I believe that it will have a huge exposure to this growth in demand.
So even if China will have only a partial success in football development, Nike will be a great winner.
Since NKE is such a great business, it is trading with a premium. Current valuation is well above last ten years' average.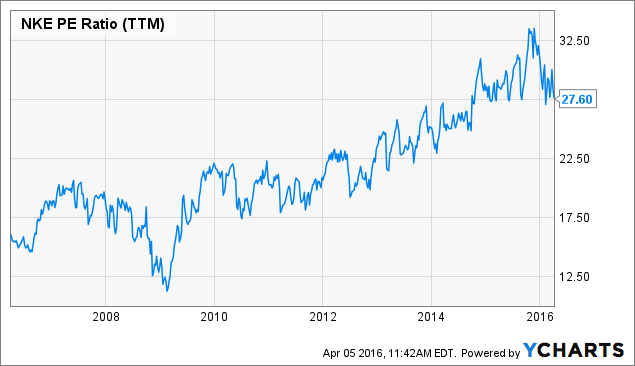 NKE PE Ratio [TTM] data by YCharts
But there is no point in waiting for attractive opportunity to buy Nike. In fact, huge gains may be missed in the process. So I think that the right strategy of trading NKE would be dollar cost average into the stock.
Disclosure: I/we have no positions in any stocks mentioned, and no plans to initiate any positions within the next 72 hours.
I wrote this article myself, and it expresses my own opinions. I am not receiving compensation for it (other than from Seeking Alpha). I have no business relationship with any company whose stock is mentioned in this article.
Editor's Note: This article discusses one or more securities that do not trade on a major U.S. exchange. Please be aware of the risks associated with these stocks.