Emerging Markets: Worth the Struggle?
I remain bullish on the long term potential of frontier and emerging markets, and my investments on US exchanges primarily focus on opportunities found in emerging markets. Economic growth for a large number of these countries, which are plagued by the strong commodity bear market, is still considerably impressive, and offers strong opportunity in the long run. Rather than direct exposure to commodities, which has been an extremely troublesome area, I am partial towards considering commodity based export countries that have been resilient in economic growth in this environment.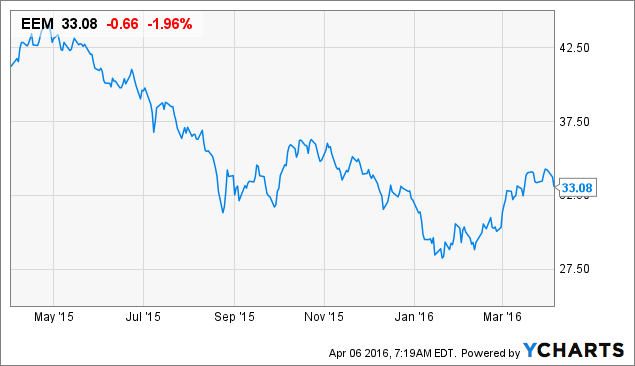 EEM data by YCharts
Why exert so much, or any, effort in investing in emerging markets, when the iShares MSCI Emerging Markets ETF (NYSEARCA:EEM) has declined by nearly 18% in the past year, and experienced even greater lows in early January?
1. Cherry Picking: As stated in many Seeking Alpha articles, ETFs are often a poor reflection of value for individual countries, yet this is especially true for this emerging market ETF. One can not only cherry pick individual countries with superior growth when not limited to this option, but also filter through ADRs for specific countries to access stronger industries. In my observation, the banking industries of commodity export based economies offer the strongest value.
2. Commodities: A large portion of emerging markets that I am bullish on, have experienced a sell-off due to their exposure to commodity exports (primarily oil and copper), yet are still delivering considerable economic growth. This presents a conservative investment approach for those bullish on commodities, and now is a strategic time to access companies/ETFs that are in the bottoming out phase.
3. Low Valuation: The lower valuation offered by emerging markets makes for a conservative portfolio, although I still prefer the stronger discount of frontier markets.
4. Doubling Down: It is simple to increase performance by doubling down when certain companies/ETFs bottom out, with key consideration given to monitoring Fed rate hikes. I have doubled down on almost all companies that I invest in, and currently keep around 40% cash to prepare for a further drop. Stock price drops are irrational if one has the conviction that what they bought was good value in the first place, yet the volatility of emerging markets provides the opportunity for one to outperform the index by doubling down during irrational drops. Both the volatility of emerging markets, and their long term conservative value should be taken advantage of.
Some Ways that I Have Been Filtering
Latin America
Global X MSCI Colombia ETF (NYSEARCA:GXG)
Grupo Aval Acciones Y Valores (NYSE:AVAL)
Enersis Americas S.A. (ENI)
Banco Santander Chile (NYSE:BSAC)
CorpBanca (NYSE:ITCB)
Banco de Chile (NYSE:BCH)
iShares MSCI All Peru Capped (NYSEARCA:EPU)
iShares MSCI Brazil Capped (NYSEARCA:EWZ)
Africa
Market Vectors Africa ETF (NYSEARCA:AFK)
MTN Group Limited (OTCPK:MTNOY)
Global X MSCI Nigeria ETF (NYSEARCA:NGE)
Asia
Market Vectors India Small Capped ETF (NYSEARCA:SCIF)
Dr. Reddy's Laboratories Ltd. (NYSE:RDY)
Aberdeen Indonesia Fund (NYSEMKT:IF)
Latin America
My exposure to Latin America is a portfolio of companies/ETFs for countries that are still delivering moderate growth, despite the adverse impact of low prices of their main commodity exports(copper and oil). The only exception is Brazil, which is in recession, and more of a distressed asset approach, as I bought into this ETF after a large number of Brazil focus funds that I observed had already witnessed an average of a 35-40% 1 year decline. Banks in Brazil specifically present unique opportunity, as they have been characterized by having record high ROE recently, with Banco Bradesco's (NYSE:BBD) ROE soaring to 29.9% this year.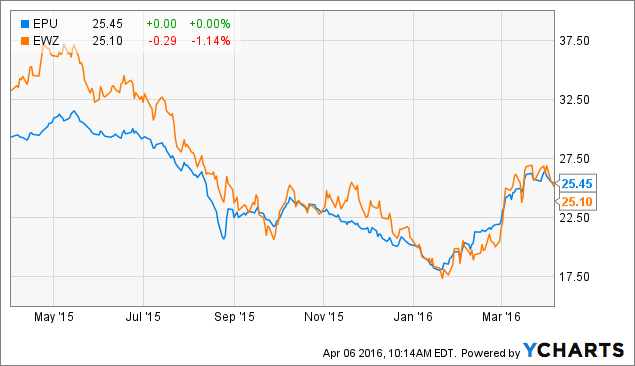 EPU data by YCharts
Brazil and Peru have both been the worst performing ETF picks for me, and I am continuing to hold losses, with a bit more optimism after the rise that has occurred for emerging markets since January. January was an excellent time to double down, and a potential rate hike in April may produce a similar opportunity. However, I believe the strongest and most conservative opportunity lies in Chile and Colombia.
Chile: Preference For Banks
Chile has been a bit more resilient although annual GDP growth has slowed to 1.3%, amid the declining price of copper. The obvious strength of investing in Chile is in its banking industry, and investors can access this growth through banks such as Banco De Chile, Banco Santander Chile and CorpBanca.
Chile's banking industry is perhaps one of the strongest in Latin America, and offers a large amount of security to investors:
Colombia: Preference For Banks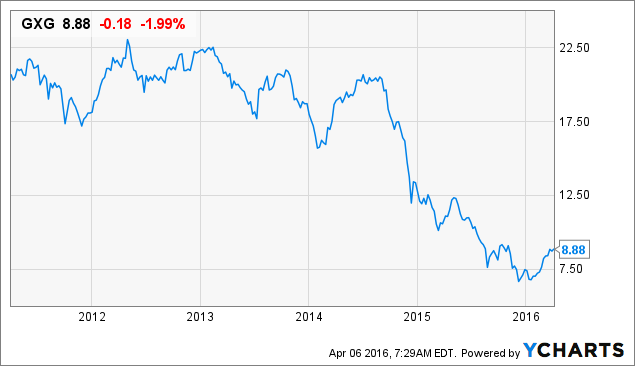 GXG data by YCharts
Colombia offers strong upside potential from the crashing price of oil, and I doubled down on the Global X MSCI Colombia ETF (GXG) when oil was sub $30/barrel. Colombia's ability to continue being resilient and to deliver 3.3% annual GDP growth in this gloomy environment is very impressive.
This ETF is a simple way to play the crash related to the decline in oil prices, yet similar to Chile, I would argue that the greatest strength lies in its banking industry. Banks in Colombia have a flurry of strengths, including high loan growth despite strong FX losses, low levels of NPLs (3.1% in 2015), and low exposure to energy/oil/gas investments. BanColombia S.A (NYSE:CIB) and Grupo Aval Acciones Y Valores are two strong ways for investors to access the strength of Colombia's banking industry, and have experienced strong growth in loans despite the FX risks present in the country.
Africa: Focus on Frontier Nigeria
My exposure to Africa has primarily been through investing in Nigeria, through the Global X MSCI Nigeria ETF (NGE) with bullish sentiment deriving from the country's high consumer spending, high construction growth, and the strong financial performance of its banks. That being said, its economy is highly vulnerable to the low oil price environment and Boko Haram, and Colombia has proved to be a more successful means to profit from the low oil price environment.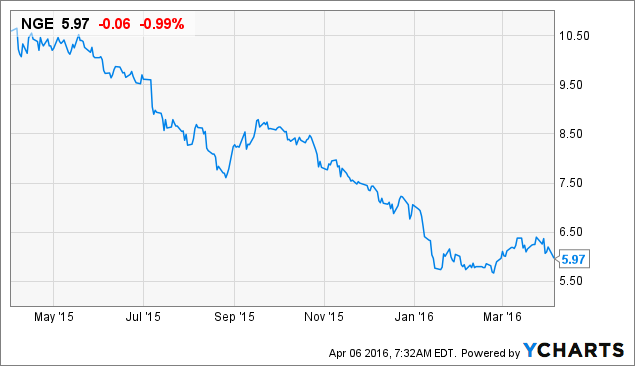 NGE data by YCharts
On a positive note, Fitch recently affirmed Nigeria, citing Lagos as a key strength of Nigeria, able to contribute 20-25% to the country's GDP. Furthermore, Fitch estimated 4.5-5.5% GDP growth for 2016-2017. Historically, Nigeria's annual GDP growth has averaged at 5.8% since 2005. I plan to continue to hold, and potentially invest more if things get worse, and am mainly ambivalent about the effectiveness of this ETF as the most appropriate investment vehicle. Banks offer the best value, in terms of valuation and financial growth, while facing the challenge of relative high non performing loans. Fitch projects that NPLs will average between 6-7% between 2016-2017. Valuation for Nigeria's construction industry is reasonable, and my main concern is the high valuation/low growth of the consumer products industry.
MTN Group, Africa's largest mobile phone retailer, is the biggest thorn for me, as the company's profit recently plunged by 51.4% due to a $3.9 billion fine from Nigeria for failing to disconnect 5.2 million users. The company's subscriber base increased by 4.1% during the same time period.
Long Term Preference for Frontier Asia
My long term preference is focusing on frontier markets in high growth countries in Asia, focuses on listed options that are not on US exchanges. Markets such as Vietnam and Pakistan all offer comparatively lower valuation and higher dividend yields, and have strong trends of economic growth. A large number of companies with single digit P/Es can be found in high growth industries, in areas such as automotive distribution, plastic manufacturing, pharmaceutical manufacturing, textile manufacturing, banking, cement production, and construction and real estate. A buy frontier sell emerging approach would allow investors to have high upside simply from the higher valuation that occurs when a market transitions from frontier to emerging, and being prepositioned for this transition is a very strategic approach. Pakistan is under review for reclassification as an emerging market this year, and it was previously emerging in 2008. Moreover, the implementation of Vietnam's foreign ownership limitation and privitization efforts being gradually undertaken are some of the final steps necessary for Vietnam to be classified as an emerging market, with finance sector executives hoping for Vietnam to achieve an emerging market status by 2017.
Nevertheless, part of my investment on US Exchanges focus on some parts of parts of emerging Asia, and I believe there are a large number of bright areas in emerging Asia:
India: I am also bullish on India's long term economic outlook, and have been accessing this through the Market Vectors India Small Capped ETF (SCIF), due to strong financial performance of small capped companies, and the ETF's relatively lower valuation. Moreover, India's biotechnology industry is projected to achieve growth of 30% per annum through 2025, and Dr. Reddy's Laboratories is a strategic way to access this industry's growth.
Indonesia: I have been holding the Aberdeen Indonesia Fund (IF), and may sell soon to focus on other, more strategic areas.
The Philippines: The Philippines is another high growth emerging market that I am bullish on, yet having been avoiding on US exchanges, due to the high valuation of the iShares MSCI Philippines ETF (EPHE).
Filter
Frontier and emerging markets can offer a stronger level of safety for investors, if they are filtered through properly. This involves choosing superior countries for investment, and choosing strategic industries within these countries if ADRs are available. In many cases, an ETF may not be the best way to play a country's growth story, even if all of the fundamentals are solid. The volatility and irrational sell offs produce additional opportunity for investors, and I would even argue that setting aside funds to double down is another necessity to be successful.
Disclosure: I am/we are long RDY, SCIF, IF, GXG, AVAL, CIB, NGE, MTNOY, BCH, BSAC, BCA, EWZ, EPU.
I wrote this article myself, and it expresses my own opinions. I am not receiving compensation for it (other than from Seeking Alpha). I have no business relationship with any company whose stock is mentioned in this article.
Additional disclosure: The ticker for CorpBanca should now be ITCB
Editor's Note: This article discusses one or more securities that do not trade on a major U.S. exchange. Please be aware of the risks associated with these stocks.