Retail, old tech, insurance, banking -- there are plenty of sectors struggling out there, at least compared to the general market. But many struggling companies are just in a temporary lull and will also pay you to wait for them to right the ship.
Here are my nine favorite picks for solid dividend paying stocks that are poised for a turnaround, and your portfolio could benefit if you join along for the voyage.
#1: International Business Machines Corp (NYSE:IBM)
Ever since 2013, IBM has been on a slow but steady fall as revenue continued to tumble while investors and analysts shouted back and forth about the company's future. Patient investors, including ones focused squarely on the dividend and its safety, did not panic or get involved in the argument. They took their above-average yield and moved on with their lives.
In 2016, it appears the turn is finally at hand. IBM has risen from its 2016 low of $119 per share to $150 per share at time of writing.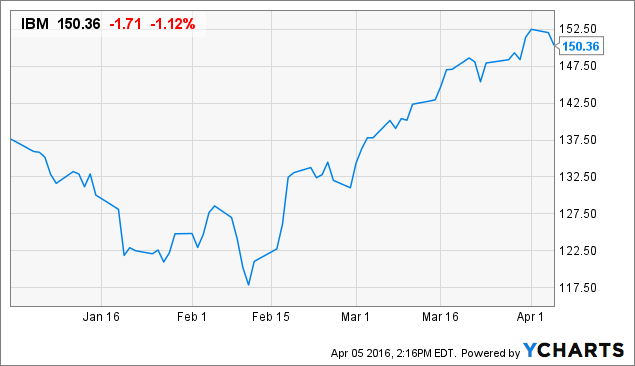 IBM data by YCharts
During this 3-year period, the dividend increased from $.85 per quarter to $1.30.
One of the most important statistics, revenue from new divisions or "strategic imperatives," is up to 35% from 13% in 2009 (% of IBM's revenue, not percent increase).
The company has also gone on a crazy cloud M&A spree with the clear intention of changing its business and public image from dinosaur hardware provider to a new tech cloud powerhouse.
IBM is one of the cheapest and safest ways to play the new technology scene if you are not comfortable investing in a wildly overpriced cloud player like Salesforce (NYSE:CRM) or an exciting but ultimately unprofitable company like Box Inc. (NYSE:BOX).
#2: Gap, Inc. (NYSE:GPS)
Oh retail, how we love and hate you at the same time.
If I showed you a stock with the name blacked out and said it was trading at a 13.30 P/E and had a 3.12% dividend yield, you would be intrigued, right?
But would you feel the same when the blindfold comes off and it turns out to be a retail stock, albeit one of the best (historically)? Gap Inc. operates Gap, Banana Republic, Intermix, Athleta, and Old Navy stores.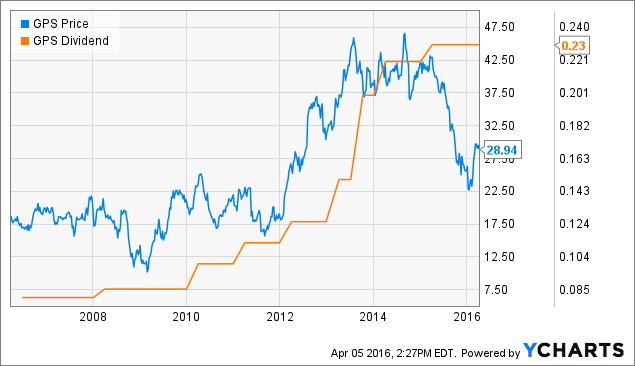 The Gap Inc.'s 5-year dividend growth rate is 15.38% and its payout ratio is very comfortable at 41.26%.
The company saw a downtrend in 2015 due to a weak overall retail environment and some less then stellar results at its flagship brands.
But the economy continues to slowly improve and the company is well positioned to grow with its newer brands like Athleta that are capitalizing on the fast-growing fitness clothing market.
If you need exposure to this fickle but ultimately essential part of the US economy, Gap is not a bad way to get it. Many of the retailers with seemingly brighter prospects such as Costco (NASDAQ:COST) or L Brands (NYSE:LB) trade at a premium to this one.
#3 Fifth Third Bank (FITB)
Number 3 is a bit of an under-the-radar stock and many banks could fit in its place. The problem with banks for dividend investors at the moment is uncertainty, particularly in two areas -- will the Fed continue to increase interest rates like we thought they would, and how badly will increased regulation strain profits and distributions of those profits for all banks and other financial institutions?
I like Fifth Third here because it is dirt cheap, like most banks, compared to the broader market.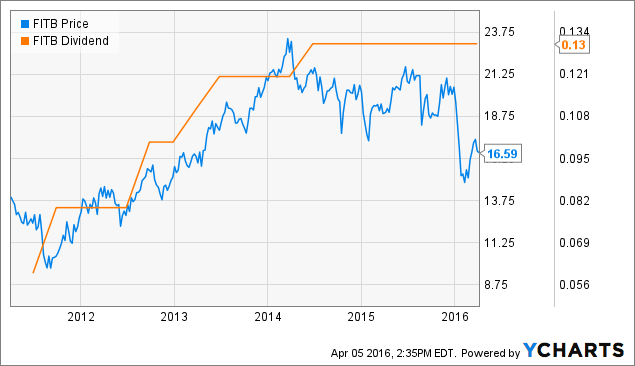 FITB data by YCharts
The yield is strong at 3.10% and 5-year growth rate is 16%, although they have not raised the dividend yet this year.
At a $13B market cap, Fifth Third is not one of the too big to fail banks that faces intense regulatory scrutiny, but still has enough liquidity and research for regular investors to take a look at.
A note here is that this stock is a way to diversify away from multinationals that have been hurt by the strong dollar due to their lack of international exposure, if that is a goal or necessity in your dividend portfolio.
#4 Waste Management (WM)
Need a dividend rock to help you sleep at night? Well, trash collecting and landfill filling Waste Management might be just what the doctor ordered.
Initial skepticism is warranted, as the company has a payout ratio of 99% and has struggled to grow revenues over the past few years.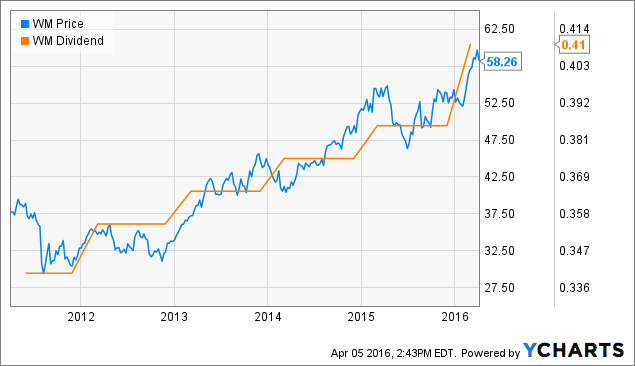 WM data by YCharts
With that being said, the payout ratio is a bit misleading because similar to a real estate investment trust, Waste Management does have very high depreciation and amortization due to the type of assets they own such as landfill properties. This was double net income in 2015.
This is a tough one to buy on the surface as many special items and the unique nature of the business obscure things a bit. However, the recession-proof nature of the business, positive population growth in the US, and consolidation in the industry all bode well for Waste Management going forward.
Waste Management is also a small play on the green energy trend as a minor part of their business involves turning trash and other waste into fuel. This is a small but growing part of their business with different economic and competitive conditions than waste collection, which provides some diversification in the business model.
Investors who are concentrated in the traditional sectors that dividend investors love such as consumer staples, utilities, and REITs may find Waste Management offers diversification and provides solid income.
#5: Hanover Insurance Group (NYSE:THG)
Another under-the-radar way to play rising interest rates is with insurance companies. Hanover does property and casualty insurance in the US and internationally.
Just as a quick refresher, most insurance companies generate their profits from investing the money they bring in as premiums before they have to pay it out as claims. Higher rates means that they can make more money without taking on additional risk in the same way that banks can charge more for new loans without having to lower their borrowing standards.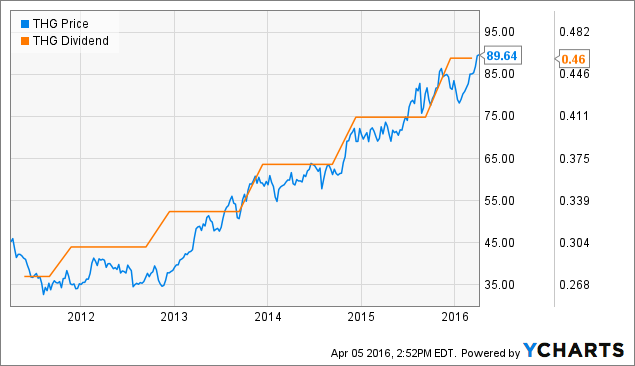 THG data by YCharts
Hanover's 5-year growth rate is 10.84% and has a payout ratio of 25%.
Surface analysis indicates that the company cut their dividend during the Financial Crisis. In reality, they switched from annual payments in 2009 to quarterly in 2010.
There are certainly quite a few factors pressuring insurance companies going into 2016 as you can see in the chart below, taken from an Ey.com report, but they still remain one of my favorite ways to play higher interest rates. This is especially true as they will have increased regulation but not as insane an amount as the largest banks, which look to be floundering for years to come.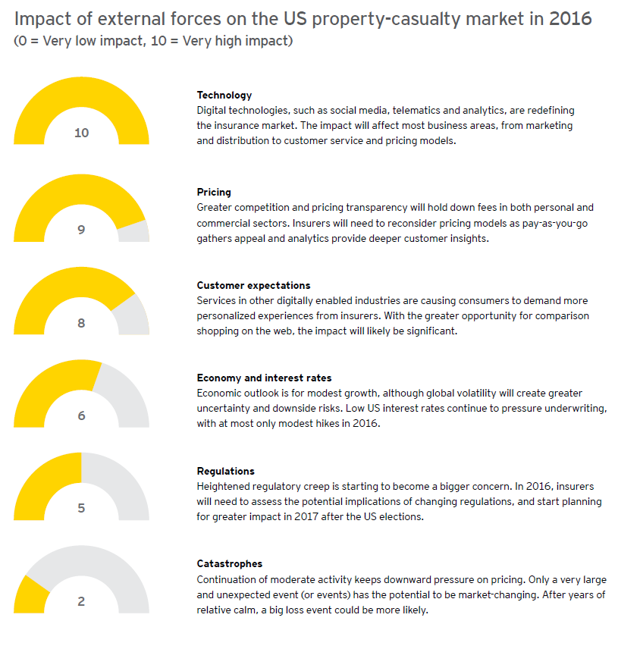 #6 Archer Daniels Midland Company (ADM)
ADM is one of the largest agricultural companies in the world. They are involved in virtually every aspect of agricultural commodities from transportation, to storage, to processing, and more.
When the commodity bust began in late 2014 as oil began its now infamous fall, ADM's price was hurt along with virtually every other company that was involved in the commodity space directly or indirectly.
Agriculture and farming has had its own challenges to go along with falling prices that have hurt others in the space, including the machine manufacturers like Deere (NYSE:DE) and Ag Co.
On the bullish side, China is expected to continue its craving for agricultural products at a higher pace than that of other commodities like iron ore that are linked to its rapidly changing and declining manufacturing sector.
Mckinsey believes that China's growing food needs will translate to record volumes of agricultural imports in 2016. The United States, ADM's home base, has grown their exports to China in this sector rapidly over the last 20 years and will continue to benefit.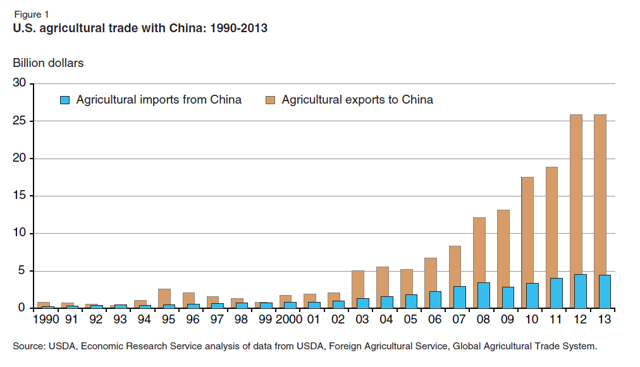 ADM is one of the prestigious "dividend aristocrats" investors love to buy. It should be noted that this company is cyclical and the price will fluctuate much more than a consumer staples type stock. It is for this reason that its status as a dividend aristocrat is that much more amazing.
5-year dividend growth is 13.40%, P/E at 12.20, and payout ratio just a hair over 40%.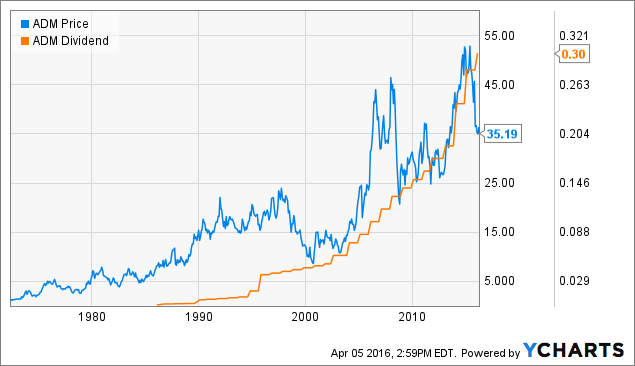 ADM data by YCharts
Depending on where you believe we are in the cycle or if you have the stomach to ride out any turbulence and collect your quarterly payments, ADM may be a great value at its current price.
#7 Emerson Electric (EMR)
Sometimes it amazes me how many awesome industrial companies there are that have paid consistent and growing dividends for decades.
Emerson Electric is one such company. They focus on practical products like actuators, power management systems, alternators, motors, thermostats, and other things that make the world go 'round.
Continued household formation in the US, which saw a strong uptick in 2015, should help propel Emerson's consumer business that produces InSinkErators, rigid tools, and other household solutions.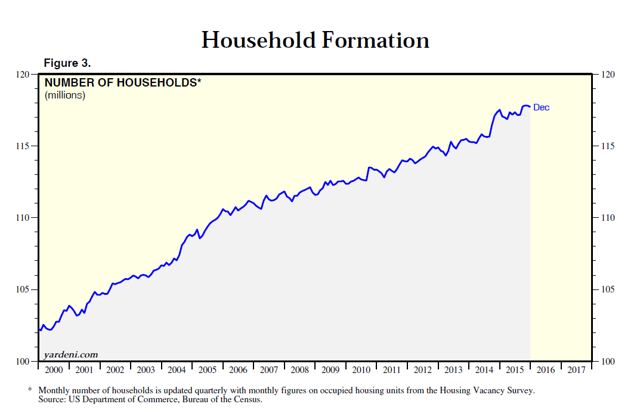 Emerson is priced fairly at 14.52 times earnings and has an above-average yield of 3.5%. 5-year growth is paltry at 6.6% with a payout ratio of 50.40%.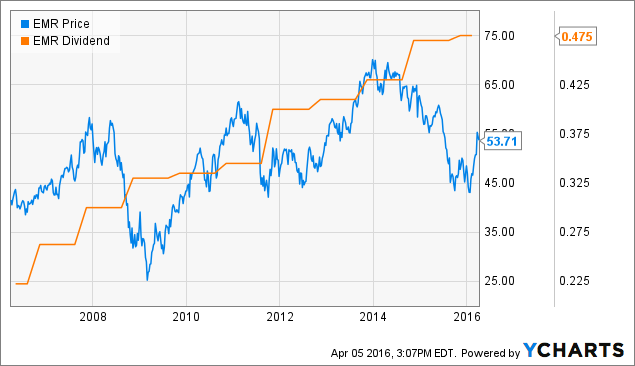 EMR data by YCharts
An important note is that Emerson is spinning off two of its divisions. One is expected to be completed by Q3 2016 and the other soon after. The goal is for the company to be leaner, faster-growing, and more focused into 2017 and beyond.
Patient investors can collect the company's solid dividend while waiting to receive shares of the newly spun-off companies and deciding if they fit their portfolio or needs at that time. Considering the 50% payout ratio, I believe that once the dust settles, investors who hold on might be able to receive more in dividend payments in total then they might have from a consolidated Emerson.
Another note is that the Johnson Controls (NYSE:JCI)-Tyco merger looks to be in trouble after the treasury secretary's campaign against inversions continues, possibly allowing Emerson to gain some market share or other competitive advantage over Johnson Controls as they will keep a similarly high tax rate.
#8. American Express Co. (AXP)
Once the market's favorite punching bag, AXP seems to have fallen out of the limelight.
The resulting melee, however, has pushed AXP down to a valuation only shared by the banks and airlines. The company trades at 12.15 times earnings with a yield just under 2%. 5-year growth is 10% and payout ratio is low at 22.97%.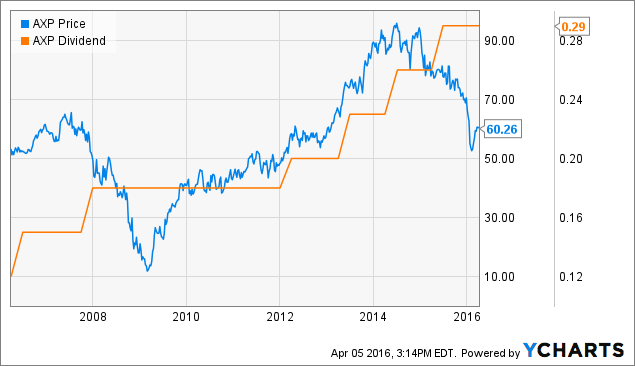 AXP data by YCharts
Recent events such as the loss of the Costco partnership are concerning, but all signs indicate that one of world's greatest investors, Warren Buffett, is still along for the ride.
AXP might be struggling to compete with new players in the space along with traditional competitors like Mastercard (NYSE:MA) and Visa (NYSE:V), but the company has survived and thrived for over 150 years, and often the best time to buy a company is when it is temporarily down on its luck.
I think American Express may be in just such a lull and will soon regain its mojo. It is the cheapest payment processor by far as PayPal, Visa, Mastercard, and others all trade well above 20 times earnings. American Express will make a great investment for value-conscious investors who believe in Buffett's continued support and who aren't afraid to go against Wall Street's herd mentality.
#9. Cummins Inc. (NYSE:CMI)
Cummins was taken down with the rest of the industrial cohort in 2015 and has since rebounded slightly. This was arguably unfair given its business prospects and longstanding reputation.
Cummins produces engines and components for those engines. Diesel or gas -- you name it, they got it.
The earnings multiple is at 14.08, a big but not too big 3.58% yield, and a best-in-class 5-year growth rate of 30.08%.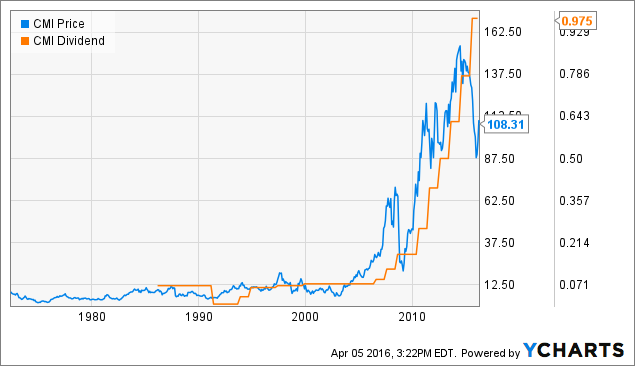 CMI data by YCharts
I like Cummins for the dividend investor who wants more companies that are doing well in tough emerging markets and still have room to grow.
India, Brazil, and China account for 40% of Cummins' revenue, with the US and Canada making up the rest. China provides a big opportunity as industrial productions stabilizes to normal levels, but e-commerce will continue to drive the need for goods to be transported all over the Peoples Republic.
One of the most common ways these goods are transported is by giant trucks that rely on Cummins' diesel engines. China's infranstructure investment will also help create the proper environment for CMI's business to prosper there.
Cummins is the perfect buy and hold forever stock. The company nor its engines are going anywhere anytime soon and could make a patient investor very rich in 20 or 30 years.
Their balance sheet is also stellar with more cash on hand than long-term debt at the end of 2015. Boring is good and good is boring.
Conclusion
Often the best time to buy a mature and stable company is when the market has discounted it because of near-term problems or industry headwinds.
The resulting turnaround can prove healthy for investors, and getting a health 3%+ yield while you wait reduces volatility and keeps investor confidence high to avoid over trading and incurring transaction and related costs. These nine dividend stocks might be great value at current prices, and deliver additional rewards for patient investors once their turnarounds are complete.
Disclosure: I am/we are long ADM, EMR.
I wrote this article myself, and it expresses my own opinions. I am not receiving compensation for it (other than from Seeking Alpha). I have no business relationship with any company whose stock is mentioned in this article.