The USDA's National Agricultural Statistics Service released a new 2016 Prospective Plantings report on March 31. The key messages are that corn planted areas are expected to be up six percent from the 2015 levels and that soybean acreages will be more or less constant. Assuming a constant yield of 168 bushels/acre, this would lead to a new record corn harvest, even topping the 2014 record crop.
Corn is the primary cash crop for US farmers, and higher corn acreages will lead to an increased production, provided that yields do not drop significantly. This does not bode well for corn prices, and with futures trading below $4/bushel, there is no light at the end of the tunnel. Consequently, farm income will remain under pressure, and this could make it difficult for Deere & Co. (NYSE:DE) to meet its own guidance.
With an expected six percent increase in acreages, farmers bet on corn. Even at the depressed price level, it seems to be the most attractive option for them. Soybeans, which can be an alternative, are no better proposal after a second consecutive record harvest. A soybean yield of 48 bushels/acre in 2015, which was marginally up from 47.5 bushels/acre in the year before, brought another bumper crop, despite planted acreages being down by one percent.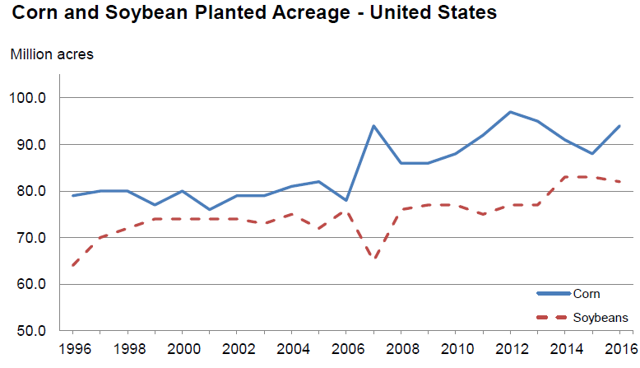 Source: USDA website.
Soybeans are the second most important cash crop for US farmers. In 2015, cash receipts from corn fell to $47.2B from $54.6B in the year before, while soybean cash receipts dropped from $40.9B to $34.6B. Considering the expected price levels for the 2016 harvest, some farms will produce negative returns.
Surely, there is no guarantee that planted areas close to their all-time highs will automatically lead to a record harvest. The weather is the crucial external factor which determines the yield, but an average yield will not bring relief for commodity prices. In addition to that, inventories are at high levels which means that a real crop failure would be required to move prices significantly. Another headwind for US farmers is the strength of the dollar. Exports have lost competitiveness globally hence foreign markets offer only limited options to absorb surplus production.
A difficult Start into 2016
Deere reported EPS of $0.80 for the first quarter ended January 31, compared with $1.12 for the same period in 2015. Worldwide sales and revenues decreased 13 percent to $5.525B, net sales of the equipment operations were down 15 percent to $4.769B. The main reason for the lower sales is organic decline since Deere is still focused on the US market, and negative currency effects only had an impact of 4 percent.
Deere expects equipment sales to be down 10 percent in FY16, and guides towards a net income of $1.3B. Compared to the fourth-quarter guidance, this is a 3 percent reduction in sales and a $100M lower net income.
In light of the newly released prospective plantings report, there is not much light at the end of the tunnel. The conclusion is that FY16 will be another bad year and probably worse than Deere's guidance. It is also some kind of hint that FY17 will not be the turning point, a view which is shared by the analyst community. The FY17 consensus now stands at $4.08, one cent less than the expected FY16 EPS of $4.09. The EPS trend for both FY16 and FY17 shows a clear direction, estimates were higher 60 and 90 days ago, and particularly the FY17 outlook has worsened.
Stock Performance and Outlook
One has to admit that Deere's shares have performed better than expected given the continued industry downturn. Based on the company's current guidance, FY16 net income will be down 63 percent from the record high of $3.537B in FY13. The analyst consensus sees FY16 EPS at $4.09 compared to $9.09 in FY13. After recovering above $90 last year, the stock fell below $80 in September and has been trading in a narrow range between $72 and $80 for most of the time since then.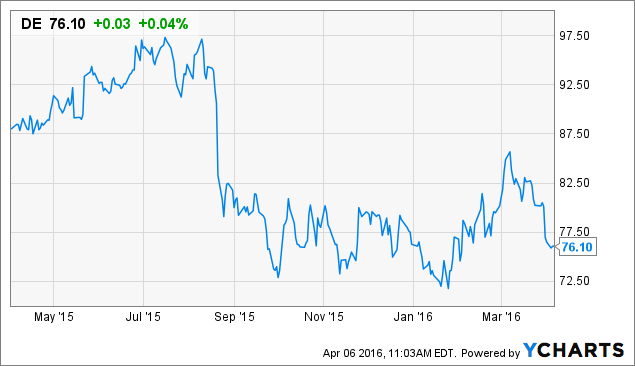 Mr. Market has been very patient with Deere, and shares have lost less than other cyclic stocks which saw a similar earnings trajectory. Fundamentally, Deere's situation is not better than last year or in 2014. The downturn in the Agriculture & Turf segment continues, and at the moment, there are no signs that the situation will improve in FY17. Even if commodity prices started to recover, this would not trigger new equipment purchases immediately. Too much used farm equipment in good condition is on sale for an attractive price. Dealer inventories are high, therefore, it will take some time until Deere notices an increase in orders. It is very difficult to estimate when the tide will turn, but commodity prices and farm income could stay depressed for years. No tailwinds can be expected from Deere's Construction & Forestry division either.
The question is how much further Deere's revenue and profitability could shrink until demand will finally reach a bottom. Assuming that the low will be reached in FY17, the question is how fast orders will pick up. A quick recovery of commodity prices seems not very likely, and the bear market may continue for years. The return to record sales similar to the levels that were seen at the beginning of the decade cannot be expected anytime soon. Deere might have to live with a constantly lower demand for years and might have to adjust its operations in order to increase profitability.
Short term, I would not count on encouraging Q2 results, and it might very well be that Deere has to lower guidance again. This could put some pressure on the stock; however, Deere shares have proven to be very resilient, and the further downward potential seems to be limited. Therefore, I consider a drop significantly below $70 unlikely unless there will be a distinct market correction.
One of Deere's advantages is the attractive dividend with a yield of 3.2%. I do not see a danger for the dividend anytime soon, and I expect constant annual payments of $2.40 until the business recovers. Cash flows remain rather healthy, and the extensive buybacks have helped to partly mitigate the EPS decline.
Conclusion
The plantings outlook for the 2016 season leaves not much hope for a recovery of commodity prices and a pick-up in demand for Deere's products. However, this is only a snapshot, and the picture will become clearer after planting has occurred and the crop emerges. In any case, FY16 will be another year of top and bottom line decline for Deere, and at present, there not many signs that results could already improve in FY17.
Disclaimer: Opinions expressed herein by the author are not an investment recommendation, any material in this article should be considered general information and not relied on as a formal investment recommendation. Before making any investment decisions, investors should also use other sources of information, draw their own conclusions, and consider seeking advice from a broker or financial advisor.
Disclosure: I/we have no positions in any stocks mentioned, and no plans to initiate any positions within the next 72 hours.
I wrote this article myself, and it expresses my own opinions. I am not receiving compensation for it (other than from Seeking Alpha). I have no business relationship with any company whose stock is mentioned in this article.