A year ago, I wrote an article suggesting Ameriprise Financial (NYSE:AMP) as an alternative for a dividend growth portfolio. I bought some shares as well in Q2 2015. Obviously, it was a poor timing, and poor investment a year later. Like its peers, Franklin Resources (NYSE:BEN) and T. Rowe Price (NASDAQ:TROW), AMP suffered from poor performance due to decline in AUM (assets under management). I invest for the long term, so it is time to check whether I should buy some more after such a rough year.
As I invest for the long term, it is still crucial to see that the fundamentals stayed strong, and valuation is still compelling. As I followed the company over the past year, I haven't noticed any significant problem in the fundamentals, but before I deploy more capital, I should do another thorough check. I have to decide whether I ignore the hardships, or take advantage of them to buy some more stocks.

Ameriprise Financial is an American diversified financial services company. Ameriprise Financial engages in business through its subsidiaries, providing financial planning, products and services, including wealth management, asset management, insurance, annuities and estate planning. In this article, I will analyze the company, and compare it to its peers.
Fundamentals
After looking at the fundamentals, I can say that they are still strong despite the declining in AUM. The revenue suffered from a minor drop of less than 2% over the past year. It cannot justify the steep decline in the stock price. Moreover, as I will discuss later in the article, the company still has plenty of growth engines that can drive it forward in the near future. Therefore, I believe that this slight decline will be dealt with by the management of the company, and it will be able to grow its revenues again.
The EPS suffered from a 2.5% decline over the past year. Again, not something out of the ordinary. The reason for the decline is that AMP had some more expenses, it also had an impact on the margins, but these are short-term effects, and AMP still enjoys very high profitability. The company also boosts EPS with huge buybacks, and analysts believe it will grow EPS in the medium term.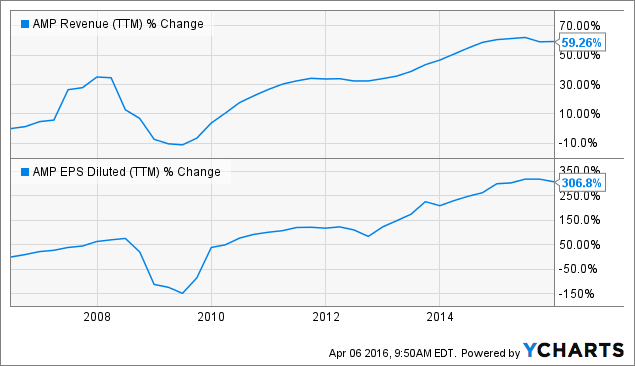 AMP Revenue (TTM) data by YCharts
The dividend is in a superb condition. The company raised the payments every year since it became independent, and the yield is at the highest point since the 2008 financial crisis. The dividend is also easily sustainable as the company pays $2.68 while it is forecast to earn $9.58 in 2016. Other analysts are even more bullish on the figures for 2016 and 2017. The company enjoys strong fundamentals with safe dividend and relatively high yield. Seems enticing to me.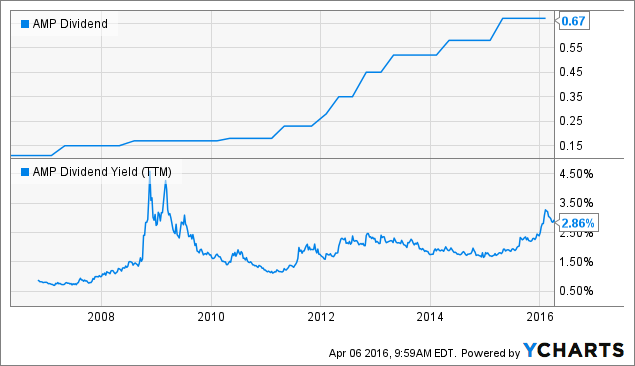 AMP Dividend data by YCharts
Buybacks are really an important aspect for the board. The company is taking advantage of the low valuation to decrease the amount of shares outstanding. Usually firms in this sector hold a lot of cash, and this is a great use for it at the moment. At the current pace, AMP will reduce its share count by almost 5% every year. This will have great impact on EPS and will allow the company to increase the dividend more generously.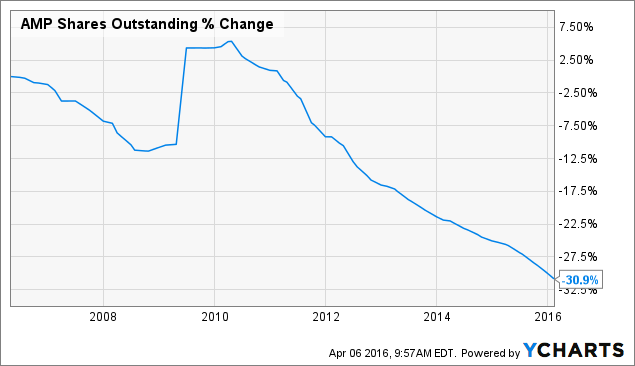 AMP Shares Outstanding data by YCharts
Valuation
As the fundamentals are still very strong, it is time to look at the valuation compared to the peers. As I know that revenue and income are almost unchanged, I expect to see a much lower valuation for the company. As I look at the P/E and forward P/E, I find AMP not only cheap, but cheaper than its peers. It is very hard to justify such a huge gap between the companies, and I believe that when looking at the valuation, AMP is the most attractive security among the three.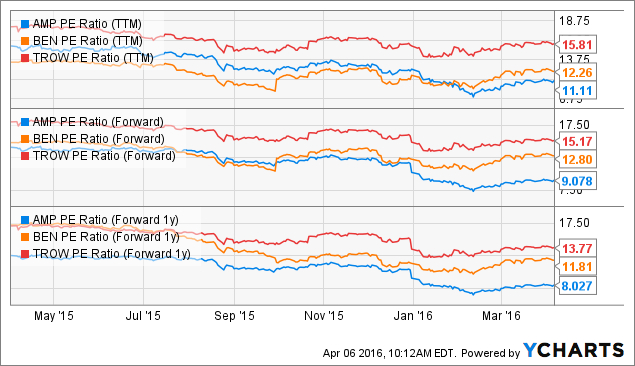 AMP PE Ratio (TTM) data by YCharts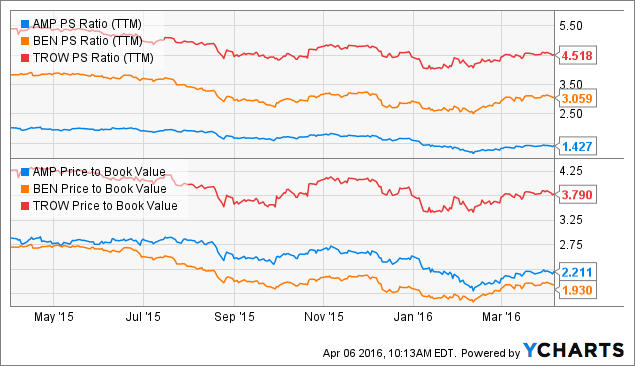 AMP PS Ratio (TTM) data by YCharts
Even when I use other metrics for the valuation such as P/S and P/B, I find AMP very attractive. It has a much lower P/S ratio and its P/B is only slightly higher than BEN which suffers from declining EPS due to its strong reliance on its funds. When I compare the three I find AMP to be the most attractively valued, and together with its strong fundamentals, it seems like a fair investment. Now, I will look at the risks and opportunities to see if they are the reason for this low valuation.
Opportunities
Even with the lower revenue, AMP enjoys growth in return on equity. This growth comes with lower operating margins. However, the decline in the margins is only temporary, and AMP is forecast to show margins of almost 30%. It shows that AMP is still a very profitable firm that can generate a huge amount of cash flow. As a dividend growth investor, I look for companies that can generate a lot of cash flow, and AMP qualifies for sure.
Another advantage for AMP is its diversification. It is a real financial powerhouse, and is much more diversified than just its funds that suffer lately. The company offers insurance services as well as wealth management. As I wrote in past articles, many financial companies see wealth management as an opportunity. Among them you can find Morgan Stanley (NYSE:MS) and Royal Bank of Canada (NYSE:RY). Wealth management can be a great growth catalyst as baby boomers retire.
As the funds industry is losing assets, I don't believe that it will disappear. The funds that will be able to bring value to investors will stay, and AMP can offer value to its clients. Its funds are among the best in the market, enjoy high rating, and better than average returns. Moreover, AMP has the power of its brand, and it will be able to offer its funds to its insurance and wealth management clients.
Risks
The risks for the long term in the funds industry should not be ignored. Firstly, it is almost impossible to beat the market for the long run. The chart below shows exactly that. If investors decide that funds cannot bring value, they will choose the cheaper options such as ETFs.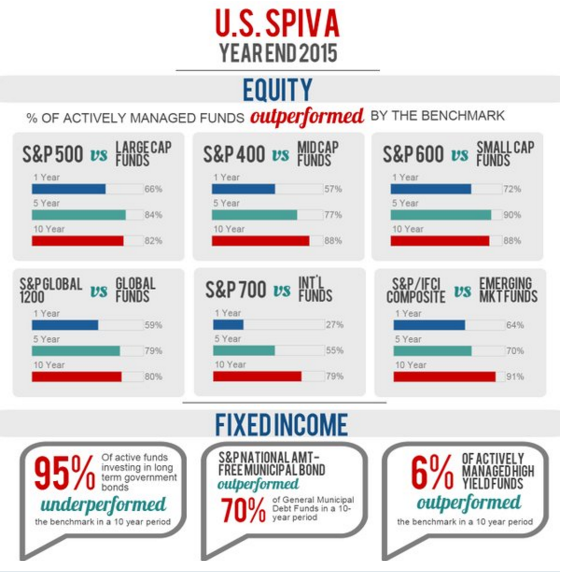 Another risk is to the insurance business. The insurance industry is very competitive, and most companies cannot offer unique products. Therefore, clients don't care about the brand, they just look for the specific commodity, the insurance policy. Therefore, it is hard to raise prices, and the competition is fierce.
The last risk is one that none of us can forecast, the market itself. Volatility and bear markets can harm AMP more than the usual company. Volatility will make investors less willing to invest and risk their money while the bear market will do the same while decreasing the value of the assets under management. The current volatility can drive investors away from AMP, but long-term investors should just ignore the background noise.
Conclusion
After looking at AMP, I can say that I understand why investors are scared. There is no imminent danger, but the uncertainty level of the whole funds industry has risen. However, I believe that the risks are not that dangerous, and the company has strong fundamentals with great growth prospects. The valuation gives us even more margin of safety, and therefore, AMP is a fair option to consider. Yet, due to the uncertainty, and the possibility of additional decline in the share price, I wouldn't call it a classic buy.
At the current valuation, it is my favorite option among its peers. For sure better than BEN, and even better than TROW, its diversified peer. While all three are suitable companies for dividend growth investors, AMP shines above the other two, in my opinion, and should be considered before them.
Disclosure: I am/we are long TROW, AMP, MS.
I wrote this article myself, and it expresses my own opinions. I am not receiving compensation for it (other than from Seeking Alpha). I have no business relationship with any company whose stock is mentioned in this article.