As always, here's another round of the weekly oil inventory report for the week ending April 1st, 2016.
WTI (NYSEARCA:USO) and Brent both responding well to the DOE oil inventory report after going below $36 yesterday. WTI is up around 4.5% and Brent is up 3.7%.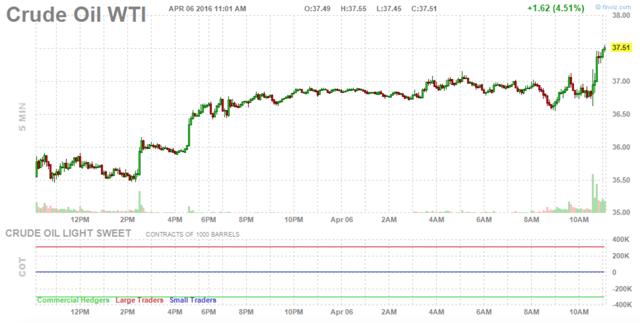 Oil has recently taken a hit due to both uncertainties with the OPEC and Non-OPEC production freeze deal along with technical pressures. The run up in oil prices was a bit swift and a pullback should've been expected.
Import numbers took another leg lower and as we've said many times in our previous reports, the only reason why we are building so much inventory in the U.S. is due to much higher imports.
Production continues to fall in the U.S. pointing to a much more balanced supply and demand outlook going forward.
Refineries continue to operate with intensity and utilization will hit an all-time high this summer. We are now about the exit of the refinery turnaround season and this could begin the draw process in excess storage.
All in all, the fundamentals continue to point to the right direction, and we believe prices should be in the high $40s by the 2nd half of 2016.
Highlight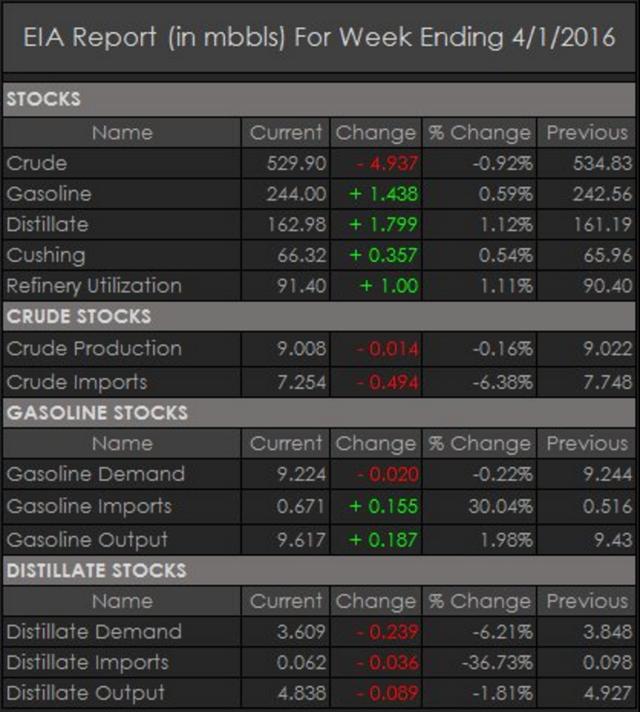 Crude inventory saw a draw of 4.937 million versus last week's build. The bulk of the reason for the draw was due to falling imports. If imports were the same as last week coming in at 7.748 million b/d, inventory would've only drawn ~1.5 million barrels.
There are reports that indicate that the imports were delayed due to weather-related issues and could affect next week's build numbers. But the more important thing is to look at the relative build for this year versus last year.
IEA and EIA both have reported that Q1 2016 saw "record" surplus in supplies and that it outstripped demand by 2 million b/d. However, if one takes a look at the inventory build, the facts simply don't back that statement.
If we compare the build to 2015, 2016 year to date saw a build in commercial stock of 42.5 million barrels versus 2015's build of 96.9 million barrels.
If the overproduction was so bad, why haven't we seen a massive build greater than the one we saw in 2015? The answer is that the imbalance actually isn't that bad, and because production and demand numbers are both estimates, EIA and IEA have likely overstated production and underestimated demand like they always do.
Refineries Going Nuts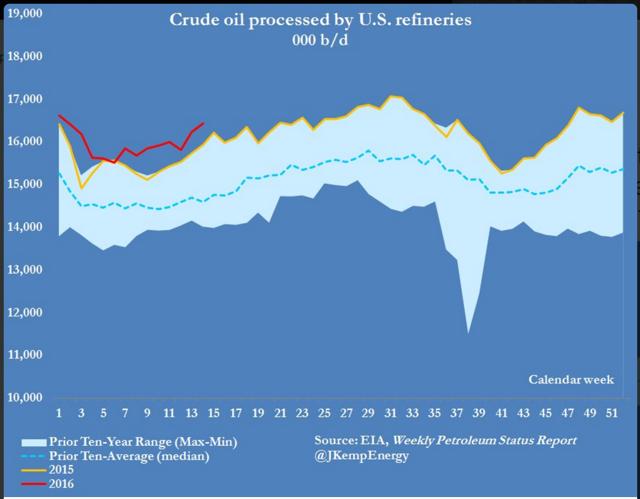 Refineries are going all out. Over the last week, refineries boosted throughput by 200k b/d to 16.4 million b/d and are on pace to hit record highs this summer. Last year already had people wondering whether it was possible to keep utilization that high. Well, there you have it folks. Refineries continue their streak of operating perfectly.
Imports Lower Due to Possible Weather-Related Issues
Imports were much lower week over week in the tune of 494k b/d. If the imports didn't drop, a 1.5 million draw would've happened instead of the ~5 million we saw.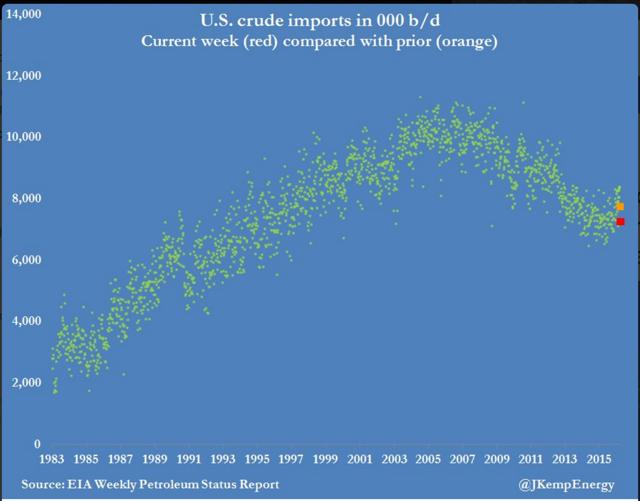 Sources familiar with imports tell us that the reason for the much lower numbers was due to weather-related issues. Fog was cited as the reason imports were much lower.
Another reason is the price discounts for oversea oil have dropped due to tighter supply and demand situation. A good indicator is to look at the OPEC basket price alongside current spot WTI prices. Refiners use heavy crude for its main input and because heavy crude is priced off of WTI, the impact is quite meaningful.
On April 4th, 2016, OPEC basket price was $33.33 and still meaningfully lower than WTI at ~$35 (for comparison to yesterday's closing price). But the discount has certainly narrowed since the beginning of the year. At one point in time in January of this year, OPEC basket price went to as low as the $22 range.
Readers also need to understand that U.S. is sort of a dumping ground for excess inventory. Because we have the largest storage facility built in the world, if producers can't find buyers for their crude or traders can't find cheap storage, U.S. would be the place to go. But when the curve starts to flatten and supply begins to tighten, import numbers would start going down.
A deceleration in import numbers coupled with lower onshore U.S. production could see a big decline in crude stock going forward, and this is very bullish for oil prices.
Gasoline Demand Remains Strong
Gasoline demand remains strong despite a small drop week over week.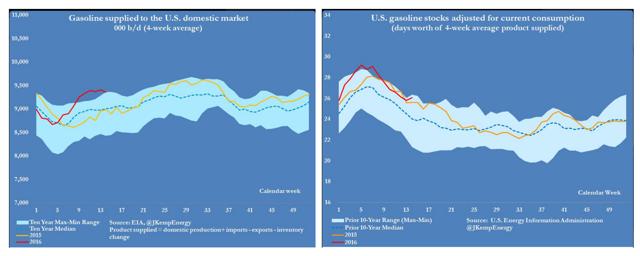 Relative to 5 year averages and last year, gasoline demand is strong. Part of the reason for the fall could be attributed to weather-related issues and higher gasoline prices. Earlier this year due to concerns over record gasoline inventory, gasoline prices fell below $1/gallon. Now it has comfortably recovered to $1.39.
Will we continue to see record demand for gasoline? Yes, and this summer could be breaking the record books.
Concluding Thoughts
This week's DOE report continues to confirm my assertion that the supply/demand situation is getting better for the oil markets. U.S. production is rolling over and we could see sub-9 million b/d of production next week. Imports were affected due to weather, but the discount between oversea prices is narrowing and could lead to much lower imports going forward. Gasoline demand remains strong albeit it tapered off a bit, and this summer could see record gasoline demand.
Traders will be focusing their attention on the OPEC and Non-OPEC producer meeting on April 17th in Doha. Oil will likely move with corresponding bearish or bullish news coming out of the oil producing countries. The short term remains uncertain, but the long-term picture is intact. Higher prices will come and we expect high $40s by the 2nd half of 2016.
For investors that want deeper insights into our research, please consider subscribing to HFI's premium service. We look forward to you joining a group of like-minded investors.
Till next time,
HFI out.
Disclosure: I/we have no positions in any stocks mentioned, and no plans to initiate any positions within the next 72 hours.
I wrote this article myself, and it expresses my own opinions. I am not receiving compensation for it (other than from Seeking Alpha). I have no business relationship with any company whose stock is mentioned in this article.