Canam Group (OTC:CNMGF), one of the leading construction companies in Canada specialized in commercial steel solutions across North America, announced a 59.7% year-over-year jump in its earnings for FY 2015. The most interesting fact about this news is that despite its record profits and solid fundamentals, the company stock price is trailing 15% from an all-time high in October 2015. Aside from the new issuance of 5.5M common shares resulted by the conversion of unsecured subordinated debentures, I believe that one of the primary reasons for the drop in stock price since October 2015 is speculative trades in response to the multi-billion dollar infrastructure plan announced by the new Prime Minister and his Liberal party. Unfortunately, according to the federal budget decision made on March 22, 2016, Trudeau's plan to spend $10 billion each year on transit, green, and social infrastructures was somewhat derailed by federal budget deficits which led to an agreement to spend only about 1/3 of his original proposal in 2016/17. As a consequence, companies like Canam, which has an expertise in fabricating and building bridges and community centers, may suffer from a lower volume of new projects than as expected. Nonetheless, I believe this is a real opportunity for smart investors to take an early position when discouraged investors start throwing in their towels. At least in my opinion, regardless of whether the Canadian government lines up multi-billion dollar infrastructure projects for major construction companies, Canam is poised to achieve another solid year of performance.
In reality, Canam has more construction projects in America than Canada.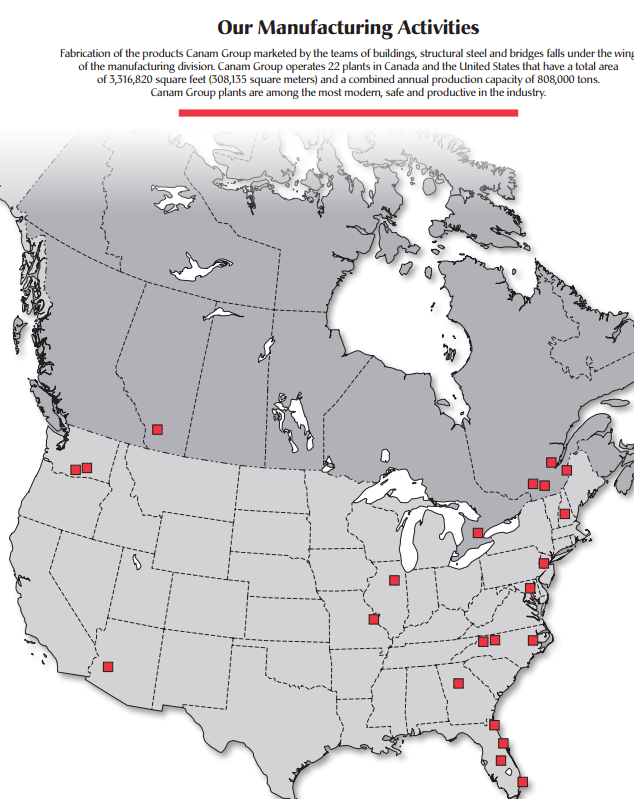 As you can see from the map above, Canam is currently working on more projects in America than Canada and as such, more employees are working in America than any other country, including Canada. As a consequence, according to Bloomberg, more than 68% of revenue is generated from America as opposed to roughly 28% from Canada in FY 2015. As provided on the Conference Call Presentation slides for Q4 2015, Canam's backlog rose 17.5% from $1.007B to $1.183B in FY 2015 and of the total backlog 67% of projects will be taking place in America (See below). This is the biggest and obvious reason why investors should pay more attention to the American's economy and construction activities rather than just what is happening in Canada.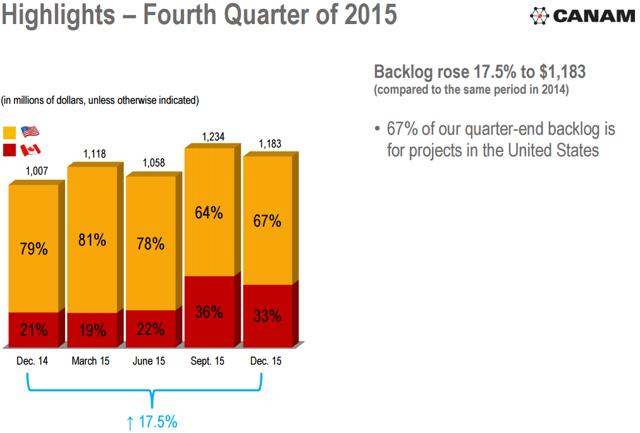 In accordance with the Value of Private Nonresidential Construction Put in Place (Seasonally Adjusted Annual Rate) provided by the U.S. Census Bureau, U.S. nonresidential construction spending, as of April 2015, is setting a month-to-month all time high record since the financial crisis in 2008. Also, the Value of Private Residential Construction Put in Place excluding rental, vacant, and seasonal residential improvements (Seasonally Adjusted Annual Rate) displays almost an identical pattern as the former statistic. These data, which represents monthly estimates of the total dollar value of construction work done in the U.S., is one of the key macroeconomic barometers for investors to gauge Canam's concurrent performance in America, given the fact that 42% of revenue is generated from building construction. With 5% unemployment rate and over 2% forecasted U.S. GDP growth in 2016, I foresee that Canam's wide exposure in America and its unparalleled expertise, evidenced by their involvement with 10,035 projects over the past year will provide a persistent growth opportunity. Furthermore, as Canam reports its financial statements in Canadian dollars, the strong U.S. dollar will continuously accelerate both the top and bottom of its income statement for FY 2016. For your information, of $167.1M year-over-year increase in equity attributable to shareholders for FY 2015 compared to FY 2014, $62.7M was attributed to the translation of foreign operations (mainly those of the U.S. subsidiaries).
You ought to take a look at their operating performance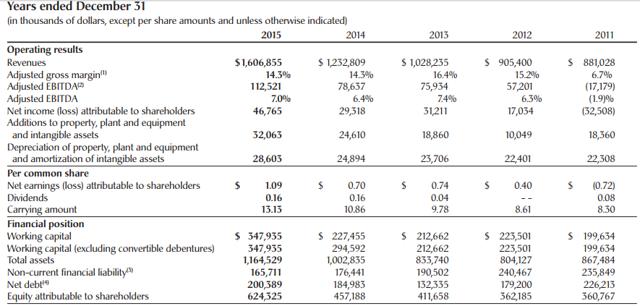 Over the last five years, ranging from adjusted EBITDA to net earnings (loss) attributable to shareholders, this company is rock solid in performance. Since the company hit the floor in 2011 with earnings of minus 72 cents per share, the compounded annual growth rate for revenue, adjusted EBITDA, and net income attributable to shareholders from 2011 to 2015 are 16.2%, 59.9%, and 9.5%, respectively. In addition, since Q4 2015, actual earnings per share for each quarter has beaten the analyst consensus in average earnings per share for five consecutive quarters pushing up the analyst consensus in 2016 much higher estimation than the previous year.
As we are now impressed by their consistent operation performance, let's take a deeper look at their various metrics in a graph extrapolated from Bloomberg.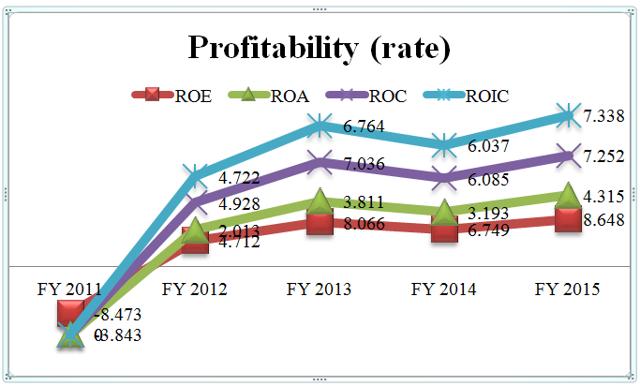 According to the graph above, it is self-explanatory that the company's capability of generating earnings from their available resources (i.e. assets, equity, etc.) is widely improving. All ratios for profitability are the highest in FY2015 than any other year since FY 2011.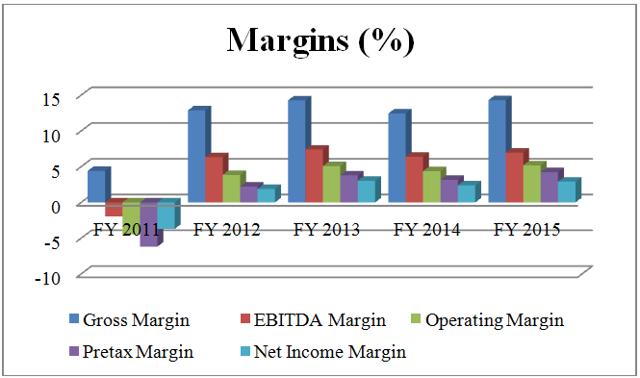 As for margins, Gross Margin, Operating Margin, and Pretax Margin are higher in 2015 than any fiscal year since FY 2011. EBITDA Margin, although it is second highest on the graph, is slightly declined in FY 2015 due to the growing depreciation and amortization expenses. As the firm deploys more capital into equipment and properties in response to growing backlog, these non-cash expenses have also risen correspondingly. Furthermore, in light of a sizable increase in the effective tax rate (i.e. 31.3%) attributed to a higher corporate tax rate in America, the Net Income margin is also recorded as the second highest over the last five years.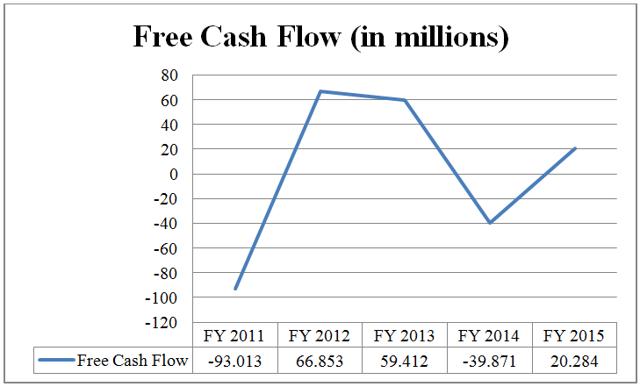 Free cash flow is relatively inconsistent compared to other performance ratios. Due to heavy fluctuations and change in non-cash working capital, annual cash from operating activities has been significantly volatile despite a stable performance in year-over-year earnings from operations. However, the cash conversion cycle has significantly improved over the last five years and has finally reached the shortest days in 2015. As such I expect the future non-cash working capital will stabilize and positively contribute toward free cash flow. Another notable feature about Canam's free cash flow is that the capital expenditures in fixed and intangible assets have accelerated year-over-year since FY 2012 and jumped almost four times in FY 2015. Nonetheless, I would still anticipate positive free cash flow going forward largely attributed to strong operating performance and stabilized non-cash expenses.
| | | | | | |
| --- | --- | --- | --- | --- | --- |
| ST Credit & Liquidity (%) | FY 2011 | FY 2012 | FY 2013 | FY 2014 | FY 2015 |
| Net Debt to EBITDA | 0 | 4.242 | 2.605 | 3.196 | 1.789 |
| EBITDA-Capex/Int.Exp | -1.918 | 2.896 | 3.942 | 3.709 | 5.944 |
| EBIT/Int.Exp | -2.155 | 2.078 | 3.519 | 3.569 | 6.072 |
| Current Ratio | 1.81 | 2.281 | 2.035 | 1.654 | 2.007 |
Other than the weakening Net Debt to EBITDA ratio, the rest of the ratios presented above have strengthen over time. Interest expense hovers between $13M and $14M over the last four years and meanwhile, operating income and EBITDA have significantly risen pushing the second and third ratios in a positive trajectory. From a short-run liquidity perspective, the company seems to have no problem fulfilling short-term financial needs without reaching for external sources.
| | | | | | |
| --- | --- | --- | --- | --- | --- |
| LT Credit (%) | FY 2011 | FY 2012 | FY 2013 | FY 2014 | FY 2015 |
| Net Debt to Capital | 43.896 | 39.673 | 32.205 | 35.134 | 24.091 |
| Net Debt to Equity | 79.838 | 66.995 | 48.044 | 55.141 | 32.095 |
| LT Debt to Equity | 62.533 | 66.002 | 46.025 | 38.402 | 26.324 |
| LT Debt to Asset | 25.401 | 29.728 | 22.725 | 17.509 | 14.114 |
Long-term credit ratios look even better than short-term credit ratios. Over time, every credit ratio presented above represents financial strength and long-run financial prospects. One of the biggest reasons for this positive change is a reduction of long-term debt and expansion of equity. Canam has reduced approximately $74M long-term debt over the span of four years and meanwhile, the total equity has expanded roughly by $262M due to rising retained earnings and share capital & APIC. In doing so, the composition of capital in its balance sheet is shifting from debt-oriented to equity-oriented.
More important reasons why Canam shares are attractive to purchase
There are several pertinent reasons that allow me to believe Canam has tremendous potential to reach its true intrinsic value. First of all, on the 2015 Annual Report, Canam reported that the carrying amount per common share was $13.13 as of December 31, 2015. Given that the stock price is traded only $.27 cents higher than the carrying amount as of April 1, 2016, it is difficult for me to believe that a company with such excellent fundamentals and operating performance barely crosses '1' in the P/B ratio. If the equity value continuously rises as anticipated, the value of the company's share will continue to be undervalued at least from a P/B ratio point of view. However, be aware that that the company announced a 4.09 million share buyback program until February 28, 2017 so it may push up the current P/B ratio a bit until fully repurchased. Second, in addition to a robust U.S. nonresidential construction market, Canam will also benefit from multiple Canadian infrastructure projects, including a $225M contract for the Champlain and Nuns Island bridges in Montreal. Although it is true that the slowdown in the Canadian economy sharply reduced demands in institutional, commercial and light industrial buildings, given strong growth in the multi-residential market segment and the government's initiative to support the Canadian economy with a long-term infrastructure plan, I believe Canam will remain solid and steady in its performance in the Canadian construction market. Last but not least, Canam is not hesitant to deploy capital for expansion. In 2015, two entities, Dessin Cadmax and Montacier International, were acquired by Canam and each entity has a specialty in modeling heavy structural steel and installing bridges which will sharpen the existing construction solutions in numerous large-scale projects and steel structure erection. Canam has a total of nine major subsidiaries to this date which enhance Canam's integrated expertise allowing to reach and satisfy various customer needs. This relentless approach partially explains the rising cash from investing activities over the last four consecutive years.
Supporting Documents
Disclosure: I am/we are long CAM CN.
I wrote this article myself, and it expresses my own opinions. I am not receiving compensation for it (other than from Seeking Alpha). I have no business relationship with any company whose stock is mentioned in this article.