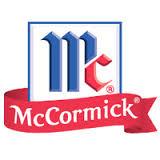 Introduction
There are many things to love about McCormick & Co. (NYSE:MKC) whether it is its scented annual reports (the last one was coriander, mmm) or the fact that its core business, spices, has been around for thousands of years. Spices have long been craved for their ability to make food taste amazing and were once valued higher than gold.
McCormick is the undisputed king of this industry. In addition to its branded spices, it is also a leading supplier of private label spices that you might find right next to its namesake brand, in addition to other value-added products like rice mixes, sauces, condiments, flavor packages, and more.
McCormick recently released its Q1 2016 results and announced a potentially larger acquisition. Take a short journey with me to the land of peppercorns and cumin seeds, and let's look at the fundamentals to see if an investment in McCormick makes sense.
Q1 2016 results
Adjusted Operating income versus Q1 2015 was $130.7M versus $122.1M, a 7% increase. Adjusted EPS was $.74 versus $.70, a 5.7% increase.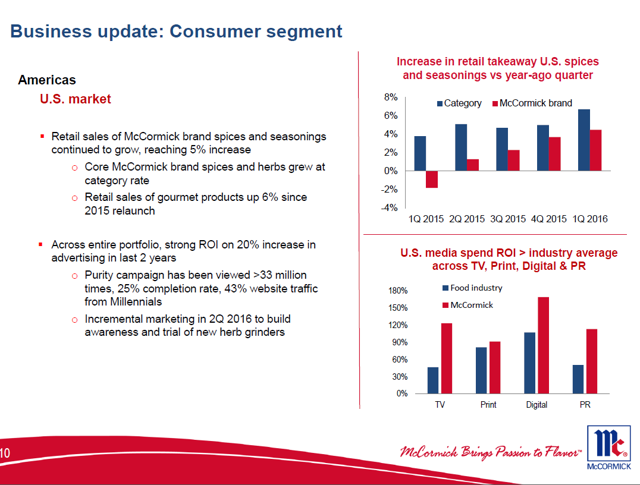 Ignoring currencies, sales increased 6.4% in the consumer segment, which is the spices and other products you find in the grocery store, and 6.6% in the industrial segment, which supplies companies and restaurants like PepsiCo (NYSE:PEP).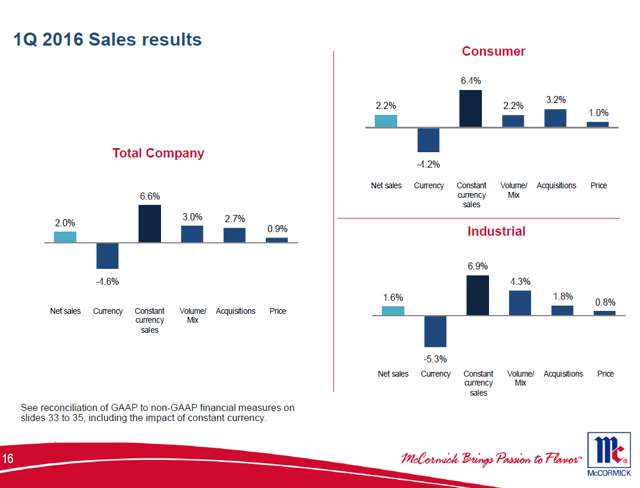 The impact of foreign currency reduced all these organic sales increases 4.6% to a reported 2.0% increase. With or without currency, these numbers are still quite good in a world where many multinationals are facing falling sales and blaming the strong dollar for all their problems.
McCormick's Moat
New investors or even more experienced ones have heard of Warren Buffett's famous moat. But what is a moat exactly. Many people associated it with loyal brands, a rich history, or other such business advantages. While I believe a moat is an abstract concept that is up for interpretation, one of the clearest examples is that of McCormick and its spice war that took place in the 1990s.
In the late 1980s, an Australian company by the name of Burns, Philip & Co. went on an acquisition spree. It acquired Spice Island, Durkee-French, Ostmann, and Tone Brothers in a span of 7 years. As it grew its empire, along the way, it began a spice war with the entrenched giant McCormick that it would ultimately lose.
As price wars go, this one featured heavy promotional activity and fierce discounting of prices to try to boost market share and drive the others out of business. The effects of this price war can be seen in McCormick's filings and statements from those years. It had some of its weakest years in terms of margins and profitability in 1994, 1995, and 1996.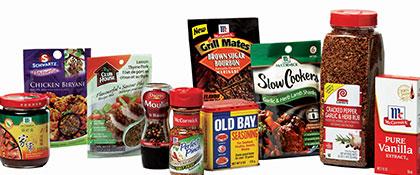 As I mentioned, McCormick eventually won this war. In late 1996, early 1997, Burns decided to sell off the spice business that was losing money. Executives were fired as the company walked away, tail between its legs, and returned to its yeast and vinegar business that had once been its bread and butter.
THAT is what a moat is. The fact that a company is so entrenched, so dominant in an industry that it would be insanely expensive, time consuming, and most likely unsuccessful for a competitor to unseat it is perhaps the very essence of what Mr. Buffett means by a "moat."
Usually technology is the great equalizer with respect to this in that 100-year-old industries can become obsolete or less profitable in the space of a few years because of technology.
However, until we can replicate cumin from a computer like on Star Trek, I think McCormick's spice business is safe from technology bandits and Silicon Valley upstarts.
Premier Foods Potential Acquisitions
This dominance mentioned above is why most of McCormick's acquisitions over the last decade and a half have not been US spice companies. Such an acquisition simply is not feasible due to anti-trust concerns.
It has focused on overseas spice companies, like Ducros, as well as companies that help build the "value-added" part of its business, such as Stubb's barbecue sauces or Flavor Aromatics.
Recently, along with the Q1 2015 release, the company announced it was pursuing an acquisition of Premier Foods, a UK based company for $773 million.

My initial thoughts on this potential deal is that it is a tad strange. Sure, there are some definite synergies with Premier having products that line up well with McCormick's current products like its salt, sauces, and other flavor additives.
The interesting thing, though, is that Premier is much more of a traditional food company and it sells lots of products that McCormick doesn't traditionally deal in like packaged cakes.
While many of these food items have good brand recognition and other strong qualities, it seems like a departure for McCormick's portfolio and I expect it to spin off or divest a good part of Premier's portfolio that doesn't align (assuming the deal goes through).
That being said, this does help it grow the value-added side of the business which it has repeatedly said was a goal of its and a place it sees lots of opportunities. Its core spice business continues to hum along so this is the growth avenue that you are getting if you invest in McCormick.
Valuation
McCormick is by no means cheap on the surface. The stock trades at 30 times TTM earnings and 24 times next year's estimates. This is either right in line with other consumer staples peers or slightly more expensive, depending upon how you slice it.
These metrics imply a fast growing company, which McCormick would not appear to be at first glance, but the truth is that EPS has more than doubled over the past 10 years.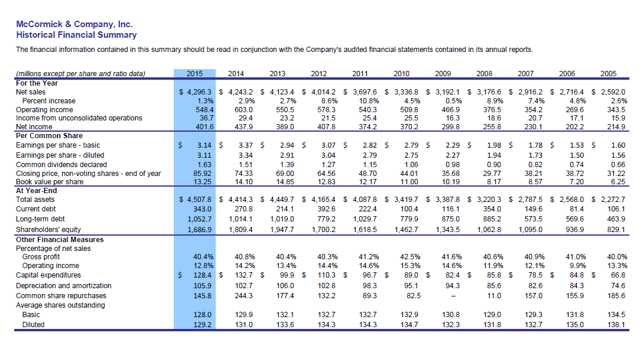 This is mightily impressive for a company that is in a boring and slow growing industry like spices and food. You can also see the numerous share repurchases in the chart above as well as consistent gross margins that have not changed much at all from 2005-2015.
The 5-year dividend growth rate is 8.96% and the payout ratio is 52.12%.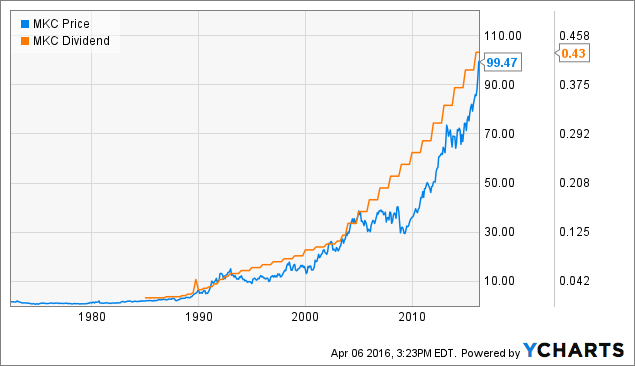 MKC data by YCharts
I believe McCormick's high price here is justified given its stellar moat and surprising growth rate for such a company. The only problem is that a high price allows for little to no wiggle room if any of the acquisitions the company makes, such as the prospective Premier Foods one, do not go as planned.
It has done a great job in the past of integrating and growing the companies it acquired but nothing in business is ever guaranteed.
I do feel comforted in the fact that McCormick faces little in the way of outside risks the way lots of other "safe" stocks do, like PepsiCo and Coca-Cola (NYSE:KO) with sugar taxes or General Mills (NYSE:GIS) with the natural and organic movement forcing it to remake its entire product portfolio.
Generic competition, which has plagued many other branded packaged food companies, is also less of a threat for McCormick because of many of the private label spices are supplied by it as well. It profits no matter which one you buy!
It also has a powerful industrial segment that is immune to generic competition due to its supply chain and distribution network that is critical when you are working with the world's biggest food companies and restaurants who have huge demands for the volume and quality of spices.
Few companies can deliver what McCormick can and that is why it is the spice supplier of choice for so many major companies.
Conclusion
McCormick is a tremendous consumer staples stock with a stable cash generating spice business and fast growing value-added food business that allows for growth via M&A.
The high price one would currently pay is partially justified by the company's historical and current growth rate, in addition to its market position that is under less threat than other companies in its peer group.
A investment in McCormick has a high chance of solid returns if the investor is able to sit on their hands for a few years and let the company work its magic of turning plants and seeds into greenbacks, half of which find their way to the investor's pocket.
Disclosure: I am/we are long MKC, PEP. I wrote this article myself, and it expresses my own opinions. I am not receiving compensation for it (other than from Seeking Alpha). I have no business relationship with any company whose stock is mentioned in this article.