Worries of default have temporarily subsided somewhat and the stock has recovered some of its recent losses, but we should not by any means consider this story to be one of a reversal of fortunes. Chesapeake Energy (NYSE:CHK) is now cutting its capital spending very aggressively, with its rig count dropping from 64 in 2014 to only 4-7 rigs for this year, according to its latest guidance included in its 2015 financial report.
Given the market sentiment on Chesapeake and looking at last year's financial report, it is understandable why the company had to resort to such a deep cut in capital spending. For 2015, total revenue from operations amounted to $12.8 billion. Operating expenses minus impairments came in at $13.4 billion. Another $300 million was spent on interest costs. For this year, it is quite possible that total revenue will come in bellow 2015 levels (assuming stagnated oil and gas production) due to a lower average price for both liquids and natural gas being forecast. Operating expenses may come in somewhat lower as well, perhaps, but there is still a gap which needs to be plugged, because the market is simply not very eager to provide significant volumes of funds to Chesapeake, at least not at a reasonable and manageable cost. At the moment, this is a company which increasingly has to worry about being able to issue new debt in order to cover the maturing debt it has due every year.
For this year and perhaps next, it intends to work down its so-called "fracklog," as I expect it will be the case with many other shale companies going forward.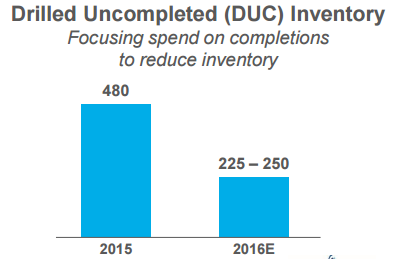 Source: CHK presentation.
This must be the strategy that Chesapeake is banking on in order to try to keep production more or less flat, despite the huge cut in capital spending.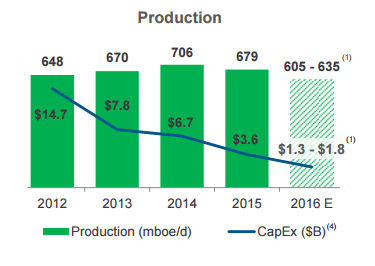 Source: CHK presentation.
It remains to be seen whether the addition of as many as 255 wells from its fracklog will be enough to stem a more severe production decline this year. It might work for 2016, but will most certainly not have as great an impact in 2017, given the depletion of fracklog this year. We should keep in mind that the number of wells awaiting completion will never go down to zero, unless a company completely stops drilling. Given an assumed drilling to completion timeline of about six months and Chesapeake's current plan to continue to employ 4-7 rigs, the number of wells awaiting completion will not drop bellow 50-75 as long as it continues to drill at the current planned pace. What this means is that Chesapeake will only have about 150-175 wells in reserve, awaiting completion going into next year. And the year after that it will be more or less 100% reliant on the wells it will drill by employing as many rigs as it can afford to, which in my view will not be too many, given the overall increasingly unfavorable credit conditions facing the shale industry, and Chesapeake in particular.
Revisiting profitability
Last year, I covered a number of shale producers, examining well profitability in some of their more important plays in a series of articles entitled "Economics Of A Shale Well." It was a somewhat unconventional attempt to examine whether revenue from production from an average well can cover the total costs of capital, royalties, taxes, interest, lease costs and G&A. The main purpose of the series, which covered a relatively large number of shale producers, was to point out the fact that the numerous claims of profitability were perhaps overly optimistic in the case of most shale companies. Looking back to last year, I feel that my findings were largely proven to be valid. Not many shale producers reported a profit last year within a price range which producers as well as other institutions such as banks previously declared to be profitable in the shale patch. Nor was the excuse of production ramp-up costs available last year, given that production was no longer being ramped up.
As part of that series I covered Chesapeake as well, analyzing its Eagle Ford, Haynesville and the Marcellus-Utica plays. I will not go into great detail in regard to my findings in regards to wells being drilled last year. I just want to point out the fact that major Chesapeake areas of operation, such as in the Appalachian, showed a lack of viability, unless natural gas prices will rise above $5/MBTUs.
The latest information we have from Chesapeake in regard to well costs and production would suggest that the economics of its wells have improved lately. In the Eagle Ford for instance, it is reporting a decline in well drilling and completion costs from $5.4 million in 2015, to just $4.2 million estimated for 2016.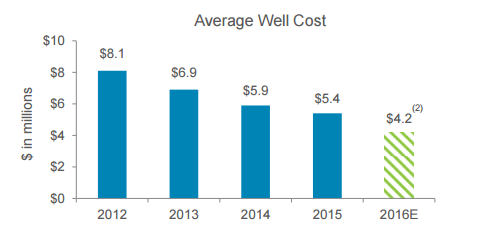 Source: CHK presentation.
Production per well in Haynesville is shown to have improved remarkably compared with production from wells drilled in previous years.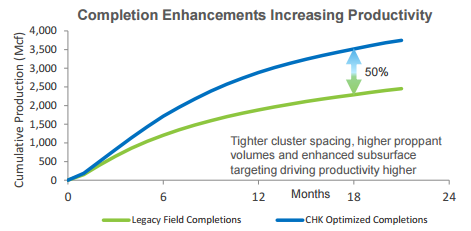 Source: CHK presentation.
While all these improvements may be good news for this increasingly troubled company, we should also keep in mind that the low drilling rate that Chesapeake is announcing will in effect cause new well profitability to have very little impact on the company's overall profitability. In effect, Chesapeake results will predominantly reflect the profitability of legacy wells drilled before 2015 for the next few years.
If we look at the Haynesville cumulative production curve above, we can see that expected average cumulative production for the first two years is about 4 billion cubic feet of gas per well. That may be impressive in terms of production volume, but at current gas prices it is not very impressive in terms of revenue, which given the current $2/MBTU's adds up to about $8 million. Given that at most half of that would go to covering capital costs involved in drilling such a well, it means that after two years of production, the average Haynesville well will not come close to reaching breakeven. So, even though Haynesville wells currently being drilled may stand a chance of breaking even within about a decade, fact remains that drilling these wells currently costs money does not provide a net return that Chesapeake could use to self-fund its capital expenditures.
This is a problem given Chesapeake's current refinancing obligations, because Chesapeake needs to see wells pay for themselves much faster, and definitely does not need to drill any more wells which may never pay for themselves as was the case in past years.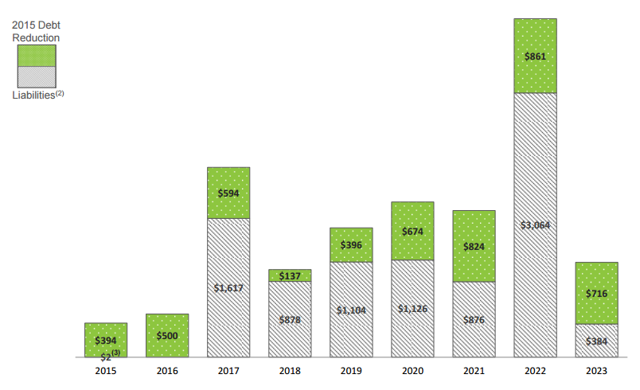 Source: CHK presentation.
Chesapeake clearly needs to have more and more of the more profitable wells come on line and needs them to come on line within the context of much higher natural gas prices. Now that the bill is coming due for previous spending, which was not profitable, the current price environment could not have come at a worst time. If a significant and sustained rally in natural gas and oil prices will not occur within the next year or so, chances of Chesapeake making it for the longer term are rather slim. Even if it will make it, it will most likely be as a much smaller company due to massive divestments needed in order to raise money. Given the current natural gas market and its outlook, it seems that help will not arrive fast enough.
Disclosure: I/we have no positions in any stocks mentioned, and no plans to initiate any positions within the next 72 hours.
I wrote this article myself, and it expresses my own opinions. I am not receiving compensation for it (other than from Seeking Alpha). I have no business relationship with any company whose stock is mentioned in this article.