By Sridharan Raman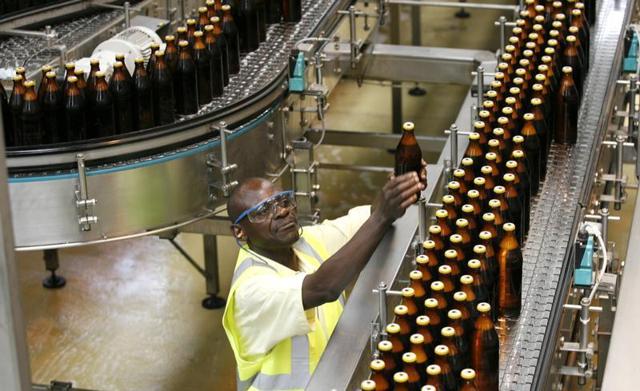 As the StarMine team does each quarter, we selected 10 companies using the Eikon Screener that we expect to either beat or miss earnings estimates, based on the SmartEstimate and Predicted Surprise data. We have summarized that data and the facts behind it for the five negative picks below. Historically, our selections have demonstrated an accuracy rate of about 75%, giving investors an edge when it comes to positioning themselves ahead of these earnings announcements. To take a look at how we did last quarter click here. Stay tuned for the positive surprise expectations.
Our picks for negative Predicted Surprises this quarter for North American companies are - SeaWorld Entertainment Inc. (NYSE:SEAS), Schlumberger Limited (NYSE:SLB), KapStone Paper And Packaging Corp. (NYSE:KS), Boston Beer Co. (NYSE:SAM) and Dun & Bradstreet Corp. (NYSE:DNB).
It's worth noting that the last edition of this newsletter for Q4 2015 correctly anticipated the surprise direction in eight out of the ten stocks chosen.
SmartEstimates aim to provide earnings forecasts that are more accurate than I/B/E/S Consensus Estimates, by putting more weight on the recent forecasts of top-rated analysts. When SmartEstimates diverge significantly from Consensus, you can anticipate the occurrence of earnings surprises with an accuracy rate of 70%. Revenue SmartEstimates are even more predictive of surprises, with a historical accuracy rate of 78%.
NEGATIVE SURPRISE PREDICTIONS
SeaWorld Entertainment Inc.
| | | | | |
| --- | --- | --- | --- | --- |
| Industry | Report Date | Mean | SmartEstimate | Predicted Surprise |
| Hotels Rest. & Leisure | 05-May-16 | ($0.57) | ($0.61) | -6.3% |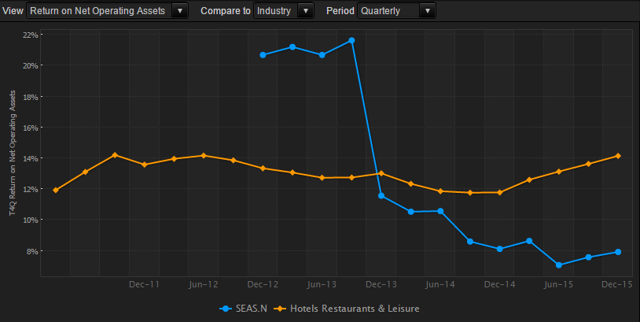 Source: Thomson Reuters Eikon/StarMine
No more orcas!
SeaWorld has been hit by activism that targeted its orcas, or killer whales. In response, SeaWorld announced that it was ending its orca program. That may be a step in the right direction in the long term, but it may affect visitors in the short term. The company is still reeling from a dip in attendance over the past two years. The increased advertising and legal expenses are also likely to detract from earnings. That has led to a steep falloff in return on net operating assets, a measure of operating efficiency. In the last two years, RNOA has fallen from 22% to 8% in the last quarter and now trails the industry median. With the industry competition only heating up, it remains to be seen if SeaWorld can regain some of the lost visitors.
Schlumberger Limited
| | | | | |
| --- | --- | --- | --- | --- |
| Industry | Report Date | Mean | SmartEstimate | Predicted Surprise |
| Energy Equip & Services | 21-Apr-16 | $0.41 | $0.38 | -8.9% |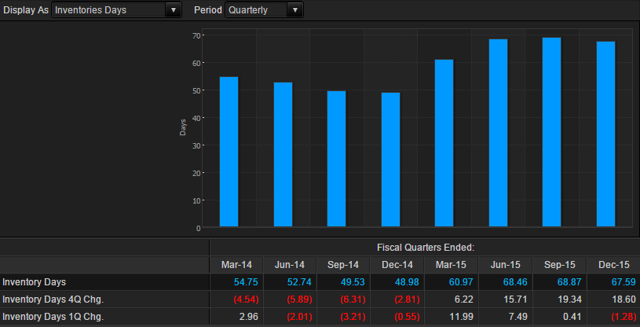 Source: Thomson Reuters Eikon/StarMine
Oil glut chokes earnings
With the slowdown in capital expenditures in the energy sector, Schlumberger has seen orders for its equipment grind to a crawl. The company has seen inventory days (YoY) increase by double digits in each of the last three quarters. CEO Paal Kibsgaard mentioned on the last call that "worsening market conditions added further pressure to the deep financial crisis throughout the oil and gas value chain and prompted operators to make further cuts to the already low E&P investment levels." Operating margins in the international markets dropped due to increased competition for the few remaining contracts. There are two Bold Estimates at 37 and 38 cents per share. This indicates that these highly rated 5-star analysts have estimates that are far below the consensus. Look for an earnings miss here.
KapStone Paper and Packaging Corp.
| | | | | |
| --- | --- | --- | --- | --- |
| Industry | Report Date | Mean | SmartEstimate | Predicted Surprise |
| Paper & Forest Products | 2-May-16 | $0.27 | $0.23 | -14.0% |

Source: Thomson Reuters Eikon/StarMine
Weak international demand
Kapstone has missed estimates in seven out of the last eight quarters - and that trend is likely to continue this quarter. Weak international demand and pricing combined with increased maintenance costs are likely to hurt earnings this quarter. Trailing 4Q operating profit margins are at a five-year low of 7.1%. There is a Bold Estimate of just 19 cents a share from a 5-star rated analyst. There are more sell recommendations and fewer buy recommendations on KapStone than there were 90 days ago. The company only has $7 million in cash on its balance sheet and the total debt is up to more than $1.5 billion. The high leverage means that the company scores poorly on our credit models.
Boston Beer Co.
| | | | | |
| --- | --- | --- | --- | --- |
| Industry | Report Date | Mean | SmartEstimate | Predicted Surprise |
| Beverages | 27-Apr-16 | $0.97 | $0.93 | -3.3% |

Source: Thomson Reuters Eikon/StarMine
Craft beer competition
Craft beer brands are proliferating and that trend may be brewing trouble for sales of Sam Adams and other Boston Beer brands. Crafts are eating into Sam's shelf space. In the last quarter, Boston Beer saw a 1.2% decline in revenues (YoY). That trend may lead to pricing pressures in the coming quarters as channel checks indicate that the trend towards craft beer is picking up steam.
Analysts have lowered estimates for the quarter by more than 10 cents a share in the last 90 days. Estimates for the whole year are down by more than a dollar a share at $7.80 a share, and may be headed lower based on the poor StarMine Analyst Revisions Model score of 13. It also looks like the shorts are piling on to this stock with a Short Interest model score of 5 out of 100, putting the company firmly in the bottom decile of all companies in the category.
Dun & Bradstreet Corp.
| | | | | |
| --- | --- | --- | --- | --- |
| Industry | Report Date | Mean | SmartEstimate | Predicted Surprise |
| Professional Services | 2-May-16 | $1.08 | $0.99 | -7.7% |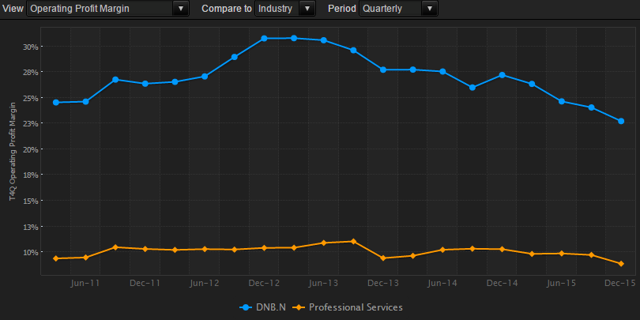 Source: Thomson Reuters Eikon
Weak macro conditions
Paying customers who use Dun and Bradstreet data for analytics and insights are facing tough macroeconomic conditions and many are in the midst of downsizing. That means contract renewals are likely to face pricing pressure. That is already showing up in the margins as they have fallen from 31% in 2013 to 23% in the most recent quarter. Management has made it a goal to turn over a quarter of its sales force in an attempt to attract better talent. A major restructuring is also in progress and it remains to be seen if this can revitalize earnings. In the near term, earnings are likely to take a hit, and D & B is likely to miss earnings this quarter. The two 5-star analysts covering the company have estimates of 93 and 94 cents, far below the consensus.