We may end up living to regret this, but we have now closed our position in Dick's Sporting Goods (NYSE:DKS). Despite it being an Olympic year, Nike (NYSE:NKE) provided disappointing guidance for the year ahead, which if it is the case could filter through to Dick's Sporting Goods. For this reason, we have stepped back in order to lock in our gains and would rate the shares as a hold now.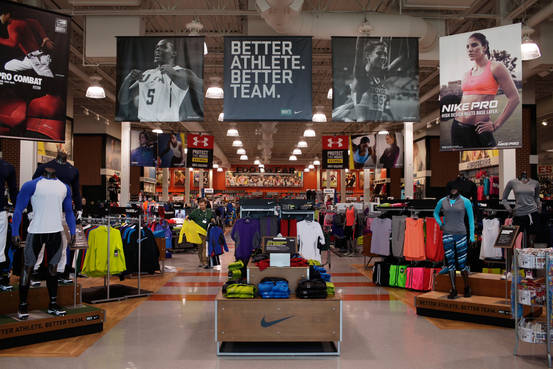 We picked up quite a few bargains at the start of the year, and Dick's Sporting Goods was definitely one of them. The stock was thoroughly beaten down towards the end of last year and has retraced a lot of these losses now. As you can see below, since we bought in toward the beginning of January, the share price has climbed as high as 39%, but now sits around 32% higher.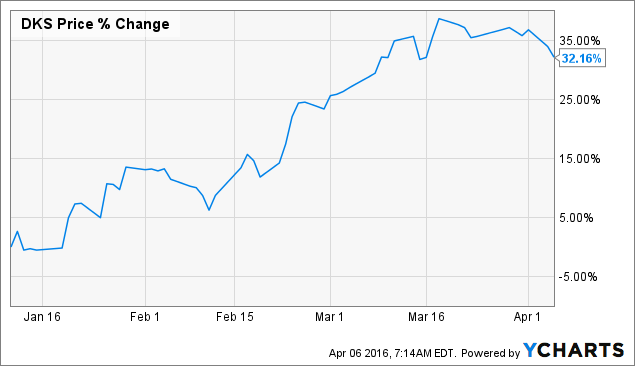 Dick's Sporting Goods could be in for a tough year if Nike's soft guidance is anything to go by. Nike's management has guided on its earnings call for fourth quarter revenue to increase at a mid-single digit rate year over year, whereas the market had been for revenue to grow 8.9% year over year. Earnings will rise in the low teens, compared with an estimate for growth of about 15%. This guidance was quite a disappointment for investors and on the day, its share price was down by 6.1% in after-hours trading because of it.
Clearly, Nike is facing challenges on a number of fronts. Like many companies with significant operations internationally, the strong U.S. dollar is hurting sales overseas. The emergence of Under Armour (NYSE:UA) is another threat also. Additionally, Nike's inventory levels have been increasing ahead of sales (shown below) and it is working hard to bring this down by selling items through its outlets.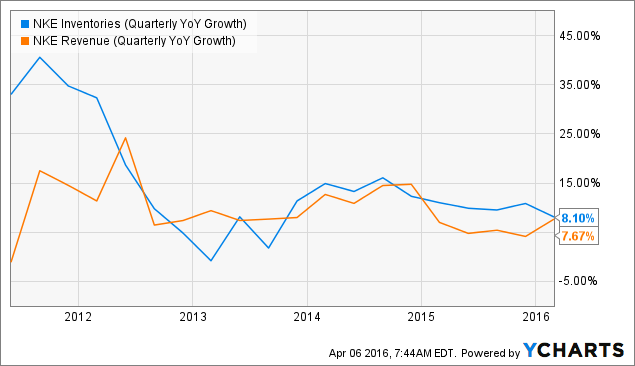 While not all of these challenges impact Dick's Sporting Goods, we do worry that it could suffer from softening demand in the year ahead. Dick's Sporting Goods has also been suffering from inventories growing faster than revenue also. This could lead to a lot of discounting and hurt margins which are already under a lot of pressure as you can see below.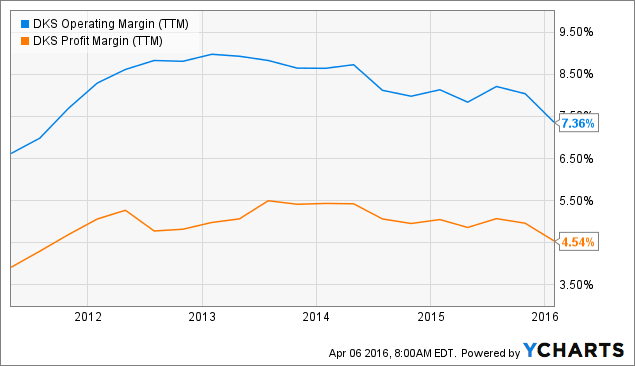 It's not all bad though, and there are a number of potential positive catalysts. The company does plan on bringing its e-commerce site in-house in 2017 which could prove to be a great move. Dick's Sporting Goods has been running its e-commerce operations through eBay. Although many analysts have been skeptical over the investment it is making and are unsure whether it will produce a meaningful IRR, management sees the omnichannel as key to growth in the future. Their research has shown that customers who shop through the omnichannel platform spend upwards of three times more than the typical customer. Also, they have found that e-commerce sales double in areas where the company opens up a new store.
Additionally, the bankruptcy of Sports Authority will most probably be good news for Dick's Sporting Goods. Stores in areas in which the two retailers overlapped should get a big boost. Especially in an Olympic year, which could prompt consumers into getting a little more active and try new sports out. Dick's Sporting Goods can cater to these needs as well as anyone.
These potential positive catalysts just aren't good enough for us to hold onto the shares. We don't necessarily think the share price of Dick's Sporting Goods is in danger of big declines, or any declines for that matter. The shares are trading at a reasonably low earnings multiple at present, but we just feel there is limited upside in the near future. When we spoke last about the company, our one-year price target was $43.82, which has now been surpassed. So for us, after such a great gain this year, it just doesn't make sense to keep on holding the shares when we could reinvest these returns for gains elsewhere.
We hope for fellow shareholders that we are wrong and would love to see the shares continue to climb higher. One thing for sure, we will certainly be watching on keenly from the sidelines.
Disclosure: I/we have no positions in any stocks mentioned, and no plans to initiate any positions within the next 72 hours.
I wrote this article myself, and it expresses my own opinions. I am not receiving compensation for it (other than from Seeking Alpha). I have no business relationship with any company whose stock is mentioned in this article.