It's understandable that much of the attention given to Jeff Bezos's 2016 shareholder letter - filed with the proxy materials for this year's annual meeting - relates to his attempts to defend Amazon's (NASDAQ:AMZN) demanding corporate culture following an unflattering NYT expose and criticism from other sources. However, perhaps the most important remarks for Amazon's investors involve Bezos's comments on how AMZN perceives itself.
Not an online retailer, but a service platform
Notably, just after he finished defending his company's culture, Bezos declared Amazon Prime, the company's third-party seller marketplace, and Amazon Web Services ("AWS") his company's "three big offerings." He also stated Amazon remains "hard at work on finding a fourth" big offering.
Though Prime and Marketplace of course have much to do with e-commerce, it's telling that - as much as Amazon is referred to as an "online retailer" in the media - Bezos never declared e-commerce in general, or some subset of it, to be a core offering. Rather, he mentioned two platforms for which e-commerce is supplemented by other services - video/music streaming and cloud storage for Prime, advertising and fulfillment services for Marketplace. He also mentioned a third business that (while an outgrowth of the tech infrastructure Amazon built to support its online retail ops) is a whole different animal altogether, and expressed hopes for finding a fourth big business without specifying what it might be.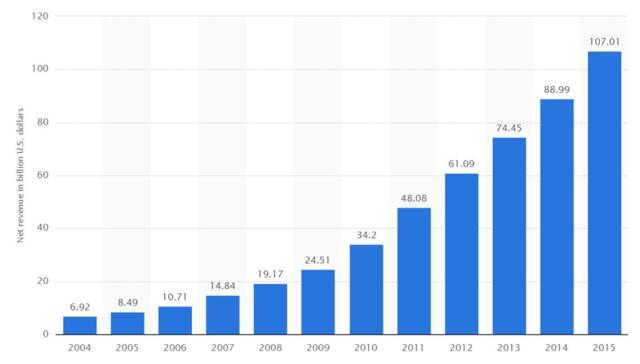 Amazon's sales growth (in billions).
Source: Statista
The remarks make it clear that Amazon doesn't strictly see itself as an e-commerce company. Or even as an e-commerce, cloud infrastructure, and online media provider. Even that narrows the company's vision too much. Rather, it sees itself as a service platform enabled by a massive IT and logistics infrastructure.
Yes, that infrastructure allows Amazon to be the world's biggest online retailer. But it also allows the company to be the world's biggest public cloud service provider, a major online streaming service provider and digital content seller, and a major provider of fulfillment (and increasingly advertising) services to third-party retailers. And with Amazon now hiring part-time delivery drivers, applying for ocean freight licenses, prepping delivery drones, and leasing a fleet of Boeing 767s, it's safe to assume the company's fulfillment reach is about to get a lot bigger.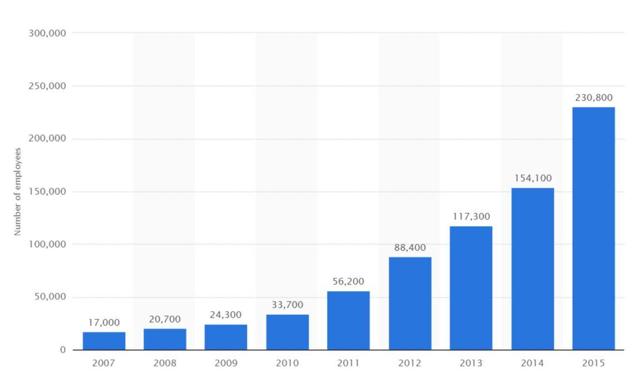 Amazon's employee growth.
Source: Statista
Where hardware and Prime fit in
Even Amazon's consumer hardware business (not referred to as a big offering) is tightly linked to the company's efforts to grow its service platform. Kindle e-readers help Amazon dominate the e-book market; Fire tablets, set-tops, and HDMI sticks eschew Google's (NASDAQ:GOOG) (NASDAQ:GOOGL) apps and cloud services in favor of bundling many of Amazon's (a very mixed blessing), and Echo speakers have as their main selling point support for AMZN's Alexa voice assistant, which in turn enables online purchases, supports Prime Music (among other content sources), and delivers voice assistant services for third-party developers via AWS.
Meanwhile, the fact Bezos calls Prime (but not e-commerce by itself) a big offering could point to a strong willingness to let non-Prime e-commerce sales suffer for the sake of driving Prime subscriptions - and by doing so, getting users more hooked on buying from Amazon and using its digital content ecosystem. Indeed, Amazon is less than two months removed from hiking its free shipping minimum for non-Prime buyers to $49 from $35, and has tried to make its rapid-delivery services another Prime selling point by giving subscribers free same-day or even (via Prime Now) two-hour shipping on many orders. "We want Prime to be such a good value, you'd be irresponsible not to be a member," says Bezos in his letter.
The "invention machine"
Towards the end of his letter, Bezos states he wants Amazon to be "a large company that's also an invention machine," one that combines "the extraordinary customer-serving capabilities that are enabled by size with the speed of movement, nimbleness, and risk-acceptance mentality normally associated with entrepreneurial start-ups." He's far from alone among tech CEOs in holding such views; Larry Page was probably thinking something similar when he turned Google into Alphabet.
Nonetheless, the remarks further make clear that Bezos isn't tying Amazon's corporate identity to any particular business or service. Rather, he wants the company to act as a large-but-flexible entity that - with the help of a giant infrastructure, it has built at the cost of many billions of dollars and at times substantial losses - can deliver a wide variety of services. Including some that might not exist yet.
Disclosure: I/we have no positions in any stocks mentioned, and no plans to initiate any positions within the next 72 hours.
I wrote this article myself, and it expresses my own opinions. I am not receiving compensation for it. I have no business relationship with any company whose stock is mentioned in this article.