The broader markets rebounded in March to close slightly up for the year, with the S&P 500 and Russell 2000 returning 2.34% and 0.49%, respectively.
The MSCI REIT Index (RMZ), a good measure of overall equity REIT performance, finished Q1 up just over 6.5 percent.
Meanwhile, freestanding retail net-lease REIT Agree Realty Corp. (NYSE: ADC) and self-storage REIT National Storage Affiliates Trust (NYSE: NSA) have turned out to be prescient picks.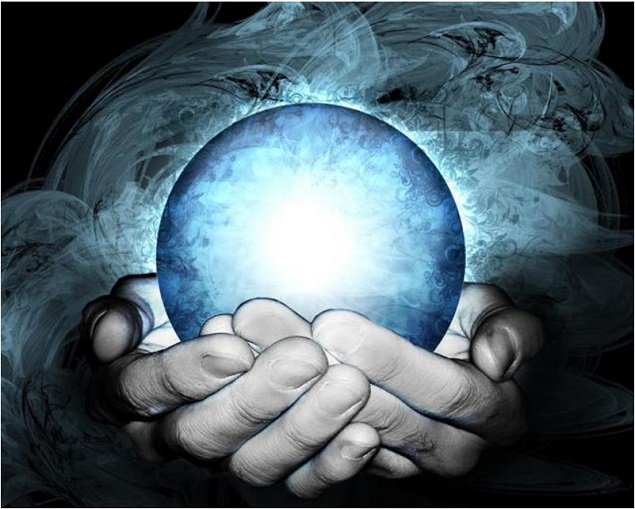 Source: Seeking Alpha article by Contributor Bret Jensen
Back in January, I wrote my first Seeking Alpha article of the year, "My Top REIT Ideas For 2016: Good Things Come In Small Packages."
During the first quarter, Agree and NSA share prices rose an impressive 15.4% and an eye-popping 26.3%, respectively.
Since last summer's IPO, National Storage has demonstrated the ability to raise its dividend distribution multiple times during the time it has been a publicly traded REIT.
That is one of the advantages of adding a couple of carefully curated small-cap picks to a blue-chip REIT portfolio. However, small caps also represent more risk when things don't go as planned, as I will discuss at the end of this article.
Tale Of The Tape - Phenomenal Q1 Outperformance
While I remain fundamentally bullish on my two small-cap picks, Mr. Market has now jumped on the bandwagon, bidding up the shares significantly from January to March 2016.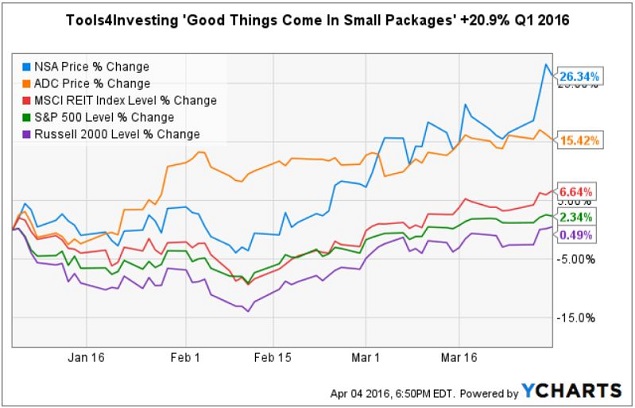 National Storage simply knocked the cover off the ball, with 17.9% price appreciation during the month of March alone. Now, the question becomes what should investors expect from here?
Agree Realty - A Rock-Solid Performer
I have described Agree Realty as my "block and tackle" and highest-conviction small-cap pick.
The Agree freestanding retail triple-net business model, portfolio quality, and balance sheet is simply that solid. I felt that if you bought shares in January, closed your eyes, and then woke up on New Year's Eve 2017, ADC will have outperformed the broader REIT sector. You could think of it as my Ronco Rotisserie Oven "set-it-and-forget-it" selection.
Agree Realty flew below many investor radar screens because it had been undergoing a five-year portfolio transformation from old-school shopping centers over to freestanding net-lease. This process was essentially completed in 2015, which has now cleared the decks for steady FFO and dividend growth over the next five years.
Nothing But Triple-Net
Agree operates a triple-net REIT business model which is similar to that of stalwarts Realty Income (NYSE: O) and National Retail Properties (NYSE: NNN).
These REITs own corner drugstores, dollar stores and quick service restaurants, all leased on a long-term basis to creditworthy tenants. In addition to monthly rent, these corporate customers pay the taxes, insurance, utilities and almost all of the facility maintenance.
This is a very simple story, which most REIT investors prefer.
The business requires very little maintenance capex, which makes revenues predictable. The predictable revenue stream helps make these REITs easy to analyze and support well-covered and growing distributions to shareholders. Triple-net lease REITs enjoy economies of scale because fixed expenses are spread over larger portfolios of real estate assets.
Back in mid-February, when Realty Income shares were getting frothy, I suggested that investors looking to put new money to work should take a long look at Agree Realty. Mr. Market has continued to bid up Realty Income shares, but I feel they are quite vulnerable to a pullback when the "Fedspeak" turns hawkish.
Agree is actually more similar to National Retail Properties, as they both have 100% retail portfolios. However, along with being able to "sharp-shoot" smaller deals, another unique aspect that Agree brings to the table is in-house development capability.

Source: Agree Realty
Agree has been able to acquire properties at 8% going-in yields, with the ability to generate even more attractive development yields.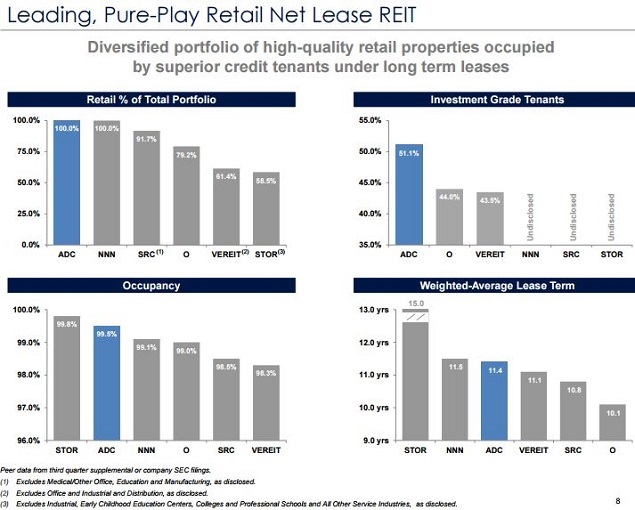 Source: Agree Realty, February 2016
Last year, Agree was able to lock in 4.1% senior debt financing for a weighted average remaining term of ~11 years. The Agree balance sheet is not investment grade, but it has investment grade metrics.
NSA - Self-Storage Rising Star
Last year, self-storage REITs were noticeably the top-performing REIT sector in an overall weak year for the REIT sector. This followed on the heels of a very strong 2014 for all equity REITs.
The self-storage industry appears simple on the surface, but the large public REITs have a huge technology advantage, driving outsized margins versus small private operators.
Now that Q1 2016 is in the books, with the exception of data center REITs, self-storage has continued to deliver the best performance for REIT investors.
Strong industry fundamentals, driven by limited new supply in many top markets relative to population growth, has continued to be a sector tailwind.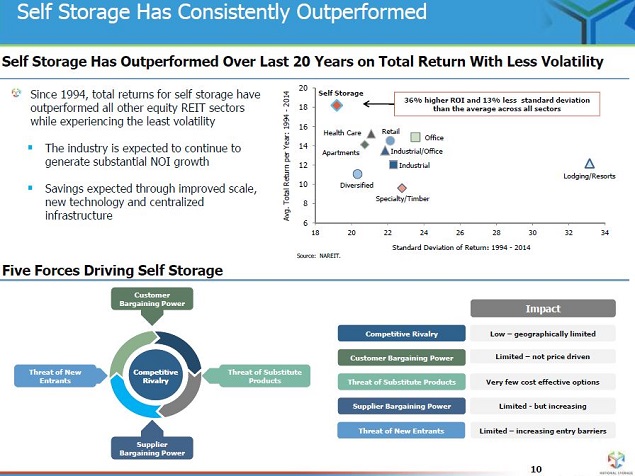 Source: NSA, January 2016
The "Big 4" incumbents led the way during 2015: top performer Extra Space Storage (NYSE: EXR), blue-chip Public Storage (NSYE: PSA), CubeSmart (NYSE: CUBE) and Sovran Self Storage (NYSE: SSS), which operates the Uncle Bob's brand.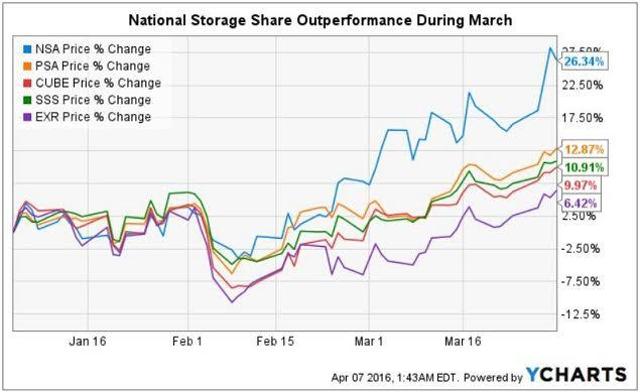 However, NSA shares have steadily stair-stepped up, hitting a series of new highs during the month of March. This small cap eclipsed the strong performance of its larger and more well-known peers.
As of this writing, NSA share prices have surged 54% since the 2015 IPO.
National Storage Share Catalysts
National Storage has a unique business model based on attracting large private storage operators who choose to contribute their life's work in return for NSA tax-advantaged OP/SP units and cash.
On February 8, the REIT announced that Hide-Away Storage Services, Inc. of Sarasota, Florida, will become its seventh Participating Regional Operator ("PRO").
This milestone proved that National Storage Affiliates was now firing on all cylinders, because it validated the IPO business model. These regional platform companies continue to operate and grow their business, while leveraging the national platform of the publicly traded REIT.
My February small-cap update encouraged investors who had remained on the sidelines to jump onto the NSA bandwagon. It included slides from NSA's January 2016 presentation and a fairly detailed explanation of the National Storage value proposition.
This was a validation of the "have your cake and eat it too" value proposition the REIT offers to larger private storage operators. In essence, they get to sell it and still run it.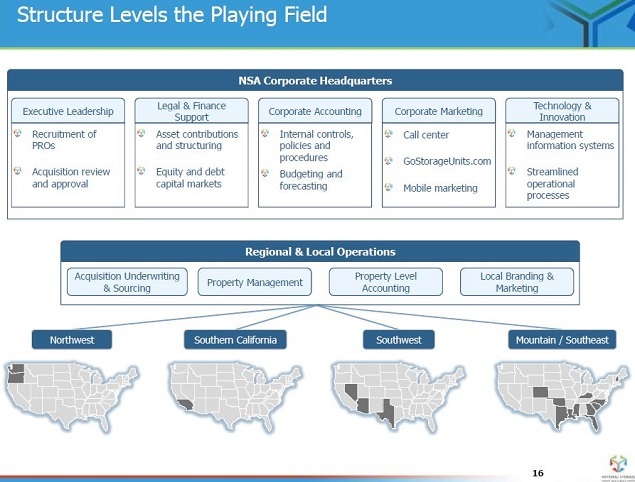 Adding new regional PROs provides a pipeline for acquisitions (additional owned and managed properties) and also adds another pin in the map to help consolidate local mom-and-pop operators in surrounding markets.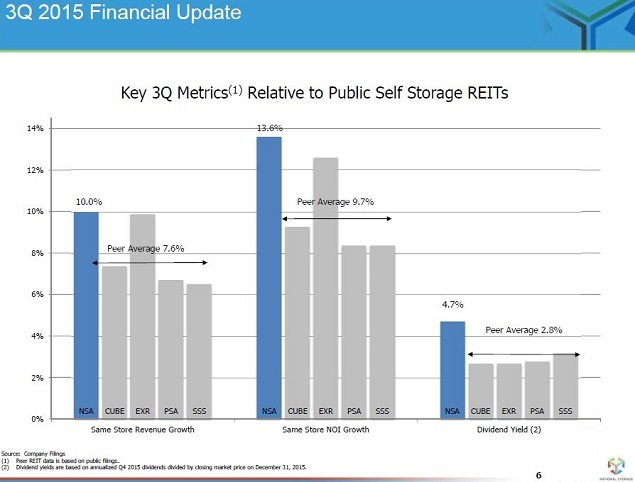 Source: NSA, January 2016
National Storage had already demonstrated that it could meet or beat the same-store operating metrics of the Big 4 with its Q3 and Q4 2015 earnings performance.
Investor Takeaway
Unfortunately, much of the good news now appears to be baked into the NSA shares.
The next leg-up in NSA share prices will require executing on organic revenue growth, bolting-on accretive acquisitions and enticing new PRO operators to join the team and fly the National Storage flag. However, the current NSA valuation range has created a valuable currency to help fund accretive growth.
Subsequent to the end of Q1, the REIT announced the March 29 acquisition of a $12.6 million storage property from an unrelated third party. The terms were $5.4 million in cash funded from the revolver and $7.2 million in OP units (tax-advantaged NSA share equivalents).
Agree Realty has announced plans to continue growing its high-quality portfolio at a measured pace over the next five years.
CEO Joey Agree does not have aspirations to run a huge operation, and he believes a ~$3.5 billion net-lease REIT is the "Goldilocks" range. ADC would be large enough to gain an investment grade rating and small enough to actively manage the portfolio. Earnings growth would be achieved by new development, while continually pruning to harvest gains and recycle capital.
I plan to post updates on both NSA and Agree Realty after the Q1 earnings announcements, including highlights from an interview with Joey Agree.
Potential Bonus Pick Update
A potential bonus pick for 2016 was micro-cap self-storage lender Jernigan Capital (NYSE: JCAP). In my opinion, a great idea has been squandered by horrible execution since its 2015 IPO. Back in January, I wrote:
"However, I need to hear more from management regarding Q4 2015 results, including when the dividend will be covered from operations; as well as initial guidance for 2016, prior to adding JCAP as a pick on this list."
I had previously raised a "red flag" when Jernigan reported its results for Q4 2015. However, now I no longer consider JCAP to even be a speculative buy. Jernigan reported to the NYSE on Friday April 1 that it was unable to file its annual report (along with an explanation of why audited financial statements were not filed in a timely fashion).
The short version is that this newly minted self-storage lender is having problems accessing the capital markets, which put the business model and share values at risk.
As of this writing, JCAP announced that it had completed the hastily arranged $75 million Heitman joint venture, first discussed on the Q4 conference call, which monetizes a few projects to provide some operating funds to close more pipeline deals. This will allow for the filing of the 10-K for 2015.
Management has been unable to close a revolving bank loan to fund operations, which it has touted for the past six months. This scrambling for financing, on top of some of the other delays and false starts has soured me on JCAP.
Notably, there has been some insider buying by management, as the shares have been under pressure. However, keep in mind that JCAP is externally managed, which adds to the cash burn of a very large staffing relative to revenues.
Wunderlich, which had been a believer in the JCAP model helping to underwrite the IPO, downgraded the shares to a Sell with a $10 target price on April 5th.
Do I feel that three to five years from now, JCAP shares will be worth considerably more than today? Yes. If you are a long-term investor, and understand the risks, I could understand why you may want to sock away a few shares. However, for now, I'm on the sidelines.
I relentlessly hunt for diamonds in the rough and rising stars, in addition to closely following data centers, covering REIT blue-chips and breaking news. Please consider following me as a Seeking Alpha author if you would like to be notified when my future articles are published.
Disclosure: I/we have no positions in any stocks mentioned, but may initiate a long position in ADC, NSA over the next 72 hours.
I wrote this article myself, and it expresses my own opinions. I am not receiving compensation for it (other than from Seeking Alpha). I have no business relationship with any company whose stock is mentioned in this article.