European equities recovered lost ground Wednesday thanks largely to a greater than expected weekly crude oil draw reported from U.S. inventory. That's nice, but it should be a fleeting factor, while the weight I see coming against Europe as the quarter progresses is unfortunately stickier.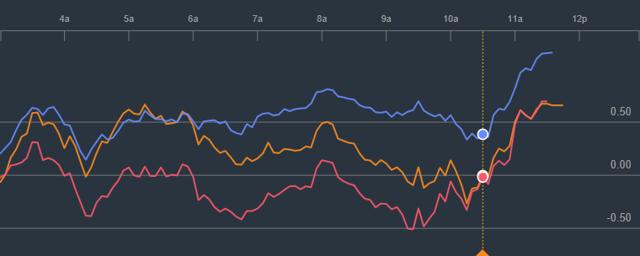 European Equities Chart at Bloomberg
Today's chart of European equities - here we see the FTSE 100, Euro Stoxx 50 and DAX Index - shows direction reset at 10:30 AM EDT. That happens to be when U.S. equities also got a lift thanks to the reporting of Weekly Petroleum Status by the U.S. Energy Information Administration (NYSEMKT:EIA). The draw from crude oil stocks was 4.9 million barrels in the week ending April 1 st. It was a bigger draw than reported by the American Petroleum Institute (NYSEMKT:API) the day before, and so gave energy to equities. That's fine, but I think it's only temporary, especially for European equities.
My concern about Europe has been well-documented over recent reports of mine on the U.S. market, energy sector and gold. But because the issues I've been discussing are directly relevant to European equities, I thought it appropriate to make a sector call on the important catalyst that I believe has direct relevance to it.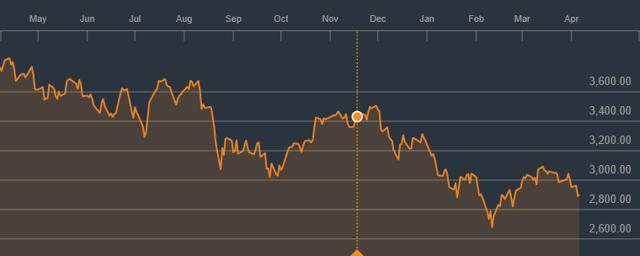 1-Year Chart of Euro Stoxx 50 Index at Bloomberg
This opinion is not a contrarian view, obviously, given the chart above. European equities have been troubled for some time now and certainly since the Paris attacks in November. They were again troubled by the Brussels attacks in March, and by the heavy flow of refugees from the Middle East all throughout the winter. For this reason and the question of valuation, I am not issuing a short recommendation on the iShares Europe ETF (NYSE: IEV) or any other European security. Rather, I'm suggesting investors avoid buying them, despite temptation to do so. Keep from the temptation to bet on a European recovery based on valuation and/or the expansionary efforts of the European Central Bank (ECB). Previously, I was looking for a good entry point for Europe, but today, I'm determined to stay away. Here's why.
The refugee problem and terrorism risk look sticky to me, and I anticipate they will have a tangible impact on the European economy. These are costly issues that are easy to overlook from our quiet neighborhoods, until you watch a video of the significant police presence required to protect trucks in transit through Calais, France into the United Kingdom. That is where refugees are aggressively attempting to hitch unwelcome rides through the Channel Tunnel and where they are causing havoc on French highways. The issue manifests throughout Europe in differing ways, and especially in Greece and the route north to Germany. Recently, I watched a video of refugees breaking out of a containment camp and causing a ruckus on the island of my ancestors and living relatives in Chios, Greece. I know the government is bearing significantly increased and unexpected costs, and that is an issue that is common throughout Europe now.
For Europe, the cost of terrorism is significant as well. The first cost we think of with regard to terrorism and the fear of it is to tourism. Certainly tourism will take a hit this year. After all, dead bodies were washing ashore of the beaches where I and other tourists regularly swim. Maybe this year those tourists will determine to stay home or head to Hawaii instead. Greece is a special story though, as I anticipate it will receive an extraordinary number of Russian tourists this year, since they will no longer be frequenting their favorite Turkish resorts due to Putin's sanctions. The more evident impact should be to the hot-spots of Europe in England, France, Italy, Germany et al. Will the number of single women visiting Frankfurt increase or decrease this year, given the reports of sexual harassment on New Year's Eve? You get the picture, but tourism is the low-hanging rotten fruit in an orchard full of fallen apples.
Domestic consumption could be impacted across Europe by terrorism and fear of it. I would expect that the more often bombs blow, the less frequent Parisians will visit their favorite cafes and other entertainment establishments. After 9/11, I ate lunch at my desk in lower Manhattan for a good while, and was prepared to face the worst until the event faded and normalcy resumed. It's one of those things you had to be there to understand. People react, and they tend to overreact initially, because trust me, it doesn't make you feel safer to see four guys wearing combat gear and toting AK47s at the entry way to your office. If it is possible with regard to such a horror, some might say we overreacted here in New York City after 9/11 with regard to our concern about active risk, and so I expect they will do the same in Europe this quarter, and increasingly so if more attacks occur as are expected. One area where we spent more money, though, was on the medication of our stress at local pubs or alone with a bottle - it's just the truth. European GDP was likely impacted in Q4, when it grew just 0.3% across the tighter 19 nation grouping (0.4% across 28 nations of the EU).
Government and corporate spending is up though, but that is because of increased security needs and consultation that is likely occurring across Europe. That kind of spending, however, is not leading to greater receipts and net sales. It's eating at the bottom lines of government budgets and corporate net income. If further events occur, security spending will increase and spread, especially if they occur in new cities and nations.
Eurozone Relative ETFs
Vanguard FTSE Europe ETF (NYSE: VGK)
iShares Europe
WisdomTree Europe Hedged Equity (NYSE: HEDJ)
iShares MSCI Germany (NYSE: EWG)
iShares MSCI France (NYSE: EWQ)
iShares MSCI Spain Capped (NYSE: EWP)
iShares MSCI Italy Capped (NYSE: EWI)
Global X FTSE Portugal 20 (NYSE: PGAL)
iShares MSCI Belgium Capped (NYSE: EWK)
iShares MSCI Netherlands (NYSE: EWN)
iShares MSCI Austria Capped (NYSE: EWO)
iShares MSCI Finland Capped (NYSE: EFNL)
iShares MSCI Ireland Capped (NYSE: EIRL)
Global X FTSE Greece 20 (NYSE: GREK)
iShares MSCI U.K. (NYSE: EWU) - Non Eurozone
Previously, I had been enthused about Europe's potential recovery and itching to invest on anticipation of a robust response to the ECB's easy money policies. Now, I'm not in as much of a hurry, even despite valuation and the chart that would normally tempt a contrarian like me. I suggest investors avoid the urge to put money to use in European securities for now, as I think we are still in the early innings of what looks to me like a sticky situation. I cover the market closely and publish regularly, and invite relative interests to follow this column at Seeking Alpha.
Disclosure: I/we have no positions in any stocks mentioned, and no plans to initiate any positions within the next 72 hours.
I wrote this article myself, and it expresses my own opinions. I am not receiving compensation for it (other than from Seeking Alpha). I have no business relationship with any company whose stock is mentioned in this article.