First of all, I know that XPO Logistics (NYSEMKT:XPO) is not a retail company. However, the company is highly dependent on retail sales and has explosive growth.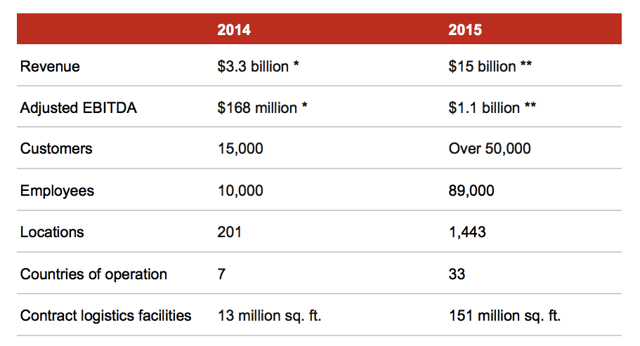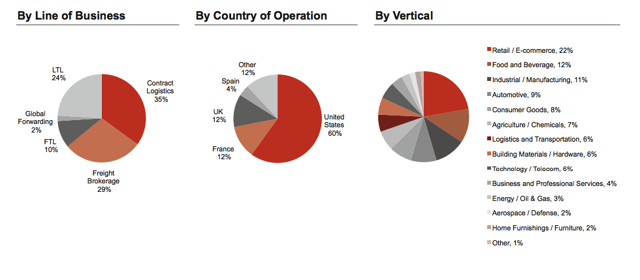 Source: XPO Investor Presentation
As you can see, the company had a 354% revenue increase in one single year. Everything had explosive growth. Almost 80 thousand new employees, 26 new countries and a 138 million square feet facility increase. I don't think it is necessary to add that this growth is not entirely organic.
XPO has been buying companies during the past years to expand its business in every direction. XPO offers contractual logistics, freight brokerage, LTL (less-than-truckload), FTL (full-truckload) and global forwarding.
One-fifth of its shipping revenue comes from retail - especially e-commerce is very important. E-commerce is growing 5-6 times as fast as GDP and provides strong growth for XPO. XPO is benefiting from this shift because it is heavily investing in providing the best services for the e-commerce business. The correlation between XPO and the SPDR S&P Retail ETF (NYSEARCA:XRT) is remarkable.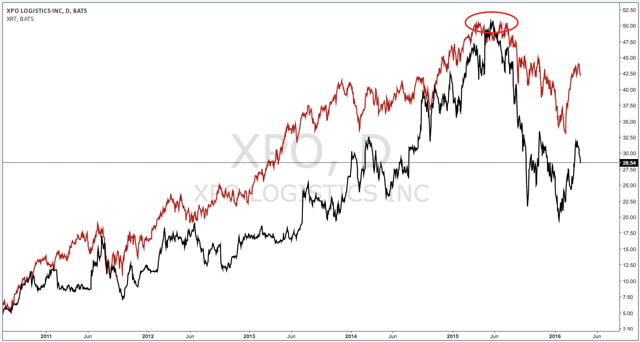 Source: Tradingview
The correlation between XPO (black line) and XRT (red line) is 85% on a weekly basis. XPO has a beta of 2.6 and is prone to heavy selloffs if the market falls. The stock fell almost 60% (!) from its highs and rebounded 50% since February. Most of my trades are spread trades, but I would never trade this stock on the short side. Only long if I'm bullish retail.
The correlation with the leading indicator (ISM Transportation & Warehousing) is not reliable. Although the stock got into some trouble after sentiment peaked, I don't think it is usable since the lag is sometimes up to several months.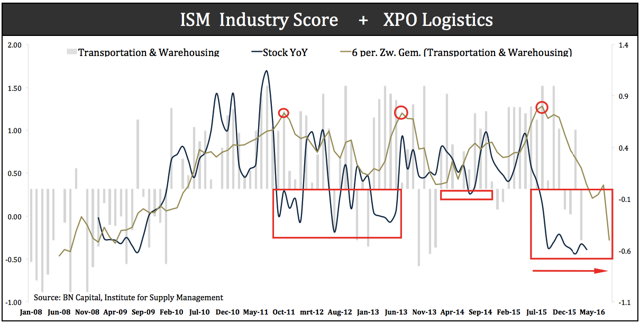 I don't think I've seen a better growth outlook than the one XPO has.
EPS Growth Outlook:
2016 +263%
2017 +132%
2018 +69%
2019 +81%
XPO has currently 12 stock recommendations. 10 of them are strong buy and 2 are buy. There are no hold or sell recommendations.
XPO's balance sheet is solid and shows the massive expansion of the company.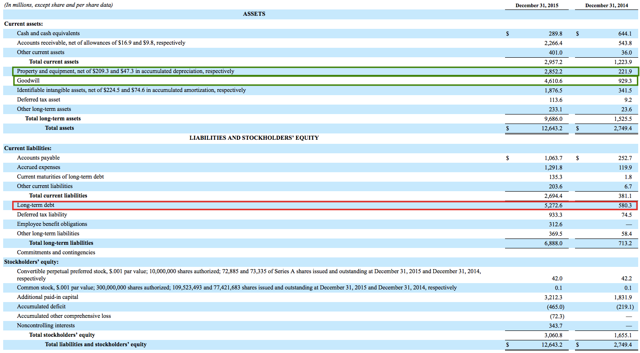 Source: XPO 10-K (2015)
It looks like XPO's growth is financed by long-term debt. However, as seen below, most of XPO's debt is maturing after 2020.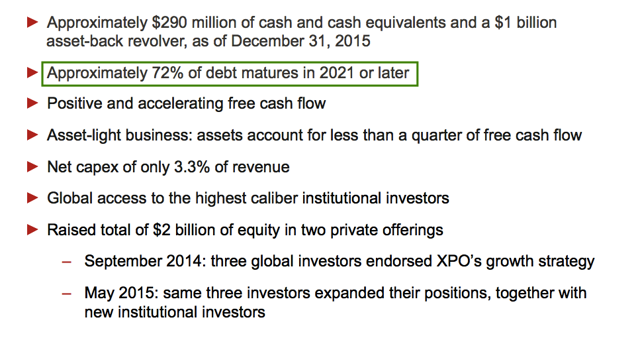 Source: XPO Investor Presentation
I view XPO as a fast growing transportation company that takes advantage of the fast growing e-commerce business and is growing mainly because of acquisitions. Sooner or later, the company has to rely on organic growth. At that point, the company should not have too much debt and should have a dynamic business structure. The uncertainty is displayed in the high stock volatility. Therefore, the stock has massive selloffs if the stock market falls. I think it is the perfect stock to be long if you are bullish retail and transportation.
Disclosure: I/we have no positions in any stocks mentioned, and no plans to initiate any positions within the next 72 hours. I wrote this article myself, and it expresses my own opinions. I am not receiving compensation for it (other than from Seeking Alpha). I have no business relationship with any company whose stock is mentioned in this article.