Vera Bradley (NASDAQ:VRA) is a luxury good producer and retailer, known historically for its cotton quilted bags, and sometimes compared to luxury brand peers like Michael Kors (NYSE:KORS) and Coach (NYSE:COH). Their products are available through select partner stores like Macy's (NYSE:M), Amazon (NASDAQ:AMZN), as well through Vera Bradley's own company stores and outlets.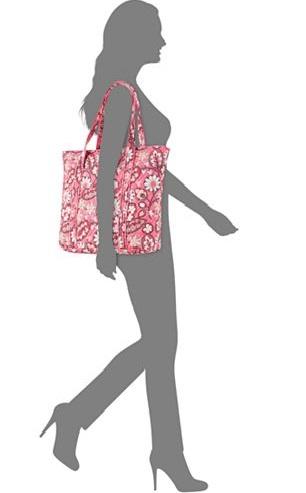 Vera Bradley investors, over the last six months, have had plenty to cheer them up, with a very nice run in the share price up to the $20 range from a November 2015 low around $10.50. Whether or not that particular value is justifiable, "Mr. Market" obviously thinks so, at least for the moment. With shares lagging for the majority of 2015, the company has initiated an attempt at a turnaround, with emphasis on reducing operating costs and diversifying its products, along with refreshing its brand image. Towards those goals, Vera Bradley moved its production out of the United States to Asia, has introduced leather goods, fragrances and other accessories, and has a new advertising campaign in the works, targeting what its management team refers to as "daymaker" women (according to the company's fiscal-year 2016 Q4 earnings call last month). In addition to operational and marketing efforts, the board has also approved stock buybacks, and in fact has repurchased over $30M worth already, with up to another $46M available until December 2017 (as of January 30, 2016, according to the most recent 10-k, page 64). With the market clearly responding well to early results of the efforts, now seems like a good time to check in.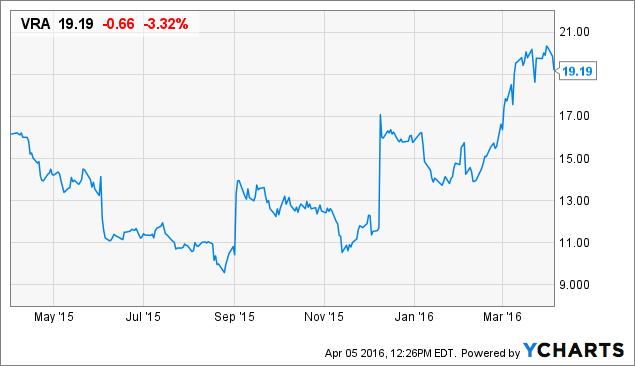 VRA data by YCharts
My simple question is whether or not it makes sense that Vera Bradley's equity be valued where the market has it. To look for answers, I employ two common tools; a relatively quick-and-dirty P/E multiple, and also a little more involved discounted cash flow model. To my slight surprise, both arrive at valuations reasonably lower than the current market price.
The trailing P/E puts Vera Bradley at around 27. The full-year guidance offered by CFO Kevin Sierks provided an EPS range of $0.90-0.98. (It is not elaborated if this guidance assumes a lower share count due to ongoing buybacks, so I have not attempted to directly factor in the effect of any buyback in my review). If you pick something in the middle, $0.95, and expect that Vera Bradley's value will not increase materially by the end of the year, then the P/E comes in line with the rest of the broader market, somewhere around 20. But investing now only to have no appreciation a year from now is not a normal assumption; if you expect dead money for a year, rationally you should probably put it elsewhere. On the other hand, if it does go up, of course, it will push that P/E ratio higher and higher, more and more out of step with market averages. Of course, some firms (or brands) command a premium, which some are willing to pay, but I do not think Vera Bradley has the kind of track record to suggest a higher-than-average multiple. There is no simple straightforward, compelling case for a high P/E multiple in the luxury space - for example Coach is around 30, LVMH (OTCPK:LVMHF) is around 20, while Michael Kors is closer to 12.
In case I was off base with the P/E, however, I thought it would be prudent to cross check with another method, and look at Vera Bradley's equity with a discounted cash flow model. To set up the results I got, here are the initial assumptions I used at first:
The company is clear of debt, so the cost of capital is equal to the cost of equity. I adopted a risk-free rate of 0.7%, market risk premium of 8.0% and a beta of 1.14 (according to Reuters). This amounts to a cost of capital at basically 9%.
For calculating a terminal value, I assume a constant growth rate of 1.5%.
The revenue figures for FY 2017 come straight out of the last earnings call, taking mid-point figure in their range. Gross margin, CapEx, and SG&A figures also originate from the earnings call.
I assume an effective 39.7% tax rate, which is in line as an average from prior years.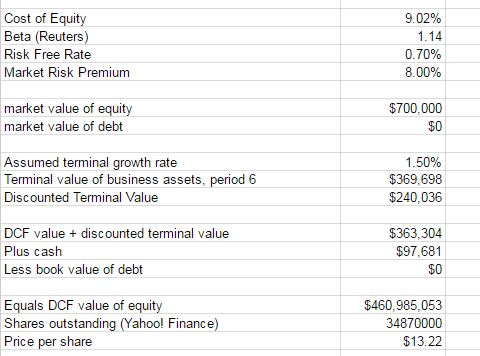 In order to hit the midpoint of revenue guidance, I had to assume that FY 2017 sees sales grow by 2.5%. From there on out, I tried to be as optimistic as I thought was reasonable, giving management's efforts at a turnaround the best spin I could. If you run a model constrained to keeping the expenses fixed at existing ratios of revenues, while achieving steady revenue growth each year in the 3%-5% range, the final result is not so impressive - a share price of $13 and change. In fact, the more revenue increases each year, the more the share price declines under those conditions, as the high expenses could offset the growing revenue.

What this says to me is that Vera Bradley has work to do on its gross margins, SG&A costs, and containing CapEx, all while growing revenue in order to justify the current price.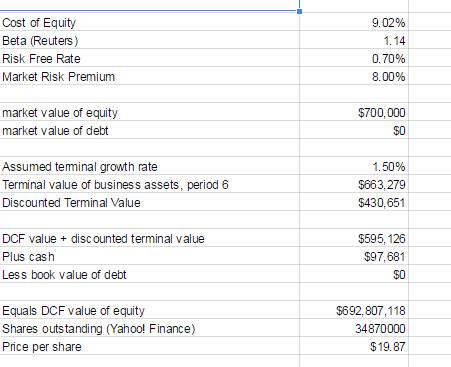 Under the same scenario of revenue growth, but with steady declines in cost of sales and SG&A costs as ratios of revenue, the results change substantially. It requires improving gross margin by around 200 basis points and reducing SG&A by about 500 basis points by FY 2021, but sure enough, as you would expect, the net present value of equity rises accordingly, up to $20.70 per share, and more importantly going forward (if the expense ratio levels can be maintained), a cash flow that grows with revenue.

Since 2014, the SG&A have been consuming a larger and larger share of revenues, from 37% then to 47% today. Clearly, this is a trend that needs to be reversed, and the DCF model bears that out. Whether or not Vera Bradley can pull it off will be the crux of its future success, for even with more modest revenue growth - say one year with a maximum of 3% and another year that is flat, can still justify the share price for today.
So is Vera Bradley on a pathway towards keeping these expenses in check? The move to overseas production will help, and keeping CapEx lower than previous years is part of a strategy of opening fewer new stores in the coming years than in years past. Still, pushing the figures to these lower levels would mean, hypothetically, achieving $40M more in revenue in FY 2021 than in 2016, while spending the same amount in SG&A (on a non-discounted basis).
Conclusion:
Vera Bradley is shaping to be a story on keeping expenses down. If, and it is a major if, the company can improve its gross margins, then I would say it's fairly valued by the market. However, I believe achieving the scale of efficiencies necessary to reduce the costs will prove very challenging, and I therefore I would not recommend going long the stock at this time.
Supporting Documents
Disclosure: I/we have no positions in any stocks mentioned, and no plans to initiate any positions within the next 72 hours.
I wrote this article myself, and it expresses my own opinions. I am not receiving compensation for it (other than from Seeking Alpha). I have no business relationship with any company whose stock is mentioned in this article.