Crude oil has defined the word volatility over the last year. 2016 has seen a low put in at $26 a barrel and a high put in a couple of weeks ago over $43. We now sit halfway back in the $35-$36 area after a nice pullback, and traders will now be watching for a bounce. I see oil looking to find a trading range between $36 and $42 over the next couple of months as it continues to digest supply issues.
Earnings season is fast approaching and estimates are not looking good for energy companies. The low price of oil has cut into margins and made it difficult for energy companies to be profitable. For many of these oil companies, this idea is already priced into the stocks. If a company were to surprise to the upside and surpass market expectations, we could expect larger-than-normal up moves in the stock.
Energy stocks will benefit if crude can manage a bounce back to $40, so let's take a look at some stocks that could pop in that scenario. Below, I created a list from the Zacks Stock Screener in which I focused on lower priced stocks in the oil industry. These are energy-related companies that are a Zack #1 (Strong Buy) and priced under $10.
Westmoreland (NASDAQ:WLB) is a Zack #1 (Strong Buy) whose principal activities include the sale of coal, ownership of power plants, leasing of capacity and storage and vessel loading. The Colorado-based company has over 3,400 employees and was founded in 1854.
Westmoreland has a market cap of $130 million and sports a Zacks Style Score of "B" in value and "B" in growth. Earnings are out on April 22nd and analysts have been raising estimates over the last month. For the current quarter, we have seen a 17% revision higher from -$1.17 to -$.97, and for fiscal-year 2016, we see an 11% raise from -$3.11 to -$2.76.
Looking at the chart below, we see expected future EPS growth for the company. If energy prices can grind higher, this growth will be easier to achieve and the stock should start to normalize to a reasonable price.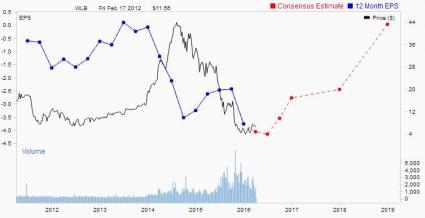 Renewable Energy Group (NASDAQ:REGI) is a Zack #1 (Strong Buy) that produces and sells biofuels and renewable chemicals in the United States. It operates through Biomass-Based Diesel, Services, Renewable Chemicals, and Corporate and Other segments.
REGI has a market cap of $400 million and a forward PE of 4.5. The stock is a value play with low PE and that is reflected in its Zacks Style Score of "B" in value. The company reports on May 3rd and estimates for fiscal-year 2017 have perked up over the last 30 days, going from $0.67 to $0.97, a rise of 44%.
The company has a large short interest and trading at the top of its bearish channel. A break of the channel could put the shorts on edge and an earnings beat, along with the combination of higher oil prices, could force the shorts to cover.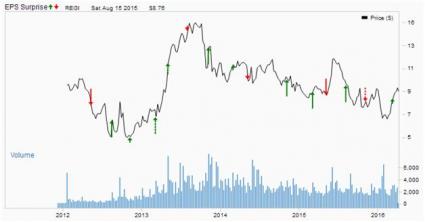 Gran Tierra Energy (NYSEMKT:GTE) is a Zack #1 (Strong Buy) that is an international oil and gas exploration and production company, headquartered in Calgary, Canada. The company strategy is focused on establishing a portfolio of drilling opportunities to exploit undeveloped reserves to grow production, as well as undertaking exploration to grow future reserves.
Gran Tierra has a market cap of $650 million and reports earnings on May 4th. The stock has been punished as oil prices have plunged lower, but now the stock and estimates have flattened out. A tick higher in oil could lead to a reversal in sentiment and lead this stock back above $3 a share.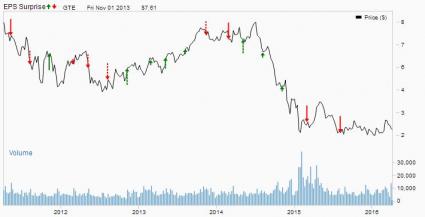 Vanguard Natural Resources (NYSE:VNR) is a Zack #1 (Strong Buy) that is an independent natural gas and oil company, focused on the acquisition, exploitation and development of natural gas and oil properties. Vanguard's assets consist primarily of producing and non-producing natural gas reserves located in the southern portion of the Appalachian Basin, primarily in southeast Kentucky and northeast Tennessee. The Houston-based company was founded in 2006.
Vanguard has a market cap of $185 million and a forward PE of 5.2. The stock pays a dividend of 25% and sports Zacks Style Scores of "A" in value, growth, and momentum. The company reports on May 6th and estimates for fiscal-year 2016 have perked up over the last month, going from $0.07 to $0.27, a rise of 285%.
The company had an EPS surprise of 226% last quarter. A repeat of that kind of beat to the upside could bring investors back to the well.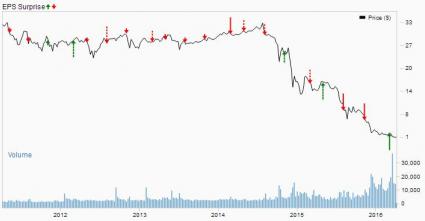 In Summary
If crude oil can get back above $40, speculators will buy these stocks in anticipation of a business turnaround. These companies have had it rough, but a return to $40 oil will help operations become more profitable. The long-term damage has been done and a return to all-time highs for these stocks is unlikely. However, as oil goes higher, the stocks will find more investors willing to bid them up.