It was just over six months ago, on September 29 last year, that I had advised investors to go long Yamana Gold (NYSE:AUY). At that time, I believed that the Federal Reserve's decision of not raising interest rates, along with the impending festive demand for gold from China and India will act as growth drivers for Yamana.
The good thing is that my thesis has proved to be true as after six months, Yamana shares are up in excess of 80%. This rapid rally in the stock is a result of the strength in gold prices this year, which have been pushed up on the back of volatility in stock markets across the globe. But, after such impressive gains, is it a good idea to remain invested in Yamana Gold? Let's find out.
Global volatility will continue to drive gold prices
There is no doubt that Yamana Gold shares have benefited from an increase in gold prices. Now, since gold is a safe haven investment in turbulent times for the equity markets, it has become more attractive from an investment point of view. This is the reason why gold prices thrive on volatility. The following chart shows how gold prices have performed when volatility in the market has spiked: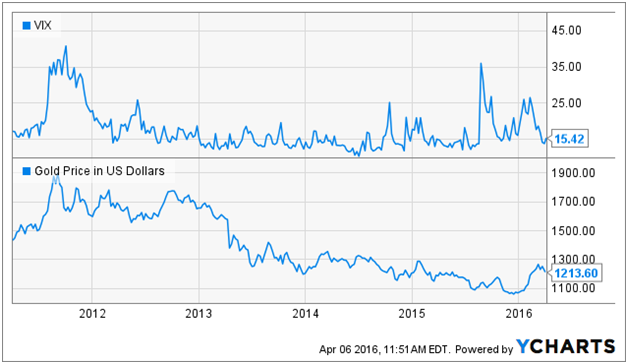 As we can see above, back in 2012 when the volatility index soared, gold prices increased as well. After that, due to low volatility levels, the attractiveness of gold as a safe-haven investment dropped, thereby leading to lower prices. Now, since the end of 2015, volatility levels have started spiking again, leading to an increase in gold prices.
Going forward, the possibility of gold prices sustaining their momentum is strong given the economic weakness that's emerging across the globe. For instance, in February, trade deficit in the U.S. came in wider than expected, while industrial orders in Germany also declined. In fact, the International Monetary Fund has reduced its global growth forecast by 0.2 percentage points for both 2016 and 2017, which indicates that the price of gold should continue to remain strong as uncertainty persists in the end market.
Another factor that will act as a growth driver for gold prices is the fact that the Federal Reserve has not been bullish about raising interest rates this year owing to uncertain economic conditions globally. In fact, the Fed will raise rates only two times this year as compared to its earlier projection of four raises. As reported by Bloomberg:
"Economists in a Bloomberg survey conducted earlier this month put the probability of an April rate increase at 15 percent and chances of a June move at 42 percent. That compares to market-implied projections of 25 percent for April and 54 percent for June, according to pricing in fed funds futures as of Tuesday."
As a result of the Fed's decision of scaling back the rate hikes this year, the yields on Treasury securities has declined, thereby making gold an attractive investment proposition.
Yamana's strong fundamentals are positives
The good thing about Yamana Gold is that it is in a robust position to take advantage of further increases in gold prices. This is because the company has a strong asset base and a low cost base that will allow it to improve its margin profile as the price of the yellow metal improves. For instance, as shown in the chart given below, Yamana is set to achieve impressive reductions in its all-in sustaining costs: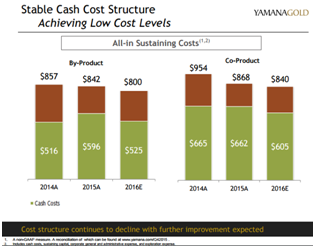 Source: Yamana Gold
As seen above, Yamana's by-product cash costs in 2016 are set to drop close to 5%, while a drop of over 3% is expected in co-product cash costs. Since gold prices have been on the rise this year and Yamana is on track to reduce costs, the company will see a better margin performance going forward. But, more importantly, Yamana is also on track to satisfy an expected improvement in gold demand from India and China as it has improved its reserve base, as shown below.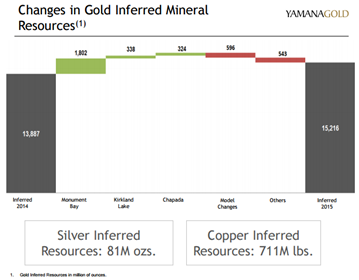 Source: Yamana Gold
As seen above, Yamana's gold inferred mineral resources increased in 2015 on the back of assets such as Monument Bay, Chapada, and Kirkland Lake. Now, an increase in inferred resources in areas such as Chapada is good news for Yamana as this asset has a low cost base and high grades. For instance, as compared to its overall cost profile, Yamana expects cash costs at Chapada to drop 8% this year to just $512 an ounce.
Moreover, last year, Yamana was able to reduce costs at Chapada by 20% and increased production by 11%. Thus, Yamana is focusing on the right areas to improve its production profile and this will allow the company to benefit from an improvement in gold prices in the long run.
Conclusion
Considering the points discussed above, I won't be surprised if Yamana Gold is able to sustain the momentum that it has gained in the last few months. The company's focus on increasing production from profitable areas will allow it to take advantage of an increase in gold prices and amplify its margin profile. As such, investors should continue to hold Yamana Gold shares despite its terrific run in recent months.
Disclosure: I/we have no positions in any stocks mentioned, and no plans to initiate any positions within the next 72 hours.
I wrote this article myself, and it expresses my own opinions. I am not receiving compensation for it (other than from Seeking Alpha). I have no business relationship with any company whose stock is mentioned in this article.