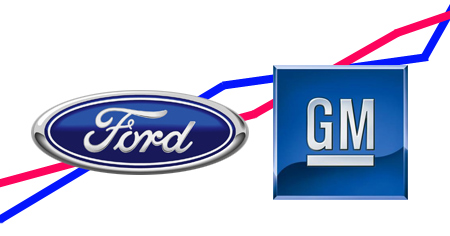 In my earlier articles covering the major U.S. automakers, I explained why I thought the market was unfairly punishing auto stocks like Ford (NYSE:F) and General Motors (NYSE:GM). Over time, we saw that there was no drastic drop in automobile sales during the first two months of 2016. Though that number has dropped slightly towards the 16-million mark, it's nowhere near a post-peak crash that a lot of analysts and speculators predicted.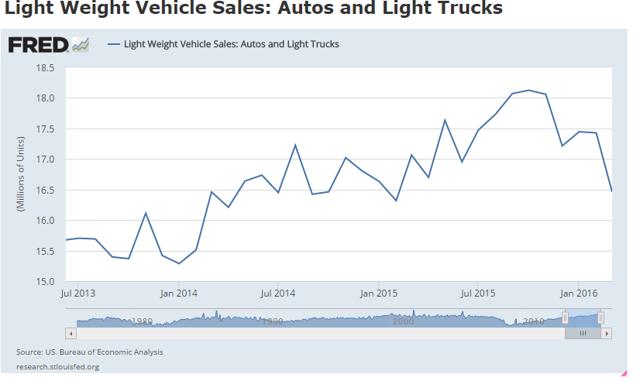 Source: FRED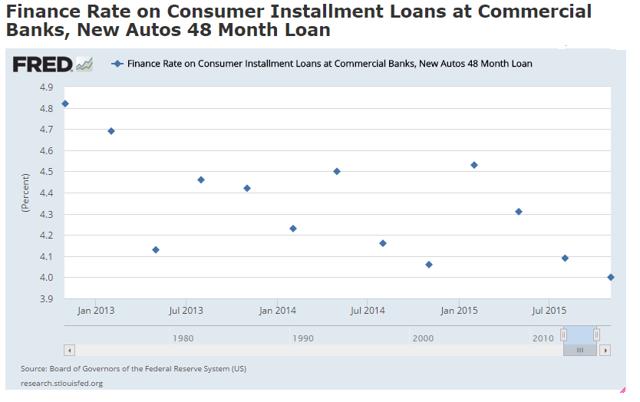 Source: FRED
There's no denying that auto sales are of a cyclic nature. We've already seen that over several decades. The constant ebb and flow of the economy, and credit/cash available to customers varies within the year and across several years so there are essentially two patterns that can be seen - a gentle rolling wave that spans decades and a more pronounced oscillation from January to December each year. That's completely normal.
What isn't normal is the panic scenario that enveloped the auto industry. It didn't make sense from a market correction perspective; nor did it hold water from an economic perspective. I've said this several times over several articles, but was finally vindicated when GM and F both started climbing since the end of February.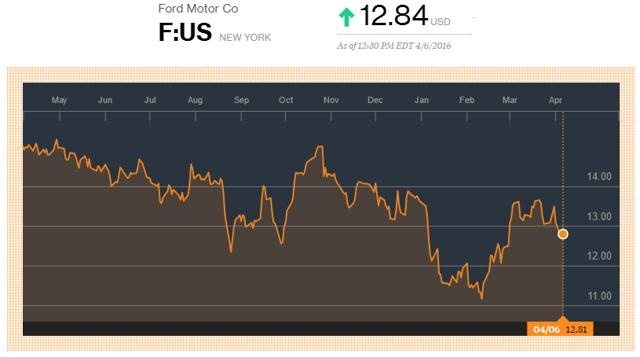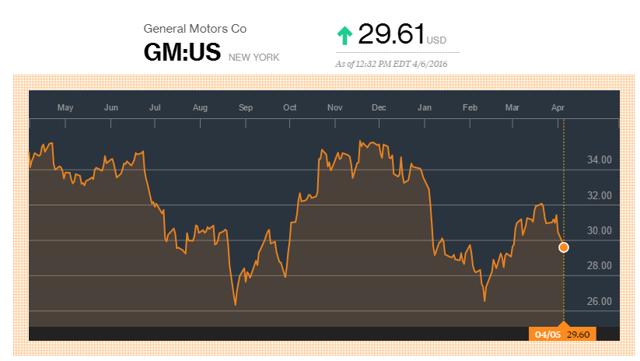 With regard to the so-called "peak auto," just because something is peaking, it does not automatically mean that the bottom is going to fall out because it has nowhere else to go. That's the thread that many Wall Street analysts failed to pull on right through the second half of 2015.
This is where they stand now:
"Economic conditions...are still quite good. Interest rates are still better than they've ever been," Scott Keogh, president of luxury auto maker Audi AG's U.S. operations, said in an interview last week at the New York International Auto Show." - Wall Street Journal
I'm at least happy to see that people are finally starting to connect the dots and realize that interest rates are one of the crucial factors that guide auto sales trends - another major point that I covered in detail in one of my recent articles on the subject.
So where does that leave us now?
YTD, Ford is still down by nearly 7% and GM by 13%, but both of them have recovered from the lows set in February. From now on out, it's entirely in the hands of the economy.
The International Monetary fund has projected the global economy to grow at 3.4 percent in 2016 and 3.6 percent in 2017. The United States' forecast is healthy too, with the economy to stay above the 2% growth rate.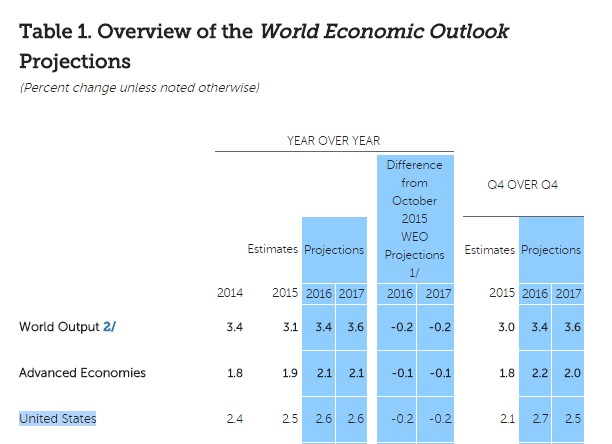 Source: IMF
With relative stability in the economy, Ford and GM no longer - at least for now - have to worry about an unfair disadvantage as far as stock prices are concerned. Their efforts can be put to better use on product innovation, operational efficiency and other activities that actually filter down to their bottom line.
That's where the focus should really be at this point. Both GM and Ford have seen poor margins overseas, and the United States remains their sole breadwinner market. This is not the ideal situation, but it's a tough nut to crack considering the many challenges they face in Europe, China, South America and elsewhere.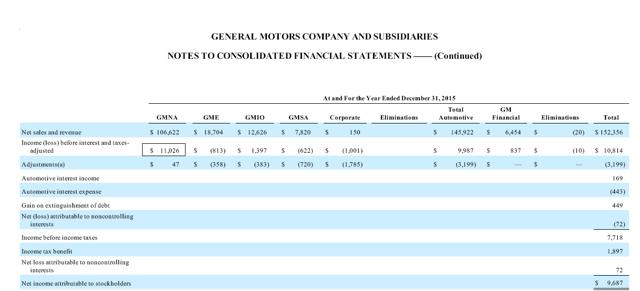 U.S. Sales
That the United States is their biggest market is a given. Both companies rely heavily on that market not only for profitability, but also stability for their stock prices. So, naturally, as their sales move sideways in a stable economy, their stock prices will follow suit.
The market is now quite stable, if not in the pink of health, and as long as interest rates don't stray too far north of their current home, both companies can expect a measure of stability provided their sales are kept at optimal levels.
Ford

General Motors

It's clear that Ford did a lot better than General Motors during the first three months of the year - a fact that pretty much reflects in the way the stock prices have moved for both the companies.
Ford's first three months' sales in 2016 were the company's best performance since 2006, aided by strong sales from their star performer the F-Series and Ford SUVs. F-Series truck sales exceeded 70,000 this year and have slowly moved up to 73,884 trucks in March. The good news for Ford is that it's their bigger models that are driving sales - which, obviously, have better returns to the bottom line. 37% of March sales came from fleet sales, however, so it's an equally strong segment that they're taking full advantage of. Not as profitable as trucks or SUVs, of course, but it boosts the one metric that has a more or less direct impact on stock price - monthly sales.
General Motors' first-quarter sales weren't the best they've seen in a while; the company's total sales numbers remained well below what they achieved in the first three months of last year. The company has been slowly weaning itself away from the low-margin fleet sales, which accounted for 23% of GM's March sales.
Investor-speak: Forward, Ford; Go On, GM!
In summary, the last two quarters have been a harrowing experience for Ford and GM investors, not to mention the companies themselves. I think both are finally out of choppy waters, but need to carefully and gradually shift their profitability focus outside the United States.
This is easier said than done and both of them have made the right moves with respect to becoming more efficient with their production, to highlight just one area. In innovation, GM's actions have been more pronounced because of several initiatives, not the least of which was their disruptive announcement of the Bolt - something that I believe spurred even Elon Musk to release the first view of the Tesla (NASDAQ:TSLA) Model 3 as early as possible. As for Ford, their drive to make Europe profitable has finally paid off.
Several factors will influence how these companies project value to their investors and car sales is just one of those. The future will hinge not only on the grosser details like auto sales, but also the subtler moves made by each company into more profitable international markets, electrification, market penetration overseas and other factors.
For now, consider GM and F to be relatively safe bets to invest in. Stock value may not go up dramatically, but at least you can count on dividend income for the next few quarters while the stocks keep moving sideways.
Disclosure: I/we have no positions in any stocks mentioned, and no plans to initiate any positions within the next 72 hours.
I wrote this article myself, and it expresses my own opinions. I am not receiving compensation for it (other than from Seeking Alpha). I have no business relationship with any company whose stock is mentioned in this article.