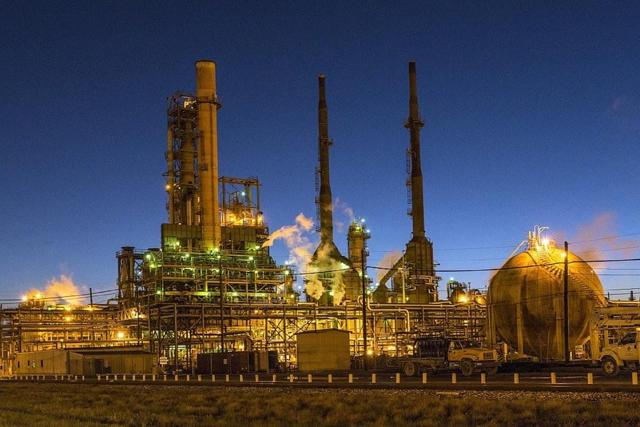 source: Stock Photo
Focusing on only the bullish aspects of the latest inventory report from the U.S. Energy Information Administration, which revealed U.S. crude inventories dropped by 4.9 million barrels last week, bring levels to 529.9 million barrels. Among several things in the report ignored by the market was this still represented a record amount of crude inventory for this time of the year.
The other bullish element of the report traders liked was the drop in imports of just under 450,000. Even there some believe it was a result of weather rather than market conditions.
One of the more important pieces of data coming from the report was that gasoline stocks climbed for the first time in 6 weeks, which if understood correctly, should have put a damper on the inventory level decline. That's especially true in regard to Cushing, where gasoline levels are the key factor in the worst-case scenario for the price of oil.
Also being largely ignored is Gulf production, which has been increasing lately and is expected to do so for some time.
Russia also has been producing at high levels, recently hitting a 30-year high.
Add to that the ability of the U.S. shale industry to keep production declines at modest levels, and it's hard to see why so many traders have believed the assertions by many that supply and demand will rebalance in the second half of 2016.

source: EIA
Seasonal crude inventory level in U.S.
On the bullish side it's better that oil inventories dropped rather than climbed as was expected, but it needs to be measured against the fact it still remains at historical seasonal highs.
That means that leading into this latest report supply had been soaring, and only this week pulled back. It's too early to assume this is a trend and not a one-off event. Yet the market is responding as if we've broken free of the supply glut and oil has fundamental reasons for a sustainable climb.
This is also true in regard to the alleged production freeze being positioned in the media as a done deal, when it fact it is not likely to be agreed to. Iran and Libya have stated they won't enter into an agreement, and Saudi Arabia has said if all major producers don't agree to a freeze, it won't either. As for a production cut, which some have cluelessly asserted as a natural follow up to a production freeze, Saudi Arabia has continuously said it's not going to happen. Yet the market ignores these very clear communications and acts as if the freeze is a done deal.
The point is investors are ignoring almost every piece of data, communications or information that appears to contradict a case for the upward movement in oil prices, including the remaining record seasonal inventory level, even after the inventory decline.
Gulf of Mexico production
One market force that has been almost entirely ignored by the market has been production increases in the Gulf of Mexico, which jumped another 8 percent year-over-year in January. According to the EIA, Gulf production will probably break a record in 2017. Very few investors are even factoring this into their analysis, if they're aware of it at all.
Some believed deepwater Gulf projects were going to be cut back in the low-cost oil environment, but with significant lead times required for the projects, price volatility didn't have the type of impact it has had on competitors.
With the resiliency of the U.S. shale industry, the idea of rebalancing by the end of 2016 appears to be ludicrous. Add to that robust supply from the Gulf of Mexico, and it's not clear what is driving the rebalance narrative besides wishful thinking.
On a global basis, even if a freeze deal were to be made, based upon January production levels, all it would do in the best-case scenario would be to lock in oversupply. That means global inventory would continue to increase. It would do nothing to draw down inventory in general, but add to it.
Gasoline stocks
It has been amazing to see how quickly the market forgot the recent report from the U.S. Energy Information Administration, revealing demand for U.S. gasoline dropped in January for the first time in 14 months.
This is one of the most important events related to oil in some time, yet it's brushed aside as a non-factor a day later, as the media noise surrounding the surprising decline in U.S. inventory overshadowed everything else.
One thing to take into account is this is only a one-off report, which will need to be confirmed as a trend by several other reports in the weeks ahead. Nonetheless, it needs to be watched and considered closely, as gasoline inventory levels, especially at Cushing, are what could result in the price of oil plummeting to nightmarish levels.
It would trigger a storage crisis bringing about the need to move gasoline quickly, which would force it to be sold at low prices. Companies would also have to find alternative storage facilities, which would drive up the costs of doing business.
Again, adding up these various bearish elements should give the market pause, but so far it's acting as if they don't exist.
Rebalancing and resiliency of shale producers
It's not secret improvements in technology and methodology have resulted in U.S. shale producers being able to endure the low-price environment far better than their competitors, analysts and investors thought. Once wells are operational, I estimate on average the costs to be about $20 per barrel for producers. That doesn't change overall costs, but it does point to what it means for those wells already in production.
Also important is it suggests, now that most initial costs have already been spent on thousands of drilled but uncompleted wells in the U.S., it won't cost near as much per barrel to bring them into production. That means there's a strong possibility companies won't be afraid to operate new wells in 2016.
The U.S. Energy Information Administration says the U.S. produced 9.18 million barrels per day in January 2016, which was close to a record. That represents only a 0.6 percent drop from the close of 2015. Incredibly, that's a slower monthly decline in production than in January 2015.
At peak U.S. production in April 2015, supply was at 9.69 million barrels per day, representing a relatively small 5 percent drop in output.
With there being zero possibility of a production cut agreement, that suggests those making rebalancing projections by the end of 2016 have to believe demand is going to soar. This even while major oil consumers like China have been slowing down.
Russian production increase
Other than when the report came out, investors have also ignored the fact Russia production now stands at a 30-year high. It has been producing at post-Soviet highs for some time, but this exceeds even what it has been.
This is important because of the push by Russia to appear ready to enter into a production freeze agreement. The problem is, Russian energy companies can't just turn the spigot on and off with its output. In most cases it can't do it because of the potential for its equipment to freeze.
So if Russia is producing at these levels as the meeting to enter into a freeze agreement approaches, it tells me it's ramping up production in order to maintain it at as high a level it can if an freeze agreement is reached.
Also, Russia has been notorious for ignoring agreements it has entered into, like it did in the last production cut agreement.
Even if Russia wanted to truly freeze production, and was willing to do so, it can't do it in a day, it could take several months to properly shut it down. In the meantime, other freeze signatories would seemingly be operating at January production levels.
Conclusion
While it's interesting to see inventory levels in the U.S. drop, it represents nothing as a standalone even. If that were to continue to be the weekly outcome for a month or two, it would have a lot of relevance to the price of oil. I don't believe that is how it'll play out. There simply isn't enough demand to justify that conclusion.
Also an unknown factor is what drove the import decline. Some suggest weather in some of the drop areas. If it was, there is the possibility ships were sitting off the coast waiting to offload their cargo. If that's the case, we could see a surprise to the upside of inventory over the next week or two.
As you can see, a one-time decline in U.S. inventory isn't that important when considering many of the offsetting factors associated with the oil sector. That said, it is at least indicative of something beyond a drop in imports. Considering the rest of the data, I don't see it representative of a change in the pace of demand, but more of an anomaly that isn't likely to repeat itself over a significant period of time.
The point of all this is to say the market is strangely ignoring the obvious weakness in fundamentals, while allowing lulled into a false narrative of oil prices finding sustainable support.
Since there are so many moving pieces to why oil prices are volatile, it's best for investors to keep it simple. I mean by that we need to watch supply and demand over a period of time. Inventory levels can reflect that, but that has to become a consistent trend in order to signal a real change in direction for the oil market. I don't see that happening.
Also, on the low price side of oil, Cushing gasoline inventories are important, as that would reflect the triggering of an event that could lead to plunging oil prices if there is no more storage available in the region. If gasoline demand declines, this could become a reality in the not-too-distant future.
There is no reason to panic if you're already in oil, just watch the balance sheets if you're into individual companies, as they'll tell you whether or not they'll be able to endure a long-term low-price oil environment.
Finally, it should be understood that non-shale competitors have no vested interest in the price of oil rebounding too much. If it does, shale producers would scramble to bring more supply to the market, which would end up with them gaining market share. It seems on the high end, the new rebalancing figure is $50 per barrel. That would allow the strongest shale producers to remain competitive, while eliminating many others, which would slow down the pace of growth of the U.S. shale industry
Disclosure: I/we have no positions in any stocks mentioned, and no plans to initiate any positions within the next 72 hours. I wrote this article myself, and it expresses my own opinions. I am not receiving compensation for it (other than from Seeking Alpha). I have no business relationship with any company whose stock is mentioned in this article.