Facebook (NASDAQ:FB) has been riding some positive momentum of late, and with earnings in two weeks, there is one wild card that could beat out the rest and take the company higher: the abatement of currency headwinds.
Investors who are familiar with Facebook are no doubt knowledgeable about how the company reports. MAUs and DAUs (monthly/daily active users) are mightily trumpeted, as the market seems obsessed with user growth for social media companies like FB. Of course, you have revenue growth, mobile, and ARPU (average revenue per user) as well. But for this impending earnings report, we believe currency could be front and center.
We previously discussed the impact of a weakening dollar on another multi-national company, Netflix (NASDAQ:NFLX). Importantly, we also believe Facebook will benefit from an easing of the dollar against international currencies. We point to this chart by LPL Research for some context on the drag the dollar had been on the S&P in 2015, and the forecasted impact on its weakness going forward: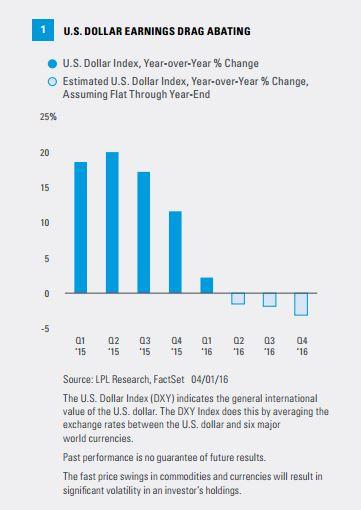 So how will Facebook be impacted? Let's parse their own words for more information.
In the most recent quarter, Facebook cited currency headwinds impacting revenue growth abroad. Specifically, Dave Wehner explained:
In Q4, total revenue was $5.8 billion, up 52% or 60% on a constant currency basis. Q4 ad revenue was $5.6 billion, up over $2 billion from last year, year-over-year growth was 57% or 66% on a constant currency basis. The strengthening of the U.S. dollar continued to have an unfavorable impact on our revenue in the fourth quarter. Had exchange rates remained constant with Q4 2014 levels, our total revenue would have been approximately $320 million higher… Our rest of world and Europe regions grew at 53% and 45% respectively, as they were more heavily impacted by currency headwinds.
In fact, the company believes its strong growth in 2015 given the dollar's strength throughout the year will be tough to compare with 2016 results. At the time of the last earnings report in January, Wehner went on to explain that "we expect to continue to face foreign exchange headwinds especially early in the year as we will be lapping periods where the dollar was relatively weaker than it is today."
But what to make of a quarter where the dollar did not continue higher, but instead retreated? That is exactly what happened in the first three months of 2016. The dollar fell 4.5% against the Euro, 8.5% against the Japanese Yen, and was weaker against many others. So when Wehner mentioned that the way foreign exchange headwinds relate to the revenues and costs of the business, indeed that "[a] substantial majority of our expenses are US dollar base," the market should be prepared to understand how the stress to FB's expenses may be letting up.
With the aforementioned $320mn at stake with those currency headwinds, we believe the dollar's abatement in the first quarter will be a strong positive for a company like Facebook. The impact is anyone's guess, but we could speculate using management's own numbers that Facebook can stand to benefit tens to hundreds of millions of dollars.
Other Catalysts for Growth
Live Video
We believe live video to be a highly-coveted area for social media networks like Facebook, Twitter (NYSE:TWTR) and Instagram. Already over 100mn hours of video are watched daily on the Facebook platforms, and we expect this to continue to grow as Facebook rolls out its Live Video offerings. Now, on Facebook, users can broadcast live streams for Groups and Events, discover live videos, view maps like Twitter's Periscope, and use emojis, filters, etc., during the streams. We are looking for management to give us some details on how these new developments have impacted engagement, average revenue per user, and even user growth.
Mobile Ad revenue
Mobile ad revenue continues to be the story behind Facebook. It currently represents a whopping 80% of revenue, up 81% from last year; FB most recently reported $4.5bn in revenue from mobile. Characterized by a strong holiday season, Facebook saw impressive year-over-year numbers as well. The tie-in with Instagram here is strong. Over 400 million monthly actives on Instagram is quite a benchmark, so when FB reports soon, we should be cognizant of where this number is going next.
Oculus
Finally, Oculus is another lurking revenue stream that investors can expect will receive some attention on the conference call. "Oculus" was only mentioned 12 times in the most recent earnings report. We expect this to change dramatically as the launch and shipping of Oculus has begun in earnest. Although it is not expected to impact Facebook's earnings meaningfully, it could provide an impetus for growth going forward, as well as unit sales benchmarks for investors to unpack. Indeed, next week's F8 conference held in San Francisco has solid time earmarked for Oculus and investors should watch the conference with interest.
Conclusion
All in all, Facebook seems to be lining up some positive pieces of news ahead of the earnings report. Mobile, Virtual Reality, and the rollout of Facebook Live Video all can underpin a great Facebook quarter. However, we believe it is the abatement of the dollar that will really be the story of the day, leading to lower expenses and better bottom line results.
Disclosure: I/we have no positions in any stocks mentioned, and no plans to initiate any positions within the next 72 hours.
I wrote this article myself, and it expresses my own opinions. I am not receiving compensation for it (other than from Seeking Alpha). I have no business relationship with any company whose stock is mentioned in this article.