Kellogg Company's (NYSE:K) products are in a substantial number of households in the United States and globally. Despite its reach and branding, the company's shares are currently priced to leave investors feeling blue. Currently priced at nearly 21x estimated 2016 adjusted earnings per share, I see Kellogg underperforming the Consumer Staples (NYSEARCA:XLP) sector.
Growth
Kellogg's sales have stumbled recently. The rolling five-year average sales growth has fallen from over 7% less than a decade ago in 2007-2008 to 1.8% in 2015.
Consumers have been gravitating towards healthier living in the last several years. A winner in this trend has been proteins, organics, and natural products. Sugary cereals and snacks, which are some of Kellogg's best sellers, have been the losers in this trend.
Large competitor General Mills (NYSE:GIS) has also seen its sales slow in recent years. GIS' rolling five-year average sales growth was over 5% for most of the last decade, but fell to 3.6% for fiscal 2015.
Analysts are predicting Kellogg's sales to fall by nearly a percent in the upcoming year, before rising 1.7% in fiscal 2017.
Earnings have suffered as well of late. GAAP net income has fallen from $866 million in 2011 to $614 million in 2015. GAAP EPS has also been on a downward trend, from $2.38 in 2011 to $1.72, in 2015.
Quick note: I have read several articles recently about the use of non-GAAP measures and pushes by the SEC to slow the practice. (Click here for one WSJ article on the subject.) Kellogg uses this practice as well, and it makes the company's numbers appear much rosier than the GAAP figures suggest. The company recently reported "comparable full-year earnings" of $3.53, more than double the reported earnings figure. Stripped out were many items that seem to be a very real and normal part of business: mark-to-market accounting for the pension plan, commodities, and foreign exchange, as well as costs related to a cost-cutting mission.
Valuation
Despite the lack of growth, shares of Kellogg have performed well of late and have been awarded a high valuation.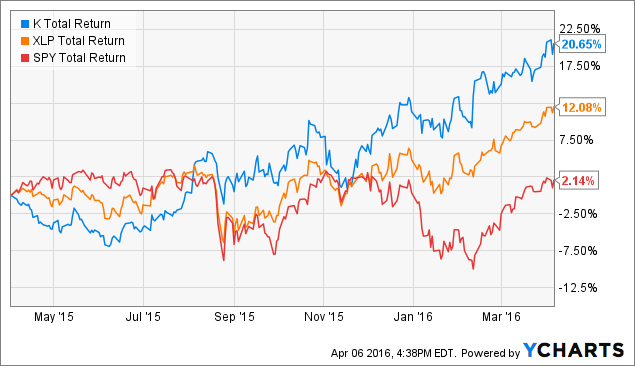 K Total Return Price data by YCharts
As stated earlier, Kellogg trades at nearly 21x projected 2016 adjusted EPS. This is about in line with the Consumer Staple index. However given the use of non-GAAP earnings, I prefer to look at cash flow for the valuation.
The company's free cash flow has held relatively steady over the last few years, standing at $1,138 million in 2015, up from $1,001 million in 2011. This represents average growth of 3.3% per year.
Kellogg trades at 24x FCF/share. This compares unfavorably to packaged goods peers General Mills, Campbell Soup Co. (NYSE:CPB), Mead Johnson Nutrition (NYSE:MJN) and J.M. Smucker (NYSE:SJM).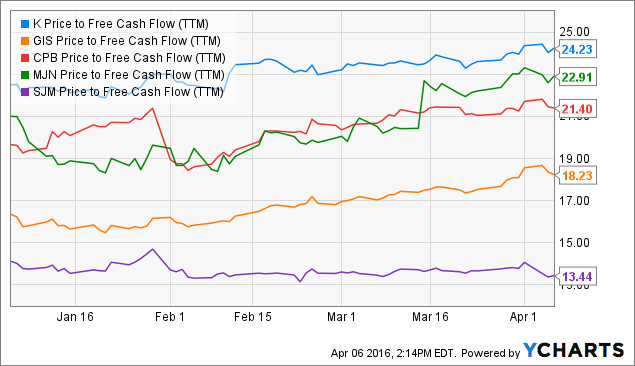 K Price to Free Cash Flow (TTM) data by YCharts
The company also trades higher than most peers on a price to cash from operations per share ratio.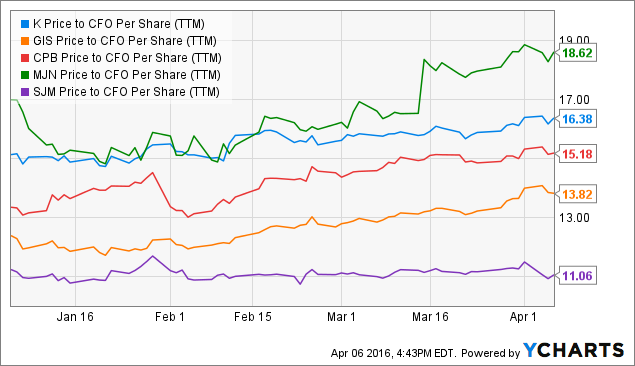 K Price to CFO Per Share (TTM) data by YCharts
The broader Consumer Staples index trades just shy of 16x cash from operations.
Balance sheet and operational efficiency
Kellogg utilizes plenty of debt on its balance sheet. Its debt-to-equity ratio is 3.65, a staggering number. The peers' debt-to-equity ratios are: GIS - 1.79; CPB - 2.52; MJN - (cannot calculate due to negative *equity) and SJM - 0.72.
The company's interest expense ate up around 20% of its operating profit in 2015 and 2014. Its debt matures on a fairly even ladder between now and 2031. Though Kellogg does not have large interest rate risk in any given year, a general upward trend in rates over the next few years would crimp the company's margins and profit as it refinances its debts at higher interest rates.
Operationally, to see if Kellogg holds an advantage over peers that justify the premium valuation, we can look at the return and margin ratios.
First, margins: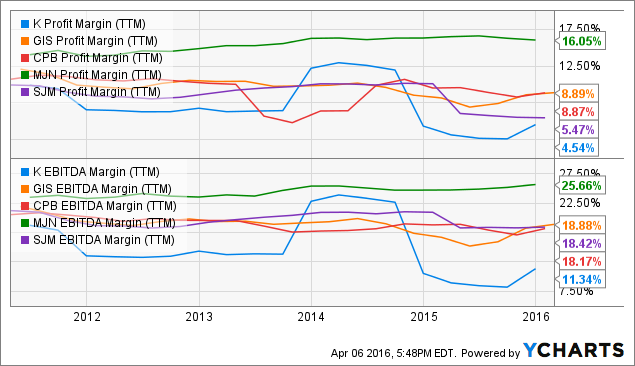 K Profit Margin (TTM) data by YCharts
Kellogg is below its peers in both profit and earnings before interest, tax, depreciation, and amortization (EBITDA) margins.
Next, an efficiency ratio - return on invested capital: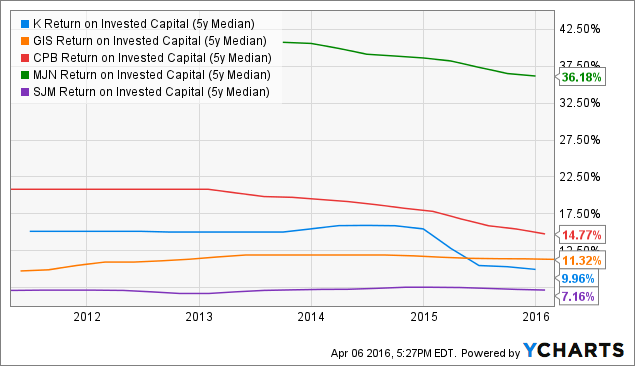 K Return on Invested Capital (5-year Median) data by YCharts
This ratio gives us a look at how well management is able to reinvest earnings and debt into the business. Again, you can see that Kellogg holds no advantage to its peers in this regard.
Conclusion on Kellogg Co.
Many may look to invest in Kellogg due to its 2.6% dividend yield and 5% average dividend growth over the last five years, which investors may assume to be safe due to the company's products' status as a staple. The shares have also been propped up by heavy repurchases in the last few years. Kellogg's total dividends and share repurchases in the last five years have been in excess of the total free cash flow, meaning there was support from capital raising. This is not a sustainable practice, especially if the aforementioned rate increase scenario plays out. At these prices, I don't think repurchases are a good option for cash, and management is giving a short-term boost to earnings at the expense of long-term holders.
I believe Kellogg is set to underperform the Consumer Staples sector. The company has a rich valuation relative to cash flow and future earnings. I do not believe this valuation is justified by superior operations, as can be seen in the above graphs. Lastly, I do not believe the current levels of shareholder return are safe moving forward without significant increases in sales and profit.
Disclosure: I/we have no positions in any stocks mentioned, and no plans to initiate any positions within the next 72 hours.
I wrote this article myself, and it expresses my own opinions. I am not receiving compensation for it (other than from Seeking Alpha). I have no business relationship with any company whose stock is mentioned in this article.