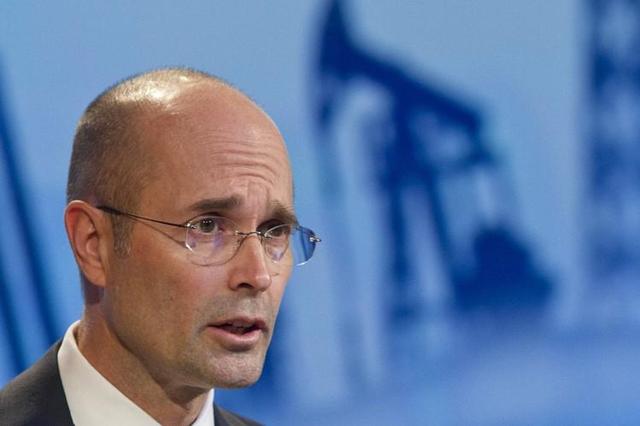 Baker Hughes CEO Martin Craighead
The merger between Halliburton (NYSE:HAL) and Baker Hughes (NYSE:BHI) is on the rocks. Regulators from Australia to the EU to Brazil have looked askance on the deal. Total SA's (NYSE:TOT) CEO also criticized the transaction - maybe the unkindest cut of all. On Wednesday, the DOJ filed a lawsuit to block the deal, citing the merger could hurt competition and increase prices. Both companies are reportedly fighting the decision, that it appears the die has been cast.
I personally thought the deal was doomed from the start. It was trumpeted by hedge funds and arbitrageurs but without customer support, regulatory approval was a long shot. The $64,000 question is, "What is BHI worth sans the merger?"
Including a $3.5B Break-Up Fee, BHI Is Worth $20
A failed deal would result in Halliburton paying Baker Hughes a $3.5 billion break-up fee. After-tax (assumes a 28% tax rate for BHI), the fee would result in a $2.5 billion windfall. This is a one-off event; for valuation purposes, I added it to net cash, but it has no impact on EBITDA since it is non-recurring. Including the break-up fee, BHI is worth $20 or 53% less than its current value of about $43.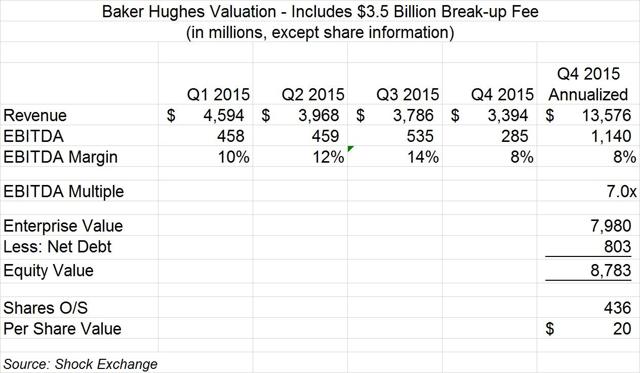 Revenue
Revenue of $13.6 billion was used for the valuation. It equates to Q4 2015 revenue annualized. Q4 results are a decent reflection of the business going forward; however, revenue will likely fall further next quarter.
EBITDA
The estimated EBITDA is Q4 results annualized and equates to an 8% margin. The EBITDA margin could fall further if revenue continues to slide. That said, $1.14 billion in annual EBITDA includes a level of optimism.
EBITDA Multiple
A multiple of 5.0x to 7.0x is appropriate for an industry leader in a cyclical industry in decline.
Enterprise Value
The company's enterprise value (equity and debt) is $8.0 billion.
Equity Value
At year-end 2015, the company had net debt of $1.7 billion. The $2.5 billion break-up fee (after-tax) would create a net cash position of $803 million. Net cash plus the enterprise value equates to an equity value of $8.8 billion.
Per Share Price
I assumed 436 million outstanding and diluted shares to derive a share price of $20.
Conclusion
BHI currently trades at $42.83. My valuation would be 53% less than the current share price. I believe longs are euphoric over the $3.5 billion windfall from the break-up fee. However, many have not adjusted BHI's value for the break-up fee in a disciplined way. Others may even apply a multiple to the after-tax break-up fee, though it's non-recurring. Baker Hughes' run-rate EBITDA is paltry and will likely fall further, so the run-rate is as good as it gets for now.
If the merger is not approved, BHI may rise initially. Dismal core earnings will likely bring bulls back down to earth. Overall, BHI should trade closer to its intrinsic value of $20. Investors should avoid the stock.
Disclosure: I/we have no positions in any stocks mentioned, and no plans to initiate any positions within the next 72 hours.
I wrote this article myself, and it expresses my own opinions. I am not receiving compensation for it. I have no business relationship with any company whose stock is mentioned in this article.