Introduction:
I just got home from a recent road trip. The "wanderlust" took me out to New Mexico, one of my favorite destination points. There is something about New Mexico that just seems to get my "happy" juices flowing. It's the scenery, the people, the food, and the weather this time of year is just incredible.
During my time in New Mexico, I wanted to "get away from it all." That meant, no television, no radio, no portfolio review. The goal was to completely decompress and get back to a place that is a lot more focused and centered.
In order to do that, I decided to focus in on visiting sites that take visitors back to another time and place. On my tour, I explored Carlsbad Caverns, White Sands National Monument, Gila Cliff Dwellings, City of Rocks State Park, Fort Craig, Bosque Del Apache, Chaco Canyon, Kasha-Katuwe Tent Rocks, and Bandelier National Monument and the towns and cities in between each destination point.
By the second day of my trip, I had reached that "happy" place and completely forgot about the world outside of the "here and now." That's a hard place for a lot of people to find, but once you find that place, you will go back to it, again and again and again. Trust me on that.
What You Should Know:
When you separate yourself from the day to day pressures that we all feel, it can be a magical experience. The things we worry about, the challenges that life has thrown in out path, and the cares of this world go right out the window. There is nothing like camping along the Gila River, being completely alone (no other people around to alter the experience) and the only sound that you hear is the river, gently washing over the rocks. The silence in that moment can be enough to make your senses explode.
Hard to explain if you've never experienced it.
Anyway, back to reality. The reason we are here is to update The Perfect Portfolio. What I've decided to do is to take the portfolio as it existed 12/31/2015 to present. The reason for that is so we can look at the portfolio, not in a historic context, but more as a real time experience.
While the portfolio was created with stock purchases in 2009, 2010, and 2011 the gains from those investment periods has been more than amply reviewed in the earlier articles about his portfolio's performance.
So when we start "fresh" we can look at each company in the context of the "right now" and not in some past perfect world.
Here's What I See:
When we look at The Perfect Portfolio, the first thing that you should understand is that the portfolio is not "balanced." That is, the portfolio does not hold equal dollar amounts for each position. As a result, the portfolio performance is going to be reflective of that reality. Here's what I mean.
Let's look at the original component companies in The Perfect Portfolio as of 12/31/2015 through 3/31/2016: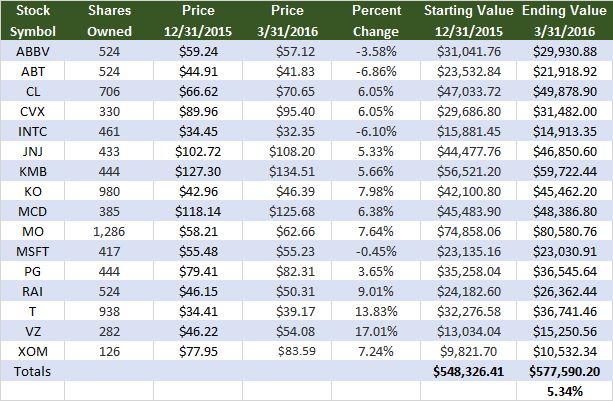 These are the companies that were our original purchases that were made 2009-2011. Notice that I am not reporting the growth/loss of each company from out "cost basis" but instead am doing so from the starting point of 12/31/2015.
Here are some of the things that stick out to me. Verizon (NYSE:VZ) and AT&T (NYSE:T) are the best performing companies in the portfolio, year to date. Both are companies that have a higher yield point than my other stocks and a smaller Dividend Growth Rate, but both companies have made up for any negatives in their performance year to date.
Coca-Cola (NYSE:KO), which so many articles have suggested is a company in decline, actually has a very nice gain so far this year, with an almost 8% change in price. McDonald's (NYSE:MCD) is another company that many articles have suggested is "finished." But, then again, surprises can be found almost anywhere, I guess.
The original group of companies in the portfolio are up 5.34% in the first quarter. Since I use dividend payments as supplemental income to my Social Security, there have been no reinvestment of dividend income in this portfolio since it's.
Comparing the portfolio to the "benchmark" of the S&P 500 Index (NYSEARCA:SPY) on a year to date basis, The Perfect Portfolio has "outperformed" the Index by a significant amount in the first quarter.
But What About The New Stuff?
If you have been following along with this series, you know that we have added 5 companies to our portfolio. Those 5 companies are: Cisco Systems (NASDAQ:CSCO), JPMorgan Chase (NYSE:JPM), Emerson Electric (NYSE:EMR), International Business Machines (NYSE:IBM), and Qualcomm (NASDAQ:QCOM).
In previous articles (link here), I discussed out purchases and provided trade notifications for each purchase to show the buy. I will do exactly the same on any sell orders. That is, tell you about our decision before we sell and then post the trade notification to confirm our doing so.
So how have we done so far? Let's take a look:

Our best performing company was CSCO with a 26% gain from our purchase, made on February 8 th, 2016.
Next is JPM with an 11% gain from our purchase, made on February 11 th, 2016.
The next three companies, EMR, IBM, and QCOM were purchased on March 14 th, 2016.
This group of companies had a gain of 9.16% from our original purchase and will provide a bit more than $1000 in dividends on an annual basis, moving forward.
But, let's face it, we didn't get everything "right" in any traditional sense. Look at Qualcomm for example. Since we purchased stock in the company, it's actually down 2.2% purchase-to-date.
But does that mean we were "wrong?" I don't think so. After all, when you consider SPY and the companies that are in that Index, there are about 50% of the holdings that are up and about 50% that are down.
When you build a portfolio, you are going to have discrepancies in the performance of individual companies in that portfolio. You can't escape that. It's inevitable. If you are going to invest in the stock market, you are going to have stock in companies that go up and stock in companies that go down.
Unless you follow the eternal advice of Will Rogers, when he said:
"Buy stocks that go up. If they don't go up, don't buy them."
Lessons Learned:
Once your portfolio is in place, you don't have to monitor it every day, every week, or even every month. If you purchase quality companies and hold them over time, you will be fine.
There are more important things to do every day, besides watching your investment portfolio. At least there is for me.
What You Should Know:
The Perfect Portfolio is one where dividends are used to supplement my Social Security benefit. So, there is no reinvestment of dividends.
In my opinion, reinvesting dividends in a non-taxable account is something that I recommend. In my IRA account, dividends are reinvested on an almost "set it and forget it" approach to investing.
While I still have money to invest, right now, there isn't a lot that appeals to me in terms of adding to this portfolio. That does not mean that I will not add positions in the future. As opportunities present themselves, I will do exactly that.
But I tend not to be in any particular hurry about buying additional stock in various companies. I don't want to go from one to another to another and end up with a portfolio of 70 "average" ideas, but would prefer to have a portfolio of 20-30 stocks that are "excellent ideas."
How about you?
Disclosure: I am/we are long ABT ABBV CSCO CL CVX EMR INTC JNJ KMB KO MSFT MO MCD PG QCOM RAI T VZ XOM IBM JPM. I wrote this article myself, and it expresses my own opinions. I am not receiving compensation for it (other than from Seeking Alpha). I have no business relationship with any company whose stock is mentioned in this article.