By Parke Shall with Thom Lachenmann
For the last four months, while I have been incorrect on my Valeant (NYSE:VRX) analysis all the way down from $90 to recent prices, nobody in our family office was really interested in the analysis that I had compiled and my reasoning for being cautiously optimistic with Valeant. Yesterday, my colleagues showed interest for the first time and asked me to run back for them what I thought the upside scenario could potentially be for VRX going forward from here.
I wanted to take a few minutes to review some of the new news on VRX and go over why I think that it could double from here in relatively short order. In the past, our articles have had a very cautious tone to them. If you go back and reference our VRX articles, you can see that extra time was spent on the sections that describe the risk and we made a point to go out of our way and notify readers that our long positions were mostly speculative and that the risk in the situation was far greater then with a normal equity.
Today, we are willing to say that we believe some of that risk has been taken off the table and that we slightly increased our speculative long position yesterday, which we plan on holding for at least the next few months going forward. This is, of course, barring any unforeseen developments to the negative side.
What we really believe VRX to be at this point is a semi misunderstood scenario. There was definitely abuse taking place with Philidor and there was definitely accounting that had been pushed to the brink of what is and is not acceptable. The culture of the company was likely cutthroat and based solely on the numbers, and this helped the company drive itself up to $260 per share. But what needs to be examined is how much of what VRX has done has been in real violation of the law. There is probably a case for insurance fraud, a problem for a lot of major medical companies, and there is probably one or two accounting irregularities as a result of the company's heavy reliance on not to get numbers that can be called into question. A question will be whether or not the company continues the behavior going forward, and whether penance will be monetary or otherwise (we believe fines). The real question is whether or not the company is a serial lawbreaking, egregiously fraudulent company or not. We don't believe that is the case, despite evidence that may look like it is to the contrary. This is why we believe the company could be a significant contrarian bet here.
We believe the bad headlines coupled with the company's large debt load in an environment where companies like SunEdison (SUNE) have just gone under is leading the public to think that the company is going to go out of business. The equity, at 3x or 4x earnings, is certainly pricing the company at a point where it seems to believe bankruptcy is on the table. But we just don't believe that is the case at this point.
The stock got driven down to its lows in the high $20 range when it was announced that the company may have to deal with a default on its loans and when there seemed to be little to no corporate accountability or corporate integrity at the company. Confidence was lost.
But what has really taken place since these fears have caused this significant drop in the company stock? Remember, this stock was at $66 per share just weeks ago before the lender news broke.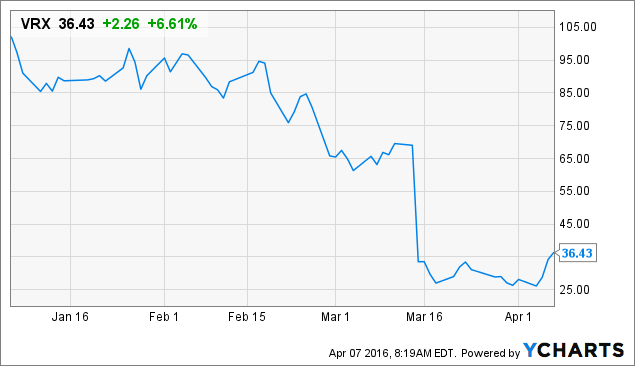 VRX data by YCharts
Today, we know the lenders have agreed to new terms. Discounting for the increase in interest expense, we think the company should be trading much higher on this news.
William Ackman, one of the company's largest investors, has placed himself onto the Board of Directors. There is now an activist investor involved who, regardless of what you want to say about him, is likely more fed up with VRX's poor performance than anybody else.
Mr. Ackman has already taken steep losses from this investment and he appears to be hell bent on working with the company to affect change. Pershing Square's conference call was yesterday, where Mr. Ackman sounded calm and smooth about VRX for the first time since he has been talking about it post-crisis. Other public notes came off as forced or hurried, including his famous conference call.
He came off as measured and as someone who has finally taken a breath and admitted to himself that his initial investment decision may have been in error. We think this is what the market needed to hear yesterday, and we are sure it contributed to the price moving up in yesterday's trading. Mr. Ackman also noted during the call that he expects the 10-K to be filed at the end of the month.
This all comes after the company admitted that its ad hoc committee did not find any additional accounting irregularities after conducting many interviews and researching "millions of documents" over the last few months. It appears, at least for the time being, that the fraud case from an accounting perspective may be off the table. Of course, the acceptance and filing of audited financials, especially after a crisis like the one VRX has had, will go a long way to reassure investors that there isn't too much more under the surface. We thought this may be the case when the company admitted previously that it was only making small restatements for two fiscal years.
A news article broke last week that sent investors into a panic. Bloomberg reported that the company's lenders were not playing ball, which was misinterpreted widely by the market as "the company will not be able to refinance its debt". What the article actually said, for those who read it, was that the lenders were likely going to come up with tougher terms for the company to refinance on. Nobody wins if the company goes into default, and we are sure the lenders don't want that situation. Lo and behold, yesterday, we find out that the company has reached a deal with lenders and will be able to loosen their credit guidelines for the time being
There's even more good news. Yesterday, partner Walgreens (NASDAQ:WBA) came out and made some positive statements about the early stages of its partnership with value. Walgreens is a large and respected name and these comments also helped VRX to shoot up 20% in yesterday's trading. From the Wall Street Journal,
Walgreens Boots Alliance Inc. on Tuesday gave the thumbs up to its business deal with a controversial partner-Valeant Pharmaceuticals International Inc.

"The collaboration we have with them, though still in its early stages, is showing some very promising result[s] in terms of improved access and affordability of their product," said Stefano Pessina, chief executive of Walgreens Boots Alliance on the company's earnings call.
Depending on how big the short position here is, this could be a recipe for a huge run in VRX. If the company can deliver one or two quarters of earnings results that are not completely disastrous, investors will be able to see that the company is still generating cash and that it has ample resources to service its debt going forward from here. This type of reiteration should give investors confidence.
While the company's growth is still going to be a question moving forward, we think that multiple expansion from bankruptcy levels simply to just "crisis" levels could see the stock move up between 50% and 100% from here in very short order. If VRX goes out and sells parts of its business and is able to pay down some of its debt and alleviate some of the leverage it has, the company could see a significant tailwind from that as well.
Finally, the addition of a new and reputable chief executive officer could be a turn in the news cycle for the company. The news cycle has been negative about this company for the last year. There have been very few times where commentators on TV have recommended buying or taking a position in the company. Yesterday, we saw that change for the very first time. We are starting to see that the narrative in the news cycle is about the company's turnaround, and not about the sins of its past. This change in the way that the company is portrayed could help shareholders significantly.
It is our opinion that with Mr. Ackman on board and the 10K seemingly about to be filed, that the risk in the investment, although still larger than most normal investments, has come down. We see the chance of the company providing returns in the 50% to 100% range over the next two quarters as very probable, and we have slightly increased our position in the company as of yesterday.
Disclosure: I am/we are long VRX.
I wrote this article myself, and it expresses my own opinions. I am not receiving compensation for it (other than from Seeking Alpha). I have no business relationship with any company whose stock is mentioned in this article.