Overview
Ryder System (NYSE:R) considers itself a global leader in transportation and supply chain management solutions. The company's business segments include Fleet Management Solutions, or FMS, Dedicated Transportation Solutions, or DTS and Supply Chain Solutions, or SCS.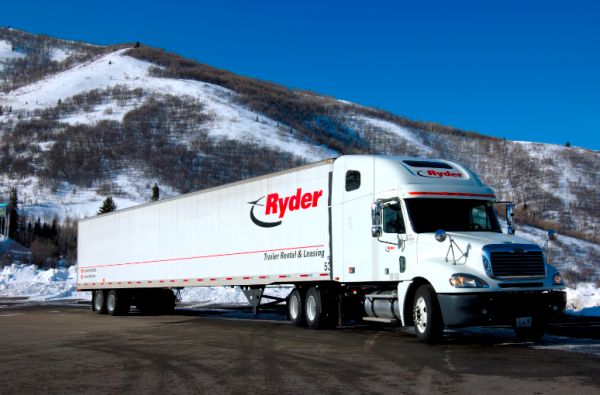 The company generally provides lease and rental contracts, services contained within these contracts and fuel services as well. Within the FMS business segment, the company recognizes the majority of its revenues by full service lease and commercial rental categories. The company is focused on growing its business through the outsourcing of its vehicle and trailers by private companies. The company expects that since the current outsourced market reflects only 10 percent of the existing private vehicles, that the opportunity ahead is quite large.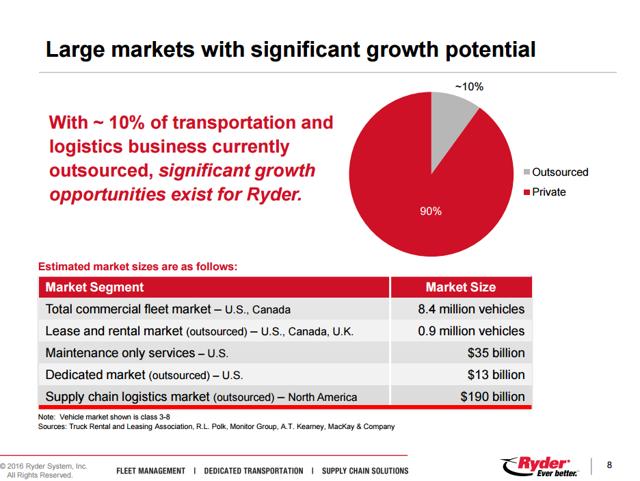 Ryder System is offering a value proposition to companies like The Coca-Cola Company (NYSE:KO), among many others; the hook includes ways that the company can offset future costs related to increased vehicle costs due to engine technology, increased government regulations, driver shortages and the balance between asset investments and need to rely upon debt.
But there are many private truckload carriers who perform shipping services for many of the same market Ryder System is targeting. So the company's revenue segments mentioned above, both can be considered as competitive to truckload services. The DTS segment especially is directly competitive with the truckload market.
Combined, these three operating segments offer up to 60 percent of the company's revenues, which are competitive not only to private fleet owners, but with the truckload market entirely. The company's SCS segment could have some overlap as well, but more likely should be considered as a peer in the contract logistics service market. But Ryder System is actively growing this segment to provide value-add services including warehouse management as part of the equation.
During 2015, Ryder System performed very well, and like some of its truckload industry peers witnessed strong diluted EPS growth of nearly 40 percent despite revenue growth of negative 1 percent. As part of the company's leasing model, investors should understand that Ryder System is highly dependent upon an excessive amount of debt.
As of 2015, the company held over $5.5 billion in total debt; nearly $640 million being short term and current long-term payments. Recently, total debt has increased by 15 percent per year for the company. The company has over $8.1 billion in net revenue earning equipment assets and is not in violation of its debt covenant agreements. But investors need to be comfortable with this, as this type of dependence upon debt has led to consistent negative free cash flow.
Today, Ryder System's valuation has dropped to a P/E ratio of 11 times earnings based upon a stock price of $62.49/share as of April 5, 2016. The company has traded as high as 23 times earnings during 2014, but conservatively should trade more in the 15-16 times earnings level over the long term. The company currently pays a 2.6 percent dividend.
Investors should expect Ryder System to trade near the 11-12 P/E ratio while markets remain volatile. But the company is positioned to break out to the $90/share level when it returns to a P/E approaching 16 times earnings. Long-term investors may benefit from initiating or building upon their current position at today's price.
Relevant Truckload Business Segments
Ryder System's relevant truckload business segments include the FMS and DTS segments. For FMS, the company claims to have over 14,500 full service lease/contract maintenance customers and over 39,000 commercial rental customers. Full service leases reflect long-term contractual agreements, while commercial rentals are much more short term for customer needs.
These two segments are not directly tied to the truckload market from a business model perspective, but companies that are weighing their transportation decisions on whether to invest in tractor and trailer equipment versus using a third party are going to be targeted by Ryder System's suite of service offerings.
The competitive factor within the truckload industry is also heavily dependent upon the commodities shipped. This is why industries like food and beverages or business and personal services are targeted by a company like Ryder System. J.B. Hunt (NASDAQ:JBHT) or Swift Transportation (NYSE:SWFT) are not going to be providing tractors and trailers for Coca-Cola or PepsiCo, Inc.'s (NYSE:PEP) businesses.
So investors should think about the previous graphic above. There may be nearly 8.5 million private fleet vehicles for many shippers, but the market is not easily going to be penetrated in certain industries. This is a great transition opportunity to discuss the DTS segment.
This segment for Ryder System is violently in competition with the truckload industry. This is one of the fastest growing business segments in the industry today and it ranges from companies like J.B. Hunt growing in the low-single digits to companies like Marten Transport (NASDAQ:MRTN) growing 70 percent during 2015.
To be clear, 97 percent of Ryder System's revenue in the DTS segment is from providing turnkey transportation service primarily driven by professional drivers and vehicles. The company's operating revenue was up 8 percent during 2015 in line with J.B. Hunt, but below smaller peers. To put this in perspective though, J.B. Hunt recognized $1.5 billion in its dedicated contracted service revenue during 2015, while Ryder System recognized over $700 million.
The spectrum is broad for the dedicated service segment with Swift recognizing $930 million in revenue, 4 percent growth during 2015, and Marten Transport recognizing $120 million. There are also many smaller private carriers including C.R. England and Ruan Transportation among many others, which offer this service. Many public companies including Werner Enterprises (NASDAQ:WERN) and Knight Transportation (NYSE:KNX) offer the service as well, but do not break out specific revenues.
Aside from the company's full service lease, combined SCS segment and commercial rental segments, the DTS operating revenue segment is the fourth largest. It was also the fastest growing segment at 8 percent during 2015. This speaks to the scale and successful execution that Ryder System has achieved to date.
But investors should understand that the company's fastest growing segment is in a highly competitive truckload market. Ryder System has strong agreement relationships with a diversified base of manufacturers and shippers, so it is no surprise that the company is third behind J.B. Hunt within this segment.
Understanding The Company's Leverage
As stated above, the company's full service lease segment reflected the largest amount of revenue during 2015. This amount represented nearly 40 percent of the company's total revenues at $2.4 billion. This segment is clearly the core driver for the business and the company performed very well growing this segment by 6 percent.
The best way to get a sense of the company's dependence on leverage is from the slide below. The company typically has contracts between 5 to 7 years and as the slide illustrates, Ryder System provides brand new equipment for its customers and then sells the used equipment at the end of the contract agreement.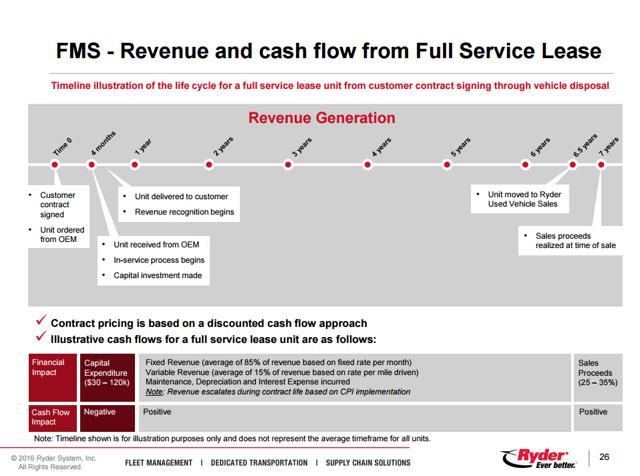 The company clearly provides the negative/positive impacts to the business. The capital expenditure results in a negative impact while the revenue generated from the contract agreements are mostly fixed providing for strong visibility to grow the business further. At the end of the term, sales proceeds are realized within the company's investing activities.
But this has led to the company witnessing its debt-to-capital ratio grow to 80 percent - the highest ratio in the freight sector. This level can be compared against a couple of peer leasing companies including GATX Corporation (NYSE:GMT), which leases locomotives and railcars with a debt-to-capital at 77 percent and Air Transport Services (NASDAQ:ATSG) which leases cargo airplanes with a debt-to-capital at 50 percent.
It could be argued that both GATX and Air Transport Services' assets require much more capital investment on a per vehicle basis, but neither company has as high of a net asset value for revenue earning equipment as Ryder System - $8.1 billion in 2015. Other companies in the freight sector including container lessors such as TAL International (NYSE:TAL) have similar debt-to-capital levels near the 75 percent or higher level.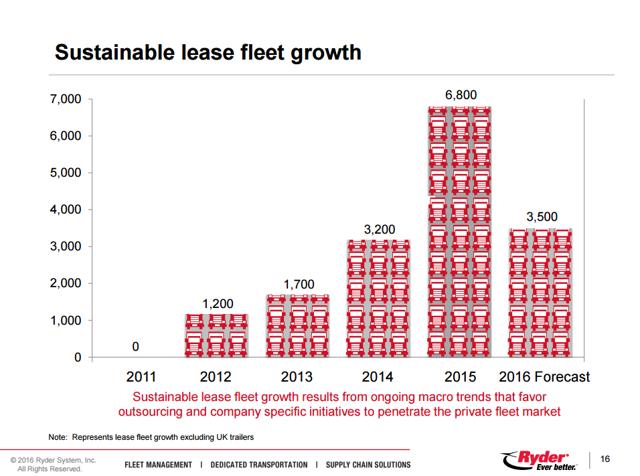 This type of model necessitates substantial investments in Ryder System's lease fleet. Management is anticipating a decline in lease fleet capex by 49 percent to 3,500 during 2016. Regardless, this type of capex program places pressure on free cash flow as a negative impact was depicted in the previous slide.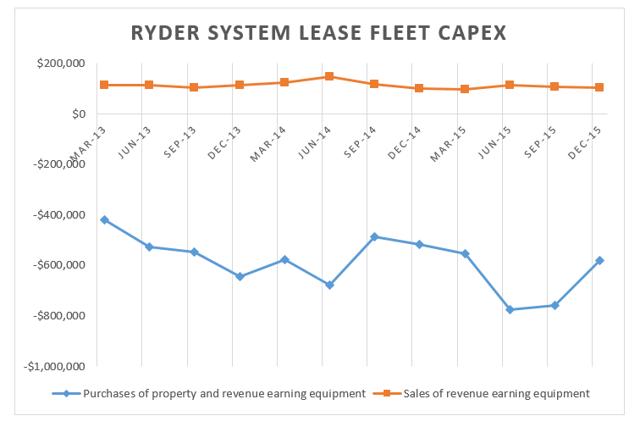 Source: Company filings and personal database
The two line items in the graphic above are the primary drivers for the company's net operating cash flow after all purchases and sales or collections of property and equipment are accounted for. Basically, Ryder System has generated nearly $150 million per quarter from sales of revenue earning equipment versus capex investments above $400 million per quarter. In addition to this, the company paid out nearly $85 million in dividends during 2015. Combined, the company's free cash flow yield has and will continue to be negative for the foreseeable future.
This necessitates that Ryder System continually grow its leverage in order to compensate for negative cash flow. This debt level has grown to over $5.5 billion as of 2015. During 2016, nearly $930 million in debt is coming due, followed by another $1.5 billion over the next couple of years afterward.
In order to maintain availability of funding, Ryder System must maintain a ratio of debt to consolidated net worth of less than or equal to 300 percent. The company's filings explain that, "Net worth, as defined in the credit facility, represents shareholders' equity excluding any accumulated other comprehensive income or loss associated with our pension and other postretirement plans." The ratio at December 31, 2015 was 215 percent. At December 31, 2015, there was $591 million available under the credit facility, net of outstanding commercial paper borrowings.
This ratio is different than other ratios. In fact, many companies within different freight industries have a wide variety of debt covenants. For instance, container lessors often have ratio covenants considering adjusted EBITDA-to-net interest expense; debt-to-EBITDA is a more common ratio for debt covenants for the trucking industry.
The key here is going back to Ryder System's slide above. The company's equation for success is dependent on generating a high proportion of fixed income and substantially growing the company's revenue earning equipment assets, which directly translate to increasing shareholders' equity, which in turn allows for the company to increase its leverage to offset its negative free cash flow.
Valuation
When thinking about Ryder System's current valuation near 11 times earnings, the company appears to have substantial upside potential. Looking at EV/EBITDA is not the best indicator despite this ratio being at nearly 5. Other leasing companies typically trade at a much lower EV/EBITDA ratio due to their leverage dependency; this also is justification for a lower P/E multiple.
Like all assessments, I like to consider the next couple of years' prospects versus the longer-term picture of the next decade. Over the next couple of years, Ryder System's top line growth estimates are around 3.5 percent. The company currently does not buy back stock, so moderate dilution is going to continue to occur.
With diluted EPS anticipated to grow to $6.53/share by 2017, if the company were to trade in the 15-16 times earnings range, this would put a stock price between $90-105/share. At the midpoint, this would provide a return near 60 percent. Analyst targets are in the low $70s suggesting double-digit upside potential over the next year, which excludes the current 2.6 percent dividend. Analysts are looking at assigning Ryder System a much more conservative P/E ratio near the 12 times earnings level.
If Ryder System is able to further penetrate the private fleet market and execute well, a longer-term P/E ratio of 15 times earnings would be warranted. Assuming revenue growth near 3 percent per year out to 2025, minimal share dilution and profit margins of 5 percent would yield a stock price at the scenario horizon year in 2025 of around $125/share, or an annual average stock price return of 7 percent, excluding the dividend.
Over the past few years since 2012, the company has increased the dividend payout to shareholders by an average of 9 percent. This basically places the company in a position to provide an annual average total return at or above 10 percent per year.
Based on the near-term prospects, it would appear that adding Ryder System sooner versus later may offer strong upside for investors. However, if economic growth decreases or if unforeseen geopolitical shocks occur, the company could see a more prolonged time period of depressed P/E multiples.
Investor Perspectives
Ryder System has been in the truckload business for over 80 years. The company is formidable in the truckload market. This is evident by the company's generation of nearly $4 billion in revenues, which could be attributed to the truckload industry, representing nearly 60 percent of total revenues.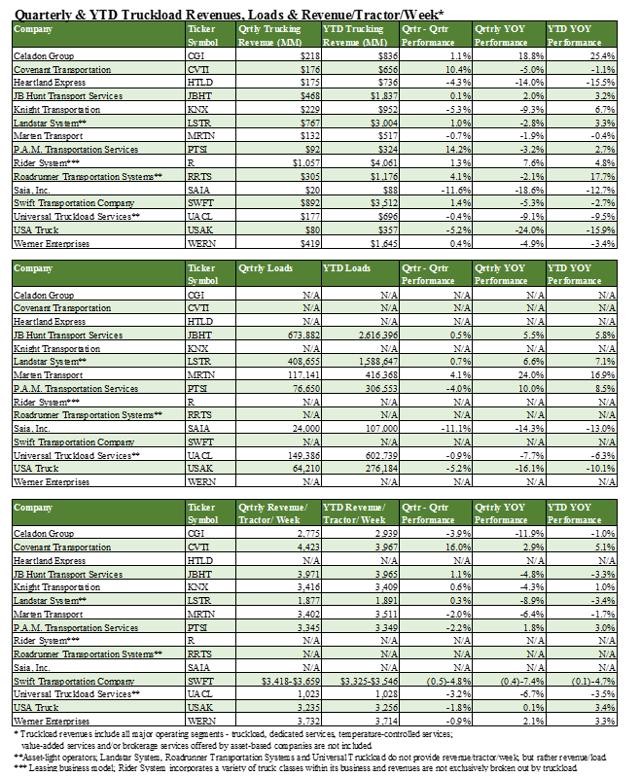 This places the company ahead of peers including Swift, Landstar System (NASDAQ:LSTR) and J.B. Hunt. Ryder System has a clear strategy for further growth, but is in a highly competitive DTS market. Despite the fact that a company like Penske Truck Rental is more of a direct comparison, truckload peers are taking note of what Ryder System is doing.
The discussion surrounding Ryder System's leverage and what it means for investors is an important one. Moody's Corporation (NYSE:MCO) currently has a Baa rating for Ryder System which is medium grade and is subject to moderate credit risk. J.B. Hunt has a similar rating despite having a much lower debt-to-capital ratio, again based upon how debt covenants and/or ratios are structured and the type of debt issued. Swift Transportation has a Ba rating, which is judged to be speculative and subject to substantial credit risk despite a lower debt-to-capital ratio.
The main point for investors is that as long as Ryder System is able to grow its top line through the expansion of its lease fleet, the company will be able to continue to support its growth strategy by increasing its debt capacity to offset negative free cash flows. This is based upon the company maintaining its ratio of debt to consolidated net worth below 300 percent. The primary driver for this will continue to be to expand the company's lease fleet to increase its assets on the balance sheet at a rate that maintains this threshold.
Additionally, once the company's contract agreements expire, Ryder System is able to generate cash on its sales of revenue earning equipment. This has been a very stable source of proceeds over the past few years, but any prolonged softening of the used vehicle equipment market could necessitate the need for an increase in borrowing. Based upon Ryder System's currently available borrowing capacity, this risk is hedged.
Ryder System's leasing business model collectively uses multiple cash producing items including increasing net income and depreciation and amortization, combined with its revenue earning equipment sales to reduce the substantial amount needed to fund the company's capex and leasing fleet growth. Further cash needs, including dividend payouts are primarily relied upon through the company's leverage structure.
The dividend payout, currently at 2.6 percent, reflected only 3 percent when combined with the company's purchase of property and revenue earning equipment. The company is estimated to reduce its lease fleet growth by 49 percent during 2016, which is determined by management's forecasts and expectations for each fiscal year's projected growth. The company has the ability to increase or reduce its primary growth drivers depending upon the economic cycle. Ryder System has increased its dividend consistently since 2004 and the dividend payout should continue to grow over time.
When it comes to the truckload industry, Ryder System is a leader in its core leasing business and a top performer in the DTS market. For investors, the current valuation is attractive for both the near term and long term. Market volatility will have impacts to Ryder System because of the company's high exposure to debt. Additionally, rising interest rates will add another challenge to the company's proposed strategies.
A P/E ratio in the 15-16 times earnings range is justified based upon Ryder System's proven execution in growing its leasing business model. A substantial portion of the company's revenues and profits are derived from long-term contract agreements providing good visibility. Unlike other freight industries such as container shipping lines and container lessors where there is no end in sight to increasing overcapacity driving freight rates substantially lower, the truckload industry is facing a much tighter market currently. This market is expected to tighten further in the near term.
For these reasons, investors looking to initiate a position in Ryder Systems or accumulate more shares should consider the company's current valuation as a solid entry point.
Disclosure: I am/we are long JBHT.
I wrote this article myself, and it expresses my own opinions. I am not receiving compensation for it (other than from Seeking Alpha). I have no business relationship with any company whose stock is mentioned in this article.