After delivering impressive gains on the stock market so far this year, Freeport-McMoRan (NYSE:FCX) seem to be running out of steam in April. In fact, so far this month, Freeport shares have already lost 5% of their value, primarily driven by the weakness in copper prices. On Tuesday, copper prices fell to one month lows after gaining around 20% from the middle of January to the middle of March, and this is not surprising since the rally was not driven by any fundamental improvements in the copper market.
Looking ahead, I believe that copper will continue to lose momentum and this will have a negative impact on Freeport-McMoRan. Let's see why.
Copper weakness in the cards
As I have stated above, the rally in copper prices has not been driven by any fundamental improvements in the end market. Rather, the reason why copper prices have been on the rise is because of potential stimulus measures in China that could increase demand for the metal, as China is the world's biggest copper consumer.
However, copper bulls seem to be conveniently ignoring the fact that China's economy is slowing down and the country already has huge copper stocks to clear. In fact, China's current copper surplus stands at 400,000 tons at just the Shanghai Futures Exchange. Now, copper bulls might point out that China is importing copper aggressively despite the downturn, but a closer look indicates that there is more than what meets the eye.
For instance, China's copper imports in February increased 50% as compared to last year to 420,000 tons. However, as compared to January, copper imports were down 4.5%. More importantly, the high levels of copper imports into China don't necessarily indicate robust demand. This is because traders in China use copper as the metal is used for arbitrage purposes. As reported by Bloomberg:
"This practice of warehousing copper to help engage in financial arbitrage "inflated demand, kept prices higher, and led miners to raise output," according to Bloomberg Intelligence Analysts Kenneth Hoffman and Sean Gilmartin, who sought to identify the extent to which demand for copper has been buoyed by its use as collateral for such trades.

Moreover, when benchmarked against cement-another material widely used for construction purposes-copper's rapid rise in China looks particularly suspicious. While cement intensity, or percentage used per square meter, rose 11 percent in the time period, copper intensity surged an astounding 117 percent."
As a result, it seems like copper demand in China might be artificially inflated, which is why real demand could be 54% below than actual if we exclude the use of the metal as collateral, as per Bloomberg analysts. In fact, last year, the usage of copper in China actually fell 24%, a trend that could continue on the back of slowing economic growth that's leading to a drop in output.
In fact, China's industrial production in the first two months of 2016 increased at the slowest pace since the recession, clocking growth of just 5.4% year-over-year. Going forward into 2016, China's industrial production could slide further as the country's GDP growth is expected to slow down to 6.7% as compared to 6.9% last year, which was already a 25-year low. Thus, the real demand for copper in China is not expected to pick up pace anytime soon as the country's growth is in the wrong gear.
What's more, the weakness in China seems to be spilling over to other regions too, with industrial production in Taipei dropping for 10 straight months, while Japan's factory output has also dropped to five-year lows. Since copper is used across a wide variety of applications ranging from wiring to construction of roads, it is not a good idea to expect the rally in copper prices to continue.
This is because there is already a huge unused inventory of products that use copper. For instance, 40 million units of air conditioners, worth 10 months of supply, are lying in warehouses, while the State Grid Corporation of China forecasts a reduction of almost 3% in its budget, which will lead to lower cable purchases. As a result, expecting copper prices to continue increasing is a bad idea, and the fact that the price has started retreating of late indicates that more weakness is in the cards.
How weak copper prices will impact Freeport
Freeport-McMoRan has been hurt badly by weak copper prices. As shown in the chart given below, low copper prices in the past five years have created massive weakness across the board for copper prices: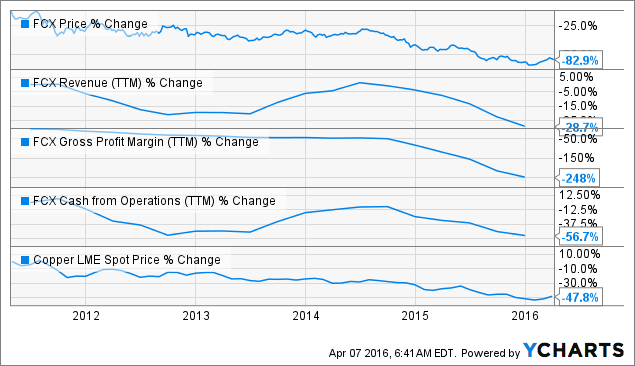 Due to this weakness in its financials, Freeport's fundamentals have also weakened and the balance sheet is in bad shape. For instance, Freeport has a debt-equity ratio of almost 1.6 and has a weak cash position of just $224 million. Due to weak copper prices, Freeport's net loss in 2015 increased to $12 million as against $551,000 in the prior-year period, leading to a drop of 43% in the operating cash flow.
Also, due to a high level of debt, Freeport's interest expense last year came in at $645 million, which is way higher than the cash position it had at the end of last year. Also, its interest expense was around 20% of operating cash flow. Now, looking ahead, Freeport's balance sheet will come under more pressure and it will continue to burn more cash since copper prices are expected to go down further, while the high level of interest and debt are more headwinds.
Conclusion
It looks like Freeport-McMoRan's impressive run on the stock market has come to an end. Copper prices have started losing steam and the situation will get worse as Chinese consumption declines. As such, it will be a good idea to book profits in Freeport-McMoRan and exit the stock now that its rally is coming to an end.
Disclosure: I/we have no positions in any stocks mentioned, and no plans to initiate any positions within the next 72 hours.
I wrote this article myself, and it expresses my own opinions. I am not receiving compensation for it (other than from Seeking Alpha). I have no business relationship with any company whose stock is mentioned in this article.