In January, I highlighted Why I Finally Decided To Buy Chipotle Mexican Grill (NYSE:CMG). It was met with mostly negative feedback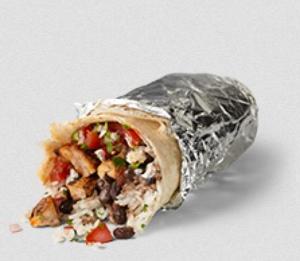 arguing that shares were still bound to go lower. That was okay with me, and actually, preferred considering it's still the smallest position in my portfolio.
While there could be more downside - and quite frankly, I hope there is so I can finish building out this position - Chipotle intrigued me because I like the product, the company's still young and management is focused on high quality.
It also reminded me of a similar growth stock that had previously lost its way: Starbucks (NASDAQ:SBUX).
Starbucks has bloomed into my largest single-stock holding, but it too didn't have a smooth ascent to greatness. Some of Chipotle's recent actions have reminded me of those that Starbucks has taken in the past.
For instance, in 2008, fresh off returning to his position as CEO, Howard Schultz decided to shut down the stores and retrain all of his baristas on how to pull the perfect shot of espresso. At the time, Starbucks traded with a market cap near $13 billion.
Granted, this was in February 2008 in the midst of a financial crisis as well. But the similarity to Chipotle is reminiscent at the very least. Today, shares of Chipotle trade with a market cap near $14 billion and are enduring quite the hardship following its E.coli/norovirus issues from 2015. As a result, the company shut down its stores for food safety training.
Schultz's desire to up Starbucks' game and Chipotle's E.coli mess aren't the same thing. But both companies faced adversity and if Starbucks' blueprint is halfway reliable, Chipotle should do more than okay over the long-term.
Fast-forward eight years and Starbucks' market cap has swelled to more than $90 billion at one point. I don't think the same thing can happen for Chipotle, given Starbucks' immense global footprint and budding dominance in China.
But I do believe there can be significant upside from current levels, if investors focus on the longer term.
Is Chipotle Whiffing On Its 'Starbucks Moment?'
While Chipotle's store closure reminded me of Starbucks from the past, there're other similar moves the company could copy to hopefully fix its current issues.
Sales are down robustly and the company is looking to book a loss in the first quarter. While investors seem to be willing to overlook that for now, they won't do it for long.
If now's not the time to roll out a loyalty program, I'm not sure when is. In a way, Chipotle has almost prided itself on not doing loyalty. And for years, it didn't matter.
Right now though, that's exactly what the company is suffering from: A lack of loyalty. They need their customers now more than ever and even slinging free burritos at them isn't helping enough. Consider recent comments from Mark Crumpacker, chief creative & development officer, on the most recent earnings call:
"We actually saw a falloff in both the top loyal and the new customers, which isn't unexpected with regard to the new customers, they're not as familiar with the brand…So we're definitely going to be targeting [the loyal customers]. That group of people can represent up to 20% of our sales, so it's a very important part of our group. And so what I'll say is we're going after them."
Go after them how? With email campaigns and social media? C'mon man, you guys can do better than that. Unroll a loyalty program, reward them for actually being loyal!
Over the past 18-months, Starbucks has watched its stock soar almost 70%, much of which comes from what Schultz refers to as the "flywheel effect" from the company's overhauled mobile app.
Starbucks had a loyalty program before, but having it on the app along with a payments system was a real growth accelerator. Adding in Mobile Order and Pay is only boosting the company's results even more. Go through the conference calls. Everyone at Starbucks is filled with elated comments about the app (and China).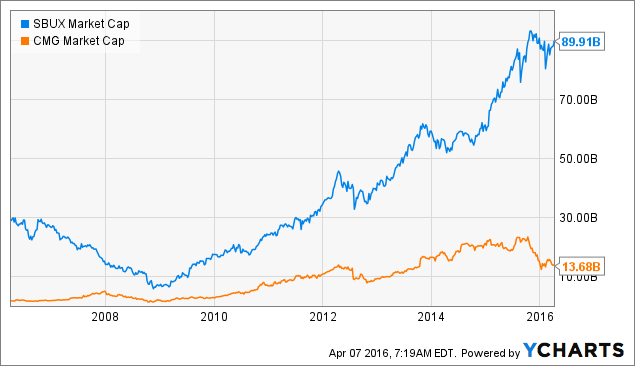 Chipotle already has an app - one that you can order from too. Given that, pre-E.coli, the company literally had lines snaking around the store and into the street, management should have put a larger emphasis on its mobile platform - and now they need to emphasize a loyalty program.
If these top customers are so easy to communicate with as management suggests, it will instantly get Chipotle's most loyal customers on board, and hopefully lure back some that are on the fence. It will hopefully get the customers that will eventually come back sooner than they would on their own.
With any luck, Chipotle's biggest problem will one day be throughput, not deserted stores. Chipotle could be like Starbucks someday, but it wouldn't hurt to take a few more pages from their playbook first.
Disclosure: I am/we are long SBUX, CMG.
I wrote this article myself, and it expresses my own opinions. I am not receiving compensation for it (other than from Seeking Alpha). I have no business relationship with any company whose stock is mentioned in this article.