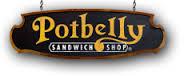 Introduction
Potbelly (NASDAQ:PBPB) is a small cap restaurant stock that you may have seen in your neighborhood. The company has been around for a couple decades but just recently came public in 2014.
As a fast growing but high priced and volatile stock, does it make a great compliment to other, more stable names in your portfolio?
Lets take a look and introduce you to the this fast growing restaurant stock that is looking to take share from the big entrenched players.
Company Overview
Potbelly is a fast-growing neighborhood sandwich concept offering toasty warm sandwiches, signature salads and other fresh menu items served by engaging people in an environment that reflects the Potbelly brand.
Their menu focuses on hot sandwiches, soup, shakes, and other items.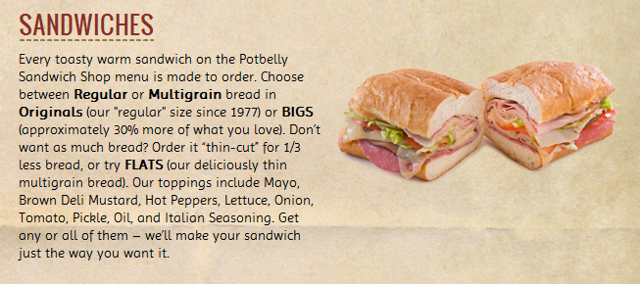 As of December 27, 2015, Potbelly had a domestic base of 396 shops in 28 states and the District of Columbia. Of these, the company operates 372 shops and franchisees operate 24 shops. In addition, there are 12 international franchised shops, including 11 shops in the Middle East and 1 shop in the United Kingdom.
Same Stores Sales Results
Potbelly has had inconsistent yearly same store sales results as can be seen in the table below. The good thing is that they have been in positive territory since 2011, but the fluctuation is concerning.
| 2011 | 2012 | 2013 | 2014 | 2015 |
| --- | --- | --- | --- | --- |
| 1.7% | 3.4% | 1.5% | 0.1% | 4.4% |
These results do not tell the whole story by any means, though, as the company is rapidly expanding and has tremendous room to grow their store count both domestically and internationally.
Profit margins contracting
From Potbelly's recent 10-K:
"From 2011 to 2015, we generated shop-level profit margin of 21.6%, 20.7%, 20.2%, 19.2% and 19.4% in 2011, 2012, 2013, 2014 and 2015,respectively (shop-level profit margin measures net shop sales less shop operating expenses as a percentage of net shop sales)."
This margin contraction can be contributed to increased commodity costs, increased labor costs, and other overhead expenses.
I believe this does not include any franchise related costs that the franchisees incurs in running their locations and simply tries to focus on operating expenses, so this is a concerning metric that I will want to see stabilize and improve in future years.
Financials Continued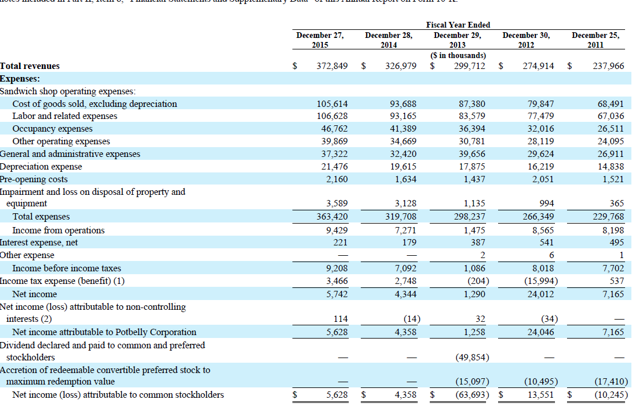 Investors should note that Potbelly IPO'd in 2014 and thus the financials seen above before that IPO are somewhat confusing.
There is a large income tax credit/benefit in 2012 that distorts things along with a large dividend in 2013. This stock will likely not pay dividends for years to come as the company is plowing all available cash back into opening new stores save from their buyback program they recently launched--always a positive sign. The buyback program was for 35m, about 10% of their market cap at the time.
The most recent quarter saw revenues increase 12.1% to 95 million from $84.8 million.
Same store sales for that quarter came in at 3.7% and 21 new shops were opened.
Is there room to grow the store count?
In the last 12 months Potbelly opened 53 new stores, 43 of which were company owned. Their first shop also opened in the UK. In future releases I will be interested to see what challenges their UK store has and how they get their message across.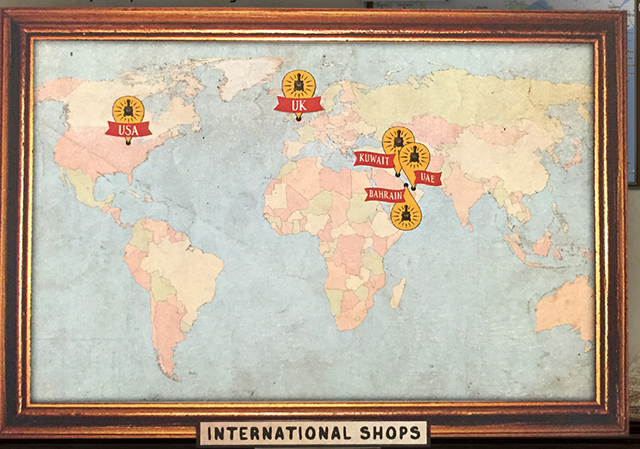 While Potbelly does have a few international locations, it is safe to say that their brand, store concept, and message is still mostly unproven overseas. How well the company can adjust their offerings, set up a distribution network, and market to their new overseas customers will be a key part of this growth story going forward.
In addition, as I mentioned in the company intro, the company is only in 28 states in the US. Competitor Jimmy Johns has over 2000 stores in the US and global sandwich giant Subway has over 27000 US locations.
Clearly there is room to grow and the current pace of 50 restaurants per year is above their historical average of around 40 the past few years.
The company expects to open 55-65 new stores in 2016. A increased pace of store opening as the years roll by so that they are opening 70-80 per year in three or four years will help Potbelly grow into its big boy valuation.
Valuation
Potbelly is expensive by traditional metrics as most growth companies tend to be. The TTM PE is a blistering 67 and each shop is valued at an enterprise value of $843,600 if you take Potbelly's market cap divided by their latest store count.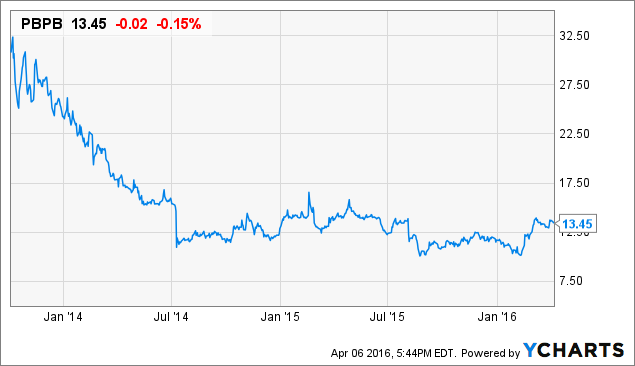 PBPB data by YCharts
What you get for that price tag is 12% revenue growth and 20%+ earnings growth, depending on adjustments. While I think much of the future store count is baked in at such a price, I believe Potbelly would be right for long term patient investors who like the company and its products.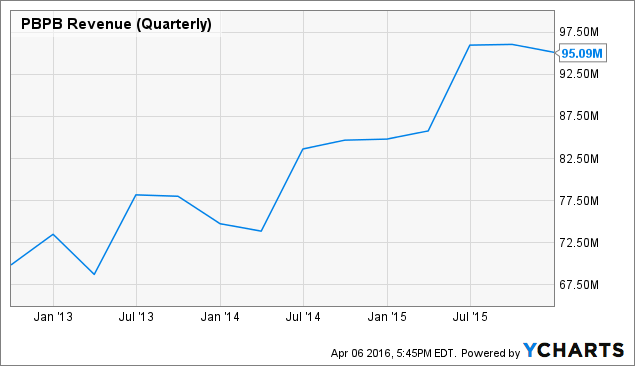 PBPB Revenue (Quarterly) data by YCharts
Growth in the restaurant space can be hard to find other then at the newly revived McDonald's (NYSE:MCD) which has certainly run up in price since things have turned around.
Their success has made everyone else lower prices or step up promotion in order to compete. Potbelly seems to be the little guy thriving in the background and could offer handsome returns if the growth stays on track or exceeds expectations.
Conclusion
Potbelly is a fast casual sandwich shop quietly opening 50 or so new shops a year. They have a proven concept that has been around for decades and tons of room to grow both domestically or internationally.
While Potbelly will not cover the globe in sandwich shops overnight, it is a small cap that could one day be worth a few billion dollars and take patient investors along for the ride who were diligent enough to find the company, do their homework, and hang on.
Disclosure: I am/we are long PBPB.
I wrote this article myself, and it expresses my own opinions. I am not receiving compensation for it (other than from Seeking Alpha). I have no business relationship with any company whose stock is mentioned in this article.