As reported on Seeking Alpha in January, I believe China is the number one factor that will determine Apple's (NASDAQ:AAPL) success in the current (and probably in the next) year. Now I take a look back at how the company performed in China last quarter, and then start a conversation about what I consider to be AAPL's next big growth play: India.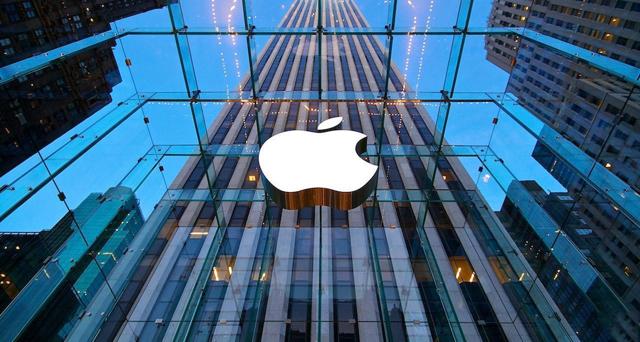 Credit: ValueWalk.com
How did AAPL perform in China last quarter?
Revenues from China in F1Q16 grew 13.8% YOY. Not bad at all, compared to the total company's more dismal 1.7% growth rate. In fact, if not for China, AAPL would have seen its total company revenues contract by 1.6% in the first fiscal quarter.
On the op income side, China improved 19% YOY, at a faster rate than it managed to grow revenues - suggesting that China is not only growing big, but it is also growing more profitably. Margins in China improved 180 bps YOY, from 39.4% in F1Q15 to 41.2% F1Q16. The region's op income in the quarter represented 27% of the total company's in F1Q16, against 18% in FY14 and 15% in FY13. And if not for Greater China, total company's op margins (ex-corp. and R&D) would have declined nearly a full percentage point in F1Q16 compared to the prior year, from 35.8% to 34.9%.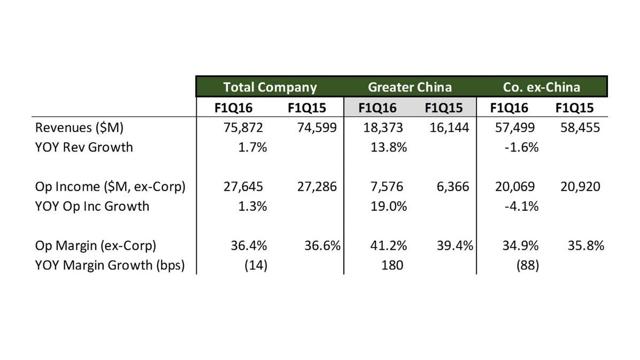 Source: DM Martins Research, using data from SEC filings
With that said, I will admit that the hypothetical 30% improvement in China's FY16 op profit numbers that I considered plausible back in January (after AAPL posted 108% growth in FY15) now seems a bit aggressive. At least this is what the F1Q16 run rate seems to suggest. I will be very curious to hear, when AAPL reports F2Q16 on April 25, how the region's sales and margins evolved in the past three months, and whether the ramp in Apple stores in China (to 40 by mid-2016 vs. 28 last January) may start to have a meaningful impact on sales in the current year, maybe even in F2Q16.
India is AAPL's new frontier market
But Greater China is only one (albeit the most important) of AAPL's engines of growth. India, the third largest smartphone market in the world, is shaping up to be the company's new frontier. It will probably be one of AAPL's most sizable and impacting stories two or three years down the road. During last earnings call, CEO Tim Cook stated that the company is "continuing to invest in markets where (management) believe(s) they are great places for Apple for the long term, like India, as an example of that one."
Today, India is not much more than a small but extremely fast-growing market for the Cupertino company. In the fiscal year ended September 2015, AAPL realized Rs 6,473 crore in revenues from the country. Using today's conversion rate, this is no more than $973 million, barely 0.5% of AAPL's total annual revenues. Nothing compared to Greater China's 24% of total sales. But India's underwhelming revenues number hides a few very interesting and exciting facts.
First, Rs 6,473 crore represents a whopping 44% YOY growth, from Rs 4,500 crore in FY14, and a 112% cumulative increase from the Rs 3,058 crore reached in FY13. In units of iPhones sold, AAPL grew 55% in India in FY15, from 1.1 million to 1.7 million units. And better yet: according to Tim Cook, iPhone sales in India grew 78% in F1Q16. These are massive growth numbers.
Second, the well seems to be deep. The size of the Indian market hovers around 1 billion mobile subscribers, as quoted by Drexel's Brian White. And yet, according to research company IDC (see graph below), Apple controls only 2% of the smartphone segment in the country.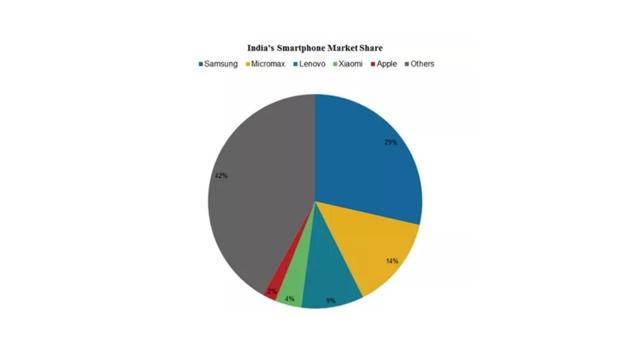 Source: IDC
These statistics make sense to me. The Indian market, on average younger than the Chinese by about 10 years, spends an average of only $50 to $56 on a mobile phone vs. the Chinese average of $87 to $110, according to research company Gartner. And AAPL is not known for selling $50-smartphones.
But surprisingly, 300,000 of the 1.7 million iPhones sold in India last year, nearly one fourth of the total, were estimated to be the expensive iPhone 6 and 6 Plus. Not bad for a country that many believe cannot afford high-end products - ignoring the fact that the country's middle class, made up of 50 million people as of 2008, is expected to grow to 583 million by 2025. To put these numbers in perspective, 51% of U.S. adults are considered to be part of the middle class which, if extrapolated for the full country's population, would add up to about 150 million individuals. India's middle class, therefore, can very well be four times larger than the U.S.'s within the next 10 years.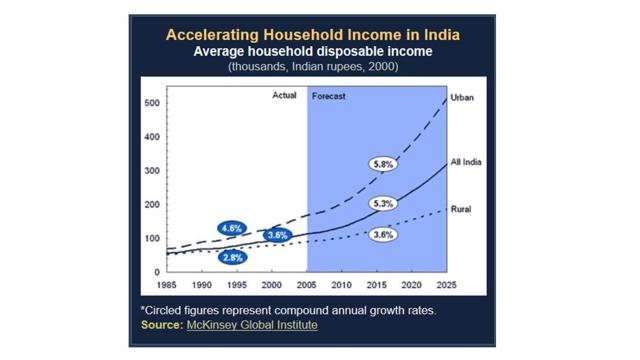 Source: PBS.org, quoting a study by the McKinsey Global Institute
So yes, there is a huge market for Apple's products in India. And not everyone will be interested only in the entry-level iPhone SE.
The stock is still a bargain
Finally, I cannot end a discussion about AAPL without revisiting valuation. An investment is only as good as the price paid for it.
On that front, AAPL still looks very attractively valued. The company is trading at 12.2x 2016 earnings and 11.1x 2017 EPS. Low enough in isolation, but even lower if I consider that consensus expects EPS to grow 10% in 2017 (not too bad for a value play) and that the company still sits on a pile of cash (understanding that most of it is non-U.S. funds subject to repatriation taxes).
If I look at valuations historically, shares also seem to be priced favorably. Even after the stock spiked 19% since mid-January, AAPL's EV/segment income today, at 7.7x, is comparable to what it was at the end of FY13 (see table below). As a reminder, at the end of FY13, shares were trading at $69, before rallying 44% to $99.62 one year later.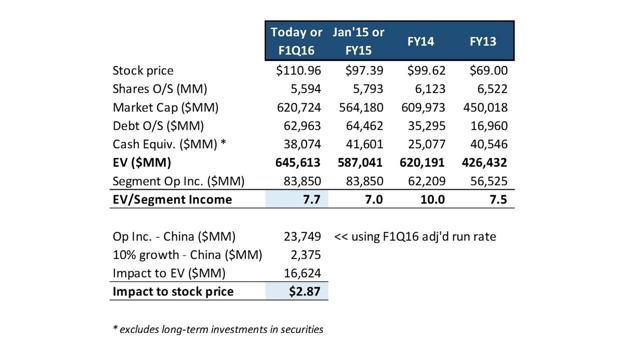 Source: DM Martins Research, using data from SEC filings and Yahoo Finance
In conclusion
I find it very interesting that a value play with (yes) growth potential, a reputable brand, a popular (yet high-margin) and aspirational flagship product and a sizable bank account can still hide so well in plain sight. To me, AAPL is a no-brainer. Until shares hit $150 (at which point forward P/E reaches 15x and EV/segment op income expands to 10x again, like it did in September 2014), I will continue to hold the stock and consider adding to my position at every dip.
Disclosure: I am/we are long AAPL.
I wrote this article myself, and it expresses my own opinions. I am not receiving compensation for it (other than from Seeking Alpha). I have no business relationship with any company whose stock is mentioned in this article.