In the past six months, the share price of Del Taco (NASDAQ: TACO) has fallen close to 28 percent while its competitor, El Pollo LoCo Holdings (NASDAQ: LOCO) has appreciated almost 18 percent. Despite Chipotle's (NYSE: CMG) recent health scares, it seems that TACO does not look like a satisfactory substitute for investors. For 2016, TACO has fallen 9 percent underperforming CMG's decrease of 6 percent.
At the end of 2015, TACO had 297 company-operated and 247 franchised restaurants across 16 states in the US. TACO has a wide menu of breakfast offerings, Mexican inspired tacos and burritos as well as American classics such as burgers, crinkle-cut fries, and shakes. The company has positioned itself between traditional quick service (QSRs) and fast casual restaurants and has an average system check of $6.79 lower than CMG ($10.17) and Taco Bell ($7.20).
GROWTH POTENTIAL
TACO has set a long-term target of at least 2,000 restaurants. In 2015, TACO opened 6 company-operated and 6 franchised restaurants and in 2016, the company expects to open 15 to 18 restaurants in the existing markets of California, Georgia, Nevada, New Mexico, Oklahoma, Utah, as well as entering into South Carolina. In March 2016, company announced an exclusive development agreement with Brevard County in Florida to open six new restaurants by 2022.
Same-store sales have increased for nine straight quarters and in Q4 2015, restaurant sales increased 5.8 percent as customers bought more upscale items and company-owned comparable sales grew 5.9 percent. TACO has forecasted same-store sales growth to be in the low to mid 3 percent range in 2016 due to increased competition and a "tough" environment.
PREMIUM OFFERINGS
While 22 percent of TACO's revenues come from the value menu, the 5.8 percent same store sales increase in Q4 was mainly driven by menu mix and menu price increases of 3.5 percent. To achieve its target of reaching $1.5 million in average unit volumes by 2018, TACO has started to invest more heavily in coolers and equipment to upgrade its image beyond that of a traditional QSR.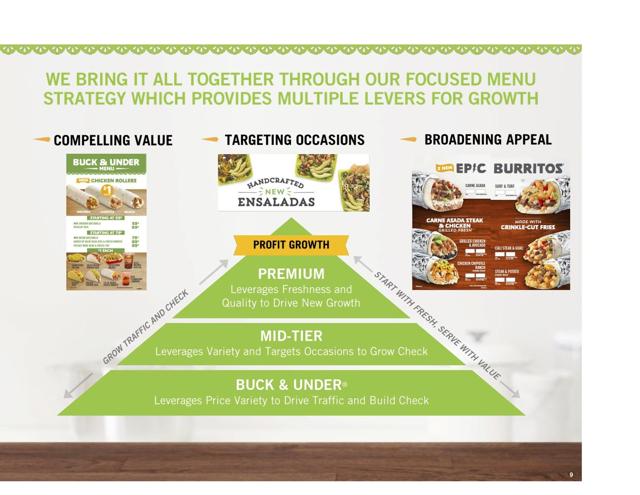 Source: Company Presentation
The company has added "freshness coolers" to display ingredients such as avocados, vegetables for freshly made pico de gallo, raw pinto beans and blocks of cheese. Newer restaurants will be constructed with the coolers and close to half of the existing locations will have the cooler by the end of 2016. TACO is also planning to add equipment to its restaurants to reduce drive-thru waiting times.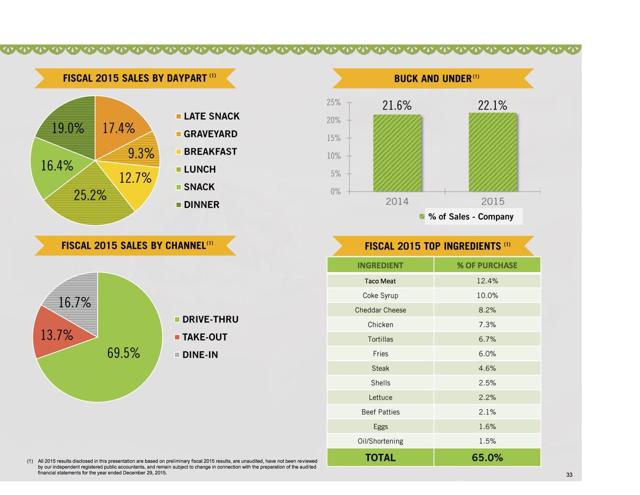 Source: Company Presentation
TACO has also introduced grilled Mexican chorizo sausage to its breakfast menu. The protein option is offered in three new breakfast items: the chorizo breakfast taco ($1), the Chorizo half pounder burrito ($3.49) and the epic chorizo scrambler burrito ($3.99). The company has been offering breakfast since 1986 and breakfast is offered from 11 p.m. to 11 a.m. at stores that are open 24 hours. To further complement its breakfast offering, TACO has also started serving iced Prima Java Coffee for $1.
COMPETITIVE PRESSURES
Breakfast currently makes up almost 14 percent of the TACO's sales however this may decrease as the breakfast market becomes increasingly crowded. McDonald's Corporation (NYSE:MCD) and White Castle offer all-day breakfast, Miguel's Jr. is introducing a breakfast burrito in its Orange County restaurants, and Taco Bell has broadened its $1 breakfast value menu.
Taco Bell's 10 item value menu includes mini skillet bowl, a breakfast soft taco and a sausage flatbread quesadilla. Taco Bell also added a breakfast Quesalupa for $2.99. As TACO has positioned itself as a notch above QSRs, the company needs to provide a more premium product. Though the company is investing in coolers and equipment, it is likely food costs may also go up.
Taco Bell has pledged to switch to cage free eggs by end 2016 and while this may force it to raise margins, the switch to cage-free could put pressure on TACO to switch to more animal/environment friendly ingredient as well. LOCO uses hormone-free chicken and with MCD making a switch in the near future, TACO may be pressured to reduce its prices to offer better value or raise the quality of its ingredients.
STORE CLOSINGS
Though TACO has a strong brand presence and steady growth, investors should be wary of the company's past restaurant closings. In 2014, TACO closed 13 underperforming restaurants due to low sales volumes and negative restaurant contributions and recorded an impairment charge of $9.6 million. In 2015, the company closed 12 out of its 13 restaurants in Texas and recorded net restaurant-closing charges of $2.1 million.
TACO's departure from Texas could be attributed to the competition from other QSRs such as recently crowned America's favorite Mexican chain Taco Buneo, that has a stronghold of 103 locations in Texas. If TACO hopes to expand to 2,000 locations, head-to-head competition will be an area that they will need to need to improve in.
LABOR COSTS
To leverage logistical synergies and brand recognition, a high proportion of TACO's new restaurants are opened in areas with an existing presence. Though this serves to reduce marketing and transportation costs, the proximity of restaurants could cannibalize sales as well as saturate the market. Furthermore, the concentration in certain markets can be risky due to region-specific weather and economic issues.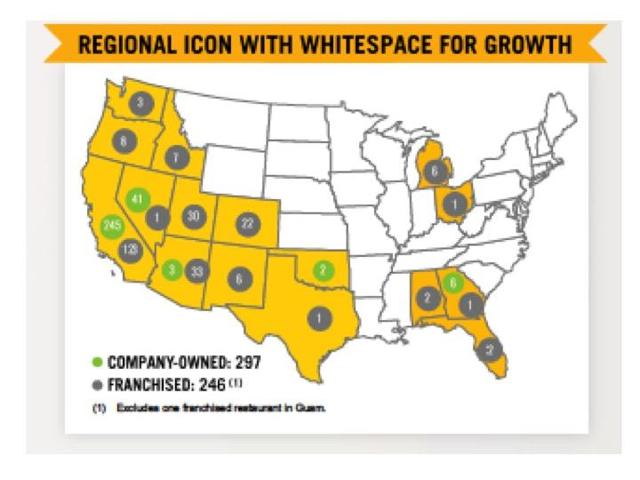 Source: Company Presentation
TACO is highly concentrated in California which has recently increased minimum wage from current levels of $10/hr to $15/hr by 2022. As of December 29, 2015, TACO had 6,690 employees out of which 6,225 were hourly restaurant employees. Given the company's concentration in California, TACO will bear the brunt of this rise as compared to more diversified chains such as CMG, Taco Bell and MCD.
In its 2015 annual report, the company anticipated labor costs increasing by $7.2 million due to the increased minimum wages in Los Angeles, however this statement was made before the statewide increase. A Barrons report modeled that about 40 basis points to 90 basis points of menu price increases would be necessary to offset the effect of a 25 cents/hour increase in wages nationwide. However this was later revised to at least 60 to 140 basis points increase with both California and New York raising minimum wages to $15.
SHORT INTEREST COVER
In the first two weeks of March, TACO has seen a rise of 670,604 shares or 21.8% in the short interest and the stock days to cover will be 13 at an average volume of 277,426 shares. The days to cover has increased from 11 to 13 since end December 2015. To compare, LOCO's days to cover as of March 15 is approximately 2.
FINAL THOUGHTS
TACO has shown sustained positive growth in the last nine quarters and has lofty plans for expansion. The share price has been pounded in the recent months and therefore many of the risks discussed above may be already reflected in the prices. However, the concentration of restaurants in California paired with increased labor costs as well as the company's store closings in Texas are areas of concern.
Though the company has been moving towards boosting premium offerings, margins are likely to be squeezed with slowing growth in 2016, heavy competition, and increased labor costs. In addition, given that almost 70 percent of sales are derived from drive-thru sales, most of TACO's current customers are unlikely to change spending habits in response to the coolers.
Before investing in the stock, I would like to see the company expand beyond its California presence. In the upcoming quarterly report, investors should look for positive quarterly growth to be able to offset rising costs, the company's revised outlook given the California statewide hike as well as any additional information about the company's new breakfast offerings.
Disclosure: I/we have no positions in any stocks mentioned, and no plans to initiate any positions within the next 72 hours.
I wrote this article myself, and it expresses my own opinions. I am not receiving compensation for it (other than from Seeking Alpha). I have no business relationship with any company whose stock is mentioned in this article.