Having achieved a new sales volume record for the fifth year in succession in 2015, BMW's (OTCPK:BAMXY) (OTCPK:BAMXF) first quarter gave some warning signals. Its competitor Daimler (OTCPK:DDAIF) (OTCPK:DDAIY) showed more growth along with a higher profit margin. In my view, BMW seems to lack earnings momentum.
Recent news from BMW cited a decline in U.S. sales by 13.3% YoY. Given my skeptical view on U.S. demand, this decline in sales can be expected to continue. Being a key automobile market with 18.1%, worse U.S. demand will hurt BMW.
What about China, BMW's most important market with a share of 20.6%? I believe the economic slowdown in China will continue to have a severe impact on the automobile market. The sales volume figure for China was slightly up in 2015 (+1.6%). However, compared to the competitor Daimler in the high-end auto sector, this is a disappointing number. Daimler didn't reach BMW's sales volume, but it was able to grow its sales volume in China by 31% . That can be attributed to Daimler's much younger product range. BMW has to come up with a new product line.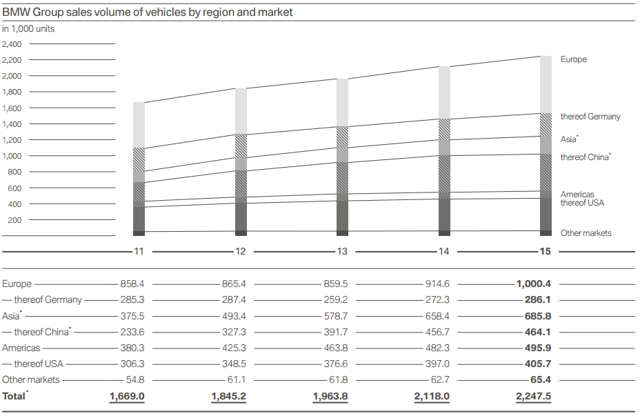 BMW benefited from the positive currency impact, as the exchange rates of the U.S. dollar, the Chinese renminbi and the British pound all appreciated against the euro. Without these exchange rate factors, revenues would have been 6% less. Due to the large exposure to foreign currencies (China, the U.S. and Great Britain make up roughly 50% of BMW's automobile market), an appreciation of the euro for the year could be an imminent risk for BMW.
The company had an almost unchanged R&D ratio of 5.6% in 2015 while R&D expenditure rose by 13.2%. What will consume additional R&D resources this year, is BMW's prospective innovative car - the Vision Next 100 concept. That is an attempt to be ahead of Tesla, Google and Apple in developing an automotive car. It will be exciting to see whether such a new car will play out before the R&D expenses reach an unsustainable level.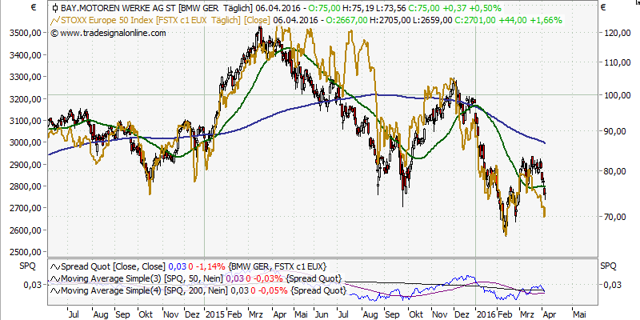 Disclosure: I/we have no positions in any stocks mentioned, but may initiate a short position in BAMXY, BAMXF over the next 72 hours.
I wrote this article myself, and it expresses my own opinions. I am not receiving compensation for it (other than from Seeking Alpha). I have no business relationship with any company whose stock is mentioned in this article.
Editor's Note: This article discusses one or more securities that do not trade on a major U.S. exchange. Please be aware of the risks associated with these stocks.